Standout individual performances from the spring season.
Ultiworld's 2017 Women's College Awards are presented by the National Ultimate Training Camp and VC Ultimate, as part of their season-long support of our women's coverage. All opinions are those of the authors. Thanks for supporting the brands that make Ultiworld possible!
Ultiworld is pleased to announced our fourth annual College Awards. The criteria for each award can be found here — we consider both regular season and postseason performance in our selection of awards. Though the input of Ultiworld reporters is weighed heavily, final decisions for awards are made by the editors.
To see the D-III Player of the Year Award, go here.
Offensive Player of the Year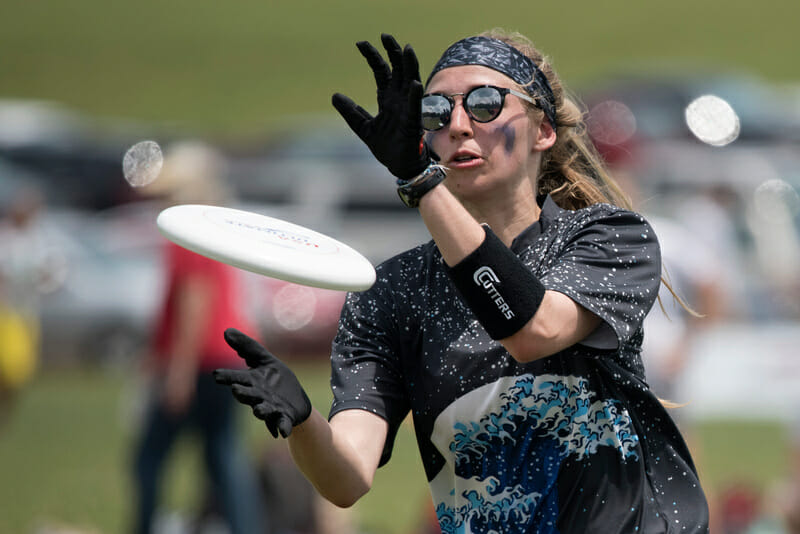 Emilie Willingham (Truman State)
One of the most dominant individual players in Division III this season, Emilie Willingham was tremendous for Truman State, hucking the team to D-III Nationals from the loaded South Central region. Once there, few players played the volume of points that Willingham did at Nationals: in their 11-10 quarterfinal loss to the eventual finalist, Wesleyan, Willingham rested just a single point.
But it made sense. She was the most potent offensive weapon at the tournament, slicing up the line to get the disc back and firing an array of throws to cutters downfield. In that quarterfinal, she had an absurd eight assists, one goal, and three blocks. She accounted for a part of every single Truman State score except one.
Impressively, her massive usage rate didn't wear her down, playing her best game of the weekend against Wesleyan. Her young team just didn't have quite the depth to sneak into semis.
Still, it's no surprise that she is one of the few players in the division on an elite club team; she competes with Chicago Nemesis during the summer. Her offensive skill set was unsurpassed in Division III this season.
Runners-up: Mackenzie Allen (Valparaiso), Haley Olson (Carleton Eclipse)
Defensive Player of the Year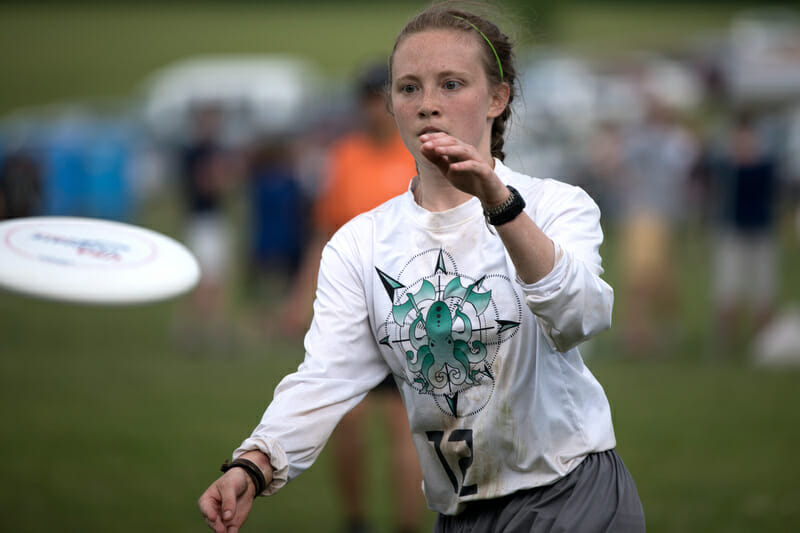 Sarah Davidson (Puget Sound)
Whenever Puget Sound player Sarah Davidson is mentioned, it's usually followed by, "she puts her body on the line nearly every point." With that kind of fearless thirst for getting blocks, she is recognized as our D-III Women's Defensive Player of the Year.
A junior from New Jersey, Davidson made an impressive showing at Nationals. She was consistently laying out for block after block, playing scrappy yet ferocious defense and shutting down the talented O-lines from Truman State, Bowdoin, and top-seeded Williams College.
All season long, Davidson's quick reflexes kept opponents at bay as she leaves it all out on the field.  With exceptional field sense and anticipation, the Clearcut junior is not only able to pounce on errant throws, she's also always putting herself in great position to play help D.
But for her team, it's Davidson's spirit and love for the game that shines through the brightest. No matter what the score or situation, she is there to fire up her teammates in the huddle and get everyone pumped to play.
Runners-up: Demri Horton (Portland), Kate Powers (Bowdoin)
Breakout Player of the Year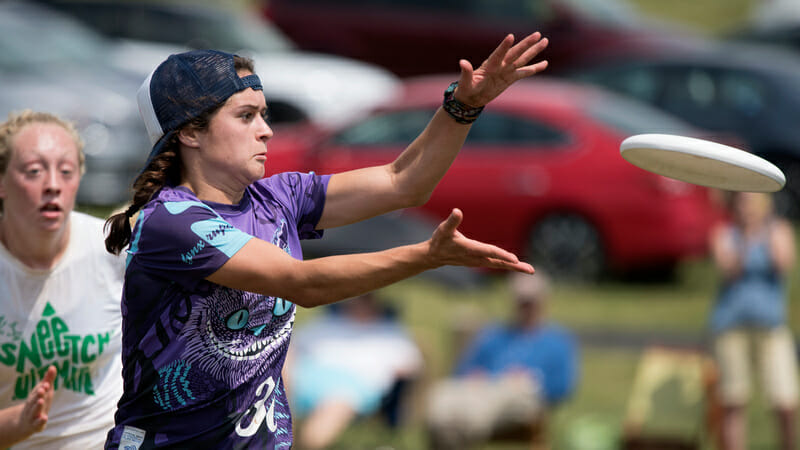 Katherine Yost (Georgia College)
Katherine Yost may have been the most exciting player to watch in Lexington. It's hard not to be blown away when you watch the 5'1″ junior blast a 70-yard forehand from a standstill.
Yost was a blur at Nationals, leaving marks in the dust with her exceptional speed and then stepping into the most pure throws at the tournament. Her forehand rivals those of the best throwers in the entire college division, period. Georgia College had one of the least experienced rosters at the tournament and yet Yost kept them competitive by firing dime after dime to the endzone for scores.
In four games1, Yost had 19 assists, six blocks, and a goal. Add in her hockey assists and she probably had a hand in 90% of her team's scores.
Yost will be back next year with a more experienced team. Look out.
Runners-up: Jane Marie Gunn (Puget Sound), Abby Polk (Carleton Eclipse)
Rookie of the Year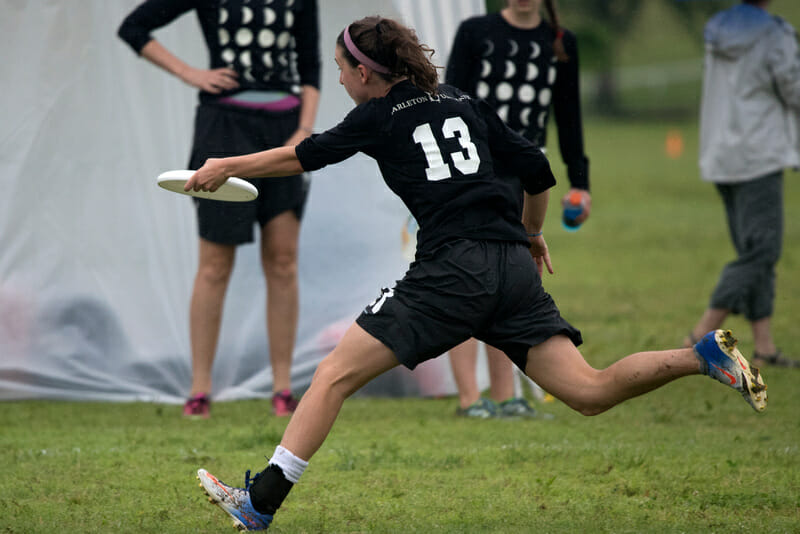 Laura Kiernan (Carleton Eclipse)
Like many D-III players, Laura Kiernan came into college without any prior ultimate experience. A former cross-country runner and currently a varsity soccer player at Carleton, Kiernan first picked up the sport in November and, halfway through February, was thrown headfirst into the handler position, a move she took in stride and with excitement.
Immediately, she found her place among Eclipse's handler corps as a solid under and reset thrower and reset option. She played heavy minutes at Regionals and Nationals not because of her offensive skillset but because of her speed and defensive prowess. One of the fastest players on the team, Kiernan was crucial to Eclipse's zone defense that carried them through both tournaments. As either a mark in the cup or guarding the IO lane, Kiernan forced turn after turn on crashing cuts and forced swings, and from her relentless and persistent mark. On person defense, Kiernan consistently shut down under cuts with her speed while also recording key blocks for the team.
In just six months, Kiernan went from soccer recruit who was new to the sport, to handling on double game points for the national champions. You'd never guess her inexperience from her poise, intensity, and swagger on the field.
Runners-up: Grace Warder (Bates), Sydney Taylor-Klaus (Wesleyan)
Coach of the Year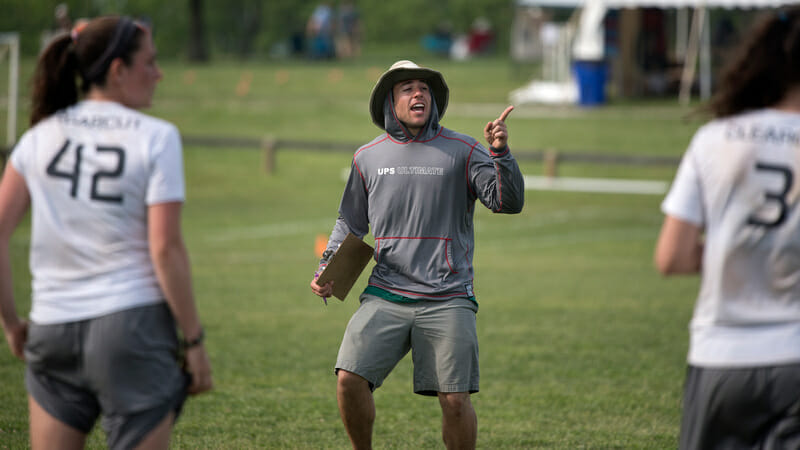 Spencer Sheridan (Puget Sound)
Spencer Sheridan does more than coach from the sideline. He is most often seen running onto the field cheering with his team — Puget Sound Clearcut — whenever they score, or even when they don't. No matter what the tournament or what the situation, his love and pride for his team is clearly evident.
A strong communicator, Sheridan lifts his players up and the positive relationships he builds with his teams are recognized both internally and externally.
"Spencer is far and away the best coach I've ever had, in any sport," captain Ellen Kalenscher said. "He is so clearly passionate about developing our skills and understanding of ultimate, and making sure we have fun and value ourselves and our teammates."
Sheridan started coaching during his senior year while he was still a student at Puget Sound, when a collarbone injury took him off the field as a player. Now, five years later he says he couldn't imagine coaching any other team. His dedication to and involvement with the team is unmatched in the division.
And that hard work has paid off. With four straight Conference Championships, Sheridan has coached Clearcut to perennial Nationals qualifier status. Beyond that, his energy and passion has fostered a program that has grown from a short-numbered squad just a few years ago to now fielding full A and B teams.
Sheridan was named the regional Coach of the Year by his peers in 2016; now he gets the national recognition to go with it.
Runners-up: Steve Kreider (Catholic), Sean Prichard (St. Olaf)
---
statistics were not tracked for their final game of consolation ↩