Standout individual performances from the spring season.
Ultiworld's 2017 Men's College Awards are presented by Spin Ultimate and the National Ultimate Training Camp. All opinions are those of the authors. Thanks for supporting the brands that make Ultiworld possible!
Ultiworld is pleased to announced our fourth annual College Awards. The criteria for each award can be found here — we consider both regular season and postseason performance in our selection of awards. Though the input of Ultiworld reporters is weighed heavily, final decisions for awards are made by the editors.
To see the Player of the Year Award, go here.
Offensive Player of the Year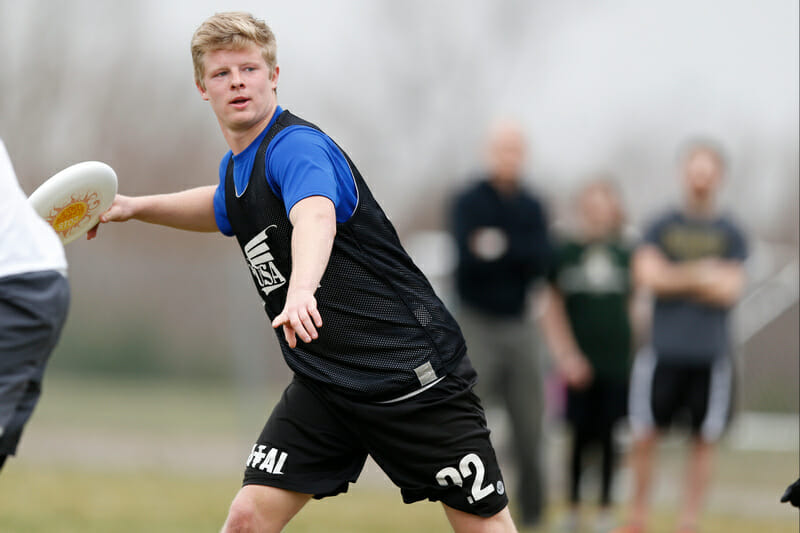 Dom Schuster (Franciscan)
Two years ago, D-III ultimate witnessed a freshman from Franciscan put Fatal on his back and carry them through the harsh winds of Rockford, IL to a national title. Now, despite coming up short of another championship, that freshman has developed into the most potent all-around offensive threat in the country.
Over the course of the season, Dom Schuster displayed a versatile arsenal of throws that tore through all of Franciscan's competition in route to a perfect regular season record. Many people attribute the team's success simply to a low level of competition, but in the finals of CWRUL against Ohio University — the toughest opponent Fatal faced all season — Franciscan coasted to a 15-9 victory. Schuster was lights out in that game, throwing 12 assists and demonstrating an ability to dominate against any level of competition.
Schuster's throwing showcase continued at Nationals, where he finished tied for second in the tournament with 23 assists. What made his performance most impressive, however, was his ability to adjust when defenses forced him out of the handler space. Teams who scouted Franciscan were prepared to force Schuster away from the disc, and he adapted by catching 12 goals on the weekend.
Schuster has grown from a freshman who could steady the offense in the wind to a playmaker who can create goals and be dangerous with the disc from anywhere on the field. His all-around brilliance this year makes him our Offensive Player of the Year.
Runners-up: Alan Villanueva (Air Force), Danny Yates (Alabama Huntsville)
Defensive Player of the Year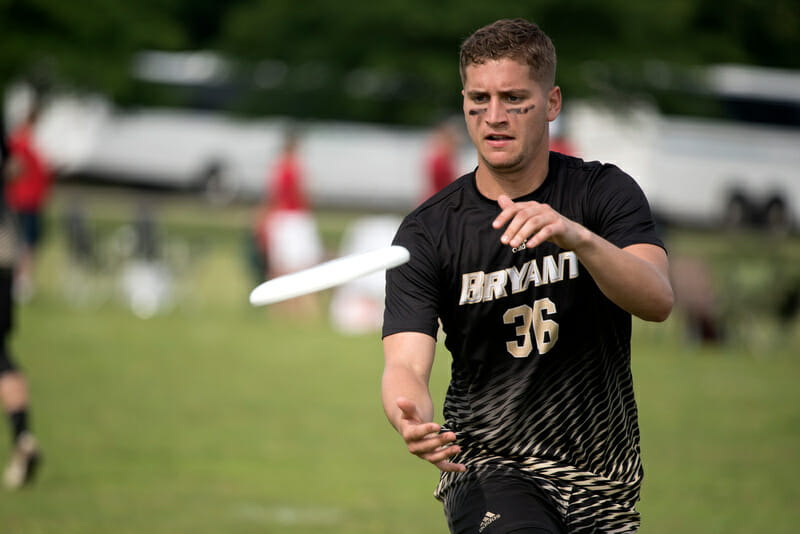 Jacob Garfinkel (Bryant)
Bryant Craze almost exclusively played zone this season, running an athletic 4-person cup look that could be tweaked in a variety of ways to suit their opposition. While many zone looks are designed to force an offense into patiently swinging the disc until they throw it away, Bryant's zone was aggressive and looked to create turnovers by putting their athletes in positions to make plays. Craze's defense turned into one of the best in the division, and it was spearheaded by Jacob Garfinkel.
Garfinkel played in a multitude of roles within Craze's zone and he excelled at all of them. Whether utilizing his legs in the cup or his speed to cover ground as a wing, Garfinkel's athleticism and field sense made opponents feel as if there was an eighth person on the defense.
As a team, Craze fed off of emotion and used big plays to fuel runs of multiple breaks; it was usually Garfinkel who provided the spark for those runs. Bryant went on a run of six breaks in their quarterfinal game against Franciscan — the first two of which were created by Garfinkel getting blocks in the cup.
It's one thing to pad stats with blocks against weaker opposition in pool play, but it's another thing to get the big block in elimination play when your team needs you most. Garfinkel showed an ability to do both, and he is our Defensive Player of the Year.
Runners-up: Stephen Babcock (Franciscan), Tannon Hedges (Alabama Huntsville)
Breakout Player of the Year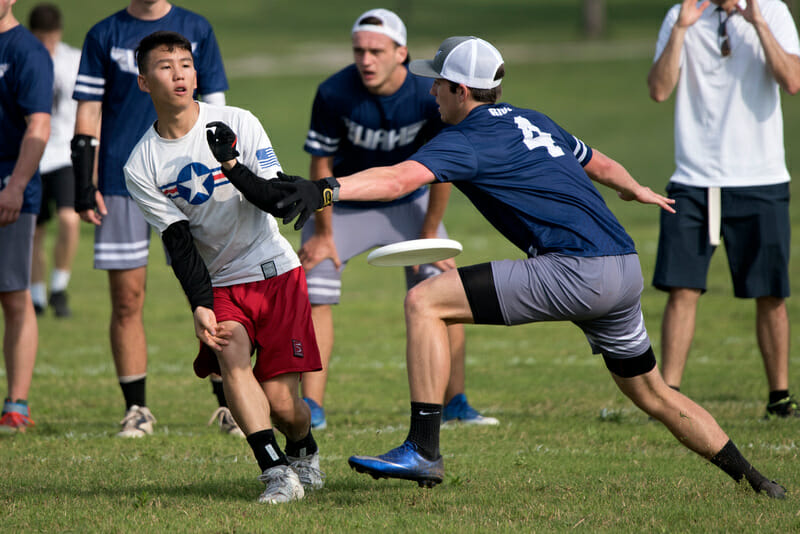 Kainoa Chun-Moy (Air Force) 
When discussing who deserves the BPOTY award, there are several types of players our eyes are typically drawn to. Fans love to get excited about the athletic defender they've never heard of making huge bids1 or the savvy cutter who comes out of nowhere to score an incredible amount of goals.2 However, this year our award is going to a player who stepped up to take on a major role that doesn't necessarily get the usual headlines.
Kainoa Chun-Moy was a revelation defensively at Nationals, not because he necessarily made all of the big plays, but rather because he worked tirelessly to prevent others from doing so. As part of a loaded sophomore class filled with guys who stuff the stat sheet — Villanueva and Moshea are also both sophomores — Chun-Moy came into the season under the radar. However, ask anybody Chun-Moy guarded this year: he's the real deal.
One of the best matchups we got to see at Nationals was Chun-Moy on Dartmouth's Nicky Golini. As a senior leader for Dartmouth who fluctuated between cutter and handler, Golini had been dominant all weekend. This game was a must-win if Air Force had any hopes of making the bracket and Chun-Moy stepped up to contain Golini. Chasing Golini all over the field and forcing him into uncomfortable positions, Chun-Moy didn't record a single block. However, he held Golini to a zero goal, four assist performance and Air Force won the game 14-11.
Despite not showing up the stat sheet as much as others, Chun-Moy jumped out as the kind of tireless defender who will be terrorizing stars in the division for the next couple of years and he is the winner of our Breakout Player of the Year.
Runners-up: Laramie Aspegren (Wheaton), Matthew Moshea (Air Force)
Rookie of the Year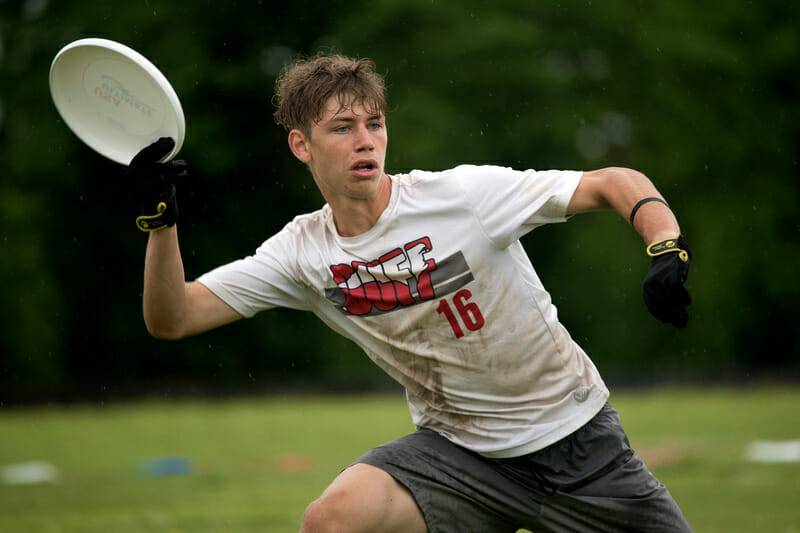 Andrew Roy (Davidson)
By design, Division III ultimate provides freshmen with a larger platform to shine. Smaller enrollment at schools in the division usually means smaller programs; smaller programs mean fewer B teams and more responsibility for each player on the roster. When D-III programs get a freshman with any previous ultimate experience, it's a blessing. When they get an exceptionally talented freshman with international experience and poise on the big stage, it completely alters the program. The latter is what Andrew Roy meant to Davidson DUFF this year.
As a team that prides itself on depth and its system, Roy didn't walk right into Davidson and get an abnormal amount of playing time. However, as his role on the team grew, so did Davidson's success. Roy was nothing more than a D-line role player at Queen City Tune Up, Davidson's first tournament of the season and the team's worst performance of the year. By the time DUFF reached Nationals, Roy was playing almost every point on both sides of the disc. In the final, he played 26 of the 27 points.
What makes Roy's efforts at Nationals especially impressive is the role he played while on the field. He wasn't conserving energy by guarding a weaker player, or getting lazy by bombing hucks on offense. On defense, Roy consistently took the toughest matchup, evidenced by his battle with Henry Babcock in the final. On offense, Roy did the dirty work that doesn't show up on a stats sheet. He moved the offense with his legs, bouncing the disc across the field and running his defender into the ground for resets.
Roy was consistently the most impressive freshman on the field this year. While unfortunate that we won't get to see him continue dominating the division,3 there was no debate in selecting Roy as our Freshman of the Year.
Runners-up: Harris Cannon (Richmond), Garrit Headley (John Brown)
Coaches of the Year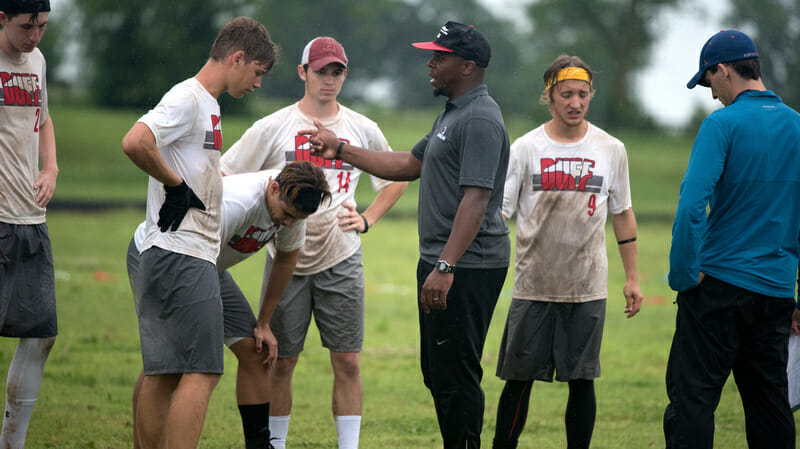 Ken Porter & Erec Hillis (Davidson)
On February 5th, Davidson DUFF were disappointed after going winless at Queen City Tune Up. Three and a half months later, in a turn nobody would have expected back in February, DUFF were playing in the national championship game. While many factors contributed to Davidson's turnaround, the main factor behind their improvement is the tremendous coaching from Ken "KP" Porter and Eric Hillis.
As a player who was known for his jaw-dropping athleticism and big plays, it was ironic to watch a team coached by KP that was so fundamental and conservative with the disc. No player stood out offensively, for better or worse. The cliche "faceless army" tag is often attached to teams without standout players, but the more appropriate description could frequently be "well coached." Davidson's horizontal offense ran like a well-oiled machine, and the machine got stronger over the course of the season.
KP's experience as a defender also came through in the tenacity with which DUFF defended. Playing primarily person defense, with a couple of zone looks to switch things up, Davidson didn't allow a single opponent to score double digits at Nationals until the championship game. Despite the fairly calm weather conditions, no team scored more than seven points against DUFF on Saturday, as technical marks and proper positioning downfield restricted opponents from establishing an offensive rhythm. All seven defenders were on the same page, a testament to the coaching they received.
More important than any of the technical coaching was how KP and Hillis created an atmosphere on Davidson that players wanted to be a part of. They embraced the weird and silly side of DUFF, participating in many of their sideline antics, while also providing a calm and composed presence that helps focus the team's emotions on the task at hand. Under them, the whole of Davidson exceeded the sum of their parts, and they were an easy choice for our Coaches of the Year.
Runners-up: Matt Graves (Richmond), Alex Renn (Franciscan)
---
Aspegren ↩

Moshea ↩

Roy is transferring to Carleton and plans on playing with CUT. The rich get richer. ↩