The 14 best players from the 2017 college season.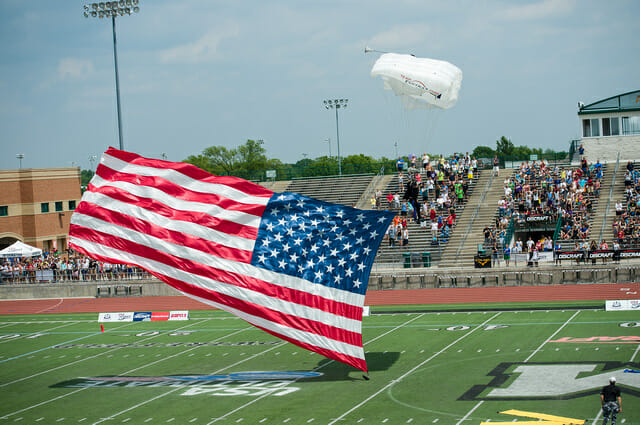 We are pleased to announce Ultiworld's 2017 All-America teams. These 14 players were selected for their performance in the 2017 college season, looking at both the regular season and the full college Series, including Nationals. Please join us in honoring the best college players of this season.
First Team
Jaclyn Verzuh (Dartmouth)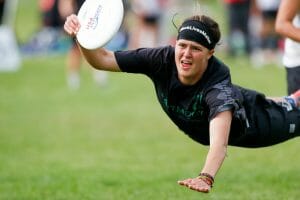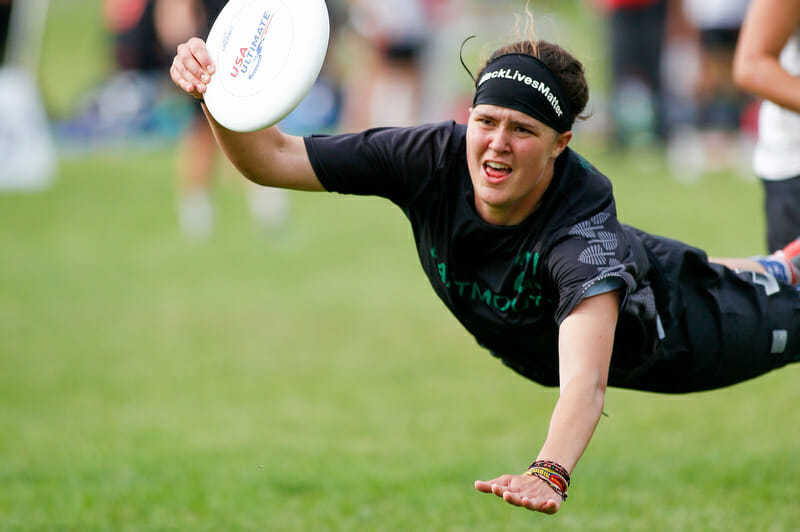 As is tradition, Player of the Year gets top billing on the All-America team. Verzuh ran away with that honor this year with overwhelming dominance of the division. She ran rampant through all challengers this season, especially during the bracket at Nationals. Women's ultimate has never seen a player quite like her before, with her combination of unstoppable physicality and thrilling deftness and so far, the rest of the division has not adjusted to her abilities. Just a sophomore, Verzuh takes home what should be the first of many first team All-America nods.
Angela Zhu (Dartmouth)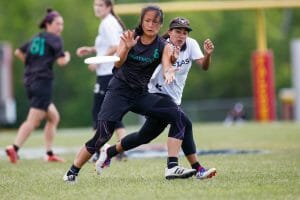 The other half of Dartmouth's Dynamic Zhuh-o, Zhu put the finishing touches on one of the most accomplished college careers in the sport's history this season. The 2017 Callahan Award winner, 2016 College Offensive Player of the Year, 2016 Club Defensive Player of the Year runner-up, two-time club national champion, college national champion, and now three time college All-American,1 Zhu already has more accolades than most players could ever dream of earning. Her skillset and experience make her the type of player that doesn't grace the college game very often. She and Verzuh being on the same team was truly unfair to every other team in the division.
Julia Schmaltz (Texas)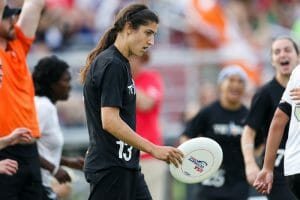 Schmaltz was tremendous in 2017 and an integral part of the season's story. She had several iconic moments and performances — from an incredible snag at Stanford Invite to a 10-goal haul in the national semifinal — and her goal scoring prowess was a huge reason for Texas making its first-ever appearance in the national final. Schmaltz is still young in the ultimate world, but she added an impressive understanding of the game to her already elite athletic abilities this year to make her one of the most prolific players in the division this year.
Han Chen (UCLA)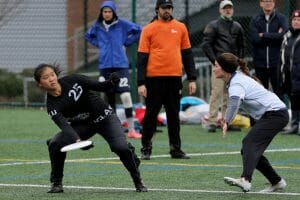 Chen possesses a unique skill set that makes her an equal force in the defensive deep space and the offensive backfield — it hardly seems fair that the Defensive Player of the Year is also one of the most dangerous throwers in the country. If the Player of the Year award was instead a Most Valuable Player award, Chen probably would have finished even higher than her second runner-up position. Chen has been one of the most entertaining players in the nation for a while now, and her performance this season easily earned her a second straight appearance on first team All-America.
Dre Esparza (Texas)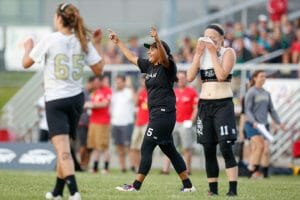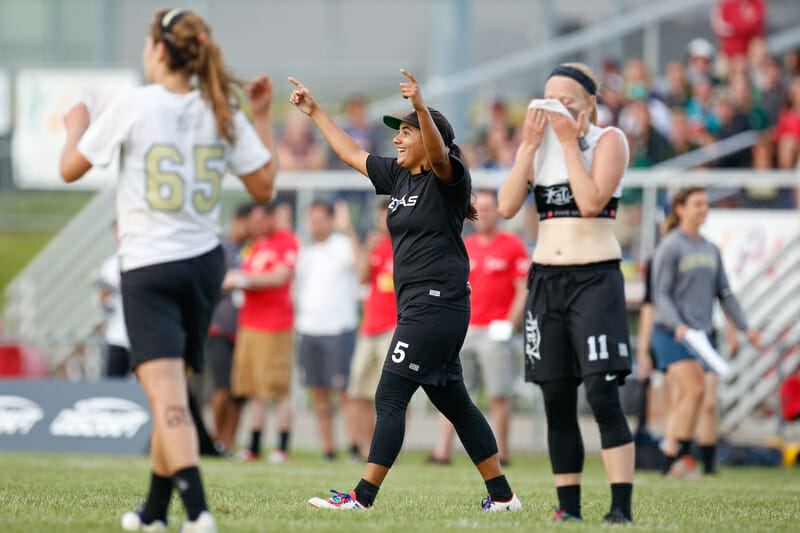 Esparza quarterbacked one of the most potent and exciting offenses in the country this year. Her tenacity and endless energy made her an absolute nightmare for any handler cover. The Texas offense flowed through its handlers and Esparza's movement in the backfield was often the catalyst for the team's most sumptuous moves. Esparza's gritty style perfectly embodied the spirit of the whole Texas team and she'll go down as not only a 2017 All-American, but one of the most complete players in her program's history as well.
Nhi Nguyen (Colorado)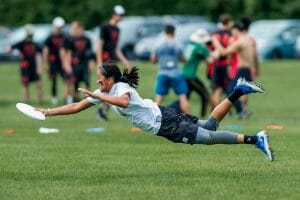 On a team of impressive defenders, Nguyen stood out for her athleticism, grace, and her nose for the endzone. She scored seven of Kali's 12 goals during their semifinal against Texas and she got four blocks, many of which were on Texas' best cutter — and fellow All-American — Julia Schmaltz. Nguyen often takes on the other team's most daunting offensive threat and shuts them down. At Nationals, she was a crucial popper in Colorado's zone with quick, perfectly timed cuts that placed her in the right place through the cup again and again. If there were ever a machine designed to create the perfect D-line cutter, Nguyen would have to be their mold.
Ella Hansen (Oregon)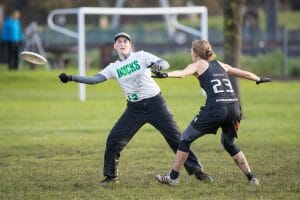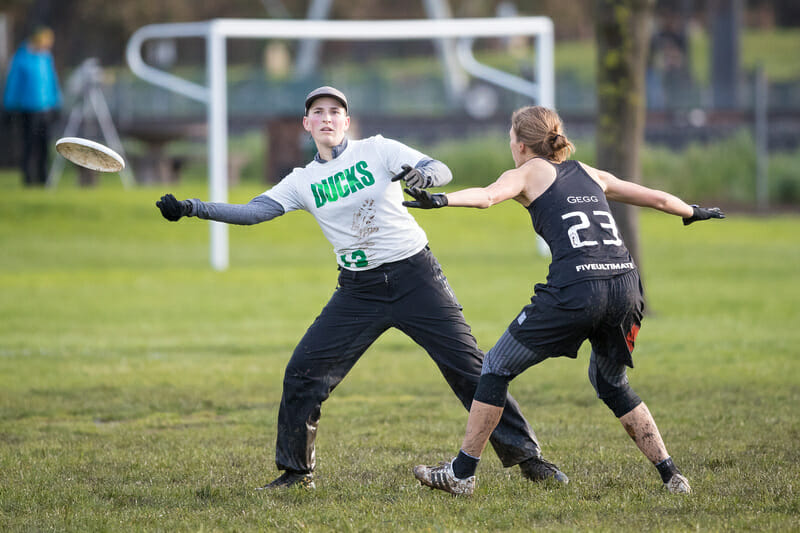 Instrumental in Oregon's surprise Pool B win and run to quarterfinals, Hansen put on a handling masterclass in Mason, OH. She makes all of her throws look effortless, while mercilessly ripping a defense to shreds. Her inside-out forehand is one of the most fun throws to watch in the country and she powered Oregon to breaks after exhibiting her impressive defensive skillset before the turn. Oregon may have had a down regular season by their standards, but behind Hansen's exceptional play, they had a familiarly strong Nationals and were the only team to slay the otherwise invincible Dartmouth.
Second Team
Courtney Gegg (Stanford)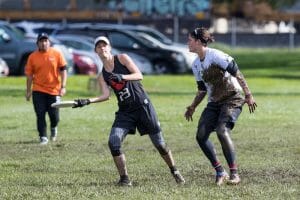 Gegg struggled with a foot injury during the regular season, but when on the field, she was still always a force to be reckoned with. One of the headliners of the army of tall, athletic Monstars to sweep the division over the last couple seasons, Gegg likely would have found herself on the first All-America team if fully healthy for the entire season. She led Stanford in goals and assists at Nationals, and though their season was cut short in quarterfinals, her two-way dominance was far too much for every team Stanford played up to that point.
Hayley Wahlroos (Oregon)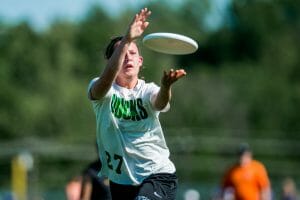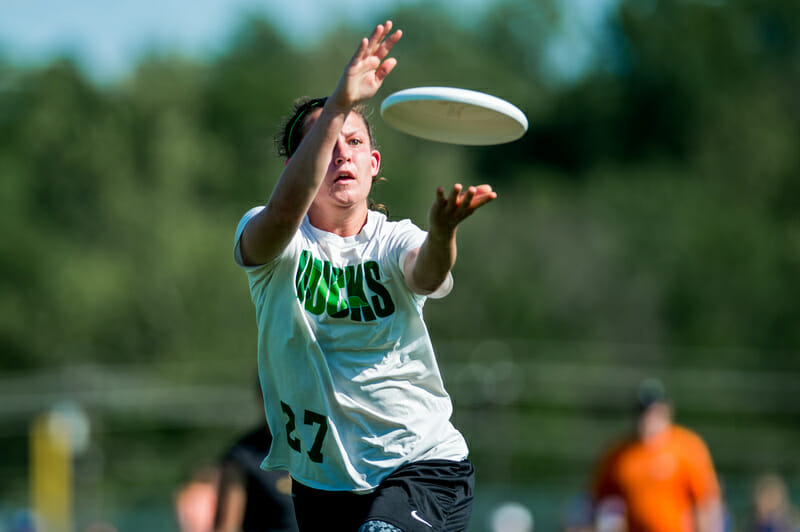 Hayley Wahlroos makes plays. No matter where she is on the field, she does what her team needs from her in order to win the point. From being the first female ultimate player on SportsCenter as a freshman, Wahlroos has come into her own as Fugue's most versatile weapon this year. She handled and cut throughout the season, and she executed in both roles with high-intensity precision and skill. Her insane range of throws opened the field for Fugue this season as she stepped into a bigger throwing role, yet she was still the most reliable target for her fellow handlers' deep shots.
Julia Butterfield (Notre Dame)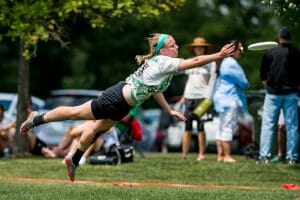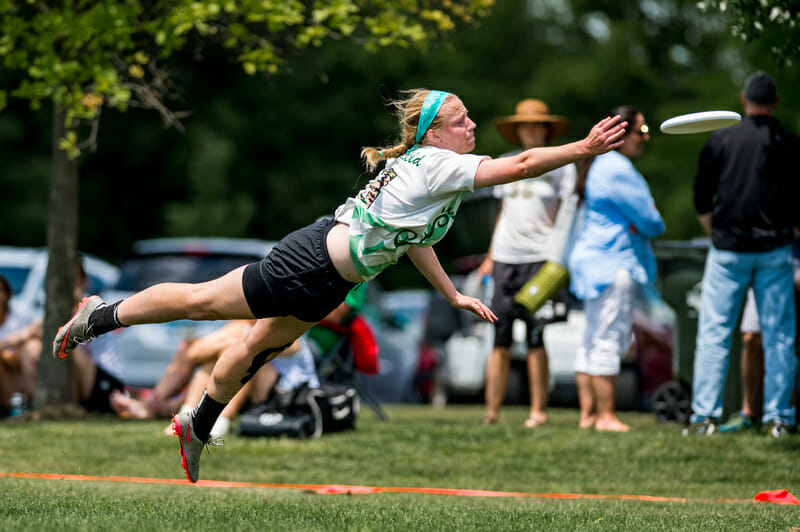 Julia Butterfield has been a favorite target for Notre Dame since their last Nationals run in 2015, but this season she added an arsenal of hucks to her toolbelt, making her one of the toughest matchups in the division. Butterfield was a major part of Notre Dame's return to Nationals this year, and her hucks kept the team's favored deep game dangerous even when defenders forced her under. She had 17 goals at Nationals, the most of any woman who didn't reach the quarterfinals. She's headed to Stanford for graduate school next year, and the entire division should be worried.
Julianna Werffeli (Dartmouth)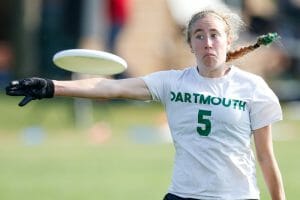 Jaclyn Verzuh and Angela Zhu have deservedly been highly praised, but Dartmouth wasn't just a two-woman team. Werfelli was an anchor on both sides of the disc and whenever Zhu was on the sideline, it was Werffeli who marshaled the team down the field. She's a great athlete, elite defender, and multi-faceted weapon on offense. Her complete, well-rounded game perfectly complemented her team's top two. While Verzuh and Zhu broke opposing defenses, she took advantage of that and dominated on offense in her own right, while also frequently being the team's defensive ace.
Katie Ciaglo (Carleton)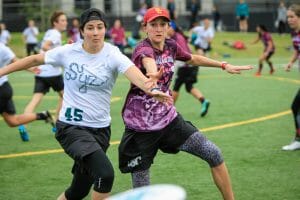 Katie Ciaglo played herself onto the Second Team at Nationals by completely dominating the assists leaderboard for several days. She threw 25 assists in five games, which averages out to more assists per game than the reigning assist leader, Angela Zhu.2 Her hucks were gorgeous, and more importantly, they were stunningly accurate. Carleton's receivers rarely had to make big plays to score because Ciaglo dropped the disc right in front of them. Ciaglo also played tough handler defense on a turn, and she racked up more than a few handblocks before Syzygy's weekend was through.
Carolyn Normile (Pittsburgh)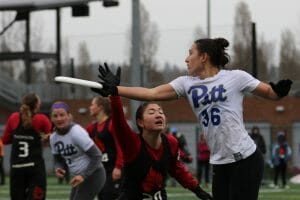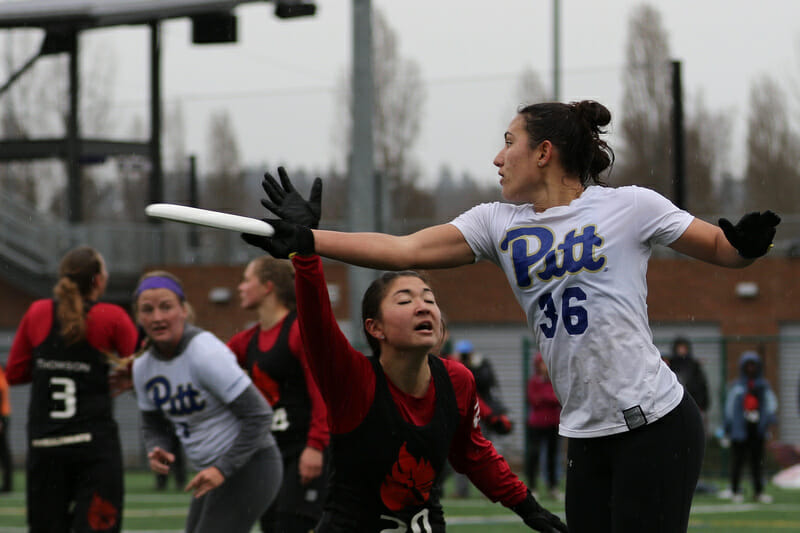 As she did last year, Normile remained the centerpiece of Pittsburgh's offense, regardless of where she was positioned on the field. She's still one of the division's best throwers, capable of shredding defenses by getting to the break side, roasting defenders with give-and-gos, or smashing them with deep throws. Her versatility as a thrower combined with her exceptional ultimate IQ to make her one of the most threatening individuals in the division in the handler set. Plus, Normile's defensive capabilities helped her generate plenty of blocks in all three levels of the defense.
Ellen Au-Yeung (British Columbia)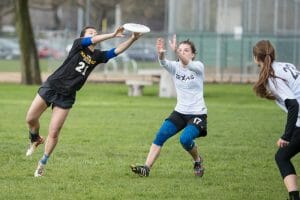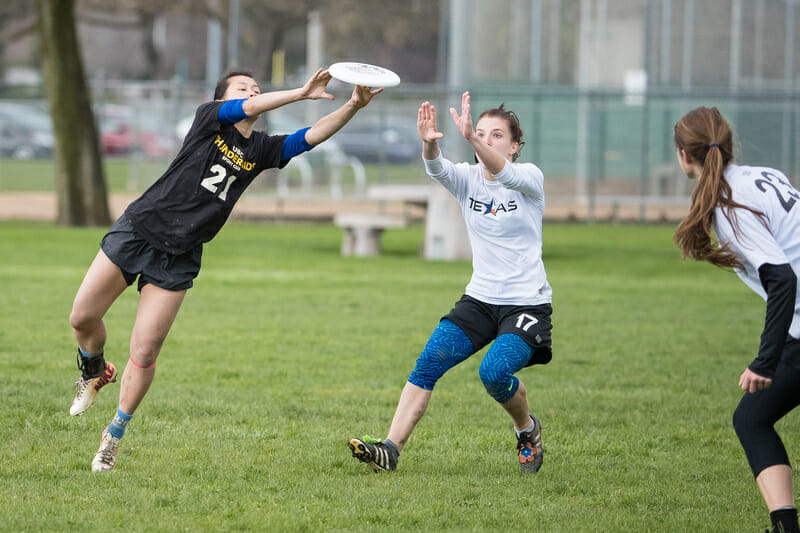 Again and again this season, Ellen Au-Yeung refused to let opponents take her out of the play. Au-Yeung makes cut after cut and throw after throw until her defender either gives up or subs out. Her speed and endurance are tough to match on the field. She's the best type of cutter to have on your team, with hucks that pack the punch of someone with a much bigger stature. She shifted between UBC's O- and D-lines throughout the season, and her efficiency on both lines helped bring UBC to the semifinals for the second time in three years.
---
two first team appearances, one second team ↩

38 assists in eight games ↩