Clapham's depth shines through again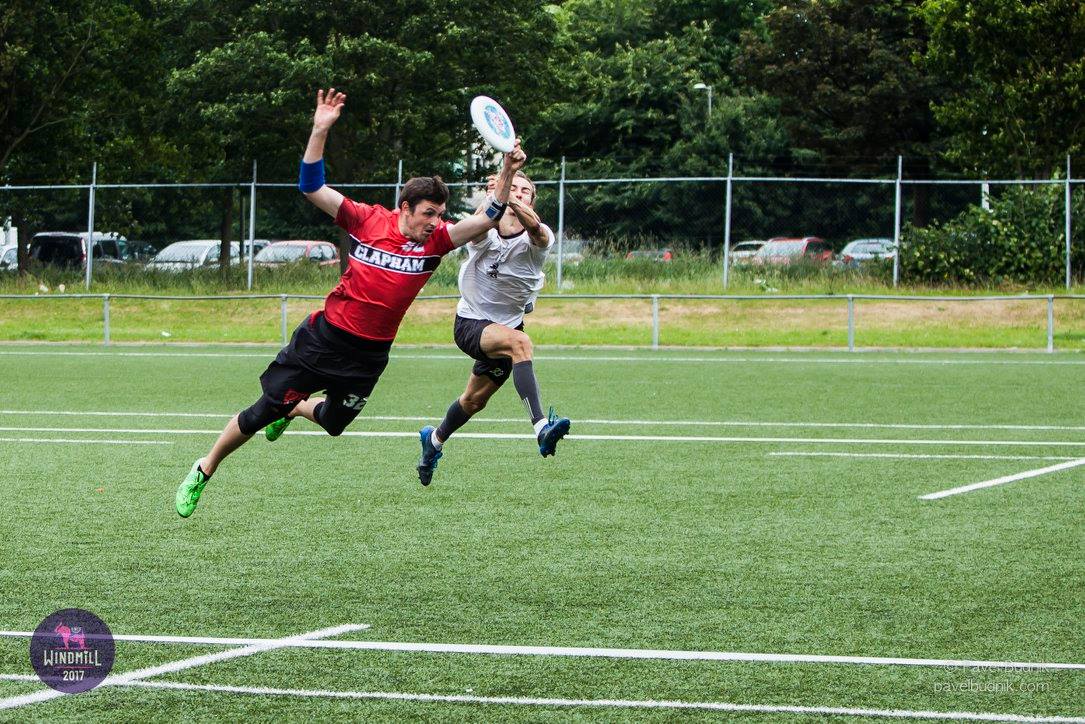 AMSTERDAM — The Windmill Men's division is always an elite affair with 24 of the best men's teams coming to compete for a chance to play in front of a 1600 person crowd and win the coveted golden elephant trophy. Like every other division, there are five rounds of swiss draw play where every point matters as teams try to push themselves into the top eight. The last three rounds are quarterfinals for the top eight teams while the rest of the tournament keeps on playing swiss draw to decide the 9-16 rankings.
You know the tournament has a high level by looking at a few of the outside teams that didn't make quarters. Heidees — a team from Heidelberg, Germany — placed 8th at WUCC back in 2014 and are no strangers to winning medals at Windmill; they finished 9th. Other top European teams like Wall City (Berlin, Germany) and Otso (Helsinki, Finland) ended far further down the ranking than they would have liked. Another big surprise is that the British East Midlands Open (EMO), a team that placed 2nd at UK Tour the weekend prior, finished 14th at this tournament. Finally, though they didn't place high, it is worth mentioning Hardcore Ultimate from Singapore. This is the first time an East Asian team has visited Amsterdam for Windmill and it was really cool to see them there.
But enough about the consolation teams, let's get into the ones who made the bracket.
Triangle at the Top
After Swiss draw, the top three teams were Clapham (London, UK), Freespeed (Basel, Switzerland), and Team E.R.I.C. (all-star team). Within the Swiss rounds, Clapham fell to E.R.I.C. 15-12.
E.R.I.C. usually goes to tournaments with an array of American all-stars but, though some Americans did make it out to Amsterdam, the team was mainly driven by heavy European hitters. In the Clapham game, the German Mo Brucklacher (2015 All-Tournament Line) had a standout performance with full field hucks that Clapham could not stop.
In the final round of swiss draw, E.R.I.C. faced Freespeed and took a 15-12 loss of their own. However, the most interesting game in this triangle was the matchup between Clapham and Freespeed in Round 4. Freespeed went up 11-8 and seemed to have the game wrapped up but some nerves,– combined with Clapham's patented late game, shut-down defense — allowed the London powerhouse to claw back to a win at 14-12.
The quarter final rounds were set after the Swiss Draw Rounds:
#1 Clapham vs #8 Fire of London
#4 PELT (Limerick, Ireland) vs #5 FUJ (Prague, Czech Republic)
#3 E.R.I.C. vs #6 Catchup Graz (Graz, Austria)
#2 Freespeed vs #7 Tchac (Coté d'l'eau, France)
Clapham cruised to the final on the easier side of the bracket, taking out both their fellow Londoners and the Irish PELT 15-8. The other side of the bracket was a much tighter affair.
Team E.R.I.C. narrowly beat out Catchup Graz 15-13 and Freespeed just edged out Tchac on double game point to move on to semis. The semifinal matchup between E.R.I.C. and Freespeed was an epic one that also came down to double game point with E.R.I.C. starting on offense.
Freespeed threw a zone down that was clearly focussed on shutting down options around and through but leaving big weaknesses on overheads. Though the wind was quite light, the E.R.I.C. squad didn't feel confident to hit those overheads and, after a number of swing passes and even after one opportunity opened up by a great scoober by Dutch player Joram Mossink, the all-star team ended up dropping the disc on a routine swing and ended up giving the Swiss a short field to work with. Freespeed quickly converted to advance and give themselves another shot at Clapham in the final.
The final between Freespeed and Clapham played out like so many before. Both teams started the game looking incredibly evenly matched. Freespeed relied on amazing plays by their regular standouts Luca Miglioretto (playing this year with the Ottawa Outlaws in the AUDL but returning to Europe to play Windmill, WCBU, and the Swiss championships) and his brother Nico. Their giant Belgian Pieterjan De Meulenaere and 40 year old David Moser also chipped in some plays.
The teams traded points throughout the first half but at 7-6, Freespeed got a break opportunity. Moser made an aggressive strike deep covered by Ashley Yeo and caught what looked like a solid goal but the disc went back on a call. A few passes later, Moser made a very similar cut and read a floaty hammer way better than his two defenders. This time his score counted, giving Freespeed an 8-6 lead at the break.
Like clockwork, though, Clapham surged back in the second half. They came out on fire and, before you could blink, the score had flipped from 8-6 to 10-8 in Clapham's favor. This was aided by huge defensive plays and well-placed pulls by Clapham's Tom Abrams. The team traded out the rest of the way, yielding a 15-13 Clapham win and another golden Elephant trophy for the mantle.
The story has been the same for Clapham in Europe for years now. Other European teams can hang with them for a half but can never seem to close out the win. Other teams have star players that can play at Clapham's level, but it seems that they just don't have the depth that Clapham does. This eventually forces top players to either fatigue physically or mentally. This game was no different; Luca Miglioretto made some critical throwing errors down the stretch.
Both teams are on the hunt for spots at WUCC next year. Clapham will surely qualify out of the UK, but the story is not so clear for Freespeed. Switzerland only has one bid to WUCC this year and so Freespeed will need to be Swiss champions this year to earn it. Flying Angels Bern (FAB) will not give the spot up easily. Lorenz Stauffer of Flying Angels is one of the best throwers in Europe, despite his age. Sources say he simply sits on the sidelines during Swiss championships up until the final against Freespeed.
Freespeed will also be hurting as one of their top cutters, Robin Bruderlin, tore his ACL at Windmill. They will also face another hurdle as their go-to primary cutter, De Meulenare, is not eligible to play in the Swiss Championships since he does not live in the Basel region. This will make for an epic match to watch for in the Swiss Championships on July 2nd.
After Windmill and Beach Worlds, the next interesting stop for Europeans this year is the U.S. Open. Clapham, CUSB La Fotta (Bologna, Italy, 2nd place at EUCF last year), and Inside Rakete (the German National Team) will be in attendance. It will be exciting to see how these European teams stack up against the top talent from the United States and the rest of the world.