Saturday is set up to be epic.
WROCLAW — The first day of competition has come to a close at the World Games with plenty of intrigue to go around. After the Colombians upset the Americans early in the day, tensions were high for other important matches in the afternoon.
Here's a look at the current standings.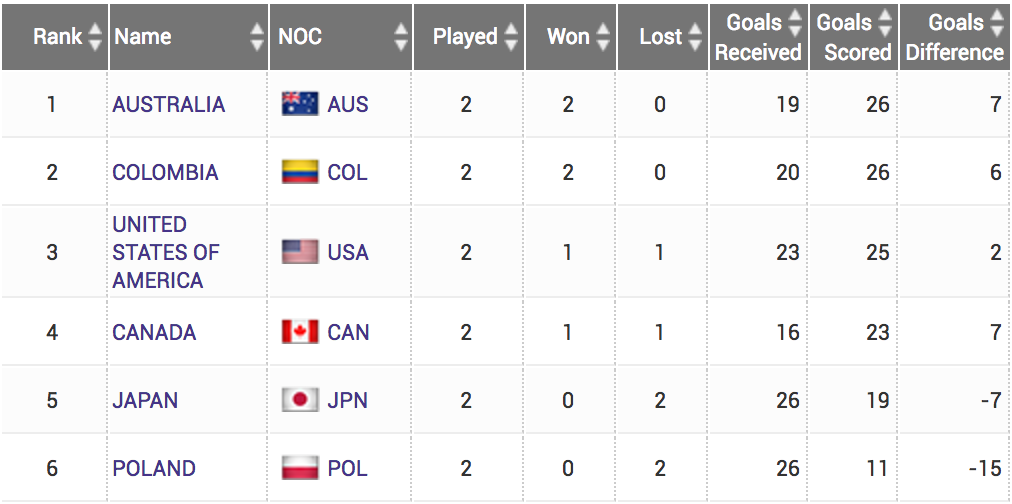 Reminder: the top two teams after round robin play will compete for gold; the next two teams will play in the bronze medal match. There is no bracket play.
Below, we recap each of the day's games.
USA 13-10 Canada
USA, facing potential elimination from gold medal contention if they were to lose, got off to another slow start against Canada, but outworked their northern neighbors in the second half to win 13-10.
The Americans opened up the game by throwing straight into a poach, getting broken, then dropping a disc and getting broken again, all with barely a whisper from their defense.
After Dylan Freechild found Sandy Jorgensen for their opening goal, Canada ran a lovely set play out of a ho stack: Brendan Wong fired deep to Andrew Carroll to make it 3-1.
USA dealt with the transition zone well on the next point, then got back to back breaks courtesy of excellent blocks from Chris Kocher and Anna Nazarov, putting the game back on serve at 4-3.
The teams continued to trade until USA took half 7-6, with Freechild proving difficult to stop after moving to play as a central offensive handler. The handler duo of Carroll and Tim Tsang was able to move the disc well for Canada, while Catherine Hui racked up several goals and assists. Aside from the first few points, it was relatively clean, error-free ultimate, and both teams worked the disc well against the various poach sets.
George Stubbs got a block in a simple person defensive set to start the second half, swung to Nick Stuart, got it back, and hucked to Stuart for the break.
Jorgensen tipped a disc on the next possession but Canada held as Kevin Underhill reeled it in to get back within one.
USA got the critical offensive hold, then broke as Mark Lloyd floated one too high and Jorgensen went up and over Hui in the endzone. Moments later, Jimmy Mickle hucked to Beau Kittredge, guarded by Lloyd. The two jostled for position, both went up too early, and the disc fell to Jorgensen for the bookends score and a 10-7 lead.
Canada's legs were starting to tire by this time, their cuts lacking a bit of conviction. Both teams were making some very poor mistakes. No one wanted to pivot and every move was poached, all until Stuart decided to go deep for a beautiful flick from Grant Lindsley. He caught it in stride at full speed as though it was the first cut of the day.
That score made it 11-7 and it really broke Canada's back. Only excellent cutting from Audrey St-Arnaud and Terri Whitehead kept the disc alive. Hibbert sat out on the sideline, guarded loosely by Mickle, biding his time until he could strike deep for the hammer goal, thrown by Lloyd, to make it 11-8. A great pull followed, but no one from Canada had the legs to run it down.
Claire Desmond got stalled, giving Canada a rare chance to break, which they did with no cuts whatsoever from the stack, saving their legs by running the disc entirely through Lloyd and Geoff Powell. Canada threw everything they had at the next defensive point, but USA's patience and hard cuts were enough to keep the disc moving, mostly through Nazarov.
Canada now needed four in a row to win; they held with a laser throw from Hui to Wong past a bidding Kocher, but USA calmed down and were not in the same frame of mind that saw them collapse late vs Colombia. They punched it in for the win, 13-10.
Australia 13-11 Japan
Landing two breaks to close out the game, Australia edged past Japan 13-11 in one of the day's best games.
Japan opened with a mini-zone set near the disc, with a dedicated poach on the inside lane, attempting to push Australia to the force sideline. On the first point, Australia walked it right down the lane, but on their second O point, Seb Barr threw OB and Japan broke with some nice deep movement to the break side. Japan was really fond of their overheads and flashed a wide variety of throwing shapes to find holes in the "box" zone, like a 2-2-2-1.
At 3-2, Japan's no mark zone resulted in a simple drop from Australia, but Japan threw their first turnover on a hammer to no-one. Australia scored on the open side again, before switching to a loose four-person cup which slowed but did not stop Japan, who again throw lots of overheads and scored on a nice blade to Takaharu Komori.
Japan's out-of-bounds pull at 4-3 was punished as a huge hammer broke open the transition zone, with Australia yet again working short throws to score. Japan's method of giving up the open side did not prove to be hugely effective, although they did manage to contain the Crocs deep game early.
The Crocs got their first chance to break courtesy of a Rob Andrews layout block off the mark on a floaty reset, but an ill-advised deep hammer, maybe trying to imitate the Japanese, gave it back to Japan. The Japanese risked a huge hammer over the female wing, who slightly mistimed her jump. Japan got the hold to go up 6-5.
A spectacular crossfield flick to Prentice set up the Australia hold, 6-6.
A high stall from Japan gave the Crocs a chance, but Tom Tullett dropped a floaty pass. Japan struck deep, the throw hung and was clawed in for half over two defenders, 7-6.
After three holds out of half, Japan put up another upwind disc that hung. A Japanese player came flying into a pile with little regard for the stationary players underneath him, leading to a nasty collision that saw medics on the field for some time tending to both Japanese and Australian women wiped out in the bid. The disc went back to the thrower as a contested foul, but really it should have been an uncontested receiving foul and a turnover.
The Aussie pressure eventually led to an ill-advised leading blade into the zone which was easily picked off by Tullett. Australia again worked the open side to lead and retake the lead, 9-8.
After a Japanese hold, Australia's Pete Blakeley dropped a pass, setting up Taku Honna for a beautiful, low 40 yard leading hammer assist, which was inexplicably called back for a travel. Lisa Shimada put up a bladey huck — this time it counted and Japan went back in front, 10-9.
After holding to 11-11, a long, turnover-filled point eventually saw Tullett scoring the break as he cruised past everyone to score deep and secure the critical 12-11 lead. Australia never seemed to take on the marks in the matchup, preferring to swing wide around the mark into space or to win the open side race.
Rebecca Brereton came up with a huge layout block on the reset on the ensuing point, and Tullett dialed up a huge hammer that was easily caught for the 13-11 win.
Australia 13-8 Poland
This was a very sloppy game, which Australia could have easily won by a wider margin. The teams traded for most of the first half, with a mostly clean Australia O-line watching some very sloppy offense from their D-line. Eventually, Australia pulled away to win 13-8.
The Crocs ran a hybrid switching defense which deliberately set up gender mismatches with one of their speedy women guarding a handler, allowing them to leave a man poaching deep. It worked great in this game, as Poland repeatedly threw deep to their women who were chased down by the tall speedster Rob Andrews, or they attacked the middle of the field where the discs were repeatedly eaten up by Tom Tulett.
The Polish offense ran almost entirely through Lukasz Dobranowski, Wojtek Starzewski, and Filip Dobranowski, who constantly attacked up the line. It seemed that Australia couldn't stop it, yet all that good handler movement was generally undone with poor huck selection after the halfway mark.
Australia, as in their first game against Japan, seemed only to attack the open side, swirling and causing multiple picks. The Crocs also didn't seem to be rotating all of their players, so tiredness may have been a factor. They were also down a player due to a collision in the morning game.
After a close first half, the second half opened with a quick three points from the Aussies using their "not quite person" defense, again with a gender mis-match in the handler set. Poland obliged by throwing directly to the poached space; Australia was able to convert quickly. The deep poacher Andrews easily caught up three yards on his man, getting the block, and the Crocs extended the lead to 10-5 as Alex Prentice fired a solid break to a laying out Sarah Wentworth.
Neither team really learned from their errors: Poland continued to throw deep to their female cutters closely guarded by the tall, fast Aussies, and the Aussies just kept giving it back on execution mistakes.
Some of the smoothest offense came right at the end of the game, with the teams trading out to 13-8.
Tulett really seemed to sum up the Crocs performance, getting a huge number of blocks only matched by the number of his mistakes. The Crocs definitely didn't come into this game firing on all cylinders, and they will need to regroup and step up if they want to get wins over the USA and Canada tomorrow.
Colombia 13-9 Japan
Two four-point runs gave Colombia the cushion they needed to comfortably defeat Japan 13-9 and move to 2-0 at the tournament.
Both Colombia and Japan played some stifling handler defense to start this game, and neither was able to take advantage of the other's mistakes. In one of the plays of the game, Colombia's Laura Ospina came up with a huge layout Callahan for an early hold.
The game then ground to a halt on the back of a flurry of travel and foul calls — and far more talking than ultimate. Japan struck first when Takayuki Yamaguchi came up with a beautiful layout block, setting up the break for a 5-3 lead. Another four points and 20 minutes later, it was Colombia up 7-5 at half after scoring four in a row. There weren't many turns, just lots and lots of calls. Takaharu Komori did a great job at containing the deep space, but he was unable to bring down the disc over a speedy Andres Ramirez.
The Japanese sideline was loud throughout, but the Colombians were "sshh"ing them as a team, trying to quieten them down or at least drown them out. Colombia stretched their lead straight after half with some smooth handling against a zone, then Japan did the same before breaking, courtesy of bookends for Komori, snapping up an underthrown deep shot then busting long to bring Japan within one at 8-7. However, Colombia hit their stride and scored another four in a row, having realized that they were dominant in the air. Japan was never able to slow them down and Colombia cruised to the win.
Canada 13-3 Poland
Poland quickly discovered that World Games competition is a significant step up from what they usually see in Europe, as their execution errors were efficiently punished by Canada to the tune of a 13-3 beatdown.
Canada jumped out to early 6-0 lead by running some simple offense and winning the aerial battles. Poland generally looked to isolate a single player, which Canada countered with help defense, slowing down the Polish team by cheating off wider cutters to narrow the cutting lanes in front of the disc.
In contrast to Poland, the first O point for Canada at 6-1 showed Canada ruthlessly punish the poaches by quickly swinging to attack the players left open even as Poland shut down the set play. However, they got lucky as a bounced throw sat up for Mark Lloyd, who immediately threw the assist to take half.
Canada didn't really apply much pressure, but they were consistently winning the open side battles, making their offense really easy.
Key Games Coming Up Tomorrow
Canada v. Colombia (4:45 AM Eastern)
USA v. Australia (6:30 AM Eastern)
Australia v. Canada (10:45 AM Eastern)
None of the above games are being livestreamed on the Olympic Channel, but stay tuned to Ultiworld's Twitter for information about possible livestreams from local Polish television stations.