The Tour is well underway.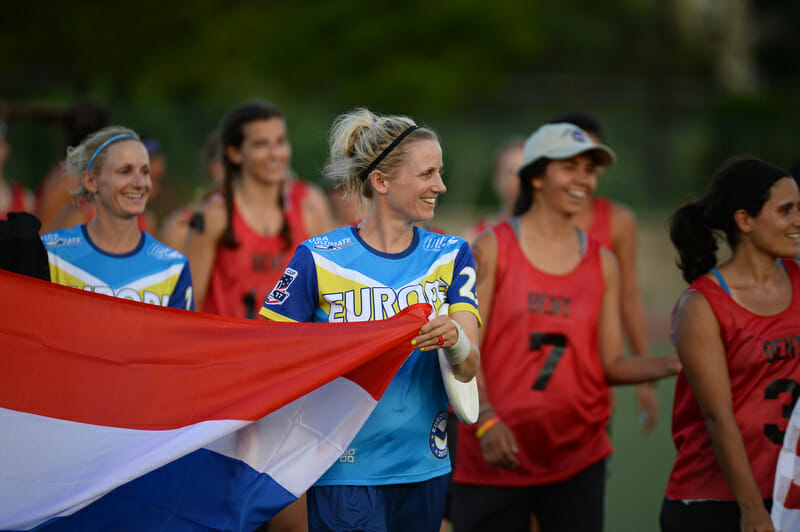 NEW YORK — As the sun set over the Hudson River on a muggy summer day in Manhattan last Friday, hundreds of people flocked to Riverbank State Park for the first stop on the EuroStars Tour.
Many of the European players on the Tour had met for the first time earlier that morning, flying in from across the continent to New York and gathering for their first and only practice (and a good one at that: on Governors Island, with a full view of the financial district and a glimpse of the Statue of Liberty).
"We had a really good practice: it was probably about two and a half hours," said Bex Forth, the team captain and visionary behind the Tour. "We got through a lot during that time. We covered what some players said they do in a season. And I think that's just because we've got a lot of players with lots of experience."
Just a few hours later, the EuroStars would notch their first win on Tour: a comfortable 15-9 victory over New York Bent. With an afterparty just a few blocks away right on the river, spirits were high after game one.
You could see the improvement of the team over the course of the game. Early miscues gave way to smooth offense in the second half, cuts became more assertive, and chemistry was developing almost immediately.
"We talked about it in our practice, about 'finding the magic,' said Katey Forth, Bex's twin sister. "So throughout the game you'd see two players connect in a really special way and they'd catch eyes. And after it was like, 'I found the magic!'"
The EuroStars will look to find more magic as they embark on their seven city, nine game swing across the United States. They've just completed their East Coast swing, playing in Washington DC on Sunday and Boston last night. They lost to both Scandal (15-9) and Brute Squad (15-13) to fall to 1-2 on the Tour, but were very competitive last night with Brute after falling into an early hole.
Sizable crowds have turned up for each of the games thus far, mostly to cheer for the home team but also to celebrate the competition in the Women's Division.
"There's a chance in our lifetime that women will be able to play [professionally]," said Bent captain Brittany Kaplan. "This is a good experiment for a lot of us on how it would feel to play one game. That's really different for us: playing one game, playing at night, playing in front of the crowd. It's a different pressure than the pressure of playing at a tournament, where no one is watching you: it's just in your brain. But I actually felt the energy of the people and that really pumped me up a lot."
There was a buzz in the crowd as Bent scored quickly early in the game and Ali Harris scored two of her four goals in an MVP performance. Standouts for the EuroStars included Paula Baas and Sarah Eklund. Great plays by both teams were cheered by the crowd.
"Visibility does matter," said Bex. "It's good for everyone back home to see that there's a huge crowd in New York who are here to cheer on their local team to play a visiting team. I think that speaks volumes."
The EuroStars crashed at various apartments around the city on Friday night before getting up for the first of many domestic flights. Unlike the All-Star Tours that preceded them, the EuroStars are flying to every city, not driving.
"We wanted to do it in a professional style," said Bex, explaining that the team wears matching t-shirts and carries matching bags as they move through airports and around town. She said that already a number of people have stopped them to ask where they were from and what they were doing in the United States.
While ultimate is the focus, there's also some time in every city to soak in the sights. "We're as much tourists as we are athletes!" said Bex.
Their next stop is Seattle, where they will face off against Riot and Underground on Friday night.
Hear from Bex and Katey Forth on the first stop in New York: