A new brand with a slightly different take on the standard ultimate uniform.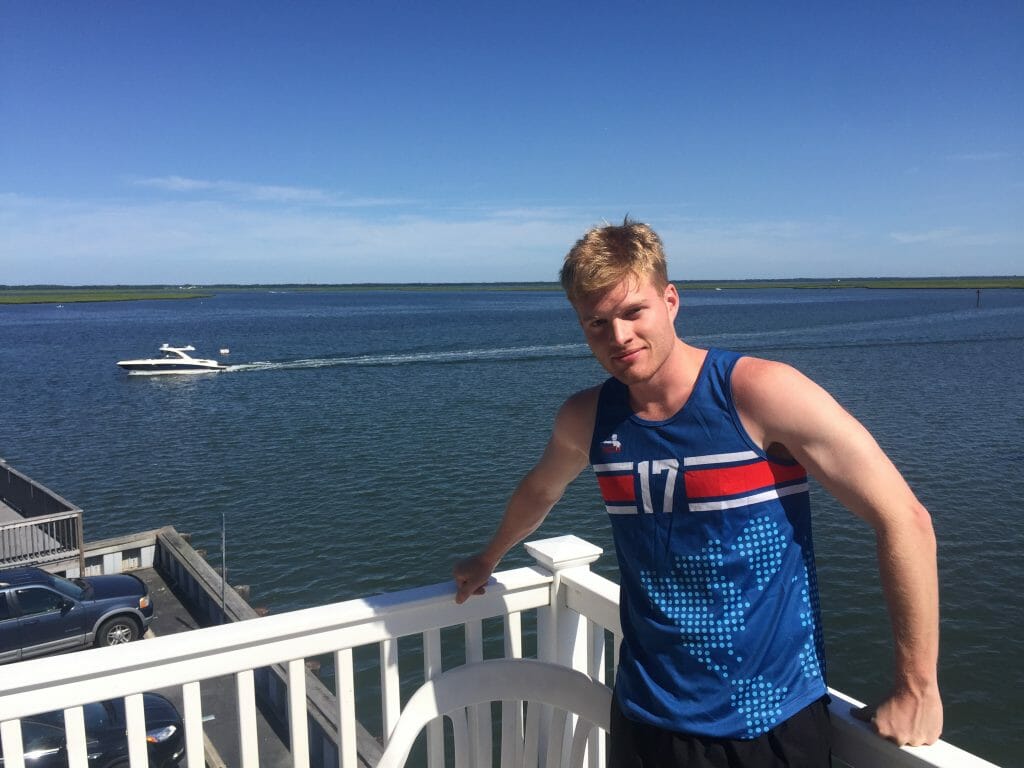 Disclosure: Ultiworld was compensated for writing this product review. All opinions are the reviewers' own and are not subject to approval from the sponsor. Please support the brands that make Ultiworld possible and shop at AGW.
There is a growing consumer market in ultimate, and apparel companies are at the forefront. Jersey kits, tank tops, and general paraphernalia are being produced for those all over the talent spectrum. From highly specialized performance equipment designed to shave a split second off your upline cuts, to whatever this is, if you want it, someone will sell it to you.
But with all the growth in the industry in terms of designs and outreach, there hasn't been a tremendous variety in the actual conception of what an ultimate uniform can be. At some point we all settled on the default look being a rough combination of longish stretchy shorts, a loose jersey, looser tank tops, and trucker hats. There may be some variation here or there — long-sleeve jerseys and visible compression are becoming more of a thing and Boston area teams have decided to take hats in more of a "late 1960's Italian cyclist" direction — but the standard ultimate player uniform hasn't changed much over the last half decade or so.
In such a crowded space with now dozens of companies getting into the ultimate apparel market, it makes sense that someone would try to break that mold. Enter "A Glimmering Wreck." The aberrant name aside, AGW is doing something different with ultimate apparel. With materials and textures foreign to most players and fits that cut a different figure from traditional ultimate apparel clothing, the Oakland-based company is betting that there is room for more than one notion of what an ultimate kit should look like.
***
They sent me the three standard items that need to be in your bag for any tournament, namely a tank top, shorts, and jersey. These provide a good assessment of what A Glimmering Wreck brings to the table.
Tank Top
The performance v. comfort divide is nowhere starker than with tank tops. The platonic ideal of a tank is something form fitting enough that you can wear it at a tournament without extra material getting in the way, but comfortable and casual enough that you can roll the look straight into the tournament party. This is hard to pull off, and there are heaping piles of tank tops and reversible that try to do it all but end up doing nothing.
Perhaps to avoid this fate, the AGW tank doesn't try to do it all and lands firmly on the "performance" end of the spectrum. These things are tight — really tight, like 1980's Russian gymnast leotard tight. But because of the cut, the tight fit doesn't inhibit any movement. You get full shoulder mobility and the material doesn't move around when you do. The fabric is a little coarse, and while it's not enough to cause chaffing or any skin problems, it definitely lets you know it's there.
These tanks are basically ideal for a beach tournament, as they aren't made of the mesh you see in a lot of reversible that gets saturated with sand and surf. The water resistant material and the skin tight cut keep you feeling dry and sleek even when the environment suggests otherwise. Also, FWIW, they really accentuate a muscular build. Shoulders and arms really pop in these bad boys.
Shorts
One part elite performance shorts, one part canvas swim suit, and one part vinyl, the AGW shorts are the biggest departure from standard ultimate gear of all the A Glimmering Wreck offerings.
They are also the best.
Stretchy on the inner thigh and pelvis but static by the knees and waist, the AGW shorts always seem to have just the right amount of give to them when you pivot and accelerate, as though every move you make is hitting the ideal flexibility point. While most other ultimate shorts opt for either ludicrous amounts of stretch or uniform tightness, the AGW shorts are stretchy where you are and don't throw extra fabric flopping around where you don't need it.
With a material that really does feel like if a bathing suit was made out of your dad's old record collection, it takes a second to realize that what you're wearing are athletic shorts. But once that initial hesitation wears off, you'll be pretty pleased with the material's properties. The shorts are water slicking, staying nice and dry as you run around in them. The downside to the material is that the fabric rubbing against itself can make a bit of a "swishing" sound, but it didn't bother me too much once I started to develop a Pavlovian association with the sound and the sensation of chasing after a disc.
It's rare to feel both free and secure, but these shorts do just that. The cut is shorter than what most ultimate shorts will give you, but there is plenty of room inside the fabric. They don't feel like any ultimate shorts you've worn before, but if you give them a shot I think they'll carve out a place in your heart.
Oh yeah, one more thing. Pockets. POCKETS. If nothing else, the AGW shorts obliterate the myth that you can't have functional pockets in your ultimate attire. With two (two!!!) totally functional pockets that are on the side of the shorts — you know WHERE YOUR HANDS ARE — you can actually carry things around in the clothing you have on your body. Welcome to the 17th century, ultimate.
Jersey
The first thing you'll notice is the material. What is this stuff? With the full bearing of woven polyester, the jersey evokes something more at home on a baseball diamond than an ultimate field. That isn't meant to be a pejorative, but the from first touch this jersey makes it clear that A Glimmering Wreck isn't following the traditional playbook.
Sturdier than most of its competition, the AGW jersey offers less freedom of movement but compensates with solidity. The fit is unusual, tight up top on the shoulders while looser in the waist and arms. With the shirt hugging my shoulders and back but flaring up at the biceps, it felt less like I was wearing it and more like the jersey was hanging on for a ride. Because of the way the shirts are cut, you may need to order about a size up from what you would normally get. I'm usually a medium, but the medium jersey looked like a crop top on me, while the large was the right length but still very tight in the shoulders.
You don't get the extra material that cascades off your body with other brands, but you also don't get the same sense of flexibility. The jersey doesn't move with you, it stays still and you move within it. When throwing, I found the fit to be a little uncomfortable at first, but not an impediment. It was just a matter of acclimation. Whether you want to invest the time to get acclimated to a new style of jersey cut is up to you.
The denser material led to an interesting phenomena once I had been running around in it for a while. I was sweating — a lot — as the material isn't exactly the most breathable I've encountered. But because of the nature of the fabric, the sweat wasn't transforming it at all. The fit and feel stayed the same even as I emptied electrolytes into it for over an hour. This is another way that the AGW kit subverts some of your expectations for apparel. Many companies try to promote their products as sweat-wicking or breathable because once you start soaking a jersey, it gets heavier and sticks to your frame. AGW's jersey has no pretentions about sweat prevention, but it is more or less unaffected by the sweat itself.
So much of performance is about comfort and routine. You want to be operating on a quasi-autopilot, making throws just as easily in practice as on universe point in the game-to-go. And ultimately the AGW jersey just didn't feel… comfortable while I was throwing and playing. I've worn it to the gym and on the track several times and felt great doing all manner of lifts and agility drills, the solid fit keeping you locked in without extra fabric swishing around. But out on the field, it just feels different, particularly in the shoulders when rotating on a backhand. I didn't feel constrained per se, but the shirt was present in a way that many other jerseys aren't.
Is it worse by some objective criteria? No, it's likely just my many years of playing with a specific kind of jersey that has ruined my ability to adapt. But if you spring for an AGW set, know that you're in store for a real departure from the norm.
Closing Thoughts
A Glimmering Wreck are taking a swing with this line of products. If you're willing to try something out of your comfort zone I think you'll be rewarded, particularly with the shorts. But if you're a creature of habit that wants to stick to the status quo, then this may not be the brand for you.