Rival's athleticism stood tall on Sunday.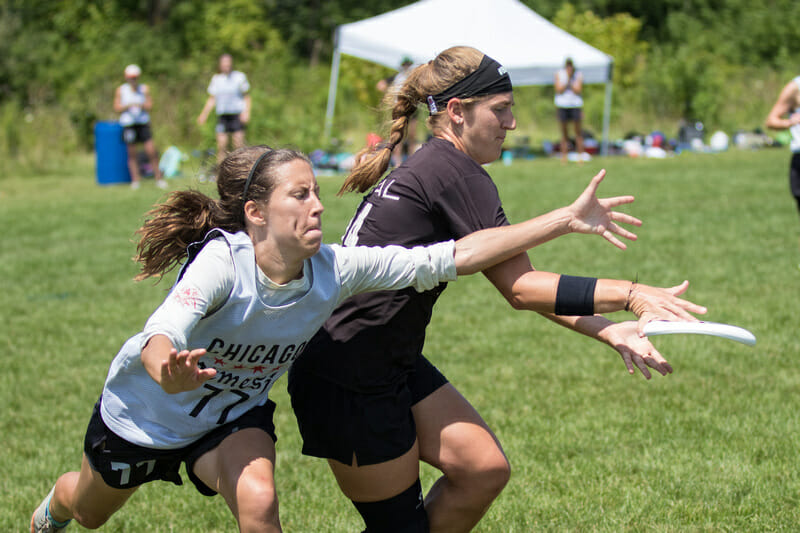 Ultiworld's reporting on the Women's division of the 2017 Select Flight Invite is presented by VC Ultimate as part of their year-long support of our women's coverage. All opinions are those of the author. Please support the brands that make Ultiworld possible and shop at VC Ultimate!
Every year, the Select Flight Invite brings together a collection of bubble teams: the teams that will be in contention for a spot in the game-to-go or the last strength bid, but typically ones that have not yet broken through to Nationals. Although there were a couple of teams in the field that were at Nationals last year, this year's SFI was packed with Sunday at Regionals teams. Here's a look at the top performers on the weekend.
Rival's Athleticism Delivers SFI Title
Enormous layouts. Run-through blocks. Great team speed.
Those were just some of the features of Columbus Rival's undefeated path to a Select Flight Invite title, which culminated in a 13-9 win over Great Lakes regional rival Chicago Nemesis in the tournament final.
Sara Scott was tremendous all weekend, flying around the field collecting blocks and scores. She was instrumental in Rival's toughest game of the weekend — their 13-12 double game point semifinals win over Toronto 6ixers — even as her most amazing play, a colossal layout catch for a goal, was called back on a contested stall.
Against Nemesis, Scott and the rest of the Rival defense did a good job of simply applying consistent pressure to the Nemesis O-line. They forced multiple turnovers with good team defense. An early deep block from Sophia Knowles prevented a score and started a long, multiple-turnover point that ended up as a Rival upwind break to make it 2-1. They would never relinquish the lead, notching the downwind break and then breaking once more to take half 7-4 on a nice catch on a floaty pass by Theresa Zettner.
Former Michigan teammates Tracey Lo and Hannah Henkin were excellent in the backfield with their break throwing skill.
While the strong win against Nemesis bodes well for Rival's Nationals hopes, their gutty win against the 6ixers was most impressive. After trailing at half 7-6, they broke to begin the second half and, after a Scott handblock, again three points later to go up 9-8. The 6ixers continued to play strong defense of their own and retook the lead at 11-10 after forcing multiple turnovers. The O-line managed to stay strong and not yield the downwind break, punching in consecutive holds to force double game point at 12-12. After a couple of blocks and a timeout, Henkin put one into the endzone for a laying out Knowles and the win.
The win avenged a one point loss to 6ixers in the final of the same tournament a year ago.
Rival sits squarely in the middle of the elite tier of women's club. They lack the offensive consistency to push Nationals semifinals quality teams like Molly Brown, who beat them 13-6 earlier this month, but are athletic and talented enough to play tight with any other teams in the country.
Nemesis Shines With Aggressive Deep Game
While they may have come up short in the final, largely because they ran out of legs, Chicago Nemesis looked good with an aggressive offense looking to shoot deep to cutters like Sarah Kim and Emilie Willingham.
When Nemesis was locked in, they scored quickly — they overwhelmed Stella in semis.
Jenny Corcoran was a dangerous thrower for the O-line while Anna Thorn led the way on defense.
The team's mantra — #EmptyTheTank — may have helped them come ripping out of the gates on Sunday morning with great energy, as they soundly beat a Minneapolis Pop team that didn't lose another game on the weekend. After opening a three point lead early in the second half, Nemesis gave up a break that put Pop back within one at 9-8. Nemesis immediately responded as Julia Butterfield fired deep to Emilie Willingham for a hold, and then they bombed it deep again for a break and 11-8 lead.
Teams that matched up well athletically with Nemesis — like Rival — were able to slow them down more and force longer points where the advantage swings to the D-line. Nemesis' other loss to Iris is tougher to read because of the high winds during that matchup.
The biggest question for Nemesis may be whether they can overcome a bumpy start to the season at Solstice and earn a bid for the Great Lakes. Rival looks like the clear favorite in a one bid region. A four point win over Pop should help quite a bit, but they have a long way to climb to reach the top 16.
Quick Hits
Yes, the Toronto 6ixers lost to Pop in pool play, but, at their best (and in less wind), they looked like the second best team at the tournament. Their battle against Rival was one of the best games of the tournament. Sarah Bobak and Laura Kinoshita were impressive, and, on the whole, the team looks more polished than they did in their first year. Their 13-4 win over Iris, who knocked them out at Regionals last year, had to feel good.
Minneapolis Pop won't be happy about coming out a little flat against Nemesis, but they finished the weekend 5-1 with wins over 6ixers, Iris, and Phoenix. Claire Thallon, Elizabeth Cook, and Chip Chang were standouts. Ultimately, after beating Rival at Pro-Elite, they probably feel that they should have won the tournament.
It's full rebuild time for Raleigh Phoenix, who went 4-2 but didn't challenge Pop and barely got past Notorious C.L.E. and Hot Metal.
Québec Iris got a hard-fought win over Nemesis in the last round of pool play to take the pool but were simply outmatched against the 6ixers, who had vengeance on their mind, in quarters.
Ottawa Stella was yet another talented Canadian team at SFI. They beat the teams they should have and lost to the teams they should have: good wins over the lower tier teams, thumping losses to Rival, 6ixers, and Nemesis.