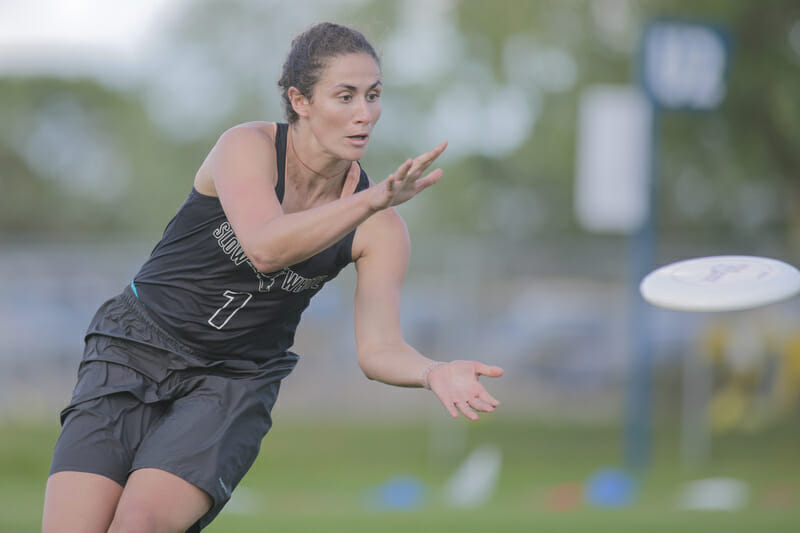 Ultiworld's reporting on the Mixed Division of the 2017 US Open is presented by Universe Point cleats. All opinions are those of the author. Please support the brands that make Ultiworld possible and shop at Universe Point!
The top tier Mixed teams delivered strong performances on the first day of the US Open and upsets — common in the single gendered divisions — were scarce in Mixed. Here's a look at the top stories from Friday.
AMP Finishes 3-0, Looks Sharp
#4 Philadelphia AMP was the story of the day, finishing with three hard-earned wins over #5 Minneapolis Drag'n Thrust, #9 Connecticut Metro North, and Bogotá's FIRE Ultimate Club.
Rookies Ryan Flamberg and Anna Thompson have stepped into big roles on their new team. In their opening game vs. Minnesota Drag'n Thrust, Thompson astounded the audience when she put her body on the line for a tipped disc off a defensive play and made an enormous layout catch in the back of the end zone for a score. On the next point, Flamberg had a sensational bookends point with a well-timed layout block on an under and a monster sky over a Drag'n player to extend their lead. The team closed out the game 15-10.
AMP's key to success so far in this tournament has been gritty person defense that uses their athleticism to generate blocks and pressured drops against every matchup. On offense, AMP used their depth to great effect; 13 different players were involved to score 15 points against Drag'n Thrust.
Slow White Smashes On Day One
The National champs had a huge day, smashing their main pool rivals en route to a perfect Day 1. Opening the day against Mischief, Boston actually came out slow, quickly going down 4-1 to their cross-coast opponents with some sloppy offensive play. But when Slow finally got their D-line on the field, they took over the game. After bringing the game back on serve at halftime, Boston's defense exploded in the second half, running away to a 15-10 victory.
It was a similar story the rest of the day for the defending US Open title holders. A second-game lull saw Slow White eke by Japan's Shinsu Loose, relying on the defense again late in the game to earn a few breaks to put the game away. That would not be the case in their final game of the afternoon, as Slow came out on fire against Mixtape riding the energy of a crowd of New England YCC squads. Boston was inches away from taking half 8-1 before their D-line finally missed on a conversion; the O-line leaked a break but still went in up 8-3. While the teams mostly traded through the second half, the outcome was never in doubt, as Boston essentially locked up their semis berth by the end of the day.
Lexi Zalk is making a serious case in the early Player of the Year conversation on both sides of the disc for Boston, racking up goals, assists, and blocks in bunches.
Game Of The Day: Philadelphia AMP v. Connecticut Metro North
Philadelphia AMP ended Friday undefeated after a statement double game point victory over Connecticut Metro North, a finalist at last year's Club Championships. AMP's women players were tireless and effective: Raha Mozaffari and Anna Thompson made big plays on both offense and defense, while Metro North women's rotation was very tight throughout the entire game causing fatigue to settle in. Metro North's women were rarely involved beyond short field gains and dump resets.
Despite a close score margin, the energy could be felt from AMP's sideline. Allysha Dixon, their spirit captain, roared on the sideline after every athletic play made by her teammates. Mike Ing had multiple blocks, including one soaring layout D on an under cut that led to AMP taking the late game lead.
Metro North played smooth offense on many of their points by taking open looks on the force side and only taking surefire hucks downfield. John Korber was an efficient initiation cutter for Metro North; he often cut hard in from the back of a vertical stack, cleared to the front, and busted deep — often for a goal.
Metro North forced double game point after a short field execution error from AMP, but AMP answered with a clean offensive hold to take the game 16-15.
Quick Hits
San Francisco Mischief had two strong wins over Mexico and NOISE (15-9 in both games) but lost soundly to Slow White 15-10.
It was a similar story for Minneapolis Drag'n Thrust, who finished 2-1 but didn't come close against AMP (15-10).