Upsets galore!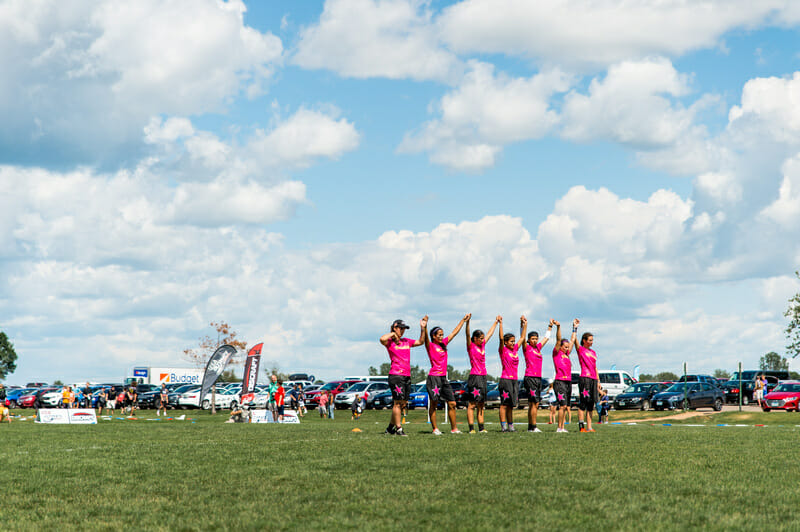 Ultiworld's reporting on the Women's division of the 2017 US Open is presented by VC Ultimate as part of their year-long support of our women's coverage. All opinions are those of the author. Please support the brands that make Ultiworld possible and shop at VC Ultimate!
It was a wild day of games in Blaine, Minnesota, at the National Sports Center for the 2017 US Open. The Women's Division featured perhaps the very best game of the tournament so far between USA champion Brute Squad and Colombia champion Revolution. Here's a recap of the day.
Brute Squad: A Crack in the Armor
Entering the season, the turnover on the Brute Squad roster caused a fair amount of discussion over how the back-to-back, defending champions would fare with their new personnel. There were questions marks around how they would deal with losing the throwing talent, headlined by Leila Tunnell. What did not seem to be in question was their team speed and ability to suffocate other teams into yielding turnovers. At their first tournament, the Pro/Elite Challenge (Colorado Cup) Brute seemed to have answers for both– their throwers were just fine, and the defense was as effective as ever.
Friday's results threw that line of thinking into question. Back to back upset losses — 14-11 to Revolution and 17-15 to Molly Brown — have re-raised the red flags. What's happening to Brute? On one hand, there are qualifiers — they were missing a few players due to weather delayed flights, they had no real incentive to win at this tournament, and they're still committed to their process of replacing their departed throwers by getting new players gradually suited to their roles. Those are valid explanations, but the dropoff in performance from CO Cup does raise some alarms.
For one, the throwing confidence that seemed abundant in Colorado was in short supply today. Outside of Lien Hoffmann, Brute looked hesitant to break the mark or challenge the deep space, and they were often met with execution errors when they did make the attempt. Perhaps in the windier conditions, their throwers are not as comfortable as they were in the calmer Colorado. Compounding the issue, throws and cutter became noticeably more timid when faced with a series of errors, further stagnating the offense.
On the other side of the disc, things weren't as tenuous, as the defense for the most part continued to show speed and takeaway ability (at one point putting together a four-break run on Molly Brown). But, when faced with a squad that was their athletic equal in Revolution, the blazing Brute defense was markedly muted. Cassie Wong and Kami Groom got a couple of blocks, but the across-the-board pressure waned.
It's far from panic time in Boston, but today's results showed us that the turnover on Boston's roster might have had more of an effect than we initially thought, and that in order to complete a three-peat they still have much work to put in.
Molly Brown Seizes Control Of Pool A
Denver Molly Brown's 15-12 win over Colombia's Revolution didn't feel like much of a meaningful win in the first round — just another story of a top American team outmatching an international one. Then Revolution beat #1 Brute Squad. And then Molly Brown beat Brute Squad.
In a single day at the US Open, Molly Brown upended any idea that Brute was going to have an easy path back to a Championship, taking down the defending champions 17-15 in the last round of women's pool play on Saturday.
Molly Brown's matchup defense was terrific all day long, and they brought great pressure against a shaky Brute Squad O-line, especially in the first half. Claire Chastain was her usual do-it-all self, tallying two goals, three assists, and a block in the win.
Brute Squad clearly did not play their best ultimate — far from it — but Molly finally got a win over a team that beat them in three meetings last year and in the bracket at the last two Club Championships.
Lisa Pitcaithley continues to develop into a star, finishing the day with four goals and eight assists. They've all but locked up the top spot in Pool A and look as capable as any team of winning the tournament.
Game of the Day: Boston Brute Squad vs. Medellin Club Deportivo Revolution
In a stunning result, Revolution upset two-time defending national champions Boston Brute Squad 14-11 in the second round in Pool A1. Entering the game, there was no question that the top talent on Colombia's roster — Manuela & Valeria Cardenas, Yina Cartegena, Laura Ospina, Alejandra Echeverri, and Elizabeth Mosquera2 — was capable of playing with the best in the world, having been a part of the Colombian World Games team that handed the USA their only loss of the tournament. The real test would be how well the remainder of Revolution roster would be able to handle the deep and athletic Brute Squad. Though certainly stride for stride athletically, it seemed unlikely that Colombians would have the throwing depth to compete 1-7 vs the notoriously suffocating Boston defense, particularly in the swirling wind.
From the start of the game, Brute appeared lackadaisical — a stark contrast to the fiery Colombians. The stars were shining bright for Revolution, with Mosquera collecting blocks in the deep space, confident distribution from Ospina and Echeverri, and a little bit of both from the Cardenas twins (particularly Manuela). The athleticism was in full force, from layout grabs to skies. Maddy Frey added her share of highlights, with numerous layout catches for goals, including this massive grab.
Though their offensive efficiency was not perfect, Revolution generated ample turnovers to punch in two early breaks (up and downwinders) to jump out to a 5-3 lead that they would never relinquish. They held the two-break lead all the way until 10-8 when they were able to churn out two more breaks to stretch to 12-8, but immediately gave a pair back to make it 12-10. The game was capped to 14, and the Brute comeback that had seemed inevitable never materialized. Revolution closed the game out, breaking to win 14-11 on a goal, fittingly by Manuela Cardenas.
The two flaws that looked to be the potential undoing for Revolution were mitigated by a solid game plan and execution. The Colombians clearly intended to put everything they had into this game, running out their top players for the majority of the points. Revolution's role players did a great job following the system, getting open — impressively matching Brute Squad's high level of team speed — and especially not trying to throw difficult shots. The top of the roster, for their part, was efficient in cutting for short resets to keep the disc in the hands of the better throwers. The general approach of quick disc movement applied to both their person and zone offense approaches.
On defense, Revolution was able to force Brute Squad into uncomfortable sets that played to Revolution's advantage. The Colombians forced out downfield, shutting down easy unders and trusting their ability to battle athletically in the air. In the backfield, the handler guard aggressively forced the resets upline (especially in force middle). These higher-stakes windows, combined with a clear drop in Brute Squad's throwing confidence in the wind, produced a timid-looking Boston O-line that coughed up the disc much more often than usual.
Revolution scored the biggest upset in the history of their program with a well designed game plan that they executed perfectly. Their mental focus was outstanding, particularly when contrasted to the more casual approach initialized favored by Boston. Revolution got a surprise win today, but with it have put the world on notice that they are a force to be reckoned with.
Quick Hits
Seattle Riot looked strong on Friday, taking down Fury 15-13 and Scandal 15-10. They could be on a collision course with Molly Brown in the final, but first, they have to take on Revolution in semis.
---
the game was streamed by Ultiworld and is available to watch for Full and Plus subscribers! ↩

plus American pickup Maddy Frey of Atlanta Outbreak ↩