Revolver was simply a cut above.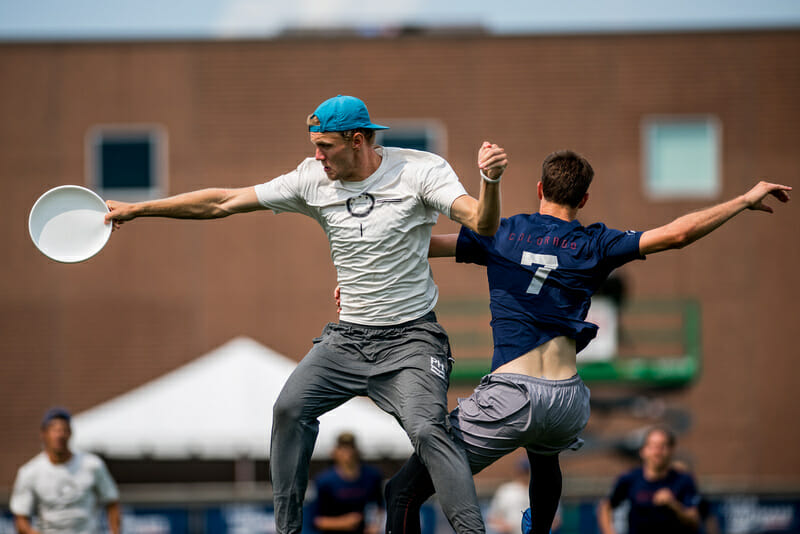 Ultiworld's reporting on the Men's Division of the 2017 US Open is presented by Universe Point cleats. All opinions are those of the author. Please support the brands that make Ultiworld possible and shop at Universe Point!
BLAINE, Minn. — The first Men's semifinal today at the US Open added an additional data point to a well-established theory: Revolver is scary good.
Despite an overtime loss to Sockeye on Friday, Revolver looked nonplussed throughout their 15-9 smashing of Denver Johnny Bravo. They turned the disc a total of five times, and their offense was never broken. Revolver head coach Mike Payne was understandably pleased: "It's the first solid game we've played all year."
Friday against Sockeye, Revolver's offense often looked stagnant, with handlers having trouble getting open for resets. Ashlin Joye's Saturday arrival was the relief they needed. While Revolver may be the deepest team in the country, Joye is perhaps the best pure handler in the world. With him, Revolver's offensive execution was just too precise, too fast, and too powerful for Bravo's beleaguered defense.
For every time they managed to shut down Joel Schlachet, Simon Higgins would unleash a huck to Nick Stuart (who was a terror in the deep space). If they keyed on Stuart, George Stubbs, Beau Kittredge, and the surprising Jordan Marcy ripped them apart. Revolver has too many weapons and they're too well-versed in how best to use them. When they're on, as they were Saturday afternoon, it's unlikely that any defense can stop them.
Revolver's defense came out hot to start, locking down on handlers and forcing Jimmy Mickle into a poor dump pass that was gobbled up by Greg Cohen. They quickly broke and then broke again after another Mickle throwaway, this time on a swing.
After a timeout, the Bravo offense calmly marched down the field for a hold, and the teams traded until 5-3. After a Nick Lance overthrow, Revolver worked up the force side until Christian Johnson hit Kevin Cocks with a perfectly placed upline:
Mickle poached off his man and almost came up with a spectacular block but came up empty. On the next point, Mickle high-pointed a floating Austin Gregersen pass. The defender, Greg Cohen, accidentally collided with Mickle's legs as he went up, and both hit the ground hard. When the dust cleared, both walked off the field under their own power, and Bravo still trailed 4-6.
Mickle was everywhere this game, per usual. But by his lofty standards, this was a game to forget. Yes, his usage rate was ridiculously high, but Mickle also had multiple turns on relatively easy throws (for him) in addition to a very un-Mickleian game statistically (2G, 2A). If Bravo was going to upset Revolver today, they needed a nigh-perfect game from their best player. They didn't get that.
Revolver went on to take half 8-4 after another Johnson-to-Cocks break. And that was, more or less, all she wrote. While Bravo played better in the second half, they just couldn't muster the defensive pressure they needed to generate turns. "We've just been inconsistent," head coach Jim Schoettler said. "With people being off at Worlds and in the AUDL, we just don't have the offensive chemistry we need yet." Bravo also lacked the lockdown defense they showed in their earlier upset over Ironside. Tom Tullett and Henry Konker, both incredible in the Ironside game, didn't have a single block vs Revolver. "Our D is why we're in semis," said Schoettler. "We just need to start believing we're one of the best teams in the country.
But Revolver played like the best team in the country today. New addition Nick Stuart was a chief reason why: he couldn't be contained in the deep space. Stuart, when asked about his new team and his role on it, didn't mince words: "What Revolver looks for from me is big cuts in space, and to clear hard to make space for other people."
Revolver ended the game with a Higgins deep shot to Stuart, a connection that was unstoppable throughout the game.
Both are big, young athletes, and both are just as capable of throwing a huck as they are at receiving one. Payne was happy with the duo. "You give two guys like that some space to play in, it doesn't take too much chemistry," he said. When they do develop that chemistry, look out.
Before, during, and after the game, Revolver was joking, laughing, and staying loose. While part of that probably came naturally from their superb play, it also came from a conscious decision. "We've been practicing really hard against each other, and it's been kind of a grind…," said Payne. "This morning we woke up and just decided that we were going to focus on fun."
They'll bring that same mentality into their rematch vs Sockeye on Sunday in the final.