Mixtape wins their first Triple Crown Tour tournament on the big stage.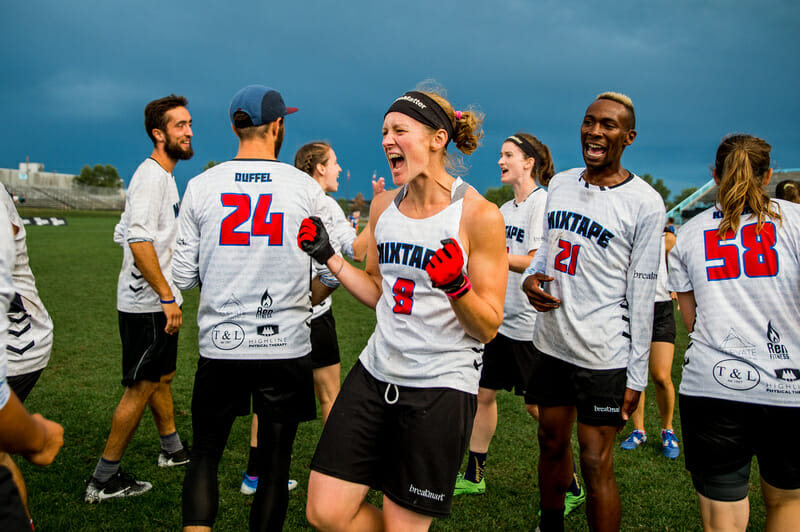 Ultiworld's reporting on the Mixed Division of the 2017 US Open is presented by Universe Point cleats. All opinions are those of the author. Please support the brands that make Ultiworld possible and shop at Universe Point!
For the first ultimate game broadcast live nationally on ESPN2, viewers got to enjoy a classic mixed division rivalry.
Seattle Mixtape won their first US Open championship 15-10 over Minneapolis Drag'n Thrust thanks to potent defense and a great second half.
The win was surely cathartic for Seattle. Drag'n Thrust has eliminated Mixtape from the bracket at club Nationals every year since 2014. Mixtape has scored some victories against Drag'n but never on a stage this big.
This year, both teams reached the US Open final after dropping games in pool play and scoring upset wins in the semifinals.
Early on, Drag'n Thrust looked in control. They jumped out to a 3-1 lead behind some strong plays from Brian Schoenrock, who had one goal and two blocks in just the first four points of the game. Seattle got back in the game in no time, though, going on a run to take a 6-4 lead. That sequence included a nice assist and a great layout from Bert Abbott, as Seattle's defensive energy increased considerably.
After a perfect leading huck from Erica Baken to Austin Lien brought the game within one, the teams traded several turns on the next point before Mixtape finally converted the hold. Drag'n Thrust got their second break of the game to tie the game at 7-7 after Brett Sullivan got the block on a huck to Khalif El-Salaam and Sarah Meckstroth's flick huck to the end zone for Neal Hanke produced a highlight catch.
Mixtape took half on a nice grab from Mark Burton and the game was playing out just as many might have expected. Seattle was frequently sending the disc deep, but Drag'n Thrust was making it difficult for those looks to get completed. Up a break, Seattle opened the second half with a hold after a nice grab from Burton despite Brian Schoenrock closing in fast on the disc.
"Mark Burton is a great mixed player," said Abbott, looking back at Burton's performance in the game. "You can see the way that he moves on the field he is conscientious of how to make space for others and how to help other players shine."
Both teams managed a break early in the second half and, with Mixtape holding onto a 10-9 lead, another huck turnover gave Minneapolis the disc with a chance to tie. It would be the last time they had that chance, after a huck from Jeff Trosvig to Meckstroth was barely out of reach. Seattle converted the hold and went on a run.
Seattle's defense was stifling in the second half. Mixtape tightly contested any up-line cuts from Drag'n handlers, thwarting Minneapolis' flow. There were moments in the second half where the only viable throw Drag'n had available was an around swing or dump to another handler.
"Drag'n Thrust is known for their amazing offense," Khalif El-Salaam said after the game. "To be on the D-line and have to break them and get blocks forces everyone to play amazing defense. And if you go back and watch the tape, I think we played amazing defense."
That amazing defense occasionally forced Drag'n into making less than ideal decisions. Even after Seattle's defense turned the disc, they locked back in right away, ensuring that Drag'n couldn't come away with any easy transition scores.
"We were making some worse decisions than we would have liked," said Erica Baken. "We got a lot of Ds and we got a little too antsy about trying to put it in the end zone right away."
Seattle first got the disc to start a run after a wonderful run through block from Jennifer Cogburn on a huck to Claire Oakley. After converting that break and two more after it, the game was effectively out of reach. Drag'n Thrust would finally get a hold to bring the deficit down to four before Claire Revere closed out the game with a huck to the end zone for the 15-10 win.
It was not only the first US Open championship for Seattle Mixtape; it was their first Triple Crown Tour tournament win. For a team that has come up just short in the championship game multiple times before, whether at the US Open or Nationals, it was a meaningful victory. While Mixtape looked good in the first half, they reached another level in the second.
"The biggest difference was the energy on our marks," said Burton. "We forced them to take shots to their fourth or fifth option."
Drag'n Thrust captain Austin Lien noticed the difference in the second half as well. "We have a hard time riding a high energy level without letting things spiral out of control," he said. "Especially against a team like Seattle Mixtape that likes to make things a little weird and play the long ball."
These teams seem destined to meet again in the championship bracket at some point in Sarasota. We won't know until then whether or not this game was a harbinger for a new order in this rivalry or merely another regular season blip that's inconsequential come crunch time.
"It's always a positive for us to play a team like Seattle," said Lien. "It gives us some homework to do when we go back to practice. We're going to watch this film to see where we struggled and where we succeeded and make sure that feeds into what our team looks like later on."
Seattle will no doubt do the same, but on Sunday night, they were happy to enjoy their victory.