Revolver's second half sloppiness left them reeling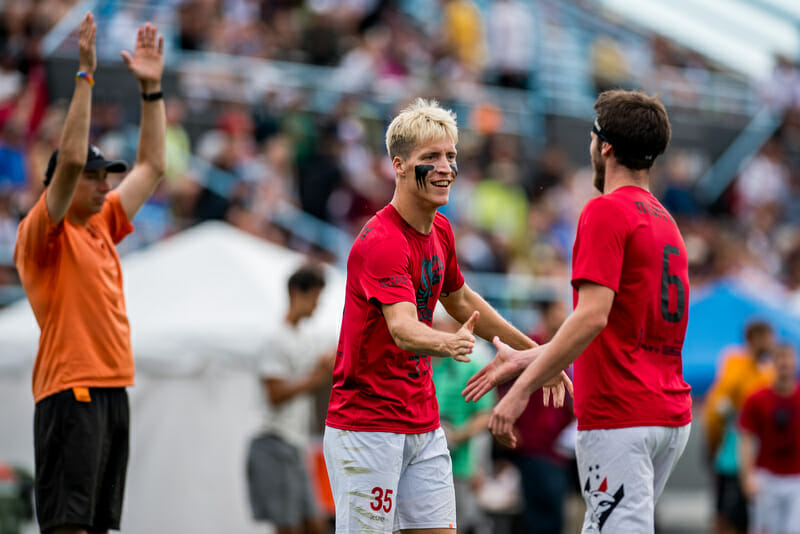 Ultiworld's reporting on the Men's Division of the 2017 US Open is presented by Universe Point cleats. All opinions are those of the author. Please support the brands that make Ultiworld possible and shop at Universe Point!
BLAINE, Minn. — The score was 9-9. San Francisco Revolver had just scored another break to tie it up against Seattle Sockeye in the US Open final. The throng of spectators fastened in for what was, if Friday's Sockeye win was anything to go by, a thrilling finish. And suddenly it was 15-10 with Sockeye celebrating their first US Open title.
Where a day earlier Revolver's offense was deadly, now they had more turnovers than a pastry shop. The Sockeye defense, meanwhile, was as efficient as it's ever been. Everything was coming up Sockeye. But why?
At least going into the final, everything looked to be in Revolver's favor. Though they had lost to Sockeye earlier in the weekend (17-15 on Friday), they had been without Ashlin Joye, their backfield king.1 What's more, Sockeye's Matt Rehder, who had been so vital to their Friday win, was out with an injury. Seattle O-line starter Jacob Janin also went down with an injury in warm-ups. And, finally, Revolver's offense was coming off a win against Denver Johnny Bravo in which they looked absolutely unstoppable.
But smart Sockeye defense and unusually poor execution and decision making from Revolver's offense in the second half turned a tight game into a romp.
The game began with Sockeye's Phil Murray turfing a throw, setting up a great break chance for Revolver. An Eli Kerns flick into the endzone was dropped by Byron Liu, though, and Murray immediately unleashed a backhand huck to Dylan Freechild for the opening score.
Throughout the weekend, Freechild was the most dominant player on every field he stepped on to: he's truly taken the next step from being a star to being one of the stars of the sport. He has thrust himself into the discussion for best player in the world. At least at this tournament, he was.
After the hold, Revolver's offense took the field. Nick Stuart quickly caught an under, turned, and saw a streaking Beau Kittredge. Easy money. But Stuart's backhand flew too far. While Revolver would eventually hold, that mistake was just a taste of what was to come.
An easy Sockeye hold was followed by a multi-turn Revolver O-point. After a Matt Russell block on a too-floaty Simon Higgins huck, Freechild ran the show all the way down the field, eventually floating an upline pass to Ben Snell in the endzone. Snell's defender, Ashlin Joye, rocketed skyward to tip the disc away, but Husayn Carnegie flew in and scooped up the disc just inches above the ground in a spectacularly athletic play to notch the game's first break. 3-1, Sockeye.
Revolver worked the disc past midfield on the next point, but a hard inside shot was bobbled and dropped by Joye. Sockeye took a timeout, then marched downfield for another break. "I did not see this coming," said ESPN analyst Evan Lepler on the broadcast.
A Higgins to Kittredge connection got Revolver a much-needed hold on the subsequent point, and Sockeye followed that with what looked like a Sockeye 2012 special:
The teams traded until 7-5, when Danny Karlinsky overshot Trent Dillon on a huck.
Russell Wynne uncorked a gorgeous backhand huck to Greg Cohen, sitting beautifully in space for his receiver to run on to. With the offense's string of holds and now a break, it felt like the winds were shifting in Revolver's favor. But Freechild had other ideas, blazing across the field and leaving Eli Friedman in his dust. His goal brought the game to halftime, 8-6.
Coming into the second half, Revolver coach Mike Payne said, "Our intensity ramped up toward the end of the half, so we're feeling like we have the momentum going into the second." And they did — at least initially. Revolver's offense easily held after a blown Sockeye defensive switch. After a couple more holds (one of which featured a miraculous play by Joel Schlachet), a BJ Sefton drop on an endzone hammer led to a beautiful huck from Friedman to Kevin Cocks for another Revolver break. 9-9, on serve.
But as soon as they climbed the mountain to tie it up, they tumbled down the other side. After a Sockeye hold, some offensive confusion begat Nick Stuart hucking too far for Jordan Marcy. Trent Dillon quickly hit DY Chen for the break, 11-9. Next it was Ashlin Joye who put up an ill-advised huck, throwing straight to a poaching Carnegie. Freechild went practically every-other, and Reid Koss eventually put in another Seattle break. 12-9. Simon Higgins floated a huck to Jordan Marcy that was gobbled up by the much-taller Matt Russell. Mario O'Brien hit Ben Snell in the endzone. 13-9. George Stubbs shot way too far for Nick Stuart. Almost immediately, Julian Hausman hit Duncan Linn wide-open deep. 14-9.
Four consecutive O-points. Four consecutive bad hucks. Four consecutive Sockeye breaks. It almost defies belief that a team as drilled, as disciplined, and as smart as Revolver could make the same mistake that many times in a row. All weekend, Revolver had been in love with the huck. In their semifinal against Bravo, they couldn't miss. Their athletes were getting open, and their throwers were putting up great shots to the matchups they wanted. On Sunday… not so much. With the outcome already decided, the teams each held for the 15-10 finish.
Sockeye comes away from the US Open looking like the new favorite to win a National Championship in October. They blew past both Truck Stop and Revolver with blistering offense on both their O- and D-lines.
While it would be foolish to see Revolver as anything other than a title contender, they have some serious issues they'll have to fix if they hope to conquer their fishy foes in Sarasota.
---
Note that Grant Lindsley did not attend the US Open ↩