Lots to watch for in Wisconsin.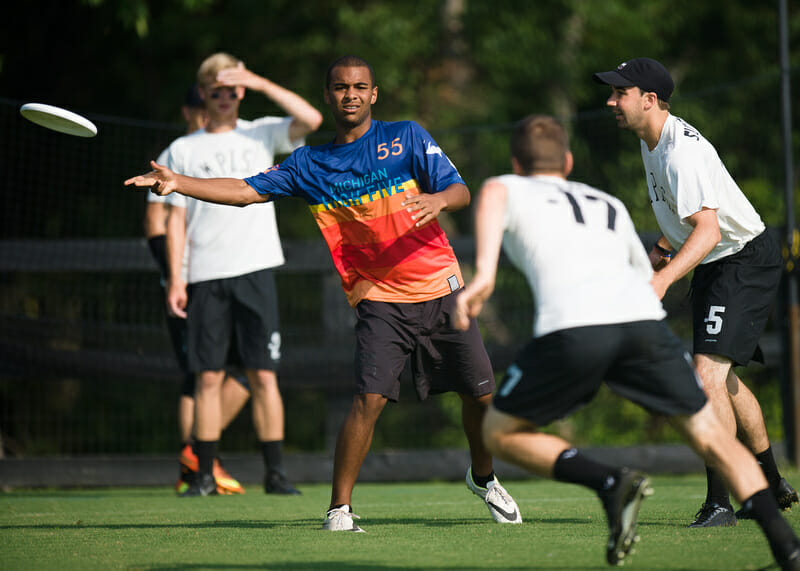 Ultiworld's reporting on the Men's Division of the 2017 Elite-Select Challenge is presented by Universe Point cleats. All opinions are those of the authors. Please support the brands that make Ultiworld possible and shop at Universe Point!
With the Elite-Select Challenge now falling later in the season than in years past, teams on the bid bubble have a better sense of what they need to do to set up their postseason success.
With the top-ranked teams sitting on the sidelines this weekend, a tournament title — and plenty of rankings points — are up for grabs in Appleton, Wisconsin.
We take a look at some of the biggest storylines heading into this weekend.
Tournament Profile
Date: August 19-20
Location: Appleton, WI
Weather: Mostly sunny in the low 80s all weekend, with winds between 5-15 MPH
Top 25 Teams: 12
Does any team at ESC separate themselves as a potential National semifinals contender?
If we know much of anything about succeeding at Nationals in October, it's that it takes experience. You have to go back over a decade in the Men's Division to find a team that made semis at Nationals without having played in quarterfinals the year before.
Of the field at the ESC, perhaps unsurprisingly, only Doublewide and Furious George advanced to the round of eight last year at Nationals.
Furious George doesn't seem to have the roster to compete for a semis spot. But Doublewide? It seems at least plausible. Somebody besides Revolver, Sockeye, and Ring has to make semis. If Austin can dominate this weekend, it may show that they truly do have the horses this year to play with the best of the best come October.
Is Madison Club closer to the team we saw during the regular season of 2016 or the one we saw at the Pro-Elite Challenge in July?
Madison Club, a perennial quarters-level team, had a Pro-Elite Challenge to forget. Their ugly 1-6 record included losses to Chain Lightning and Rhino, and a sole win coming over a depleted Prairie Fire. Don't expect those woes to continue: Mad Club is too experienced and their roster too constant to turn in another lackluster performance. Madison has had remarkably small roster turnover over the past few years, and all the usual suspects are back in 2017: Colin Camp, Brian Hart, Dave Wiseman, and Pat Shriwise chief among them. Expect them to be in contention late on Sunday.
Which North Central team will make the case to be considered the Regional favorite?
The North Central region has seen better days. Sub Zero and Prairie Fire are inexperienced after mass departures of exceptional talent, while reigning regional champion Madison Club woefully underperformed at the Pro-Elite Challenge. But regardless of how lackluster their results have been, the NC is going to get a bid to Nationals. Them's the rules. So who will claim it?
Not Prairie Fire. What was once a quietly burgeoning young team lost nearly all their stars to more established programs: Jay Froude, Kaplan Mauer, and Abe Coffin to Doublewide, Matt Jackson to Johnny Bravo, Jesse White to Machine, and Mitch Kulczak to Sockeye. While they still have plenty of talent, it's not of the Nationals level this season — not yet, at least.
Sub Zero, meanwhile, suffered an exodus of young talent as well. Ben Jagt, Harper Garvey, Eric Taylor, and Nick Vogt are all gone, and although the return of Eric Johnson helps, Sub still features a ton of fresh, inexperienced faces. Yet Sub, coming in as the US Open's bottom seed, still managed victories over a depleted Ring of Fire and two of the international teams, plus a loss to Patrol on DGP. While the odds are stacked against them, Sub has the elite pieces they need to pull off an upset come regionals. (Of note, Josh Klane is out this weekend with knee bursitis.)
Madison Club, despite their putrid performance at PEC, remain the odds-on favorite to procure another berth to Nationals. See above for a full explanation why; in short, they have the most experience and depth in the region, and it's not particularly close. This weekend will go a long way in showing whether this is the same strong Madison squad, or something less.
Which four seed has the best chance of making the bracket?
A four seed needs just one win to make the bracket at the Elite Select Challenge. So evaluating both the talent of the respective four seeds in combination with their pool matchups is necessary for answering this question.
Right out of the gate, Big Wrench seems out of contention. Big Wrench has only losses to teams seeded in front of them at ESC and other Nationals hopefuls (Ironside and Turbine among them), and, with the exception of a two point loss to Smokestack, those losses are not particularly close.
Prairie Fire is not the team it has been for the last several seasons. At the Pro-Elite Challenge, Prairie Fire looked out of its league against Inception and High Five, Madison Club, Machine, and Guerilla. Though the Kansas City team eked out a win over Chain Lighting later that weekend, it would go on to be stomped at the Select Flight Invite by Inception. Prairie Fire had a good run the last couple of seasons, but it's doubtful they'll be competing for a title on Sunday.
The only two competitors remaining among the four seeds are Denver's Inception and Cleveland's Smokestack. Both have strong competitive records already under their belts by both dominating lesser tournaments (Inception went undefeated at Fort Collins Summer Solstice and Smokestack came away with the best record at the Philadelphia Select Classic) and then going on to prove they have what it takes to compete at a high level (Inception playing tight with the SoCal Condors and Smokestack giving Temper and Mad Men hard games at the Select Flight Invite).
If all other things are equal, then it comes down to matchups. At first glance, Smokestack has the preferable matchup with its three seed, Chain Lightning, which has already shown a propensity to drop games to teams at Smokestack's level. However, Madison Club has many players already looking ahead to the AUDL championship weekend next week and should be cautious around an Inception team that has the talent to steal a game.
So, at the risk of equivocating too much, the answer is either Inception or Smokestack. None of the teams above those two should rest easy as both will be clawing at the bracket with everything they've got.
Who beyond Johnny Bansfield and Paul Arters can step up for High Five?
High Five had a hit-or-miss US Open. They drew the short straw and had to play Ring of Fire late in the day Friday, right after Ring's full strength arrived from their travel delays. Still, they played that full-strength(ish) Ring to double game point twice on the weekend and even managed a consolation bracket win over Ironside.
Watching them, there's undoubtedly a single player on both offense and defense that keeps things running smoothly: Paul Arters on O and Johnny Bansfield on D. Both were sublime throughout the weekend, racking up assists and facilitating for High Five's plethora of athletes. But if High Five is going to improve, they'll need others to take some of the load off their stars. They certainly have players who are capable: Mitch Cihon, James Highsmith, and Mike Ogren are all supremely talented and will need to step up if High Five wants to win this tournament.
Does Doublewide reveal what kind of team it really is this weekend?
With HIP's dissolution and the experience that many Doublewide players have gained over the last two years with the Dallas Roughnecks, Doublewide entered the season looking like it had secured the pieces to reassert itself as a dominant force in the club scene.
At the Pro-Elite Challenge, Doublewide didn't do much to focus viewers in on its storyline for this season. Doublewide beat lesser teams, but only enough to look good, not enough to look great. They also lost to better teams by just enough to look competitive (with the exception of a seven goal loss to Ironside) but not enough to seem close to a win.
Doublewide is relatively cemented in a position to earn the South Central a second bid to Nationals, which means that the Austin team should have smooth sailing to Sarasota. However, if this team really has eyes on doing more than showing up at Nationals, it needs to view this weekend as the closest test it can get.
How will Dig fare against elite competition?
Boston Dig hasn't seen competition since June. Going that long without the opportunity to codify team chemistry over a challenging weekend against other teams makes for a tall order for the young Boston team. And, meanwhile, much of the field has been out getting reps at tournaments.
But most of the field isn't stacked with savvy college talent. You can't count this team out based on age alone – there's too much top-level college experience. Not only have these players played under pressure, they've all taken disappointing losses and learned how to recover.
Dig gets the lefty stylings of Ben Sadok, who's had an incredible 10 months. (Remember that his surge onto the national scene started with a phenomenal performance last fall against Sockeye in prequarters.) Add in Noah Backer (arguably Michigan magnUM's best player in 2017), Tim Schoch (Carleton), Willie Stewart (Wilmington veteran), and Henry Babcock (Richmond, Donovan Award Winner), and Boston's second men's team looks primed for more success.
Which team that played at the Pro-Elite Challenge has improved the most since that tournament?
Here are the teams from the Pro-Elite Challenge, in order of finish, that are competing this weekend at ESC: High Five, Doublewide, Guerrilla, PoNY, Rhino, Furious George, Chain Lightning, Machine, Madison Club, Prairie Fire.
Many of these teams have not played since then, so the best we can do is discuss which team had the most room for improvement. That appears to be Doublewide, Guerrilla, and PoNY.
All three teams played well, if not spectacularly, in Denver. Doublewide was missing some key pieces and clearly working to mesh the Austin core with the Houston imports.
PoNY was missing a lot of their top firepower, including Jack Marsh and Ben Jagt. Head coach Bryan Jones wasn't there, either. They lost some close games that could swing their way this weekend.
Guerrilla looked like a talented, young team with some real potential. They beat Patrol in prequarters but got blown out in quarters by Ironside. They're better than they played in that game, and that could show through this weekend.
Filming Schedule
Ultiworld will be filming three men's games this weekend, to be released after the tournament. Access to the games will be available to Full and Plus subscribers. Here are the games:
Chicago Machine vs. Madison Club (Pool Play)
Prequarter (TBD)
Quarter (TBD)