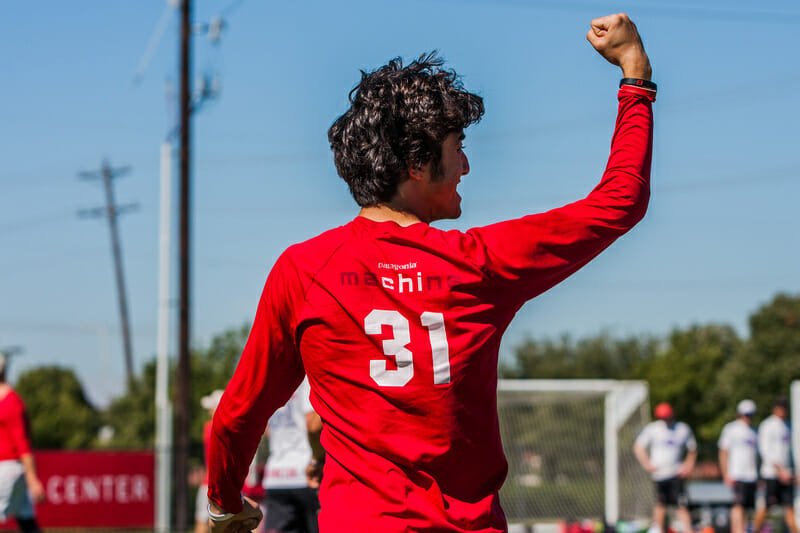 With numerous bubble teams in action this weekend at the Elite-Select Challenge, we knew we were bound for bit of a shakeup in terms of the bid picture. On Friday, we laid out the general idea of which teams were safe, in contention, or likely too far out to have shot. After putting in their weekends of work, bubble teams are undoubtedly eager to know where they stand.
Though the USA Ultimate score reporter is not 100% filled in from the weekend, we're confident that our ranking projections already have a reasonably accurate portrayal of where the bid allocation stands after the weekend1. The important storylines are here, but if you're interested in more details, feel free to explore www.frisbee-rankings.com.
Men's Division
Change in Allocation: +1 GL, +1 SE, -1 NW, -1 MA
Full Allocation: GL 2 · MA 2 · NC 1 · NE 4 · NW 1 · SC 2 · SE 2 · SW 2
Heading into the weekend the first men's team out was Oakland Guerilla– by a mere 6 points– and the squad looked prime to play themselves into the top-16 by leapfrogging Pittsburgh Temper. Instead it was Chicago Machine who jumped up two spots to #16, claiming a second bid for the Great Lakes region.
But the biggest movers in the top 25 were Portland Rhino and Florida United. The Portland squad, fresh off a rash in-season roster attrition, posted a 1-5 record at ESC and slid from the precarious #15 perch all the way down to #24. Replacing Rhino in the top 16 was Florida United, who pocketed 5 max-point wins at the Rocket City Invite (including two over now-#29 Freaks) to jump from #20 to #8, earning a second bid for the Southeast. Though they are 10-0, FLU has only 5 of their results counting– the minimum– in the rankings because so many of their wins have been blowouts2).
It's also surely a disappointing result for the Mid-Atlantic, who watched Temper fall out and Medicine Men, despite making the semifinals at Elite-Select, not quite make it into the top 16. They are the first two teams out at the bid cutoff. The region is currently looking at just two bids.
Mixed Division
Change in Allocation: +2 SC, +1 MA, -2 SW, -1 NE
Full Allocation: GL 1 · MA 2 · NC 3 · NE 3 · NW 2 · SC 3 · SE 1 · SW 1
A brutal weekend for the Southwest and a huge result for the South Central. Public Enemy and Love Tractor picked the pockets of the SW region, swinging not one but two bids over to the SC. Tip your hat to them, though, as each posted respectable 4-2 records at ESC with losses only to top-8 teams. On the short end of that stick were the San Francisco Polar Bears, whose brutal Saturday dropped them eleven spots from #8 to #19. To add salt to the wound, the rating drop for PBR was enough to tug SF Blackbird (idle this weekend) down three spots to #16, outside the bid cutoff3. The SW, a perennially powerful (and virtually always 2+ bid) Mixed region, is currently staring down a one-bid Regionals that could leave Blackbird, Mischief, and Polar Bear s– each a national semifinalist in at least one of the past 5 years — in a winner-take-all situation. Certainly that's exciting for spectators, but the teams will be counting on a surge from Blackbird at the Pro Flight Championships.
Despite a 4-3 weekend, Pittsburgh Alloy did enough to snag the last bid spot, netting the Mid Atlantic a second bid. Alloy's results were up and down on the weekend, but they scored a huge 12-8 win over NOISE that boosted their rating by a whopping 50 points. The team Alloy bumped, New York XIST, was not active on the weekend but slipped five stops to #17 as their opponents' ratings declined.
Women's Division
Change in Allocation: +1 GL, -1 SW
Full Allocation: GL 2 · MA 1 · NC 2 · NE 2 · NW 4 · SC 2 · SE 1 · SW 2
Though there was a lot of movement in the 7-16 range this weekend, only one bid actually changed hands in the Women's Division. Chicago Nemesis entered the weekend at #19 looking to make the jump over San Diego Wildfire and Bay Area LOL4 to move the third SW bid to the GL. With their work cut out for them, Nemesis delivered, turning in a 6-0 weekend and winning the ESC. What's more, they did it with valuable wins. They rose seven spots, all the way to #13. In classic fashion, the SW has the first two teams out in LOL and Wildfire. Both are done for the season, and are now 50-100 points short of the bid line but could potentially still earn a bid if a team above them falters badly.
The best candidate for that looks to be Heist, who slid 5 spots to #15 this weekend and, unlike most other teams in the 8-16 range, will be active again this season at the Pro Flight Championships.
---