Another tournament title for BFG.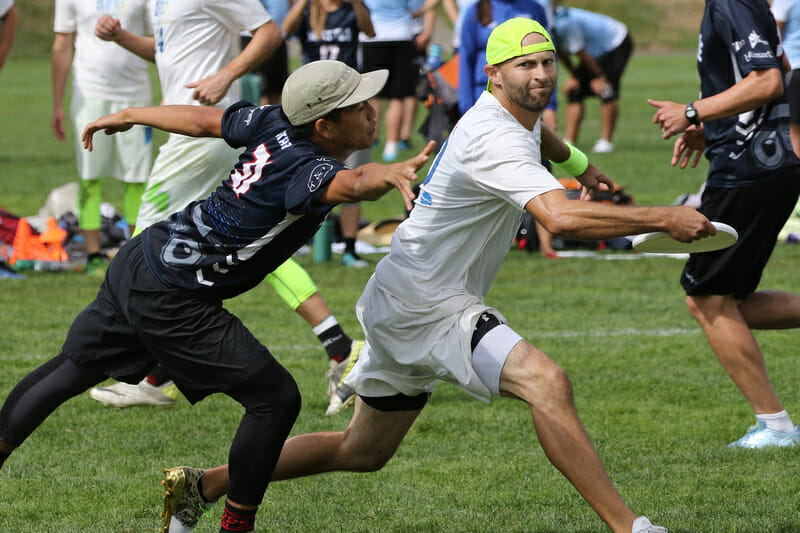 Ultiworld's reporting on the Mixed Division of the 2017 Elite-Select Challenge is presented by Universe Point cleats. All opinions are those of the authors. Please support the brands that make Ultiworld possible and shop at Universe Point!
APPLETON, Wisc. — The Mixed Division was packed with great games, fun moments, and crazy upsets this weekend at the Elite-Select Challenge. Here's a look at the biggest stories from the weekend.
BFG Wins Second Straight TCT Tournament
There was a sense after the Pro-Elite Challenge back in July that Seattle BFG's win wasn't entirely convincing, that perhaps it was a bit of an early season mirage. Sure, they were clearly a good team, but were they really a National Championship contender?
The #3 ranked team in the country answered that question definitively this weekend with a 5-1 performance, including another perfect Sunday with wins over #5 Boston Wild Card, #11 Fort Collins shame, and #14 Madison NOISE. They now have wins over the #2, #4, #5, and #6 ranked teams.
"It feels rewarding," said captain Lili Gu. "We're also a very process-focused team and so I think if this hadn't happened, we'd probably feel the same way about our team."
BFG spread out their playing time and showed some real mental strength to come back from down 6-1 in the final against shame to take half 7-6 and eventually win 10-8. They play a smart, clean style focused on good decision making and fundamentals on offense. Kieran Kelly was a matchup problem downfield in nearly every game. Adam "Chicken" Simon was a steady backfield presence. They generally do not make a lot of mistakes: even good defensive teams like Wild Card had trouble generating pressure and blocks.
Wild Card, in fact, never got a break in their highly anticipated matchup in quarterfinals (after Wild Card blew a late lead against Boulder Love Tractor and had to play in from the prequarters). BFG threw a few hucks either too far or too floaty, but those were the exception.
Defensively, BFG generally looks to matchup one-on-one but with significant poaching, often sagging off the handlers to slow down pull plays and also looking to switch and help downfield. They generated a lot of blocks by jumping passing lanes. Linnea Soo and Tommy were zipping around, disrupting their opponents' offense.
BFG's next test will come at the Pro Championships over Labor Day weekend, where they will see top teams like Mixtape, Drag'N Thrust, and Blackbird again. But they've already established their bona fides: they've firmly entered the elite tier of the Mixed Division. As teams adjust to their style, can they stay in the national title conversation?
Shame Shrugs Off Collapse In Final, Focuses On Fun
Normally when a team blows a 6-1 lead in the final of a major tournament, they're not exactly peppy after the game. Not so for Fort Collins shame, who were clearly fully committed to their fun-loving attitude.
"A team that drinks a bit and doesn't train doesn't really hold on to the second half in the finals game very well," said captain Jake Juszak.
Shame looks a lot like the team we saw last season: skilled and very athletic, but not particularly disciplined. They can challenge almost any team in a single game setting, but winning multiple big games in a row proves difficult for them, as they don't exactly take their fitness seriously.
"It's a good squad when things are clicking and firing on all cylinders," said Juszak. "But we're not good at making adjustments. We kinda just go out and have a good time. So teams that come out and have actual game plans tend to do well against us."
Juszak, Nick Snuszka, Jade McLaughlin, and Bailey Russel continue to be huge threats. Teams that cannot contain their deep game are almost assured to lose.
A good sign for shame: they went 3-0 against in-region competition, beating Public Enemy 12-11, Love Tractor 13-10, and Cosa Nostra 13-2. With the South Central now likely to land three bids after this weekend, shame's prognosis is good for a return to Nationals.
But even that's not too big a concern. "Most of us are going to Sarasota regardless of whether or not we make it," said Juszak.
Wild Card Finally Takes An L, But Still Look Like A Top-Tier Team
Boston Wild Card's 22-game winning streak to start the season came to an end on Saturday when a Jack McShane-led Love Tractor surged back late to topple them in the last round of pool play. That put Wild Card on a collision course with BFG in the quarterfinal round after it seemed like the teams were almost destined for a battle in the final.
Whereas Wild Card likely felt that the Love Tractor game simply got away from them, BFG soundly beat them. Wild Card never mustered a single break, struggling both to create turnovers and to move the disc after the turn.
"We had trouble getting our offense started on the D-line with some of the poaching that they did," said head coach Mike Mackenzie. "So that's a good thing for us to learn from."
On the plus side, Wild Card's offense looked quite solid, mostly getting punished only by poaches. The spacing and flow looked good on most points, and they only yielded two breaks in the game.
The team went on to smash Bang! and Love Tractor in the fifth place bracket to close out Sunday with two wins.
Mackenzie said he wasn't worried about the losses.
"I'd rather have it happen now to see how we respond," he said, noting that the team competed well in every game and that they did well to replace Kara Hammer, who might be out indefinitely with a serious knee injury, on the O-line.
Wild Card continues to punish teams with a predominantly four-woman offensive line. That worked wonders for them at the Select Flight Invite. Many of their issues this weekend were not structural but rather had to do with decision making and avoiding throwing into poaches.
The Boston squad is now done for the regular season and will now prep for the Series, where they will face a deep field in the Northeast. Last year, they came up short in the game-to-go against Slow White. This year, they might just be considered the favorite to win the region. With three bids, there will be some margin for error.
Public Enemy Bounces Back After Awful Pro-Elite
How does a team go from losing every single game in ugly fashion at the Pro-Elite Challenge to reaching the semifinals and finishing fourth at the Elite-Select Challenge? While the competition may have been somewhat toned down, it was still a top-level tournament.
"We locked down the defense," said captain Jonathan Higgins. "Our defense was really lacking at Pro-Elite. We just focused basically six weeks on defense."
That — in combination with an improved mindset — delivered a much stronger performance in Appleton.
"Our mental game was really bad at Pro-Elite," said Higgins. "We got down a couple points, and then we were feeling bad for ourselves. You ain't got time for that at this level because there's going to be swings, there's going to be runs by every team. You've got to be able to bounce back."
They did that this weekend. Despite going down in games, they clawed back. Against shame in the semis, they dug a big hole in the first half before tying it at seven and ultimately forcing double game point.
Higgins and Danielle Runzo had good weekends — and as you might expect, the defense was much improved.
It's clear that Public Enemy is a lot better than the team we saw in Denver a month ago. Expect them to continue to climb, especially with Chris Mazur now on the team.
Sidenote: Rumors continue to fly about the entire Public Enemy roster living together on a farm. "I can't speak to that," said Higgins. When pressed, he said, "If you find someone on the team, I bet they have some farmed goods for you."
Quick Hits
It was a great weekend for Madison NOISE, who lost to BFG in semis and finished third with a big win over Public Enemy. Oddly, NOISE's closest game was against BFG (12-9 loss); they either crushed or were crushed. Their 13-5 win over shame stands out on the resume. NOISE is quietly shaping up into a semis contender — they lost by one to Slow White and two to Mixtape at the US Open. But their inconsistency from game to game could be a problem at Nationals.
Pittsburgh Alloy finished seventh, but it felt like they were just a play or two away from a much bigger weekend. They went 4-3 but fell by two or less in each of their losses (to shame, Public Enemy, and Love Tractor).
Jack McShane remains a total game changer for Love Tractor. He singlehandedly made the difference down the stretch against Wild Card in their upset win in pool play. But their reliance on his playmaking also makes them vulnerable to teams that can limit him (like shame).