Metro North dropped their bid today: can they earn it back on Sunday?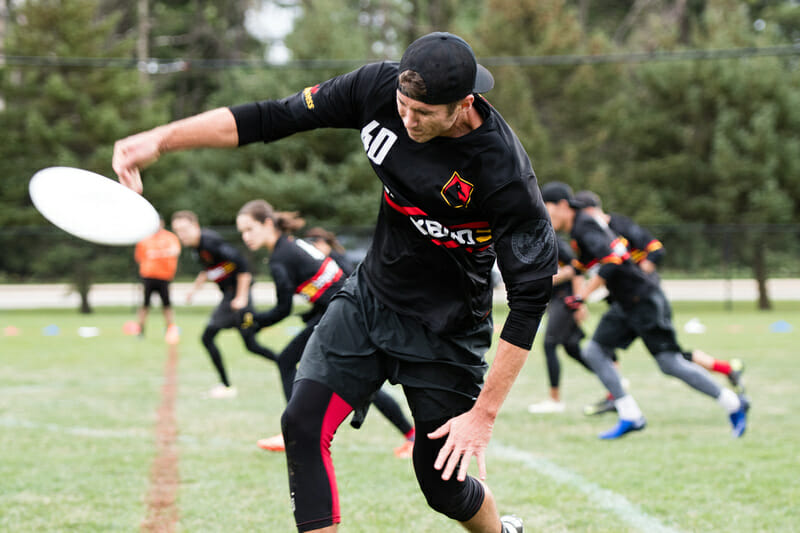 It's Saturday night, with the sun beginning to set on the regular season. Between the Pro Championships and the New York Invite, 17 of the top 20 men's teams were in action, along with ten of the top 20 women's team and eight of the top 20 mixed teams.
Let's cut right to the chase: after running our projections, the bid picture looks all but finalized in two divisions, robbing Sunday of some potential drama. For the most part, things went as expected on Saturday, but there's still a little intrigue to be had when teams take the field in the morning. The stories and allocations are below, but if you feel like digging into the data you can learn more at www.frisbee-rankings.com.
Men's Division
Allocation: GL 2 · MA 2 · NC 1 · NE 4 · NW 1 · SC 2 · SE 2 · SW 2 [no change]
The landscape was pretty set entering the weekend but it appears to be even firmer now. Temper and Medicine Men's joint effort to snag bids for MA didn't pan out, and the SoCal Condors results were enough to keep them in the top 16 (and by a comfortable margin of nearly 100 points). And, even if they should slip, the next team in is Oakland Guerrilla, who parlayed a close game with Revolver and a win over Machine into a rankings bump to #17. Temper would have to average a ridiculous 2400 a game tomorrow to even come close, so unless Condors and Guerrilla both totally implode, we can close the books on this one.
Women's Division
Allocation: GL 2 · MA 1 · NC 2 · NE 2 · NW 4 · SC 2 · SE 1 · SW 2 [no change]
Again, the Women's Division bid picture was pretty set coming into the weekend, with vague questions lingering over a shorthanded Heist team. But Madison came to play at the Pro Champs, boosting their ranking up to #12 and locking up the second bid for the North Central. Though the Southwest men defied their historical destiny and got two bids, the SW women will face a brutal Regionals. Nightlock and Fury each have bids in hand, but the next two teams out (#classic) are Oakland LOL (a team with a handful of Fury alums) and San Diego Wildfire. With none of the remaining bubble teams active, and a 50 point gap between #16 and #17, we can call this allocation final.
Mixed Division
Allocation: GL 1 · MA 2 · NC 3 · NE 2 [-1] · NW 2 · SC 3 · SE 1 · SW 2 [+1]
While the Men's and Women's Divisions went essentially to chalk (albeit in a roundabout way), the Mixed Division was kind enough to provide some sparks. San Francisco Blackbird brought their A-game to the Pro Championships, jumping up four spots to #12 in the rankings and locking up another bid for the Southwest1. That jump came at the expense of a scuffling Metro North, whose results today dropped them 50 points and onto the wrong side of the cutoff at #16. In Southwest-esque fashion, the #17 is a fellow Northeast squad, New York Xist. However, this isn't at all a closed case. Metro North sits just a single rating point behind Pittsburgh Alloy. So while the Southwest appears safe with two bids, Metro North's play on Sunday (Alloy is idle) will dictate whether the last strength bid goes to the Northeast or Mid-Atlantic.
---
recall that for mixed the cutoff is #15 since the highest-rated SE team, Durham Toro, is #20 and holds the SE autobid ↩