No team went undefeated.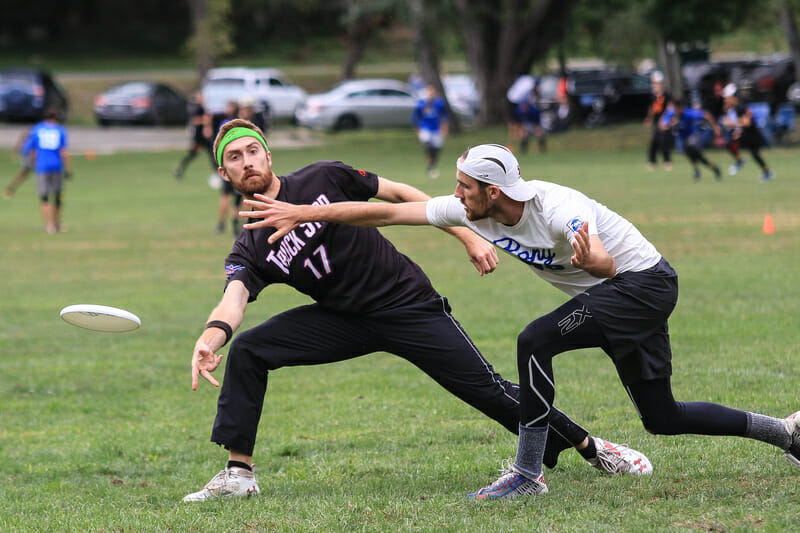 YORKTOWN HEIGHTS, N.Y. — An unpredictable five rounds of pool play wrapped up this afternoon with not a single team posting a clean sheet. With teams featuring varying styles, strengths, and weaknesses, every matchup offered intrigue — and the chance for a big upset.
First of all, let's take a look at the bracket for a rainy Sunday: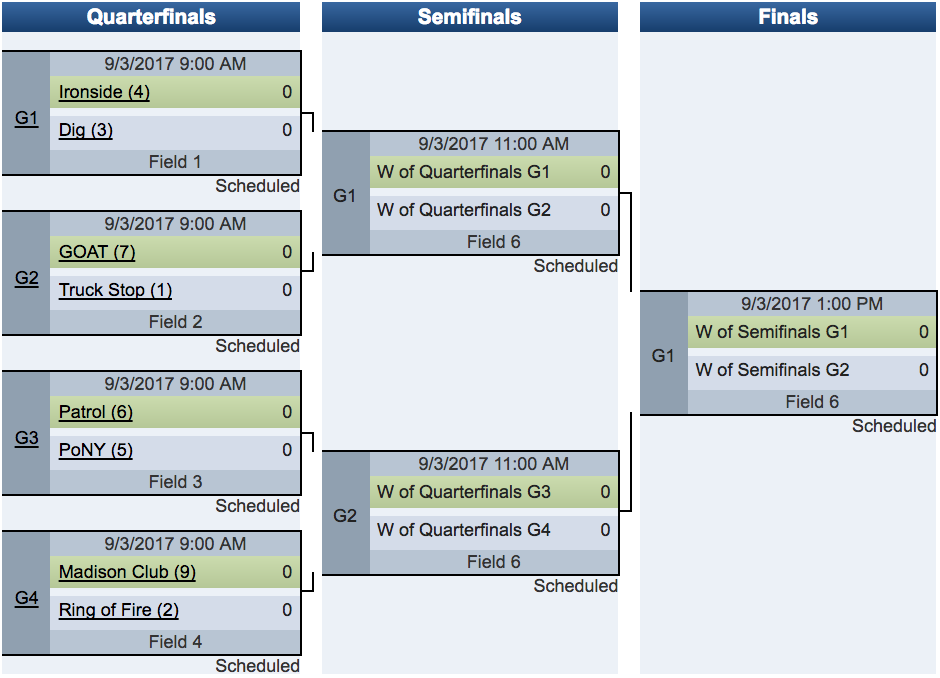 Here are some quick hits about the action on Saturday:
Pool winners Boston Ironside and Ring of Fire looked like the teams with the highest ceilings. Both are missing some key players (Ironside: Josh Markette, Ring of Fire: Justin Allen) and still showed the most overall consistency. But that doesn't mean they were perfect. Ironside's offense coughed up the disc a lot against New York PoNY and, shockingly, failed to capitalize when PoNY's Isaac Saul dropped the pull on double game point. Kurt Gibson threw away a pass into the endzone due to a miscommunication and PoNY nervously worked it down the field for the win. Ring overcame a slow start against GOAT to wreck them in the second half and then looked very sharp until their final game against Dig, where they couldn't bottle up Ben Sadok and managed just two breaks. They lost on double game point.
Here's a piece of trivia for you: that PoNY win over Ironside was their first since Boston's first season as a team. PoNY beat them 14-13 on Labor Day weekend in 2008. They lost 20 straight games over 10 years until their win today.
Truck Stop also looked solid, losing only to Ironside but falling to third in the pool on point differential1. Their offense had a few too many hiccups, which kept games close and yielded their loss to Boston. Their defense, though, looks increasingly effective at generating blocks and putting in scores.
Boston Dig's offense looked out-of-character at times today, especially against Patrol in their second game. The slice-and-dice line we saw at Elite-Select was clunky and uncertain. Bringing Jeff Babbitt over onto the offense when they needed some pressure release definitely helped. They also regained their form for their final round game against Ring of Fire, where they won 14-13 on double game point. That was easily their signature win of the season. Let there be no doubt: they are a legitimate threat. We'll see how they stack up against crosstown rival Ironside in quarters.
While it wasn't much of a surprise, Toronto GOAT bounced back in a big way as they finished 3-1 and ensured that the Northeast will have four bids to Nationals this year. After an ugly collapse against Ring of Fire's zone looks in round one (they were up 6-4 and lost 13-8), they were very sharp the rest of the day, beating Patrol 13-7, Medicine Men 13-8, and Dig 14-12. They'll get a big test tomorrow in quarters against Truck Stop.
Any hope for a 3+ bid Mid-Atlantic has evaporated after bubble teams Temper and Medicine Men both went winless. Patrol easily did enough to ensure a second bid will remain in the region: will any team be able to take it from them in three weeks?
---
Ironside +1, PoNY 0, Truck -1 ↩