What a weekend for Machine.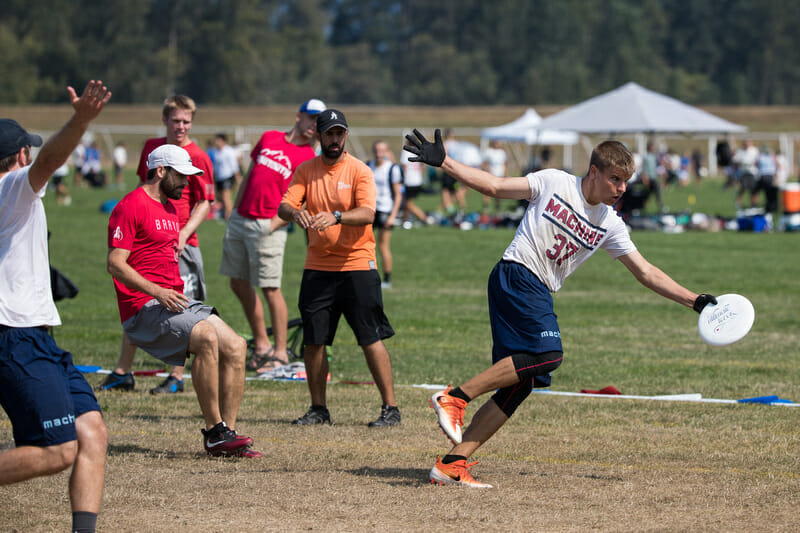 Men's Division coverage of the Pro Championships is presented by BE Ultimate. Please support the brands that make Ultiworld possible and shop at BE Ultimate!
BURLINGTON, Wash. — As the temperature climbed under skies insulated by haze from distant wildfires, competition heated up at Pro Championships outside of Seattle. Chicago Machine snagged two more statement wins to claim a spot in Monday's final, while San Francisco Revolver continued to improve their efficiency with two wins of their own. A rematch of the big pool play upset for Machine is set for tomorrow at Archbishop Murphy High School's stadium in Everett, WA.
Machine Beats Sockeye In Quarters, Bravo In Semis
After shocking San Francisco Revolver on Saturday, Chicago Machine delivered an even more impressive Sunday with victories over both Seattle Sockeye in quarterfinals and Denver Johnny Bravo in semifinals.
Chicago Machine still coughed up the disc today, but their deep game was rolling, with Travis Carpenter leading the way in their double-game point 15-14 win over Bravo. The midday win under an unusually warm Pacific Northwest sun capped the best day of Machine's season, in which they avenged their pool play loss to Bravo and took down a Sockeye team that was otherwise running at the fastest pace in the Men's Division.
Machine's upset of Sockeye was eerily reminiscent of their upset win over Revolver. Machine took the same general strategic approach in both games: play transition junk defense to stop pull plays and disrupt offensive rhythm, follow that with tough person defense, and, on a turn, live and die by the deep game.
In the same way Revolver did on Saturday, Sockeye reacted to Machine's tactics poorly. On offense, Sockeye looked flustered when forced into vertical stack by Machine's junk and failed to adjust to the strategic poaches and switches Chicago was using. On defense, Sockeye gave Machine what they wanted by forcing cutters out, which, coupled with a high connection rate for Chicago, gave away easy scores.
Seattle did well to try to counter by using a last-back and poaches underneath, but Machine was ready for that move and efficiently hit the poached cutter to punish the Sockeye help defense. Strategically, Machine seemed to be a step ahead of Sockeye and it allowed them to run out an 8-5 halftime lead. Perhaps unaccustomed to playing from behind and against a trickier non-matchup defense, Sockeye began to make more of the mental mistakes we've seen occasionally plague them — forced static breaks, drops, and dump set errors. The script was a near facsimile of yesterday's upset.
Machine's use of transition defense calls attention to an understated part of the Pro Flight club game — most teams assume that the Revolvers, Sockeyes, and Johnny Bravos of the world can easily handle a zone look because of their talented handlers. It turns out that that fact is not as much of a given as many may have suspected. It will surely put the division on notice that, especially in preparation for the windy conditions of Sarasota, a review of zone offensive execution should become a priority.
No matter the outcome of the final this afternoon, Chicago Machine will fly home with big time wins over Sockeye, Revolver, and Bravo. That's quite the satement.
Machine plays in the final vs. Revolver at 6 PM EDT on ESPN.com/watch. 
Revolver Strong In Day Two Performance
The San Francisco team mopped up a bunch of mental mistakes today with two strong wins in the quarterfinal (15-9 over Minneapolis Sub Zero) and semifinal rounds (15-10 over Vancouver Furious George). Nick Stuart took over a fairly new space on the D-line, while Lucas Dallmann did the same on O-line. Dallmann worked into a stacked downfield rotation: Beau Kittredge looked to be playing a full speed, Tom Doi was always open and clearing well alongside George Stubbs, and Ashlin Joye was in command in the backfield with Jordan Marcy as the reset man.
What stood out most for Revolver today was their approach to cutting in their semifinal. While they scored on a few customary deep looks, as the temperature rose and Furious slowed, the cutting cores on both lines were mostly working the unders. Cutters barely showed on deep routes, opting instead to charge the thrower for a few steps and then take an almost flat line toward either sideline. Throwers reliably worked the inside out breaks to find these cuts. Combine that with some stifling marks, and Vancouver didn't quite have the depth of talent to break the mark on offense or keep up.
Bravo Takes Third, Sockeye Takes Fifth After Bracket Losses
In the semis, Chicago's deeper lines outplayed Denver, and when the tough got going, Bravo stuck with Jimmy Mickle and Nick Lance on the field. That was good enough to get a turn on double game point, but not good enough to grind into the winning break. The offense didn't have too many tricks up their sleeves beyond running hard and letting their two stars air out the disc when under pressure. Still, their athleticism on defense got them a pair of scores late to tie the game at 14-14, and no one looked particularly tired. Of note, speedster Mark Rauls was cleared, but not playing. Bravo finished out the day with a commanding 15-9 win over Vancouver Furious George to take third place.
Coming away from the weekend, it doesn't look like Bravo can blame any performance questions on execution of the offense, but they did at times look a little impotent. Mickle still has free reign of the field – he'll take off deep down the break side of the vertical stack when the disc hits the sideline and still end up clearing behind the handler pinned on the open side a throw or two later. He looked masterful at times today, but Machine—led by the efforts of Michael Schwenk, who often matched up with Mickle with help over the top—limited him just enough to hold Bravo off by a point.
The win in consolation is a good note to end on. Even after sending out the top lines point after point in the semis, they had plenty left in the tank to beat a very capable Vancouver squad.
Guerrilla & Condors Meet In Likely Preview Of Game-To-Go
Given Saturday's results, we know that the Southwest Men's Division is likely to finished with two bids to Nationals — the auto bid earned by Revolver and the strength bid earned by the #16 Condors. In the hunt to steal that bid will be #17 Oakland Guerrilla, who the Condors met in the 7th place consolation game in the last round of the day.
In a preview of the likely game-to-go to nationals, Guerrilla took down the Condors 15-13, staking a claim as the favorite to claim the second bid heading into Regionals. Guerrilla, as was the case most of the weekend, got big contributions from their young talent. Elliott Chartock (U24, College OPOTY Runner-Up), Lior Givol (U24), and Ethan Falat (San Jose Spiders) all provided sparks of athleticism and technical brilliance to power Guerrilla to respectable results on the weekend.
That's it for major storylines from Day Two. Stay tuned for coverage of the final tomorrow and a full tournament recap later in the week.
Aidan Shapiro-Leighton contributed reporting.