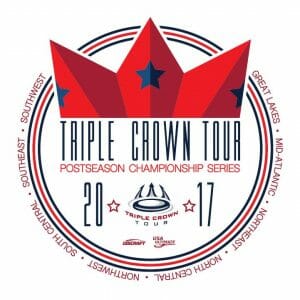 The first weekend of the Club Series is now complete as teams from around the country earned spots at Regionals with their performance at qualifying Sectionals tournaments. A few tournaments were postponed due to weather conditions, including Hurricane Irma and wildfires in the west.
Here's a look at the teams that qualified. There were very few surprises this year, as most top teams did not compete. Links to all of the Score Reporter pages can be found on USA Ultimate's website.
Great Lakes
Men's
Central Plains
Bye: Machine
1. Brickyard
2. Black Market
3. The Roofing Co.
4. Beachfront Property
5. South Shore Line
6. Haymaker
East Plains
Bye: High Five
1. Schweingeist
2. Kentucky Flying Circus
3. Four
4. Smokestack
5. Enigma
6. Mango Tree
7. Chimney
8. Black Lung
Mixed
Central Plains
1. UPA
2. Prion
3. Tequila Mockingbird
4. Shakedown
5. Los Heros
6. ELevate
7. Jabba
East Plains
1. Steamboat
2. Columbus Cocktails
3. Asylum
4. Hybrid
5. Goose Lee
6. Rocket LawnChair
7. Toast
8. Moonshine
9. Petey's Pirates
Women's
Central Plains
1. Nemesis
2. Indy Rogue
3. Dish
4. Helix
East Plains
Bye: Rival
1. Notorious C.L.E.
2. Sureshot
3. Sparks
Mid-Atlantic
Men's
Capital
Bye: Truck Stop
1. Medicine Men
2. Richmond Floodwall
3. John Doe
4. Oak Grove Boys
5. Watchdogs
6. Shockoe Slip Flatball Club
Founders
Bye: Patrol
1. Garden State Ultimate
2. Temper
3. Citywide Special
4. Slag Dump
5. Adelphos
6. JAWN
7. Pittsburgh Puppies
8. Helots
Garden State Ultimate upset Temper 13-11 in the Sectional final. Get your popcorn ready for a very exciting two bid MA Regionals.
Mixed
Capital
1. Ambiguous Grey
2. Fireball
3. Sparkle Ponies
4. LORD
5. Chef Curry With The Pot
6. Ant Madness
7. American Hyperbole
8. Tyrannis
Founders
Byes: AMP, Alloy
1. Bang!
2. Distelfink
3. Dub Club
4. Jughandle
5. Blowing Heat 2.0
6. Crucible
Women's
Capital
Bye: Scandal
1. Grit
2. Virginia Rebellion
3. Backhanded
4. Suffrage
Founders
1. Hot Metal
2. Green
3. Pine Baroness
North Central
Men's
Northwest Plains
Byes: Sub Zero, Madison Club
1. Mad Men
2. General Strike
3. MKE
4. Imperial
5. Climax
West Plains
Bye: Prairie Fire
1. Illusion
2. CaSTLe
3. Scythe
4. Smokestack
Mixed
Northwest Plains
Byes: Drag'N Thrust, NOISE, No Touching
1. Minnesota Star Power
2. Mojo Jojo
3. Bird
4. Mad Udderburn
5. Northern Comfort
West Plains
1. Chalice
2. The Chad Larson Experience
3. Thoroughbred
4. panIC
St. Louis' Chalice defeated CLX 15-10 in pool play and claimed the section comfortably over Thoroughbred 15-9 in the final.
Women's
Northwest Plains
Bye: Heist
1. Pop
2. Fusion
3. Rice Crispies
4. Mystikue
5. Crackle
West Plains
1. Wicked
2. Filthy Gorgeous
Northeast
Men's
East New England
Bye: Ironside
1. Dig
2. Boston Baked Beans
3. Pesterbug
4. Big Wrench
5. Red Circus
6. Deathsquad
As expected, Dig won the ENE section but faced a surprise new entrant to the postseason, Boston Baked Beans, in the final. BBB features some well-known names like Jared Inselmann, Matt Rebholz, and Jon Hirschberger and might just be competitive in the four-bid Northeast region.
Metro New York
Bye: PoNY
1. Colt
2. Blueprint
3. Shade
4. Fat and Mediocre
5. Westchester Magma Bears
Upstate New York
1. GOAT
West New England
1. Mockingbird
2. Manic
Mixed
East New England
Bye: Slow White
1. Wild Card
2. Pleasuretown
3. League of Shadows
4. Titan NE
Metro New York
Bye: Metro North
1. Grand Army
2. XIST
3. Alternative Stacks
4. The Feminists
Grand Army comes away the winner in the battle for New York City with a 12-10 upset win over XIST in the Sectional final.
Upstate New York
1. UNION
2. Garbage Plates
3. Townies
4. Crash
West New England
1. Heartless
2. Happy Valley
There's been a lot of buzz about the new Amherst-based mixed team Happy Valley, which features Leila and Dylan Tunnell. They took two losses at Sectionals, though, and finished second.
Women's
East New England
Bye: Brute Squad
1. Siege
2. Savage
3. Vice
Metro New York
1. Bent
2. Brooklyn Book Club
3. Dinosaur
Upstate New York
1. 6ixers
2. Boomslang
West New England
1. WOLP
Northwest
Men's
Big Sky
1. Sawtooth
2. Powderhogs
Oregon
1. Rhino
2. Dark Star
3. RIP City
Washington
Byes: Sockeye, Furious George
1. Voodoo
2. DNA
3. Ghost Train
Mixed
Alaska
1. Big
Big Sky
Due to wildfires, Big Sky Mixed Sectionals was cancelled, and the top three seeded teams advanced to Regionals.
1. Bozos
2. BoyShe
3. Mental Toss Flycoons
Oregon
1. Happy Hour
2. Makeshift Returns
3. Administrators
4. Midnight Whiskey
Washington
Bye: Mixtape
1. BFG
2. Birdfruit
3. Pegasus
4. Friday Night Couch
5. Misfits
6. Fable
Women's
Big Sky
1. Elevate
Oregon
Bye: Schwa
Washington
Bye: Riot, Traffic
1. Underground
2. Sneaky House Hippos
3. Ivy
4. Seattle Soul
South Central
Men's
Ozarks
1. Supercell
2. Dreadnought
Rocky Mountain
Bye: Johnny Bravo
1. Inception
2. Syndicate
3. Choice City Hops
4. Interesting Tummy Birds
Texas
Bye: Doublewide
1. Plex
2. Singlewide
3. Dallas United: Desperados
4. DTH
5. Riverside Ultimate
6. Premium
7. Papa Bear
8. Fenix
Mixed
Ozarks
1. rubber duck ultimate.
2. Boomtown
Rocky Mountain
Byes: shame., Love Tractor
1. Mesteño
2. The Strangers
3. Merry Band of Muffinmakers from the Land of Megastar
4. All Jeeps, All Night
5. Springs Mixed Ulty Team
Texas
Bye: Public Enemy
1. Cosa Nostra
2. Sellout
3. tHUMP
4. Risky Business
5. Tex Mix
6. Moontower
Women's
Rocky Mountain
Bye: Molly Brown
1. Colorado Small Batch
2. Jackwagon
3. Trainwreck
Texas
Bye: Showdown
1. Maeve
2. Inferno
3. Temptress
Southeast
Men's
East Coast
1. Chain Lightning
2. Lost Boys
3. Bullet
4. Rush Hour
5. Chattanooga Gentlemen's Club
6. Cerberus
Florida
1. Florida United
2. Omen
Gulf Coast
1. Freaks
2. Ironmen
3. Memphis Belle
4. Rougaroux
North Carolina
1. Ring of Fire
2. Cash Crop
3. Brickhouse
4. Turbine
Mixed
East Coast
1. Bucket
2. JLP
3. LoveShack
4. Murmur
5. Crush
Florida
1. G-Unit
2. Swing State
3. The Hucking Dead
4. Mutiny
Gulf Coast
1. Method
2. Mississippi Blues
North Carolina
1. Toro
2. Charlotte Storm
3. Malice in Wonderland
4. TAU
5. Cahoots
Women's
East Coast
Bye: Ozone
1. UNREPORTED
2. UNREPORTED
Florida
1. fiasco
2. Tabby Rosa
Gulf Coast
1. Steel
2. Queen Cake
North Carolina
1. Phoenix
2. Rogue
Southwest
Men's
NorCal
Bye: Revolver
1. Guerrilla
2. Green River Swordfish
SoCal
1. SoCal Condors
2. Streetgang
3. Sprawl
4. Republic
5. Sundowners
Mixed
NorCal
Bye: Mischief
1. Blackbird
2. Classy
3. Polar Bears
4. BW Ultimate
5. Alchemy
6. Donuts
7. American Barbecue
8. Firefly
9. Cutthroat
10. Argo
SoCal
1. 7 Figures
2. Family Style
3. Long Beach Legacy
4. Superstition
5. Fear & Loathing
Women's
NorCal
Byes: Fury, Nightlock
1. LOL
2. FAB
3. Deadly Viper Assassin Squad
SoCal
Bye: Wildfire
1. Viva
2. Phoenix Uprising