A fond farewell to a coaching legend.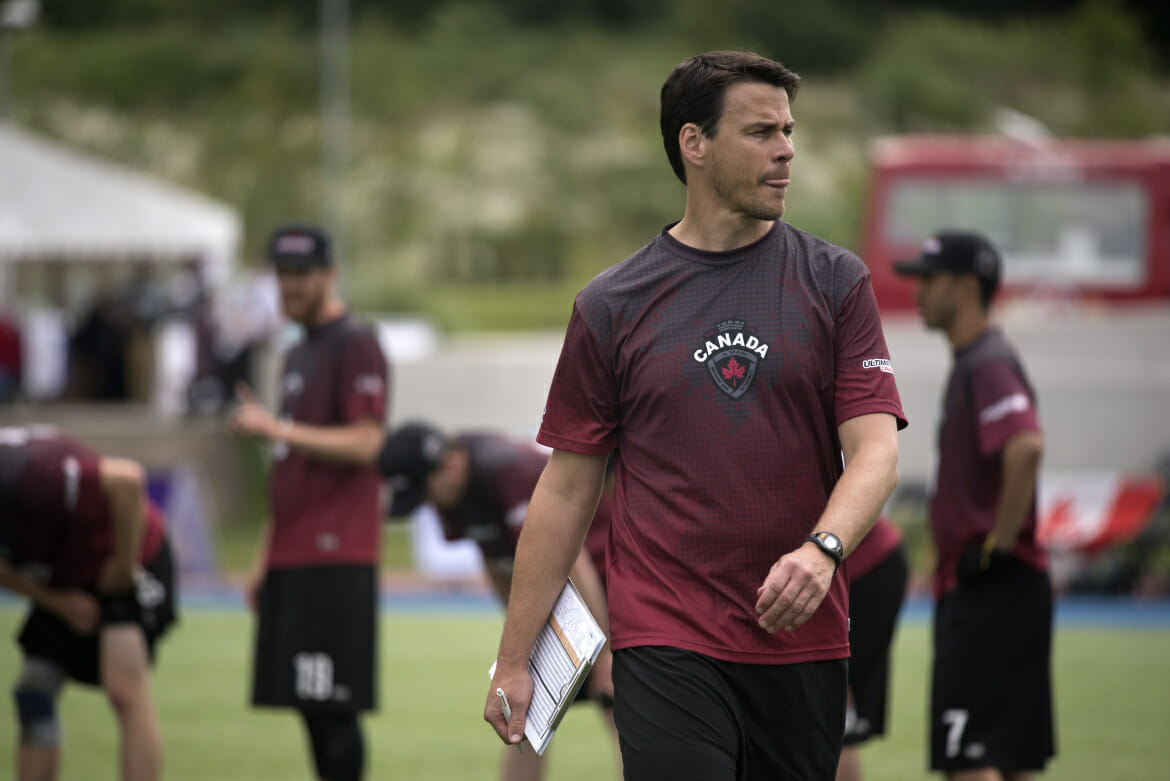 This article, written by Adrian Yearwood on behalf of Toronto GOAT, was originally published on GOAT's website.
Right from the get-go, 2017 was going to be a pivotal year for men's ultimate in Toronto – the level of disappointment with the 2016 campaign demanded it: An uninspired performance against Australia in the bronze medal game at WUGC in London leading to a fourth place finish. A crushing semifinals loss to the Dallas Roughnecks at the AUDL Championship Weekend in Madison. A shocking defeat in the game-to-go at Northeast Regionals to Boston Dig, a team that GOAT had handled with ease the day before. We knew we had it in us, but for some reason the pieces just weren't clicking together in the way that they should have been.
​
Coach Scott "Shooter" Hastie had preached to us for years about what we do when we got punched: punch back. So we came into 2017 ready to punch back and… well, we fell a little flat. April saw the Rush go 1-2, losing our home-opener for the first time in franchise history. It was a pretty helpless feeling, as it was like our very foundations were crumbling underneath us. Our system that had given us so much success, that had earned us the respect of the ultimate community – all of a sudden, it was failing us. We could try and explain away last year's stumbles with excuses like chemistry issues, fatigue, or player absences, but now there were no excuses. We had a whole winter to rest, retool, and develop, and it still wasn't working. So what was going on?
​
Then, in a surprise move that shocked nearly every member of the team with its rather clinical abruptness, Shooter announced that he would be stepping down as head coach of the Rush and of GOAT to focus on coaching the Team Canada World Games team, effective immediately. He'd stay on for the remainder of the AUDL season as an assistant and then retire from coaching entirely in September. It rocked the core of the team. Shooter retiring? A man whose name has become synonymous with Toronto men's ultimate, who has given his life to this program for over half a decade…? Surely that can't be right.
​
But that's just it, isn't it? Few people who haven't taken on a position like the coach of a club team can understand what a massive and mostly thankless responsibility it is. The amount of himself that Shooter put into the Toronto program is unfathomable. Whether it was attending coaching conferences, drafting emails, developing plays, poring over game tape, booking hotels, organizing practices, managing personalities, or scouting prospects, Shooter did it all. It was a lot, way too much for one person to be solely responsible for, but he did it all for the love of the team and of the sport.
​
Shooter's departure forced something important – it made us look inward. It made us look at our disappointment about last year's results and see how misguided it was. Because, seriously, look at what we accomplished over the years! In 2013, we came out of nowhere and won the Pro Flight Finale with only 16 players. Later that season, we dethroned Boston and won our first regional title ever. The very next year, we made it to the USAU championship semifinals (and lost on double game point to a stacked Johnny Bravo) by defeating reigning champion Revolver in the quarterfinals. We avenged our absolutely devastating loss in the 2011 CUC finals by toppling Vancouver in 2015. In five years with the Rush, we've made it to Championship Weekend every single year, only missing the finals twice.
Maybe it was that culture of success that made us complacent. We were able to take the system for granted, never realizing that it may not have been such a solid foundation after all. The whole structure was being held up by one man – Shooter – in an entirely unsustainable way. So if it didn't happen this year, maybe it would have happened next year. Or the one after. To be so results-oriented that we viewed 2016 as a failure is an insult to the legacy that Shooter has left to this program: a culture of humility and hard work that will continue to pay dividends for years to come.
​
So let's put the 2017 season into perspective. The success that we have found so far is not purely as a result of the change in leadership. The lion's share of it lays at the feet of the way that the change has forced us to take ownership of the structure that coach Shooter built for us and figure out how to hold it up ourselves. Letting something that you love go is one of the hardest things in the world to do, so we know that it was no simple decision for him. But having taken the time to reflect and appreciate all that he has done for us over the years, we as a team, as a herd, as a family, want to say thank you.
Thank you, Shooter, from the very bottom of our hearts for all that you do, have done, and probably will continue to do for us to make us the team that we are today. Thank you for the hours you've spent, for the tears you've shed, for the sleep you've lost, for laughs we've shared, for the tortillas you've repurposed, for the clipboards you've destroyed…thank you for all of it. There will never be another guy like you in our lifetime. Our sidelines won't be the same without your infectious passion, unmistakable voice, and unbelievable hamstring flexibility, but your presence will continue to be felt.
​
Youdabes
​
– The Boys