Toronto's GOAT outlasted the competition at the Pro Flight Finale to come away with the 14-11 finals victory over Austin's Doublewide. With every team taking at least two losses, this year's competitive balance is better than ever and it's anyone's game in October.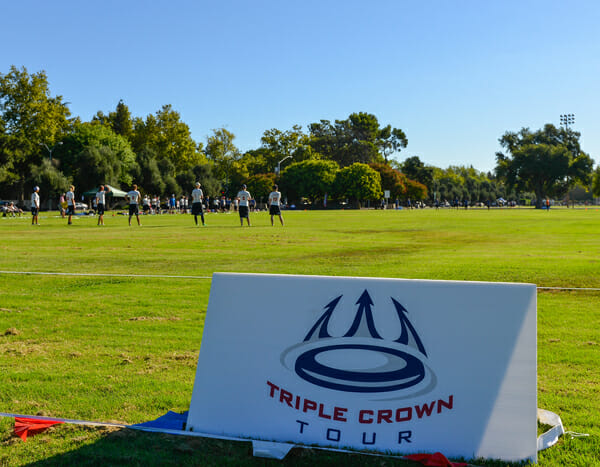 Final Standings: 1. GOAT; 2. Doublewide; 3. Machine; 4. Sockeye; 5. Revolver; 6. Ring; 7. Chain; 8. Ironside 
DAVIS — Toronto GOAT was the last team standing at the end of the inaugural USA Ultimate Pro Flight Finale, defeating Texas Doublewide 14-10 in the final.   After a busy regular season, outsiders and players alike probably thought the Finale would separate pretenders from contenders.  The tournament did the opposite: Seven of the eight teams that competed have a realistic shot to be playing in the semifinals at the National championship in six weeks.
But two teams – GOAT and defending national champions Doublewide – seemed to rise above the pack, sustaining high-level play for longer than the field.  Doublewide, of course, has been on the elite radar for years now.  But this favored status will become somewhat new territory for GOAT; all weekend long, experienced players on other teams were expressing surprise at how athletic and scary Toronto played.
There's a risk of reading too much into both teams' Sunday success. GOAT and Doublewide both finished last in their respective Saturday pools yet made it to the finals.  Parity was evident throughout the division and the margins, even in big wins and losses, were razor-thin. Every men's team lost at least two games; the finalists just happened to win and lose games at the right time.
Short Handed GOAT Uses Unique Style To Take Home Title
At the end of Saturday, it looked like GOAT's chance to influence the tournament had probably come and gone. Their first-round win over Revolver was erased by an injury to top playmaker Mark Lloyd and a double game point loss to Chain Lighting. Their entire roster — which was missing 10 players — looked fatigued in their final pool play loss to Ring of Fire. Coach Scott "Shooter" Hastie admitted he was just looking for any legs his team had left in that final Saturday round.
GOAT caught a few lucky breaks and then made their own luck by taking advantage of them. First was that the final Saturday round, a crossover match with no bearing on the tournament's outcome, was essentially vetoed by the teams in attendance.
On social media platforms, USA Ultimate cited player safety concerns in the 90+ degree California heat as justification for the cancellation. While technically true, it's also a bit of chicken and egg problem: Travel requirements in the inaugural Triple Crown Tour have stretched some top teams financially, such that GOAT was down to 16 players (and they weren't the only thin team). Fuller rosters could have fought through a fourth round but the right decision was certainly made given the reality of the situation on the ground. USAU's problem is that only begs the question of why the round was ever scheduled in the first place. Of all the teams in attendance, GOAT almost certainly benefited the most from the extra rest.
Weather continued to improve as clouds provided shade (and about 10 degrees of relief) for the first two Sunday rounds before a strong cross wind slowed down the pace of the finals. The improved conditions gave GOAT's depleted roster a fighting chance, but it was a bit of a close call. Hastie wasn't shy to admit the issue before their semifinal.
"The shade is helping today, and it makes a difference," he said. "But we still just have 16 guys." Before one back-to-back D Line point in the Sockeye semifinal, half of the GOAT defensive unit was hydrating on the line; after giving up the score, almost all of them were kneeling over, arms on their sides or knees.
GOAT employed a few unique stylistic elements that may have caught the competition off guard. Offensively, their handlers were relentless in a desire to break the mark. Around outside-in backhands and blading break side scoobers were thrown with little concern given to the meager yardage gains.   Both their offensive and defensive lines showed a level of offensive patience that probably exceeded that of any other team in the division – it was especially notable in the finals against Doublewide.
Another facet to their offensive attack was deep shots that looked to lead fast receivers a bit further than those of other men's teams. These deep looks gave GOAT an added advantage of generally putting their offense in control of the field position game; the times that they struggled the most was when they turned it on the first pass off the pull. When their offensive line had the entire field to play defense in, they often got their turns back. A more interesting open question is whether GOAT's near 100% completion rate on high-stall and cheeky upside down break moves is sustainable in the long run. Teams like Ironside and, especially, Sockeye in the second half of their semifinal matchup, came very close to getting team coverage Ds on GOAT's handler heavy attack. If the margin in open remains this tight, then even a slight regression to the mean could put GOAT in universe point games. 
GOAT's defensive tactics were most effective in the championship game. Early in the tournament, their junk look sometimes slowed teams down but rarely generated turnovers. But the wall-like look generated two huge layout blocks in the final – one by Antoly Vasilyev (who was outstanding all weekend for GOAT) and the other by Remy Ojo.  The blocks gave GOAT some early momentum and the lead going into halftime. GOAT also employed a switch man-mark scheme when defending against endzone offenses but executed it to perfection against Doublewide.  Almost every upline look was stopped by the mark switching onto any handler strike cuts; Doublewide had to keep going around and around the marks and struggled to get those final few yards needed to punch in the score.
Doublewide Flashes Brilliance Against Ironside, Revolver, and Machine
Doublewide finished the weekend .500 (3-3) but, subjectively, something about their wins loomed large. First, they dispatched Ironside in a smooth performance early on Saturday. Then, after going down early to Revolver in the Sunday morning quarters, Doublewide put together a strong second half to win 15-11.
Doublewide captain Jerrod Wolfe said that every matchup they have against Revolver includes lots of runs from each team.
"Early on we weren't executing," he said. "We had some bad decisions and some bad drops. But we stayed together, we called that timeout and we knew that we just had to come together and support each other."
That fire kept building in the Revolver game as the tall Doublewide receivers came down with big hucks and the Texas sideline rushed onto the field. Dan Emmons had a huge sequence of generating deep Ds; his hot play fueled even more team energy. It bled into the first half of their semifinals against Chicago Machine. But by the end of that game, Doublewide's sideline knew their focus was starting to slip and the finishing the win was harder than necessary.  Keeping excited energy up for an entire day is a challenge and it may have hurt Doublewide in the final, especially after the breaks piled up. Wolfe mentioned this flatness as a problem in their disappointing Saturday loss to Machine – a loss Doublewide of course avenged in their Sunday semifinal.
Overall, Doublewide was the second best deep attacking team at the tournament: legions of 6 foot plus cutters help with the hucks. More importantly, there is some great chemistry developing amongst certain roster pairings. Alex Thorne and Kiran Thomas were dialed in together on the offensive line while Wolfe and Kurt Gibson use their differences to complement each other as defensive line handlers. They may have taken second place, but the defending champions may have ironically reestablished themselves as the team to beat.
Ring of Fire Has Its Moments, But Blows Quarterfinals Sockeye Match 
Ring of Fire finished in sixth place but was seemingly inches away from something much more impressive. They lost to Revolver on double game point on Saturday (and lost to them again in a late fifth place game on Sunday). The real story of their weekend, and at times it seems of their season (remember the blown US Open lead to Ironside?), is that Ring loses games when it looks like they are in complete control of them.
That manifested itself in the quarterfinals against Sockeye. Down 13-10 to Ring, Sockeye scored five straight points to win 15-13. The Ring offense remained in control the entire time – until the end zone, that is; Ring often worked it easily up the field before making that final pass unnecessarily risky.
Ring captain Noah Saul, who may have had the best day of any open player I saw on Saturday, a day that included a massive sky to send the Revolver game to universe, struggled in the late Sockeye run. Most questionable may have been the decision to reinsert a clearly injured Ken Porter – one of the game's most explosive athletes when healthy – when he was clearly hobbled. Saul and Porter (despite a fantastic bid attempt) misconnected in the middle of the Sockeye run, giving Sockeye great field position and another break.
Of course, 20/20 hindsight makes it easy to Monday morning quarterback the decision, and even an injured Porter offers a dimension beyond the most elite players.  But it also may epitomize Ring's unnecessary offensive reliance on deep playmaking.  Their best offensive play this weekend came from boring Ultimate driven through Saul, Team USA's Brett Matzuka, Paul Weeks, and young U23 speedster Christian Johnson. The first three have an ability to cut in the mid and even deep zones that other teams' handlers can't match. And when their offense plays decently, the Ring defense guarantees high energy points with plenty of bids and playmaking. They have a system and style that, despite the sixth place finish here, gives them another chance of making semifinals this year.  Yet, with Saul telling Ultiworld that the offensive line felt they gave games away in their poor Chesapeake Invite appearance, one wonders if there's something about this system that makes them especially prone to late-game collapses. 
Shipwrecked: Ironside Sinks to Last Place Finish
Ranked second in Ultiworld's midseason power rankings, Boston Ironside came into Sunday as the surprise pool B winners after a poor start against Doublewide, seemingly feeling good about their chances of getting to the finals.  They finished the Finale in last place after three consecutive losses in bracket play, including a bad loss to Chain in the 7th/8th place game that included Brandon "Muffin" Malecek throwing into a 'snake in the grass,' a hidden defender poach play rarely seen at the elite level.
Part of the story here, as it is with all of the teams, is that the team balance is just so high that even small mistakes get magnified at a tournament this stacked. Most of Ironside's troubles this weekend came with their offensive line. They were missing one very important piece in Josh "Cricket" Markette, but his absence alone can't explain the highly variable play from the Ironside offense. At one point in the first half of their quarterfinal against GOAT, the Ironside group was throwing smooth passes, selflessly centering the disc at the exact right moments, communicating well, and shredding Toronto's junk defense. Just a few points later, the group seemed frustrated with each other as each player looking for his own thing.
GOAT coach Scott "Shooter" Hasty agreed that Ironside's offensive line tightened up as the quarterfinal game wore on and that the game got away from them. "Early on, our defenders were getting it," he said. "Later in the game, those guys got tight. They started throwing stuff and throwing away stuff they normally don't. They were missing throws and miscommunicating."
Ironside finally found a rhythm in the second half against Chain, eventually taking the game to double game point. It was a silver lining on an otherwise difficult day.
It will be easy for Ironside to chalk these losses up to missing personnel — they played without Russell Wallack and Markette, among others — but the fact is that a number of teams, including tournament winner GOAT, were shorthanded. Something isn't quite in sync with this Ironside team, and while they still look like they have what it takes (both in terms of talent and experience) to make the Club Championship semifinals, they will need to find a way to play more consistently.
Sockeye Shows The Importance Of Matchups
When I caught my first glimpse of Sockeye in Saturday pool play, they looked lost, less skilled than Ironside, and playing less intelligent ultimate than necessary. One player from another team backed up this intuition and said they were less dangerous than in year's past.
The second look was Sockeye mounting the most impressive comeback of the tournament, the five point quarterfinal run that knocked Ring of Fire out of the bracket. Sockeye then played a very good game against GOAT in the semifinal. Sockeye coach Roger Crafts knew that the team's man defense was playing very tough, but was unable to overcome a GOAT offense that was incredibly "stingy" with the disc.
Doublewide captain Jerrod Wolfe said that Sockeye is a tough matchup for his team, likely something that applies to lots of more athletic, huck–oriented teams. Sockeye's results suggest that could be the case: they got wins over Doublewide and Ring, but lost to Ironside, GOAT, and Machine (twice).
Crafts added that Sockeye is still very injury-depleted and picked up additional knocks at the Finale. They're still testing out new ideas and Crafts told us to expect even different looks at the Club Championships. Sockeye isn't the only team still experimenting: Doublewide is trying out rookie Tyler Degirolamo on the D Line. One elite player in the division theorized that the parity this year was due in part to player turnover and that teams (like finalists GOAT and Doublewide) seem to bring different squads to every tournament.
Machine Takes Third But Drops The More Important Doublewide Game
We wrote in our Saturday recap that Machine picked up a signature win with their 15-11 victory over Doublewide during pool play. Then, in the semifinals, Machine came up against a much sharper Austin squad and fell 15-10.  Competitive balance was on everyone's mind and Machine captain Andy Nielsen was no exception. He told Ultiworld that "every game was very even, very close, and came down to who made plays," after Saturday's rounds.
Yet Machine's results are almost notable in that they were the only team to avoid any nail biters on their path to a 4-2 weekend. Their closest game was the third place matchup against Sockeye that they won 15-12. Contributing to that was probably the easiest quarterfinal matchup — they played against a Chain team that went down big and early. But it may also be part of the Machine's style. They've shown at Heavyweights and now in Davis that they can rack up wins, especially with Jonathan "Goose" Helton playing well. The question going into Frisco will be whether they can do that against a top team that is also playing hot, like the Doublewide team they lost to on Sunday.
Chain Lighting Disappoints
Chain Lighting may have salvaged 7th place here, but this performance combined with an average Chesapeake showing means they'll be the first team that Johnny Bravo or PoNY will feel hopeful about knocking from the quarters.  Chain's energy looked lower than that of the other team's in pool A and their love for the deep ball is at times inexcusable for a team with their talent and goals. Their high point was a nice, high-energy Saturday comeback against GOAT (they were down four and won on double game point).  But it's unlikely that win happens without brutal GOAT injuries; Lloyd went down midgame, as did Karl Loiseau.
"We set out expectations high and fell way short," Chain captain Mark Poole told Ultiworld. "We had some good strings during games, but we struggled to put two halves together all weekend and that's not good enough.  We have some work to do."
A Side Note On Spirit
Like any high level tournament, the Finale took place amidst ongoing discussion about the importance of spirit in the game. The introduction of true referees into the professional game and the disaster that was Spirit of the Game at the World Games lowered my expectations heading to Davis.
But the play was remarkably clean. Most teams vocalized more frustrations at themselves than their opponents, though those vocalizations can now come with Team Misconduct Fouls if they incorporate four letter words and are done in the presence of observers (legitimate question: does this make sense in pool play games without fans?). Only one or two calls went to the observer in the men's final. And on a pivotal Saturday point in Pool A, Ring of Fire's Tristan Green made heavy contact with Revolver's Evan Boucher as he generated a block. After the initial foul call, Green was insistent that it was not a foul and Boucher graciously gave it up – presumably because the pass was risky enough and the contact was perhaps incidental.
The danger here is of course that reading too much into any one play, one game, or one tournament paints an unfair conceptual picture from either perspective.  But Voodoo's selfless sacrifice to qualify Furious George for the Series counts as a second act of great spirit in one weekend. Credit to the players and let's all hope the trend continues in Frisco.