The second year team is ahead of schedule in bridging the past and future for Toronto's elite women's scene.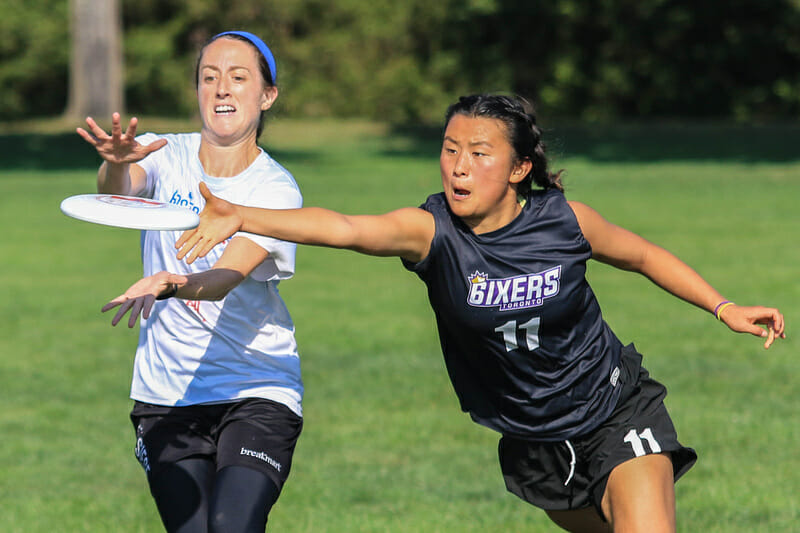 It has not taken Toronto 6ixers long to find their place among the elite of women's ultimate in North America. In just their second year of existence, they're set to make their first appearance at the USAU Club Championships.
Maybe that's not surprising as a reincarnation of sorts of the power program Ontario Capitals. But 6ixers are more than just a new brand slapped on an old team. The transition from Capitals to 6ixers wasn't a typical one, and their early successes have come from a unique place as well.
Fresh off of a Canadian national championship before booking their place in Sarasota, Toronto is currently crossing the bridge between their past and their future — and they're winning lots of games while doing it.
The Transition
When Ontario Capitals announced they had disbanded in early 2016, it sent reverberations throughout the elite women's ultimate landscape. The club had made USAU Club Championships for 11 straight seasons, and made three straight semis appearances from 2009 to 2011. Teams like that don't shutter their doors very often.
But Capitals were always a unique program. In the province of Ontario, there were three top club teams that competed in the Canadian summer season: Ottawa Stella, Toronto Lotus, and Waterloo PPF. Once their domestic seasons were over, the top players from each of those teams would join together to form Capitals and compete in the USAU Club Series stateside. Essentially a regional all-star team, Capitals were a force in the US, qualifying for Nationals every year from 2005 to 2015 and peaking as finalists in 2010.
But when USAU implemented the Triple Crown Tour, it dramatically impacted the Capitals model and forced them to re-imagine their entire structure. The team decided to build a squad that would compete in the American regular season, foregoing the opportunity to regularly compete with their local clubs in Canada. However, practicing together was virtually impossible due to the distance between cities, and plucking the top players away from each of the clubs competing in the Canadian Series effectively wiped out the local pipelines that had made Capitals such a force to begin with.
In addition to the trials of the TCT, Capitals also began losing some of the pillars of the team's peak years. Players like Alyson Walker, Kaitlyn Lovatt, and Danielle Fortin began to leave the squad for one reason or another and the team's form suffered.
"We didn't practice as much. There was too much dependence on veteran players and I think we underestimated the importance of practice and learning how to play with each other," explains Carla DiFilippo, a former Capitals player and current 6ixers coach. "So every year that happened, we got worse and worse."
In their final three years as a team, Capitals began to slip from the top of the game, finishing 7th at the USAU Club Championships in 2013, 14th the following season, and 13th in 2015. But what may have been the final straw for the team was their performance at the 2015 Canadian Ultimate Championships. Two blowout losses to Quebec Iris and Vancouver Traffic led to a third place finish and a clear indication that Capitals were no longer the elite force they had been.
"Because we got blown out so badly [by Quebec and Vancouver] it allowed us to look at the team and be like, 'What do we want? What do we need to do to become a competitive team moving forward?" explains Jordan Meron, a member of Capitals since 2012 and now a captain for 6ixers.
"Looking at the personnel we had on [Capitals], it was 14 players from Toronto and there was no reason we couldn't form our own team in order to practice, and improve, and build a system, and that's what we all wanted to do." So Toronto 6ixers was born. The three local clubs agreed to compete separately once again and focus on building ultimate hubs in their own cities.
As DiFilippo puts it, the teams were "getting back to their roots."
Growth And Early Success
But going back to their roots did not come without some setbacks in Toronto.
After an undefeated regular season in their first year of existence, 6ixers finished a lofty seventh place in USAU's rankings. But then they were upset by Quebec Iris at Northeast Regionals in the game-to-go and missed out on Nationals.
"The first year was rough, not qualifying," says DiFilippo. "But it also put into perspective how much work that you have to put into that and we can't just expect to qualify [for Nationals]. That was kind of the mentality on Capitals, that we would qualify."
But Meron has a slightly different point of view, highlighting the fact that the team's surprising regular season success changed the team's expectations. "Last year, obviously, going into the season we didn't have expectations to be at Nationals. But then we had a great regular season so it was a huge disappointment [to not qualify]."
The loss to Iris was a surprising upset and disappointing defeat in the moment, but in the context of 6ixers being a first year team, missing out on Nationals probably wasn't the most shocking result. As star defender Lauren Kimura reasons, the team had to go through some growing pains. "Last year we just tried to figure out what works, and it worked for part of the season, but maybe it wasn't sustainable."
Kimura cites three changes as the main differences between last season and this season. First, the additions of Anouchka Beaudry and Erica Tucker to the team's backfield depth; second, the additional time for tinkering with lines and figuring out how the team's players best "mesh" together; and finally, the addition of Evan Phillips, who replaced Lovatt as DiFilippo's co-coach for 2017. "This year, having two coaches who have two different strengths and two different personalities has been really helpful," according to Kimura.
Those differences led to a very real achievement back in August. Participating in their first ever Canadian Ultimate Championships, 6ixers won the tournament with a thrilling final victory over perennial power Vancouver Traffic. For Meron, that win marked a major milestone in 6ixers' young history. "We didn't plan going into [CUC] to win. We thought we had a chance of winning, but Traffic is such a phenomenal team, so getting that win felt like the highlight of the season."
"Seeing how we stacked up against a team [like Traffic] is really encouraging," she continued. "It was awesome because I don't think that last year we were in a place to beat that team, [and we weren't] in the last few years of Capitals, so that's a great benchmark."
Toronto went into the tournament merely seeking to qualify for the 2018 World Ultimate Club Championships, but exceeded those expectations and surprised a lot of people by winning the title. They'll take the confidence earned from that victory with them to Sarasota.
But DiFilippo is worried about potential negative consequences of CUC as well. "It's important [to get that win], but it's really hard to do that double peak," she says. "Trying to peak for Canadian Nationals and then maintain that motivation for US Nationals, that's my biggest worry, actually, going into the club finals. Is the team able to maintain that focus and determination eight weeks after CUC's?"
The team may still be in its infancy, but Toronto has excelled in the face of those challenges in year two with the win at the Canadian Championships and then easily defending the Nationals bid they earned during the regular season.
Budding Superstars And Seasoned Veterans
A huge part of Toronto's rapid path to success has been their crop of young stars. The 6ixers' Nationals roster features eight players who will be representing Team Canada at the U24 World Championships next year, including a full third of the women's roster. The two brightest young stars on the team, Beaudry and Laura Kinoshita, are just 19 and 20 years old, respectively.1 Nicolette Bertsch, Karen Chan Lim, Christine Jurychuk, Molly Lewis, Miriam Tingle, and Cindy Truong are the other U24 representatives and together help make the average age on 6ixers' roster between 24 and 25.
This new golden generation of women's players in the Toronto area is the result of a few different developments. Toronto has a growing high school ultimate scene that has begun producing talented players at an impressive rate. And that local scene was bolstered by Team Canada's decision to split from a mixed youth structure to having separate boys and girls teams. DiFilippo is a national team coach for many of those youth teams and has coached several of her 6ixers players on Team Canada.
"The most exciting thing is that our players are so good and so young. It's so exciting to think about the future," says DiFilippo. "We have this pipeline of amazingly talented players, as long as they don't get burned out. It's so fun to think about what we can accomplish, possibly."
For Toronto natives like Kinoshita, they are able to play under DiFilippo's system from a young age and stay in it at every level of their career. The confidence and development borne from that familiarity has been invaluable for 6ixers' growth and they foreshadow a bright future.
"It's really been great because she emphasizes the philosophies at a young age and then kinda develops them as we move up the program," Kinoshita says. "We know what she's like, we know what she expects of us."
6ixers relationship with Team Canada also led to the addition of Beaudry this season. Having won gold with Kinoshita as a teammate and DiFilippo as a coach, Beaudry decided to switch allegiances from Quebec to Toronto.
Kinoshita plans for the gang to keep playing and to stick together. "A lot of us are on the same kinda page. We all want to continue playing for a while and we would love to play together because we've made such good connections. We hope to continue on with the 6ixers, especially after the team's leaders move on to other things."
Before the team's old-guard leadership moves on from 6ixers, though, they, too, are a critical part of the team's present. Capitals veterans like Meron, Sarah Bobak, and Jeanette Quach, have provided the perfect complement to their younger teammates.
"It's great to have veteran players that are able step up in big games," elaborates DiFilippo. "I think our biggest weakness is believing we can win and to have a veteran player [like Bobak in the CUC final] be a complete gamer in the final is huge for our young players to see and be like, alright, we can do this."
In spite of the two distinct age groups on the roster, the team has blended together very well. Kimura lends a unique perspective, not quite fitting into the "younger crew" as Meron labels it, but not being a carry over from the Capitals era either, having moved to Toronto in 2016.
"It's funny because on other teams I've played on…there's a tendency for the veterans to have already established their role and then the rookies prove themselves or carve out a spot for themselves in addition to that already existent roster. [On 6ixers] there's a clear leadership group, but the roles aren't set. Whether you're in the younger group or the older group, we're able to capitalize on the chemistry."
Thanks to that chemistry, 6ixers are a team that can win now in addition to their bright future, and Meron is pleased with how far along the team is in just its second season. "I've said several time I think that the 6ixers, give us a few years, and we can be a top eight, top four team. The city is so big and our juniors program is so good that I don't think it will take a long time for us to get to that top level. We're improving every month…and have really great plans to get there so I think we're really happy with just being at USA Nationals two years after the program was built."
Toronto is still in the early stages of the 6ixers plan, and they likely won't peak until that special young generation reaches its prime. But don't be surprised if they repeat their performance from the Canadian championships and play like an elite team in Sarasota this weekend.
---
Beaudry and Kinoshita were two of the top performers in 6ixers' CUC final win over Traffic. Beaudry tallied 10 points; Kinoshita registered 6. ↩