Wild cards everywhere.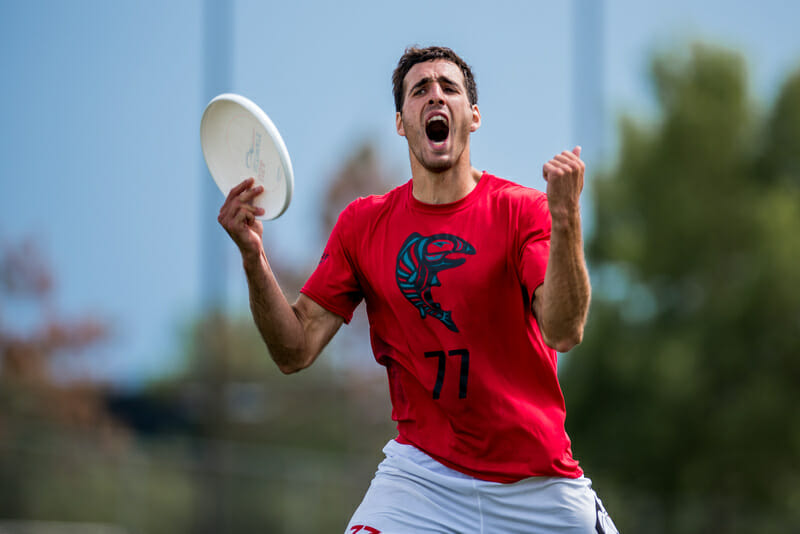 Ultiworld's coverage of the 2017 Club Championships is presented by Spin Ultimate; all opinions are those of the authors. Please support the brands that make Ultiworld possible and shop at Spin Ultimate!
Talented coaches and experienced veterans are everywhere in Pool B, and no team is without its bruises from the 2017 season. At the top sits Seattle Sockeye, primed to go turbo on their way back to the national final. But the team that handed them their biggest surprise, Chicago Machine, will be ready. Machine has statement wins against the division's best already this season, and their gunslinging is fearless to the point that it harkens to Chain Lightning teams of old. But PoNY has two wins over Machine so far this season—they know what it takes to slow down the Midwest's best. And Florida United is the mystery team: they haven't played any of their opponents in the pool.
Seattle Sockeye [Pool #1, Overall #2]
Much in the way that Seattle's gorgeous, cloudless summers subvert the city's reputation for existing in a permanent rainy gray pall, the men of Sockeye will return to Sarasota having skirted the cloud of doubt that's followed their fortune in recent years. Despite amassing talented rosters that nearly mirror San Francisco, Seattle has lacked the mental fortitude to go point for point in the Club Championships bracket. No team wants to be defined by its Nationals losses1; every team wants to be defined by its wins2
Sockeye's first season-defining win happened off the field, when they landed Portland Rhino expats Dylan Freechild and Jacob Janin. While Freechild is the wider-known quantity—a plus player for Sockeye in just about any place on the field—Janin added plenty of punch to the midfield, too.
2016's squad was at times defined by Seattle-native Simon Montague's booming throws to Nick Stuart, Matt Rehder, and Zane Rankin —a departure from the force-breaking short yardage tricks that are woven into Sockeye's history. The 2017 edition of The Fish, without Stuart (departed for Revolver) and possibly without Rehder (battling injuries this season) are again defined by their speed.
The offense has been excellent in 2017, a high-octane affair.
Defense will define this iteration of Sockeye, though, where the team can assert itself and make statements against their Pool B and presumed bracket challengers. Captain Trent Dillon has looked more at home smothering assignments and making incredible reads to stuff up lanes. Husayn Carnegie has put himself back in the highlight reels with big time blocks in the deep space, and the team feels like they got their wakeup call —a surprise 15-11 quarterfinal loss to Chicago Machine at Pro Championships— at the right time.
"We didn't come out ready to play championship-level defense in that game and we paid for it," said Dillon of the only loss the team's taken since August 5. "In Sarasota, we're going to come out ready dictate and hit the ground from the first pull."
If the rest of the season has been defined by a steady build of focus and intensity, the loss to Machine was defined by a lack of both. Miscues and the inability to adjust gave Chicago two long scoring runs. But the game put Sockeye back on the straight and narrow. They will do their absolute best to be prepared for each opponent, regardless of how the matchup looks on paper.
"Every team at Nationals has the ability to end our season, no matter what seed they are or who they've beaten or what people are saying about them. Every player who cleats up at this tournament is legit. We know that," said Dillon.
If that's the mentality the team can bring to every game, expect to see a return to the speedy form for Seattle in pool play. They'll be ready to hammer out of the junk zones from Chicago, and the roster will likely be too much for Florida or New York to handle.
Likely Ceiling: 2017 National Champions
Likely Floor: Quarterfinals
Chicago Machine [Pool #2, Overall #7]
According to Chicago Machine coach Andy Neilsen, every season is different, regardless of record and personnel. And after losing longtime star cutter Jonathan "Goose" Helton, Brett Matzuka, Bob Liu, and a handful of other veterans, spending the season reconciling that loss would've been a waste.
But for a least a short period in the record season—in early July at the Pro-Elite Challenge—it looked like those departures would be more than Machine could contend with. A 2-4 weekend. Wins over teams that didn't bring bids to their regions or contend for a spot in Sarasota. The team got off to a sloppy start.
Less red pockmarked the team's ledger at the next tournament and their athleticism started to show itself in scurrying transition defenses and big blocks on high-stall hucks. And on offense, Pawel Janas emerged.
https://gfycat.com/ReadyConventionalArabianhorse
With big man AJ Nelson and speedster Travis Carpenter drawing first looks out of the stack, the Colorado Mamabird product has been making hay releasing from the reset spot after centering the pull. Just about a month after the clip above, Janas notched a tournament-leading 20 assists and tacked on five goals for good measure. This play was part of it—and when teams tried to back his deep cut, he planted and came back for an easy around, finding targets like Carpenter for continuation throws or deep looks.
Smart game-planning, huge hucks, and monster blocks knocked San Francisco Revolver, Sockeye, and Denver Johnny Bravo off their lines at Pro Championships. Where other teams faltered, Machine stuck to their guns and took home some season-defining wins at the end of the regular season.
But those wins are balanced by questionable losses. While Chicago put the fear into the two top seeded teams in the Men's division, they also have two losses to PoNY, their Pool B opponents. Oakland Guerrilla was onto Machine's game, too, and beat them 15-13 back at Pro Championships.
Tough defense can slow Chicago down. Gumming up the first few throws off the pull puts pressure on Machine's cutters to work the unders off of their big cuts and flow stagnates. They rely heavily on sending up long passes to their athletes in those moments, and at Nationals, their opponents will be ready.
Outwardly, Neilsen says Machine is dedicated to winning one point at a time and focuses solely on what they can control. With a healthy roster, they'll try to outthrow, outrun, and out-huck their Pool B opponents on their way back into the bracket. But taking down Sockeye again will be more than a test of mental fortitude. And the crossover odds don't look good: a second or third place finish in the could pit them against almost anyone in Pool C, and the team already has a loss to Boston Ironside.
Likely Ceiling: Semifinals
Likely Floor: Prequarters
Florida United [Pool #3, Overall #11]
It's been a long, tiring grind for the elite men from Florida. While every team at this level and in this division demands sacrifice from its athletes, many of Florida United's top players started commuting for AUDL practice with the Jacksonville Cannons every weekend in January 2017. In some cases, according to captain Chris LaRocque, that meant four hours each way every other weekend.
Ten months later, it's an accomplishment alone that Florida United is back at Nationals. Grueling travel and disappointment defined their AUDL season. Getting back to club wasn't easy. "Combine that [travel] with a poor showing in the playoffs against Dallas and you get a really apathetic club team, initially," said LaRocque.
They rallied just enough. Florida first pushed through Sectionals, penance for not earning a trip to Rockford last year. Then, they scraped into the Southeast regional final after narrowly beating Atlanta Chain Lightning on Saturday. There they lost to Ring of Fire, but they soundly put Chain away a second time on Sunday to claim a spot in Sarasota.
For all that, it's a reward in itself that Club Championships is basically in their backyard. They'll arrive unseen by all opponents.
Florida United hasn't played a point against any other team in their pool this club season.3
"I think our opponents are better prepared to play each other, and we see ourselves as the wild card. There isn't much scouting to be done on us. But, we have been watching film, taking notes, and making adjustments, just like I think every other team does, in our preparation for each team," said LaRocque.
Being a wildcard could really help against a team like Chicago Machine. United has the athletes to answer Machine's aerial athletes, and their own tower in Mischa Fresystatter to (if not directly) take on AJ Nelson. They're shameless when it comes to relying on their stars to make plays. "When you have people like Mischa and Jeremy [Langdon], you have advantages that you need to capitalize on," said LaRocque.
In a time when teams didn't prepare as much for this tournament, the advantage of being unknown might've bought more runway. But Florida's top players and styles are recognizable. There's lot of tape from the AUDL. And it's been a long year.
As much as the team made strides on the semi-professional field, the real test in Sarasota might be digging deep for enough mental focus to grit a bracket-worthy performance ten months after their first practice. They'll have Connor Holcombe, James Dahl, and Nathan Vickroy all back for full strength after all three missed Regionals.
Likely Ceiling: Quarterfinals
Likely Floor: Missing the bracket
New York PoNY [Pool #4, Overall #14]
The team that is most inseparable from their online presence rounds out the competition in Pool B. But for all the jokes, Pride of New York is still an elite club team, getting it done to earn a bid for the Northeast and win it in postseason play. If it was really all about the jokes, would the team keep battling their way back to the national stage?
"The only way the Twitter contributes to our team identity is that we are a fun group of guys off the field," said coach Bryan Jones.
There's talent across the PoNY roster, and they've earned some solid wins this season, notably against poolmates Chicago Machine and potential crossover opponent Boston Ironside.
The game against Chicago presents one of the more intriguing games on the Pool B schedule. Along with Jones, PoNY's solid veteran group is coached by Ben Van Heuvelen and Jimmy Leppert. That makes for an experienced core that is prepared to plan well and play hard, already aware of what works and what doesn't against the pool's two-seed.
"We're a gritty team with good players. We go into every game with a starting game plan and iterate from there on defense. It comes down to the players executing on the field. Machine, Sockeye, Florida are all good teams, and we'll need to execute to win those games," said Jones.
As of press time, PoNY is not on track for a national title, but they are an experienced fourth seed with an edge on the competition. As for roster health, we can't all take ourselves too seriously.
"Everyone is questionable with a sore arm. We had a team bonding sessions by everyone getting their tetanus shots together," said Jones.
Perhaps they'll be well-inoculated against opposing strategies and nationals tremors.
Likely Ceiling: Quarterfinals
Likely Floor: Missing the bracket
---
See: Boston Ironside 2007-2015 ↩

See: Boston Ironside 2016. ↩

Cue the rehashing of the bid-allocation arguments. ↩