A huge battle looming for the top of the pool.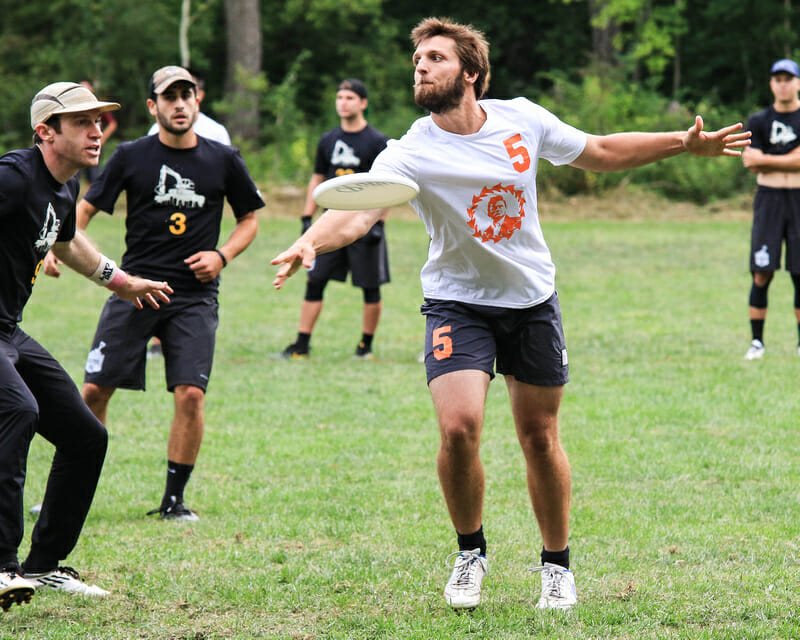 Ultiworld's coverage of the 2017 Club Championships is presented by Spin Ultimate; all opinions are those of the authors. Please support the brands that make Ultiworld possible and shop at Spin Ultimate!
Pool C is often classified as the pool of death, but this year there are relatively clear favorites heading into pool play. Raleigh Ring of Fire has had a standout season so far, but they'll need to get through defending national champs Boston Ironside in what should be one of the best games during pool play.
The thread that ties Pool C together is a plethora of individual talent. Ring is trotting out their reigning AUDL MVP Jon Nethercutt. Ironside has what some may say is the best player on earth right now in Kurt Gibson. GOAT and Patrol also present matchup issues with Andrew Carroll and Billy Sickles respectively. Defensive planning for some of the best in the game right now will be critical.
Raleigh Ring of Fire [Pool #1, Overall #3]
Earlier this year, Ring of Fire Head Coach Mike Denardis noted one of the team's biggest takeaways from last years National Semifinal loss.
"The immediate takeaway from losing in the semis last year…was that we have to learn how to win big tournaments to win at Nationals," said DeNardis. "It's not that we haven't had success, but that's been a big goal for us."
This year, Ring took home the New York Invite title. It's their first major tournament win since 2014, and it has them looking pretty going into Nationals.
"We have a solid pedigree, but are still young," Denardis said. "So any high-profile tournament games we can get in certainly helps with our confidence and experience."
Last year's Ring team was seeded last in their pool as they notched upset after upset at Nationals. A double game point loss to Revolver in the semifinals halted a remarkable run to a third place finish, but as with most Ring of Fire teams, they weren't satisfied.
This offseason, Raleigh added Goose Helton, a piece that could see them through to the title this year.
"He brings a business presence to our o-line, filled a much needed role, and meshes really well with our team in general," Denardis said. "Additionally, I don't think I've met a player that's more meticulous about his training and it shows in his production despite him being on the wrong side of 30."
As for gaining some mental toughness, a double game point win over Truck Stop to win the New York Invite showed some confidence in the big moment. As always, the defense is young and hungry. The offense runs through Jon Nethercutt, who's fresh off an MVP season with the AUDL's Raleigh Flyers.
Ring has faced GOAT once and Patrol twice in 2017, picking up decisive victories in each game. All eyes will be on the matchup with the defending champions Ironside on Thursday at 3:45 p.m.
Likely Ceiling: National Champions
Likely Floor: Quarters
Boston Ironside [Pool #2, Overall #6]
The defending National Champions have their eyes trained on a repeat.
With Kurt Gibson helping Ironside breeze through Northeast Regionals, they might be peaking at exactly the right time. In the regional final, they didn't allow a strong Boston Dig team a single break. Stacking practices into the end of the season could help them shake off some early year woes.
"I'm confident we've ramped it up the last two months in particular to the point that we are now ready to compete at our finest come Nationals," said Ironside coach Josh McCarthey. "Our regionals performance, not just the wins but the quality of our play, validated this perspective – though, when the Nationals gun goes off, there's no doubt that we will need to further elevate our play to achieve our end goal."
Despite that, their talent pool is slightly down from last year. Losing Jeff Graham in particular hurts, but Peter Prial has become a solid downfield option.
They're likely to advance out of Pool C, but a win over Ring of Fire could give them a first round bye. In 2016, a Nationals pool play game with Ring was cursed with 25 mph winds and a Raleigh team that still didn't have all of their players. By the end of that tournament, Ring of Fire was firing on all cylinders.
Before that matchup, their last meaningful game was the wild semifinal in 2014 that featured a marathon double game point. While some of those players are still present for both teams, roster turnover and the passage of time will make the pool play game feel new.
"We know who their guys are – and they know who our guys are – but it's not like either of us know each other inside and out," McCarthy said. "I'm sure Mike Denardis and their leadership will have them very well prepared, and very hungry, for their game against us. It should be a lot of fun."
Likely Ceiling: National Champions
Likely Floor: Quarters
Toronto GOAT [Pool #3, Overall #10]
Toronto GOAT has undergone quite a lot of change since they began the 2017 season. The face of the team, Mark Lloyd, is now rostered with Denver Johnny Bravo. Their long-time head coach Scott Hastie is in the midst of his departure, and Isaiah Masek-Kelly is sitting 2017 out. Despite that, GOAT finds themselves heading back to Nationals after a disappointing 2016.
"I think I speak for all the vets when I say it has been really exciting and refreshing," said Captain Thomson McKnight. "There is a renewed sense of confidence within our team. It's something that has built its way up throughout the whole season as the new generation gets more and more confident."
GOAT began to hit their stride at Regionals, avenging an early season loss to PoNY with a 15-10 win when it counted. A decisive win over Patrol earlier in the year has them favored to make the bracket, but how far can they go?
"We feel like when we play well we can compete with every team," McKnight said. "A good weekend would be quarterfinals, anything more would be great, anything less a disappointment."
To get reach that goal they'll likely have to pull off an upset in prequarters, and they have the tools to do it. Some younger talents like Mike Mackenzie and Ben Burelle could surprise Ring of Fire and Ironside, but everyone will be keeping track of Andrew Carroll when he's on the field. Carroll is one of the toughest matchups in the pool, and Ring had trouble guarding him 1-on-1 at New York Invite.
It's a long way from Toronto to Sarasota, but GOAT is coming to play. A prequarters spot seems like a fair bet, but an upset in pool play could have them going even further.
Likely Ceiling: Quarters
Likely Floor: Prequarters
Philadelphia Patrol [Pool #4, Overall #15]
Philadelphia Patrol is a team still waiting to put it all together. Quality wins against Dig and PoNY are nothing to scoff at, but they've yet to keep a game against a quarterfinal quality team close. To notch an upset and make the bracket, it will take something we haven't seen yet.
"We've put ourselves into positions to win against PoNY at Pro-Elite Challenge, and against both Truck and Ironside at US Open, but didn't play a complete game," said Patrol Head Coach Charlie Hoppes. "We've got a D-line that can make highlight plays and punch in breaks, and we've got an O-line that can grind it out in any condition. So it boils down to consistency."
With losses to Ring of Fire, Ironside and GOAT, it's hard to see Patrol escaping the pool. But their goals for the week are more long-term than that.
Last year, Patrol finished 7th after fighting through the pro flight bracket. And according to Hoppes, they're "always looking to improve year over year."
Patrol may have an advantage over some lower seeds just based on experience alone. Only three players on their roster have never experienced a Club Nationals.
"We are very comfortable with the format and the grind, and we feel we are well-suited to play with both our depth and with the top of our roster, depending on what is needed," Hoppes said.
While a pool exit is unlikely, Patrol can absolutely win a few games after elimination and make a play for the Pro Flight.
Likely Ceiling: Prequarters
Likely Floor: Out on Day One