Can Heist make waves?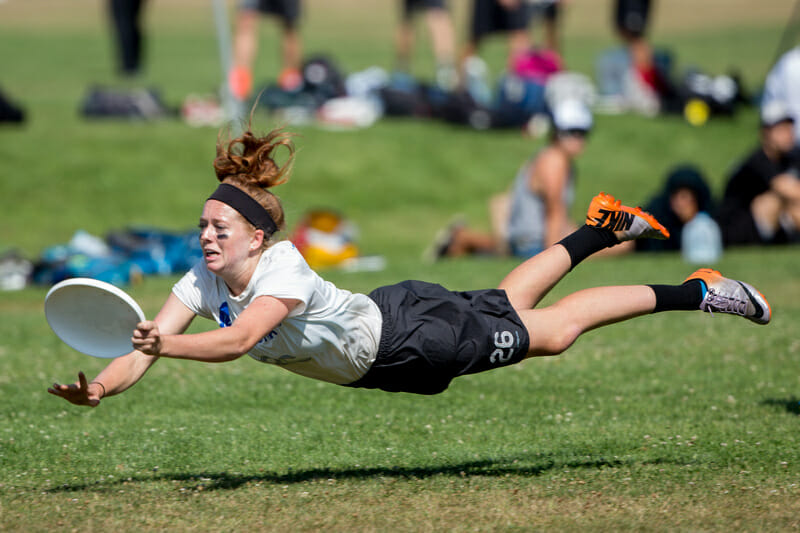 Ultiworld's reporting on the Women's division of the 2017 National Championships is presented by VC Ultimate as part of their year-long support of our women's coverage. All opinions are those of the authors. Please support the brands that make Ultiworld possible and shop at VC Ultimate!
In recent history, Pool C has been as predictable as it gets. In all likelihood, that will continue this season. Denver Molly Brown has had a remarkable season and are as big a threat to claim a title as they have ever been. Vancouver Traffic has resided comfortably in that second tier of teams all season, not quite at the level to challenge the big four but comfortably ahead of some of the middle tier upstarts.
Madison Heist hasn't quite had the results that reflect their talent, struggling against other Nationals qualifiers throughout the regular season. But they did defeat the pool's four seed, Portland Schwa, during the campaign. So there seems to be a very clear hierarchy going into the pool.
Still, there's a reason they play the games. And even if all of the games do go to chalk, the matchups present some opportunities for entertaining, close games anyway. Pool play is when championship contenders ramp up for the bracket, outsiders push to shake things up at the top, and lower seeds aim to just stay alive past the first day. Pool C could give us a taste of all three.
Denver Molly Brown [Pool #1, Overall #3]
The highs for Molly Brown in 2017 reach as far up as they ever have for the team. It's a sign of the change in the team's status. Prior to reaching the semifinals at Nationals in 2015, Denver had reached quarterfinals only twice in the five years since their founding. Things have changed a lot over these past few years, with an influx of talent and infrastructure, and the results are clear, with back to back semifinals appearances, and a regular seat at the elite table. And this season, they reached the #1 ranking. Never before has a title seemed so attainable.
This regular season has been, overall, very positive for the Denver women. They reached the semifinals at every tournament. At the US Open and Regionals, they advanced to the final. Perhaps most critically, they've defeated all four of the other top five seeds. Molly Brown has demonstrated an explosive new offense, athletic defense, and the deepest roster we've seen from them.
However, there have been stumbles that have raised questions about their chances of winning their first ever National Championship. Three of their fellow top five seeds have gotten the better of Molly Brown at points this season, with Fury as the only exception. Some close wins over less successful teams dot their resume. There have been no tournament wins along the way, including at South Central Regionals, where they took their worst loss of the season to rival Showdown.
"We came in and we underestimated Showdown," said Claire Chastain in a recent episode of Sideline Talk. Chastain, a team captain and star of the team, went on to say it was a valuable lesson to learn before Nationals, but this is an issue that has reared its head for Denver before. With probably the strongest top to bottom field in recent memory in the women's division, a slip up could doom Molly Brown's title hopes.
If Molly can use their talent and athleticism to make it semifinals, the next question becomes if they have the depth and mettle to advance. While the team uses the full roster effectively against weaker competition and with lower stakes, when the bright lights are on, they have been overly reliant on their core talent. Chastain is the frontrunner to win Player of the Year, while Liza Minor, Lisa Pitcaithley, Paige Applegate, and Lisi Lohre are having great seasons. But the opposition they will face in those powder kegs are going to push them to do more.
That's why the fact that Molly Brown has become something of a destination team could push them over the edge. Along with Minor, Jesse Shofner and Manuela Cardenas are big names that are new to the team. Sam Peletier seems on the verge of breaking out this Nationals, while Becca Miller is back from injury. There are more names that have the ability to step up. It's less a matter of who and more a matter of degree. Quality depth creates consistency, which has been somewhat evasive for Molly Brown. If they can capture that quality, they might be able to capture a championship.
Likely Ceiling: National Championship
Likely Floor: Semis
Vancouver Traffic [Pool #2, Overall #6]
Vancouver has some of the biggest names in the division leading their roster: Catherine Hui, Rachel Moens, Terri Whitehead, Laura Mason, and Rena Kawabata have all been at the top of the game for a while now. But Traffic also has a small army of young, up-and-coming playmakers that provide the roster with athletic depth.
Daisy Lin, Zellema Mot, Ellen Au-Yeung, and Julia Zhang are all under the age of 24 and have had strong seasons. They, along with a few other of the team's youngsters, will be asked to take advantage of their lesser matchups while the more established stars are tasked with the toughest jobs. The young players have made first year head coach Mike Caldwell's job pretty easy this season.
"A lot of our younger players have experience together on various incarnations of Team Canada and in college, so we didn't have to start from zero in terms of building chemistry," he says. "They've been fantastic. Several of our young players have filled key roles, are taking tough matchups, and are some of our key contributors."
Unlike most teams in the field, Traffic is already Nationals tested this season. They competed at the Canadian Ultimate Championships back in August, losing to the Toronto 6ixers in the final. Having gone through the rigors of a national championship already could prove to be a nice tune up for Vancouver, so long as they are able to avoid the curse of trying to double peak.
One thing Traffic will have to do better than they did at the Canadian Championships is making defensive adjustments. In the final against Toronto, they waited far too long into the second half to switch out of their person defense that had given Toronto's offense minimal trouble. Caldwell and the rest of the team's strategic core have as much high level experience as anyone, though, and it would be a surprise if he and his team didn't learn from that lesson. The junky zone they used to mix things up then was an effective wrinkle, and if their person defense isn't in form this weekend, it could be a useful second look.
Beyond CUC, Traffic has also been well tested in the Triple Crown Tour. They have competed against the top four seeds a combined seven times. Their only other losses on the year are a surprise one point loss to Austin Showdown and a two point defeat to eventual tournament champs Club Deportivo Revolution at the U.S. Open.
So while Traffic has not been able to knock off any of those top teams, Caldwell says that won't impact the team's mentality. "We've had very tight games with those teams this year and we're not intimidated by anyone, so the phase change could come at any moment. That said, we're approaching the tournament with a focus on staying in the moment, lifting each other up, and finding a way to overcome whatever challenge we're facing. If that challenge is one of those top four, we're ready."
If Vancouver does proves themselves ready for those battles with the top four, it could mean their first appearance in semis since 2008. It's been a while since a team has been able to upset the order of power in the women's division, but with Vancouver's experienced superstars and hungry young players, Vancouver has as good a shot of doing it as anyone.
Likely Ceiling: Semis
Likely Floor: Prequarters
Madison Heist [Pool #3, Overall #10]
The inconsistent nature of Heist's season has largely been due to the flux of the roster. Key players have missed game time for a variety of reasons, and the full team didn't really get to play together until Regionals. That obviously means the team hasn't had the opportunity to gel throughout the course of the season as they might have wanted, but it also means they're a strong candidate to play their best ultimate of the season at Nationals.
One player that has had an opportunity to gel with the team has absolutely excelled while doing so. Minneapolis Drag'n Thrust transplant Sarah Anciaux has been a huge addition to the top of the team's roster. "She plays level-headed and can assess what she needs to do in any moment," said captain Robyn Wiseman. "She steps up to make big plays, while feels comfortable deferring to others when they have the matchup we need to use. At Pro Flight, she handled for us. At US Open she was a big receiver. At Regionals, she played closer to the disc in our zones. She's versatile, smart, and a delightful teammate."
Anciaux has helped to fill out the elite ranks of the Heist roster with Wiseman and Georgia Bosscher, and the three of them will do the majority of play making this weekend. Australian star Michelle Phillips is also a huge boost. Wiseman says the top end of the roster makes life easier for the team's depth to make an impact. "If anything, the focus on our 'big name' players allows some of the other players who fly under the radar, the opportunity to have bigger mismatches and play their roles to the degree our team needs," she explains. Austin Prucha, Rachel Enyeart, and Amelia Cuarenta help lead the way for that depth and if they all perform well, Heist could exceed their regular season results this weekend.
For Wiseman, this weekend should be extra special. She makes her return to Nationals after missing out a season ago due to an ACL injury. "I honestly am playing what feels like a dream season with some of my best friends," she explained. "This season has been so special for so many reasons, but our mindset and attitude as a team has made it an absolute joy. My teammates have supported me through some of the more difficult times of injury recovery.
"I didn't get a chance to be in the moment with them last year, and I thought it wouldn't happen ever again– I'm obviously here for the long haul, and I felt like after missing last year, I was going to be left behind. It's hard to not feel like I missed out. I'm just ready to keep celebrating and enjoying the journey with them. I am so motivated and encouraged by all of my teammates. I didn't think this season could have felt any better, it really was a dream 'comeback tour.'"
With the band finally all back together again, Heist will look to reach the same level they did a year ago when they qualified for the Pro Flight for the first time. If their stars play to their capability and the team is able to keep all of its players on the field together all weekend, that should be within reach.
Likely Ceiling: Quarterfinals
Likely Floor: Done on Day One
Portland Schwa [Pool #4, Overall #15]
Since the Triple Crown Tour first began, no 15 seed has won a pool game in the women's division. That may not sound all that surprising, but for reference, the 16 seed has won twice in that same stretch.1 Portland will feel they have a decent chance of ending that run, particularly since they were a dropped goal on double game point away from beating pool 3 seed Heist at the Elite Select Challenge this season. They also lost to Vancouver by a mere two goals at Northwest Regionals.
If Portland is to pull off an upset and stay alive into prequarters, it will be on the back of an all-out, run 'em into the ground performance. "The offense is built upon not being idle," said coach Bobby Gough. "There aren't traditional handlers and cutters, rather everyone cycling through those traditional spaces. It puts everyone on an island and makes everyone work extremely hard, which is the space we love to be in. We have a couple looks we can throw on defense to shake-things up, but really, on offense and defense, we just want to run."
The team has relied on some new faces this season. Mariel Hammond and Tina Snodgrass have had the largest impacts, but players Emily Witt and Noelle Takahashi have been able to forge impact role on the D-line too. Schwa has grown accustomed to having a fair amount of turnover from season to season, but the team does its best to use that as a positive. "After the big youth star exodus in 2016 and the entrance of new coaches, the team has embraced a culture change both on and off the field," explains Gough. "The turnover wasn't as stark this season, but still hurt. We can see, however, how the team has become a desired group to outsiders, and integrating new players has been an important part of the Schwavolution."
Gough says that the team's goal is to make the Pro Flight. This group has an uphill battle to reach that goal but it feels like they have a better chance this year than they may have in the past. The division has seen more parity this season than in recent years and if Schwa is able to keep that going, then the Pro Flight may be in reach.
Likely Ceiling: Prequarters
Likely Floor: Done on Day One
---
In fact, Portland owns one of those two 16 seed wins, thanks to their upset of Atlanta Ozone in pool play last year. ↩