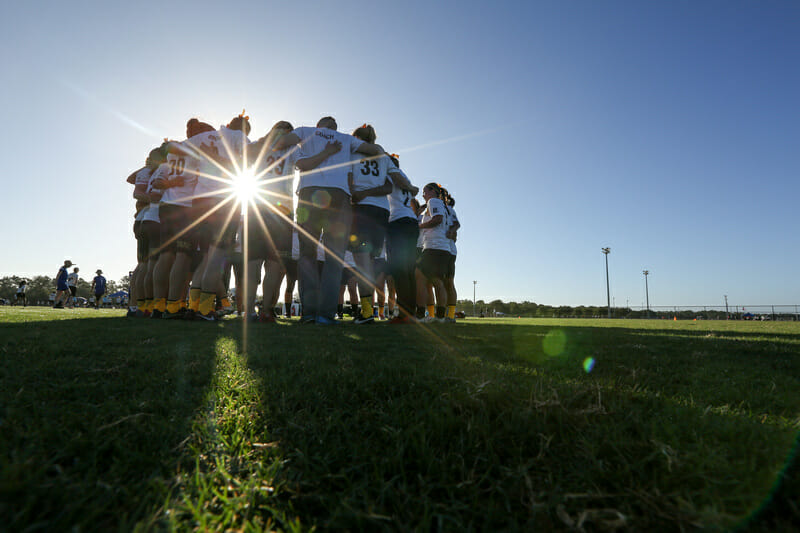 It was a wild pool play Thursday at the 2017 National Championships. Let's talk about it.
ASK ME QUESTIONS/SEND ME COMMENTS: Email ([email protected]) or Twitter.
Q: The Sockeye performance today comes as a surprise to us all, but should we diagnosis the day more seriously than just a bad day with some injuries? Isn't this a team with too much talent and experience to overcome injuries and tight, heated contests? Can you explain what happened to them?
– Alex J.
A: I was as shocked as anyone that Sockeye missed the bracket today. Take a second and just think on this: one of the most talent-rich teams in one of the most talent-rich cities in the country not only didn't make it out of their pool but went completely winless.
A team that smashed Revolver in the US Open final just two months ago went 0-fer on Thursday.
A team that collectively left the AUDL this year to focus exclusively on the club season did even worse this year.
So what the hell? How did this happen? I talked to Sockeye players earlier this week and they were optimistic about their chances to win a Championship.
To me, this is the story of a team that was mentally unprepared to have to compete on day one. Perhaps there was a bit too much of a sense that no team would dare to challenge their supremacy. A bit too much looking ahead to their semifinals matchups.
Looking deeper, this is now two straight seasons of massive underperformance at Nationals. It's time for a shakeup. Maybe it's time to bring on a new coach. Maybe it's time to put younger players into bigger roles.
The status quo clearly isn't working in October.
***
You people are ruthless:
Q: How did Manuela Cardenas/Mark Lloyd look with Molly Brown/Johnny Bravo? Role players or impact players for their respective teams today?
-Joe F.
A: Very, very solid. According to Ultiworld's reporters, Cardenas was a key D-line deep stopper and handler (!) after the turn. Lloyd broke through in the Truck game and dominated the skies on the D-line.
Neither player is the team's #1 option, but how could you expect that? Still, they are more than just another rotation piece; both have featured as important players for their respective teams. Expect to see more of them in
Q: What are the WUCC qualifying implications? Obviously no Sockeye, but who is set up well for Worlds?
-Alex W.
A: As it stands, the Women's Division gets four bids to the 2018 World Club Championships and the Men's and Mixed Divisions get three. That means that there will be a third place game between the teams that lose in semis to determine which team qualifies for Worlds.
Despite a solid season, the Condors are out of the hunt.
The Big Four — Riot, Brute Squad, Molly Brown, and Fury — look poised to all return to semis and claim the WUCC bids.
Could Dig get a Worlds spot?? They await the winner of Ring/Machine (being streamed on Ultiworld at 9 AM Eastern on Friday). They already beat Ring this season at the New York Invite!
And what about shame.??? They have to beat winner of BFG/Mischief to make semis and get a shot in the third place game.
Stalwarts like Revolver and Ironside are well-positioned. AMP seems like they're in a good spot as well.
Florida United needs just one more win to make semis. That's nuts.
Q: How big of a factor was the Sarasota wind in day 1's results?
-Willem G.
A: My first reporting at Club Nationals was in the last year in Sarasota: 2012. Today's wind wasn't 2012 wind. It wasn't even close.
Today's wind was typical 'windy day' ultimate. Throws needed to be crisp; decisions needed to be smart. Short field turns were extra costly. Upwind power was at a premium.
More than anything, I think today's wind (10-15 mph) served, in many cases, as an equalizer. Games stayed tight. Breaks came in bunches.
That made for a lot more variance than you might normally see in calm, perfect offensive conditions.
Teams that wanted to do a lot of breakside movement or shoot-deep-early-and-often struggled a bit more than other teams.
Don't expect the wind to let up! We're in Sarasota, after all!
***
This is amazing (sent to me tonight at 10:15 PM). Shame's got quarters tomorrow afternoon!
***