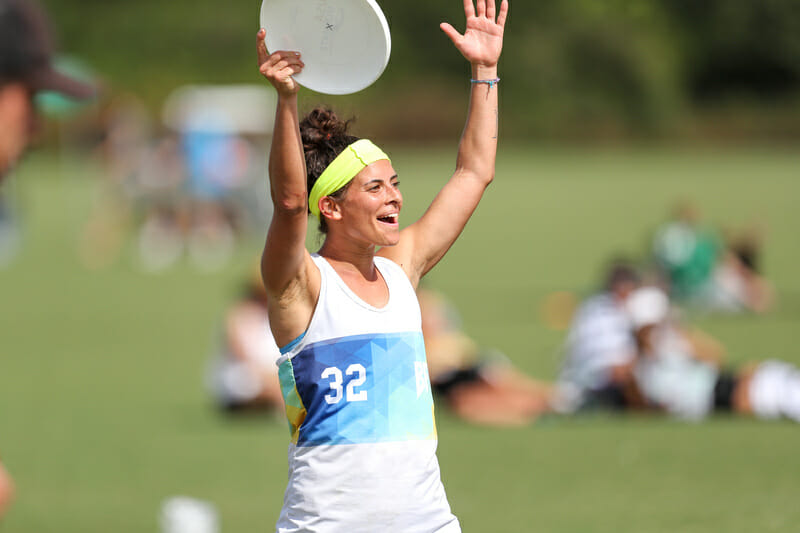 Ultiworld's coverage of the Mixed Division at the 2017 Club Championships is presented by Tokay Ultimate; all opinions are those of the authors. Please support the brands that make Ultiworld possible and shop at Tokay Ultimate!
Trying to catch up quickly on what's happened at Club Nationals as we enter Semifinals Saturday? Here's a quick recap of the action.
Seattle Mixtape Escapes Into The Semifinals
Seattle Mixtape has had to break to win on double game point in two separate games, against Dallas Public Enemy in pool play and against Boston Wild Card in quarterfinals. The team worked themselves into trouble against both teams and needed big blocks to stay unbeaten at Nationals.
Boston Slow White Primed For Another Run
Slow White ran away with their quarterfinal against Drag'n Thrust. Jumping out to a 5-1 lead, the Boston squad opened a slight window for Drag'N to get back into the game, with Minneapolis closing to 7-5. However, Slow White took half and stretched their lead to eight at one point before coasting to the win.
Philadelphia AMP Boosted By Women
The only remaining team to run four women on offense, Philadelphia AMP has female talent that gives them an edge that few teams can match. They put away a surging Dallas Public Enemy team by focusing on their female cutters and handlers, relying on them to make plays. Boston Wild Card was the only other team to play with four women on offense with any regularity, and they rode that to a quarterfinals berth.
Seattle BFG Proves Their Quality
In the last round of pool play, Seattle BFG and Boston Slow White reached 11-11 before a single break was scored, with the Boston team breaking twice to go up 13-11. BFG brought it back to 13-13, before ultimately falling. The game was one of the best examples of mixed ultimate at Nationals so far.
BFG escaped a tight matchup against San Francisco Mischief, recovering from a two break deficit to take half 8-7, and hanging on to win 12-10. Both teams took time to adjust to the strong crosswind at the beginning of the game, as well as the upwind/downwind conditions that emerged at halftime. BFG made the right adjustments, though, and their depth on defense helped them outlast Mischief.
In the quarterfinals, BFG recovered from a two break deficit and pushed the game to 12-8, before slowing down the game and winning 12-11 at hard cap after a string of shame. breaks. Adam Simon had a vintage game at handler, combining big hucks with tricky around breaks to keep BFG moving.
Minneapolis Drag'n Thrust Misses Semifinals
Drag'n Thrust raced out to a quick lead, but Toro refused to back down and made a furious comeback in the second half, pushing Drag'n to 11-13 before the hard cap went on. While Drag'n's defense seemed to be clicking, their offense looked out of sync and Toro took advantage to run off a string of breaks in the second half. While Drag'n hung on, the offensive issues continued to be a theme.
Which Players Stood Out On Thursday & Friday?
Defensive Standouts:

Khalif El-Salaam (Mixtape), Alina Li (Wild Card), Michael Ing (AMP), Evan Klein (Mixtape), Robin Meyers (Wild Card), Katharine Sullivan (Wild Card), Sarah Meckstroth (Drag'n Thrust)

Big Throwers:

Jake Juszak (shame.), Chris Mazur (Public Enemy), Anna Thompson (AMP), Cody Kirkland (Mischief), Mark Burton (Mixtape), Austin Lien (Drag'n Thrust)

Flashy Throwers:

Kevin Christian (Public Enemy), Calvin Trisolini (AMP), Henry Phan (Mixtape), Carolyn Normile (AMP), Adam Simon (BFG)

Small-Ball Wizards:

Robin Meyers (Wild Card), Calvin Trisolini (AMP), Kevin Christian (Public Enemy), Danielle Runzo (Public Enemy)

Standout Cutters:

Hailey Alm (Wild Card), Raha Mozaffari (AMP), Emily Shields (AMP), Barrs Lang (Blackbird), Gina Shumacher (Mischief)

Deep Threats: Michael Ing (AMP), Abbie Abramovich (Mixtape), Ashley Daly Morgan (shame.), Nick Snuszka (shame.), Brittany Winner (Steamboat)