Ultiworld's coverage of the Men's Division at the 2017 Club Championships is presented by Spin Ultimate; all opinions are those of the authors. Please support the brands that make Ultiworld possible and shop at Spin Ultimate!
SARASOTA — San Francisco Revolver faced their toughest test of Nationals this far, surviving a helter-skelter game against Raleigh Ring of Fire to advance to Championship Sunday in Sarasota. After sleepwalking to the semifinals, Revolver had to handle stiff winds and stiffer defense from a Raleigh squad that made the game a gritty war of attrition. With a historically talented roster and depth at every position, Revolver was able to win that war by gutting out several long points and making just enough big plays to secure a 13-10 win.
The game started about as well as Ring could have hoped, with Revolver's all-everything handler Ashlyn Joye turfing a disc just outside his endzone going upwind. Matt Gouchoe-Hanas picked up the disc and flipped it to Noah Saul for a quick break. Before most of the crowd in the bleachers had taken their seats, mighty Revolver was down a break.
With the actual Johnny Cash tune blaring from Ring of Fire's supporter section, Revolver's offense took the field needing a convincing hold. Setting a shallow side stack, they marched down the force side, with Beau Kittredge working Hunter Taylor on under cuts, eventually dishing to Lucas Dallmann for the score. It was one of the only simple offensive points Revolver would have all game, as Raleigh's defensive tactics adapted well to everything Revolver wanted to do.
The teams traded holds for the next few points, as the wind started to pick up. Revolver had success when they could get the disc to the break side of the field and position their side stack on the force side, attacking the shallow break space for gains. This all but took Ring's athletic defenders out of the game and forced Raleigh to stop Revolver at the point of attack, a tall task when dealing with throwers like Ashlin Joye, George Stubbs, and Justin Lim. Ring had offensive success when they could get the disc quickly to the sidelines, beating the force middle defense Revolver was employing.
San Francisco got their break back when they threw a zone at Ring with the score tied 3-3. Using a tight cup with only one dedicated deep, Revolver seemed content to let Ring try to beat them with something over the top. Raleigh's offense has two of the best pure throwers in the division in Brett Matzuka and Jon Nethercutt, but there was enough wind that long upside down throws would be precarious.
As Jack Williams inched deeper and deeper downfield, moving ten, then twenty yards beyond Revolver's last back Greg Cohen, palpable excitement built while Ring's handlers dinked and dunked the disc between themselves. The crowd implored one of Ring's throwers to bomb the 50 yard hammer, but instead Matzuka tried for a half measure, a 25 yard scoober into the soft middle of the zone. The wind carried the disc a bit too far, and Revolver took advantage of the turn, breaking upwind on a flick up the line from Russell Wynne to an isolated Zach Travis.
The game got noticeably looser as the half bore on. Ring's offense was opening up the throttle on hucks, and Revolver's endzone offense was sloppy.
"It wasn't anything special we were doing in the endzone, just playing good man D," said Ring coach Mike DeNardis. "Our reset defenders are excellent, we forced them out of their easy resets and they had to look upfield."
"I think it was the wind, more than anything," said Revolver coach Mike Payne. "Making the tight under throws is pretty difficult. We executed our game plan when we scored quickly, but those points where we hucked it three or four times wasn't the game plan, it was the wind getting in our face."
With Revolver leading 5-4, Raleigh missed on a huck and Revolver worked the full length of the field looking for a break, only to turn on the endline. Ring immediately looked to push the pace, with Nethercutt firing a big backhand to a streaking Helton. Goose elevated for the grab just outside the endzone, and with a three-on-one advantage Ring looked sure to score. Helton flubbed his pass to the however, as it went perfectly in between two open Raleigh players and Jack Williams couldn't dig the disc out of the turf. Revolver worked the disc down the field once again, but turned in the endzone when Sam Kanner put up a bladey flick across the face of the goal that hung up in the wind. Nethercutt sent another bomb deep, this time for a goal as Henry Fisher reeled in a long, sloppy hold for Ring.
And so it went for much of the game. The wind made execution harder and harder, leading to long points and tired legs. Revolver's depth came into play here, as they were simply able to stay fresher without suffering a drop off in quality when they turned to the bench. They gritted out a long point for another break in the first half and were able to put in some shaky but successful holds.
Both teams kept their defensive looks varied, and Ring rolled out a specialty side trapping zone in an attempt to stop Revolver from taking half. "That's definitely something we worked on with specific personnel," said DeNardis. "There are five or six guys we can rotate in for that look that are really good at it and it gives them a chance to get some points."
The zone forced multiple stall nine throws from Revolver, but they were able to put the half away when Joye sent a searing cross field hammer 35 yards straight into the teeth of the wind, that Kittredge secured for a goal just before Matt Bode came flying in for a near miss on a block.
Just as they did in the first half, Ring started brightly after the intermission. A quick hold downwind and then a break after another Joye turnover on his own goalline evened the score at 8-8. But when push came to shove, Revolver's offensive line was able to stop the bleeding. "That's what I love most," said Revolver's Lucas Dallman. "That's adversity. That's that wall, when your team hits that wall do you try to run around it or do you go right fucking through it?"
Ring had a chance to grab the lead after a drop from Beau on a dump, but Henry Fisher had a drop of his own shortly after and Grant Lindsley found Justin Lim in the back of the endzone.
It would be the last chance Raleigh had to take the lead. Revolver had a rare no-turn hold on their next offensive possession, before breaking on a mind-bending eleven minute point. There were eleven combined turnovers, almost all on desperate huck attempts. The reset defense from both teams was excellent, and the cutters downfield seemingly lacked the legs to get open. The wind was a big factor at this point, and any cut that wasn't wide open became a hard window to hit.
Slowly but surely, though, Revolver started to gain an advantage, getting more and more separation on their cuts. The extra rest Revolver's depth earned them was translating to crucial inches of separation at the end of the game. "There are certain players that play better if they have some rest," said Payne. "There are a lot of guys who know that they can play in the semis and finals, play one, two, three points and if we win, they did their job."
Finally, after what seemed like an eternity, Revolver was able to work the disc up the field with gut-busting cuts from Dallmann and Joel Schlachet. Eli Friedman collected a dump from Schlachet and rifled a hammer upwind to Cassidy Rassmusen, who managed to land just inside the back line for the break.
Revolver were leading 11-9, game to 13, and winning the marathon point did more than just get them on the scoreboard. The wind seemed to be out of Ring's sails, their focus slipping just a bit. Revolver broke again on the next point after a miscommunication on a huck and a fastbreak for the goal. Ring managed a hold going downwind, which set up Revolver's offense for a hold that would win them the game.
A perfect pull from Eric Taylor pinned San Francisco on the corner of the endline, and Ring set a trapping zone look. Sensing danger, Joye ripped a punt early in the stall count, forcing Ring to work up into the wind for the break. Raleigh was doing just that, when Marcelo Sanchez made an incredible layout block on a break throw to stop Raleigh's momentum in its tracks. Revolver got the disc back into Ring's side of the field, and it would stay there.
A drop from Revolver's Grant Lindsley near the endzone gave Ring another chance at a game saving break, but it turned out to just be an opportunity to lose in particularly crushing fashion. A swing from Matt Bode to Sol Yanuck popped up in the wind, and Yanuck bobbled the floating disc. Jordan Marcy closed down on Yanuck and caught the deflection, managing to drag a toe in the endzone before crashing back to earth. The observers waited an instant, then signaled goal. Just like that, the game was over: a swift end to a contest that was defined by its grueling pace.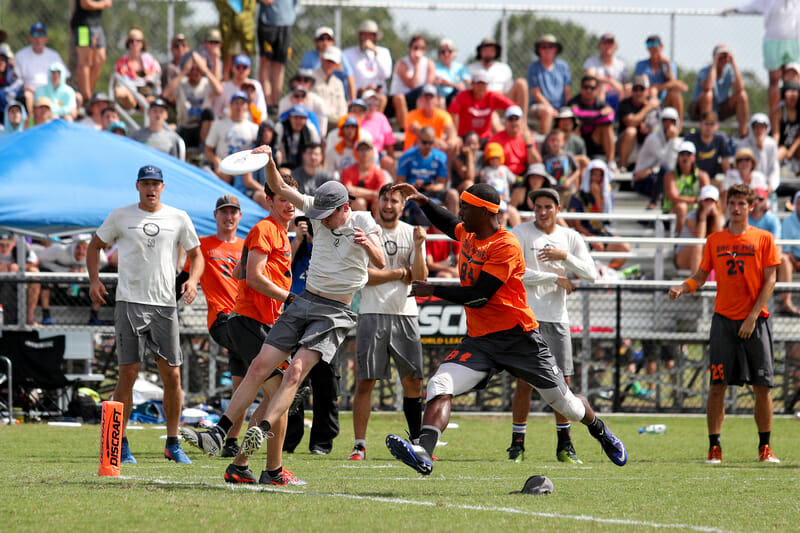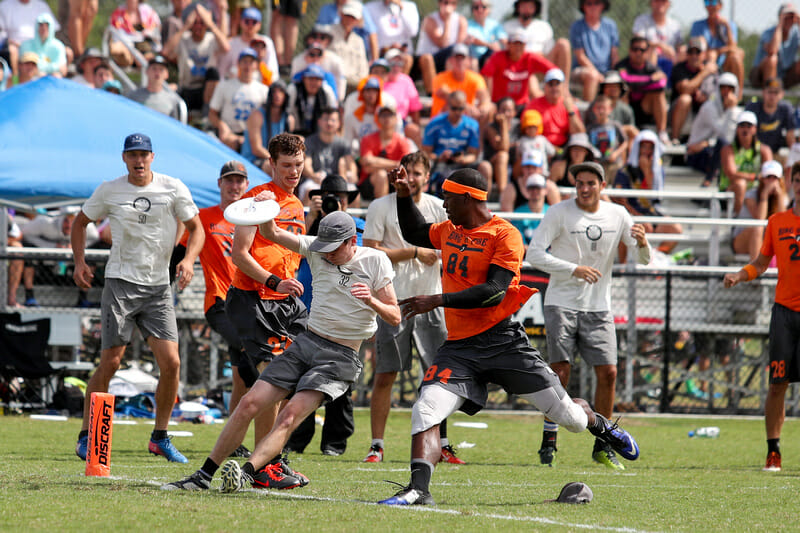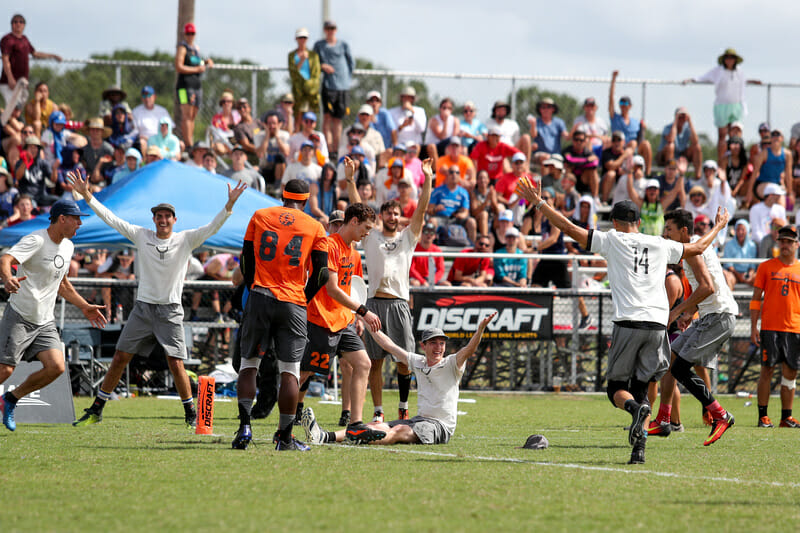 "We showed we could beat them, we just didn't," said DeNardis. "It's frustrating, but this team is just going to get better." Raleigh's core is young, with several players still in college that have now had the experience of two straight semifinals appearances.
While Ring looks to the future, Revolver is focused on the present. Their roster was assembled with one goal in mind and only one result acceptable: a National Championship.
After overcoming Raleigh, they're now just one game away.