AMP suffocated BFG's offense.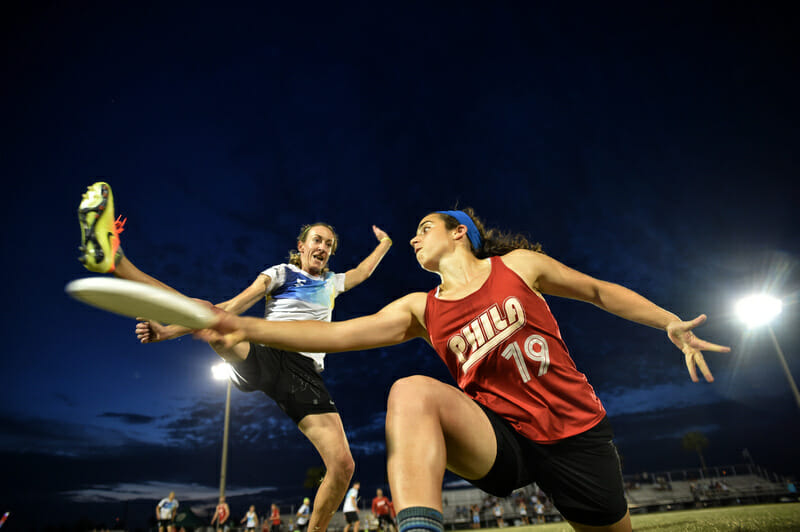 Ultiworld's coverage of the Mixed Division at the 2017 Club Championships is presented by Tokay Ultimate; all opinions are those of the authors. Please support the brands that make Ultiworld possible and shop at Tokay Ultimate!
SARASOTA — Philadelphia AMP defeated Seattle BFG 15-11 in the first mixed semifinal of the evening, racing out to an 8-4 lead at halftime and maintaining their lead throughout the second half. BFG threatened to close the gap, earning a break in the second half to close the gap two points, but AMP earned it back and pushed through some late BFG defensive switches to end the game. The game opened with stiff cross winds, and was a major factor in AMP picking up five breaks in the first half to put the Seattle team on their back foot.
Philadelphia showed their defensive strategy early on, opting to have one of their female defenders sit in the throwing lanes to help slow down the Seattle deep game. AMP worked hard to disrupt pull plays, knowing BFG liked to play a hold-and-huck offense, looking for speedy cutters like Kieran Kelly (1G, 1A) and Bryson Simon-Fox (1G, 1D) to get free deep and make big gains.
AMP also kept one of their taller defenders at the back of the stack to challenge the deep looks that did go up, relying on good sideline communication and smart switching to make sure they had a player deep. BFG recognized this strategy on the first point, springing Crystal Koo (2G, 1D) from the handler set to reel in a perfect deep shot. But despite BFG's initial success, AMP kept with this defensive look throughout the game, and it paid dividends quickly.
BFG announced a switch to four women  on offense after a quick hold from AMP. The Philadelphia team earned a first pass block on Seattle on a floating swing pass which was caught by the wind. Carolyn Normile (1G, 2A) picked up and fired a shot over the stack to the break side for the first AMP break of the game, showcasing her throwing skill and vision to put AMP up 2-1.
BFG showed better patience on the next point, more willing to move the disc laterally across the field, but once again their flippy touch throws were caught by the wind and Anna Thompson (2G, 1A, 1D) pounced on the block. After a pair of throwaways, Thompson capitalized with a quick score to Allysha Dixon (2G) and AMP was off to the races. The lane poaches, combined with the wind, earned a third break in a row, and forced a BFG timeout when down 4-1.
The timeout worked, helping Seattle refocus and patiently work through the Philadelphia 2-3-2 zone for a hold, with Alexa Kirkland (3G, 1A) getting free in the end zone for the score. BFG earned a break back, with the AMP offense showing some of the same impatience and lack of control BFG had shown so far.
After the break, both teams traded back and forth to 6-4, with the AMP four-woman offense flexing from a side stack to a vertical stack within points to prevent BFG's defense from keying in on any one offensive set.
Pulling up 6-4, AMP threw another junk look with one defender on the BFG handler, with a woman poaching both the force side and the break side lanes. This defensive look forced a hurried reset throw and AMP's speed on defense earned the block. Normile picked up and again found an open receiver on the far side of the end zone, throwing high over the stack with the right amount of touch for Ryan Flamberg (1G, 2D) to make an easy catch to go up 7-4.
On the ensuing point, Philadelphia ceded the underneath space to the BFG cutters, choosing to force many small throws and push BFG towards the upwind sideline. Adam Simon (1G, 1A) tried a throw over the top, which was easily blocked by AMP on the goal line. On the fast break, AMP pushed the pace downfield and scored two throws later, taking half 8-4 and putting Seattle in a hole that would prove insurmountable.
Coming out of the half, AMP's four woman offensive set worked well to move the disc against BFG, but Tommy Li (2A, 4D) earned a brilliant block on a floating around throw and powered BFG to a quick break to bring it to 8-5. The teams traded for a few more points before an AMP throwaway led to another Li break to Aaron Richards (2G, 1A) to close the gap to 9-7.
AMP never let BFG get any closer.
The teams traded holds to 12-9, with AMP working the inside throwing lanes over and over again to break down the Seattle defense and earn holds. Calvin Trisolini (4A) took over down this stretch, calmly looking for breakside throws and controlling the pace of the AMP offense. Trisolini sped up the offense when he needed to, slowed the team down when they were moving too frantically, and showcased his throwing skill with inside break throws and scoobers over his mark. Between Trisolini, Nico Lake (1G, 3A), Kelsey Devlin (1G) and Raha Mozaffari, the AMP handler set never seemed too concerned with the BFG defense, finding seams and earning holds with a combination of deep hucks and relentless underneath cuts.
AMP pulled while up 12-9 and a long point ensued, with multiple turns from both teams. Normile pushed the AMP D-line downfield with big throws before finding Matt Zumbrum (2G, 1A, 1D) on a deep shot. Zumbrum pulled in the huck on the goal line, and he dished to Natalie Bova for a break to go up 13-9.
BFG had their backs to the wall at this stage, and started to employ more of Philadelphia's defensive ideas against AMP, opting to have their D-line women switch at the back of the stack and keep Koo poaching the AMP throwing lanes. AMP showed great patience to work the disc side to side as the wind died down, calmly trading points to close out the game 15-11.
AMP won with their depth, their youth, and their trust in their female-led offense. Trisolini and Michael Ing (2G, 1D) both had excellent games, but it was the contributions of Normile, Thompson, Mozaffari, and Dixon that helped Philadelphia distance themselves from BFG and add further proof to their case as the top team in the mixed division.
Looking forward to the final, coach Patrick Sherlock praised both potential opponents, while still confident in his team's abilities to handle any challenge that comes at them. "We've played [Boston] Slow White at six of the last seven Nationals, so it would be fitting to see them. However, it would be great to play against Seattle Mixtape as well. They're a team that we've modeled parts of our team after, along with the 2011 [San Francisco] Polar Bears," said Sherlock.
AMP has their work cut out for themselves in the mixed final, especially now that Seattle Mixtape put away Boston Slow White to secure their berth to the championship game, but viewers should be ready for one of the best examples of mixed ultimate available.