Ozone had no answers.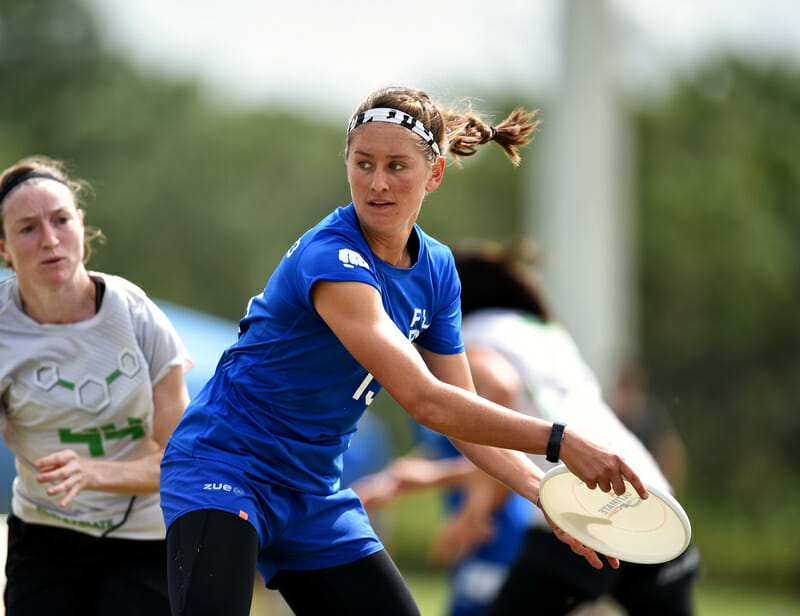 Ultiworld's reporting on the Women's division of the 2017 National Championships is presented by VC Ultimate as part of their year-long support of our women's coverage. All opinions are those of the authors. Please support the brands that make Ultiworld possible and shop at VC Ultimate!
On Friday, Atlanta Ozone shocked everyone by knocking off number one overall seed Seattle Riot. On Saturday, they were effortlessly brushed aside by San Francisco Fury in a 15-5 thrashing. Atlanta enjoyed and then suffered a tale of two games. But what was the difference from one game to the next? Why was Ozone able to knock off Riot and then offer virtually no challenge at all to Fury?
Primarily, San Francisco did a significantly better job at taking away from Atlanta what they wanted to do offensively. Against Riot, Ozone sought to put their handlers in dangerous throwing positions and then attack deep. But Fury came in with a plan to take that away from them.
"I think the first thing was to make sure that their handlers did not catch the disc up field and I think we did a really good job of that," said Fury head coach Matty Tsang. "[Against Riot] they would either cut up the line or cut back into the inside-out space and then they could backhand, so that was the base of our defense. That was our pregame plan. We played a lot of straight up to prevent those throws."
Paula Seville, one of Atlanta's brightest stars in the win over Riot, felt the difference. "I think the marks did a good job stopping our deep looks. That's what we were doing leading up to today, and we had very few deep looks in this game because they did a really good job."
Fury also made a concerted effort to challenge Atlanta in the deep space, something Riot failed to do.
Even when Fury wasn't taking everything away, their downfield pressure left a lasting impression on Atlanta's handlers. "I think our trouble was when we had open options downfield," said veteran handler Katherine Wooten. "We pump faked it, and then the defense got a couple steps closer, or the angle changed and then we were throwing to a not optimal angle. We weren't taking our first best looks."
Fury was much more effective at taking Ozone out of their game than Riot was did the day before, and that was perhaps the starkest difference between the two games. As a result, Ozone was never able to find any sort of rhythm and it resulted in far more drops and missed 50-50 plays, plays that Ozone came down with against Riot.
Fury also was much more efficient on offense than Riot, punishing Ozone with a ruthlessness no other team in the division has displayed this weekend. Fury's biggest advantage has been their backfield, with players like Carolyn Finney and Anna Nazarov crushing teams with their throws and backfield movement. But no Fury player has been as impressive as Alex Snyder. The veteran has been absolutely impervious to the Sarasota wind, effortlessly putting throws anywhere on the field.
Tsang says that having players like Snyder, Finney, and Nazarov is an obvious advantage, but there's a reason the whole team has been less influenced by the wind than any other team this weekend. "There's no denying the talent and skill on our team. But also, we haven't played a 'wind game' because we don't need to. [The wind is] not that bad," he said. "I think a lot of teams have adjusted by changing lines. We spent the last six practices working on a hard in-cut, and throwing to that in all conditions. So yes, the talent is there, but we've tried to maintain our style for this level of wind. We've had the expectation for everyone on our team to throw a certain throw, even in this wind."
Wooten noted the difference between that part of Fury's performance, and how Riot played the day before. "I think Fury did a better job with the deep ball," she said. "They had super confident throws. And this is a stiff wind, but it's a throwers' wind, so people that can throw are gonna throw. It's just choosing your moments and timing your cuts, and I think they took full advantage of that, and that's the difference between yesterday and today."
Seville made a similar observation: "Fury's throwers top to bottom are so skilled, and they – they really used the width of the field well and we had trouble stopping that. We were always on our heels, the whole game."
Against Riot on Friday, Atlanta was tremendous. They played a fantastic game and were deserved winners over one of the most dominant programs in the division. It was always highly unlikely that they would be able to replicate that against Fury.
Still, Ozone broke down the impenetrable 'Big Four' power structure that has defined the last three seasons. They just happened to run into an absolute buzz saw in a Fury team playing the most complete ultimate in the division. Ozone came into the semifinals off their biggest win in recent memory and playing the best ultimate they could realistically play, but Fury is simply playing at such a high level right now that it didn't even come close to mattering.