AMP's young talent has been transcendent.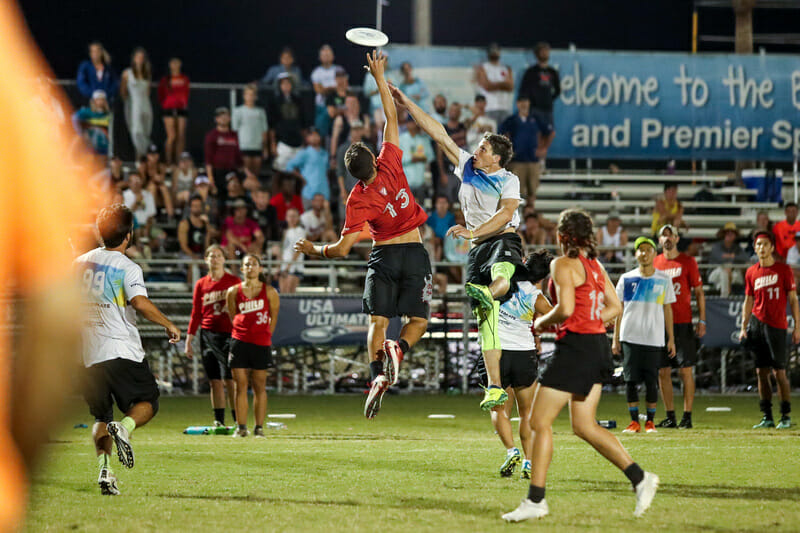 Ultiworld's coverage of the Mixed Division at the 2017 Club Championships is presented by Tokay Ultimate; all opinions are those of the authors. Please support the brands that make Ultiworld possible and shop at Tokay Ultimate!
All doubt has been erased: the hype around Philadelphia AMP's youth talent coming into the 2017 season was well-founded.
AMP has been corralling the city's youth talent for three seasons and the dividends are paying off. Of the 15 scores AMP recorded in their semifinal win against Seattle BFG, 11 goals and 10 assists came from U-24-eligible players. A five-point margin of victory against a team like BFG that won two TCT events this season leaves no doubt: these kids can play.
The current AMP roster is the result of multiple years of intentional focus on player development. With the demise of Southpaw after the 2012 season, and with Patrol not yet in existence, the AMP leadership recruited some of Philadelphia's more accomplished male talent. That consolidation paid off to an extent, with AMP winning a major TCT event in 2013 and entering Nationals as the #1 seed. But for all their pedigree, AMP couldn't quite perform with any consistency on the National stage. When they lost, they lost big, as their O-line was susceptible to tightening up and getting broken in bunches.
Generally speaking, the downside to having players with long resumes is that they carry the memories of past mistakes. Each game can feel like it matters more than the last, until the games matter so much that losses have a physical effect on the players. Each turnover hurts. How can a team win if they can't trust their offense to get the disc back after a turnover?
2015 was a rebranding season for AMP. In the club equivalent of trading for draft picks, Philly scored big in acquiring a hoard of college stars: Nico Lake, Calvin Trisolini, Carolyn Normile, Allysha Dixon, Kelsey Devlin, Emily Shields, and Matt Carter. That crew had a combined seven assists and five goals on 74 completions and just four turnovers against BFG.
And yet, in a city that loves to Trust The Process1, some of the biggest acquisitions were yet to come. Pitt superstars Mike Ing and Linda Morse and Delaware speedster Natalie Bova joined the team in 2016. Penn phenom Anna Thompson is in her rookie season with AMP but, along with Ing, Trisolini, and Normile, is already a legitimate contender for Player of the Year.
AMP's game plan against BFG was clear from the get-go. They employed different defenses to slow down BFG's deep game which neutralized frequent end zone targets Kieran Kelly and Bryson Simon Fox. Their active marks and lane poaches from Normile and captain Andrea Desabato kept handlers Adam Simon and Crystal Koo guessing. On offense, it was a tale of two lines: the O-line played high possession offense, with flashy breaks frustrating BFG marks and avoiding defensive playmakers Tommy Li and the Soo sisters, Linnea and Alissa. Meanwhile, the D-line had an itchy trigger finger and capitalized on mismatches downfield.
One point that epitomized that last point came at 12-9. The teams had just traded five straight holds, with BFG receiving; if they could hold one more time, there would still be enough room in the game for their defense to make a run.
Throwing their third defensive look in as many defensive points, AMP got a break opportunity on a Matt Zumbrum block. The disc was centered to Normile who launched a flick to Austin Bonelli, but he couldn't quite reel it in. Again Zumbrum got the disc for AMP, and again they trusted Normile to send it deep, this time to Bobby Roos, who hauled it in. A red zone turnover gave BFG one last chance to hold, but they squandered it on an away throw to no one. Normile picked it up and BFG was ready this time, making sure they had the last defender back, but after an offhand break to Danielle Walsh at the front of the stack, Normile got it back and hucked it yet again. The third time was the charm as Matt Zumbrum skied a crowd and connected with Nat Bova for the break.
Three hucks from a young, female handler in a single point of a national semifinal. How many Mixed teams can claim having done that?  This AMP squad has embraced a new era, playing a fearless brand of ultimate regardless of the score or situation. With playmakers like Normile, Thompson, Trisolini, and Ing on the field, anything can happen at any time.
If the on-field results haven't spoken for themselves, viewers of today's final should take note of the swagger AMP exudes between points. Between nonsensical celebration cheers, throwing finger guns on hucks for scores, and Dixon single-handedly drowning out the crowds with her sideline support, Philly has entered a new era of ridiculous.
The Process is real. Can it be completed this afternoon?
---
For those not familiar with the Philadelphia 76ers and their "Trust The Process" culture, here's a little fodder: http://www.philly.com/philly/columnists/david_murphy/philadelphia-sixers-76ers-expectations-excitement-fans-20171015.html ↩