Only four players remain from the 2012 team.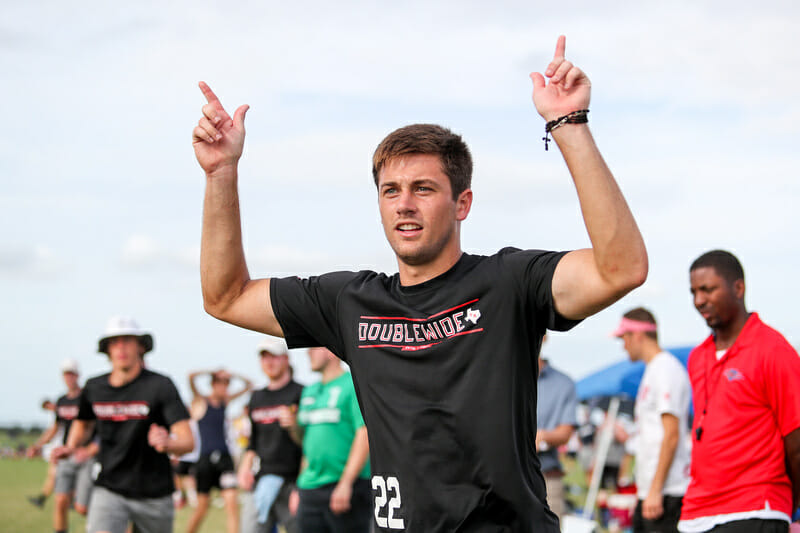 SARASOTA — The steady wind here at Premier Sports Complex may have brought an air of nostalgia in for the ultimate community, but the gusts carried in change for Austin Doublewide.
In a blaze of long upwind throws and high-flying grabs, the team—which at this point has become much more of a pan-Texas group than an Austin-based outfit—has returned to the Men's Division national final, five years after winning a title in 2012. Today's action was defined by an action-packed 8-0 run against Washington D.C. Truck Stop in their semifinal matchup—part comeback, part dominance.
It was a team win. Brandon "Muffin" Malecek was in his element, rifling hucks into the wind for his big Texan teammates like Ethan Pollack. Matt Bennett hit his receiver late in the game with a high-flying crossfield scoober that no one else in the division would have thrown. Chase Cunningham was clinical around the disc. Jay Froude climbed the ladder for a statement skying grab. And Abe Coffin put his own throwing prowess on display. All while Truck Stop's offense started to lose traction and miss on their own hucks.
They played like a team that had finally found themselves or, at least, had just discovered a new look for the team. And with players coming from all over the state, hardly seeing each other outside of AUDL games (some against each other when Austin and Dallas faced off), that might've been more true than anyone outside the twenty seven guys on the team could have known. Their early season club returns hinted at it.
Bennett said the shift happened this past Thursday. "Can I be honest? It took until the first game of Nationals. We had…our whole thing was cohesion, cohesion, cohesion from day one. But it took until after that Revolver game for us to really mold," he said.
Putting away Florida United in quarterfinals was both a gritty win and the culmination of their transformation, vanquishing the ghosts left behind by the 2012 campaign, a product of a Texas-Florida collaboration. Back then, Cole Sullivan was throwing the hucks. Cyle Van Auken was coaching. Kurt Gibson and Tim Gehret were focal points. And Texas talent was divided, with the Mitchell brothers cornering the market on Houston talent and limiting Doublewide's in-state growth.
Now Steve Darroh and Jose Cespedes hold the coaching reigns, with Cespedes coming over after a number of successful college campaigns with Texas A&M's Dozen. That's also where he built a strong relationship with captain Dalton Smith and the younger Bennett. It's another school that Doublewide has started to draw from.
Cespedes acknowledged the challenge of helping all the disparate talent groups coalesce. He had college and AUDL talent from two different teams. "That took a lot of time to figure out," he said. "Doublewide would run a lot of [vertical stack] and I'm trying to get them to free-flowing offense. So we took a lot of pieces that were normally offensive players and now they're on D-line. We let them run vert. Let them flourish on vert. They have Matty [Bennett] who used to vert. And then we put a lot of the Roughneck guys on that O-line. So it was sort of keeping them together, and let them build through the season."
The team looked competitive in their new skin, but also happy—a big departure from the cynical version of huck and play defense, call-heavy Doublewide that fit the 2012 champs identity. Bennett was wearing his trademark grin, ear to ear, whether he was throwing or arguing his case on calls.
On paper, the team might still seem outgunned against San Francisco on Sunday. But the underdog mindset fits. And they seem ready to play.
"All season we kinda stuck with the Doublewide…we were all just trying to get into Doublewide," said Cespedes. "But this tournament we became a new team, together. We're Doublewide, we're the new Doublewide. And you can tell, the way we're running before games, after games, in games, it's a totally different team from what you saw last week.
"Same name, new identity."