Was there ever any doubt?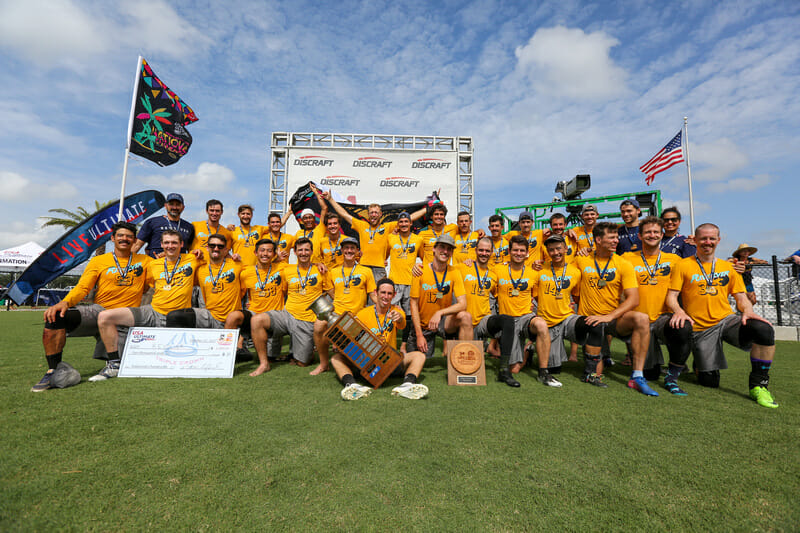 Ultiworld's coverage of the Men's Division at the 2017 Club Championships is presented by Spin Ultimate; all opinions are those of the authors. Please support the brands that make Ultiworld possible and shop at Spin Ultimate!
SARASOTA —Death, taxes, and Revolver in odd years.
San Francisco Revolver are national champions for the fifth time after their 15-7 dismantling of Austin Doublewide. They have won the title every other year since 2011. This season's title seemed more inevitable than ever as a number of staggering roster additions over the past two seasons resulted in what is arguably the greatest collection of talent every assembled by a team in the division.
Revolver had the talent edge on every team they saw this season, but Austin Doublewide was riding a wave of momentum into the final after consecutive upsets of Johnny Bravo, Florida United, and Washington DC Truck Stop. There was a feeling that maybe, just maybe, Doublewide could continue to ride that hot streak and give Revolver a real test. That notion was quickly dispelled when Revolver got a break on the first point. And then another. And another. Before you could blink, it was five to nothing.
The defense for Revolver was smothering, switching between a three person cup and a handler sag forcing middle. The wind was less of a factor than it had been the day before but still enough to make life difficult for Doublewide's throwers against the zone. There was particular emphasis on aggressive no big marks, with Revolver effectively neutralizing Austin's deep game at the point of attack. Some early jitters for Doublewide compounded the problem, with unforced turnovers that gave Revolver more help than they needed to blow the game open.
Even going upwind, Revolver's D-line offense was clinical, certainly more so than in their semifinal against Ring of Fire. The team's depth, which has been their biggest strength all weekend, was more apparent than ever in the early stages of the final. With players that could start on virtually any other team's offense, everyone on the line for Revolver's defense was a threat off the turn. With lots of open space created by their side stack and Doublewide's O-line unprepared to run the kind of switching defense necessary to blunt the attack, it was an onslaught every time Doublewide lost possession.
On their open run of five breaks, eight different players scored or assisted on Revolver's goals. Over the course of the game, eleven different players scored and no one had more than two goals. It was a complete team performance, from start to finish. "They're able to throw two different good D-lines, all seven top to bottom," said Doublewide coach Jose Cespedes. "I though we had fourteen to seventeen guys, and I liked our chances, but they were better today."
Doublewide was clearly a little shaky at the start of the game, and the opening run of breaks compounded those nerves. "[Revolver] won the flip, and chose defense," said Matt Bennett after the game. "I wish we could have started on defense. It lets you get into the game without being nervous."
Doublewide managed to avoid a first half shutout when they managed to work it up through Revolver's zone and Bennett slipped a disc through the cup to Dan Emmons to make it 5-1.
Doublewide was finally able to get their defense on the field, but Revolver's loaded O-line silenced any murmurs of a comeback. Doublewide heavily poached Revolver's side stack, but the San Francisco handlers were able to move the disc effectively to the break side, forcing the poaches to close down onto individual matchups. Once Revolver's cutters were able to take their defenders into isolated space, it was a wrap. The San Francisco cutters worked quick continuation cuts into the endzone, with Grant Lindsley hitting Joel Schlachet upline for the score.
It's notable that this cutter to cutter tidal wave didn't include Beau Kittredge, who was only called upon to play two points in the entire game. Such is Revolver's depth of talent that a member of the US National team at the World Games was considered a luxury item in the championship of Nationals. "[Beau] said that he was looking to be a role player," said Revolver coach Mike Payne. "He knows we're in an era of ultimate where just a few guys can't win a championship."
Revolver's offense wasn't perfect, but it played excellent defense whenever a turn occurred, preventing Austin from ever seriously threatening their lead. Doublewide's only break of the game made it 10-4, after the contest was all but out of reach. Dan Emmons, who worked industriously on the Doublewide D-Line all weekend, picked off a huck and reeled in the bookends on a scoober from Matt Bennett. Bennett's next two throws were also ambitious scoobers, as he managed to crack the Revolver zone at 11-5, but it proved to be too little, too late. "I wish we had attacked the zone like that earlier," said Bennett after the game.
Doublewide needed to try throws like that and introduce as much variance into the game as possible, because trying to beat Revolver straight up is a losing proposition. While Ring of Fire found some success in a dynamic switching defense, Doublewide generally employed either a straight forward zone or a person defense, neither of which did much to make Revolver uncomfortable.
Revolver's defensive intensity slipped a notch as the game came down the home stretch, and Austin's offense was able to keep the score respectable. But given the chance to break for the win, Revolver's defense rose to the occasion.
The game ended on a point that encapsulated what had come before. Pressure defense led to a throwaway, and Revolver blitzed up the field at whiplash-inducing pace. Cassidy Rasmussen lined up a flick into the deep space, with Nick Stuart a step ahead his defender and creating more room with each long stride. Stuart was yards open when the disc curved into his hands, and Revolver won their championship, literally going away.
This was the result that everyone saw coming, but the process of getting to the predicable conclusion was still incredibly meaningful for many Revolver players, including the ten who won their first club title. George Stubbs, who had previously been 0-4 in championship games, collapsed to his knees after the high five line, completely overcome with the emotion of finally winning a title. "I've been working on this for years. I've personally worked really hard to be here," said Stubbs after the game. "The margins are slim… it's funny, I've gotten pretty good at losing in finals, but that gave me an edge to work and train hard."
Even for those who had won titles before, being part of such a dominant team represents a unique opportunity for greatness. Ashlin Joye, who sat out last season for Revolver, gushed about the team he returned to this year. "The most credit I can take is providing some stability on a constantly fluctuating offense," said Joye. "On this team we're so deep that we can put out any seven on our O-line, and they'll run as hard as they can and we should put it in every time."
Only one team gets to end the season with a happily ever after, but Doublewide will walk away from the weekend with a smile. "I told the team in the huddle that I'm incredibly proud of them," said Cespedes. "This was the dream, putting together the state of Texas, friends and family playing together. We were able to do that this year."
Before the season began, the buzz was that Revolver was a sure thing to win the championship. Anything less than a title would be a disappointment. In the final, they played like a team completely ready to handle that pressure and delivered a performance worthy of the dominance they aspired to all season.