We award the top performers this season.
Ultiworld's 2017 Men's Club Awards are presented by Spin Ultimate; all opinions are those of the authors. Please support the brands that make Ultiworld possible and shop at Spin Ultimate!
With Nationals over and the winners crowned, it is time to take a moment to recognize the top performers in the Men's Division this season. While the talent of the division reaches far beyond short lists, the Club Awards are meant to honor those players who put together what we believe to be the best seasons in the Men's game this year.
While we consider both regular season and postseason performance, because of the nature of the Club Division, we weight success in the Series and at Nationals above all else. The Club Awards are selected based on input from Ultiworld reporters, contributors, and editors.
Offensive Player Of The Year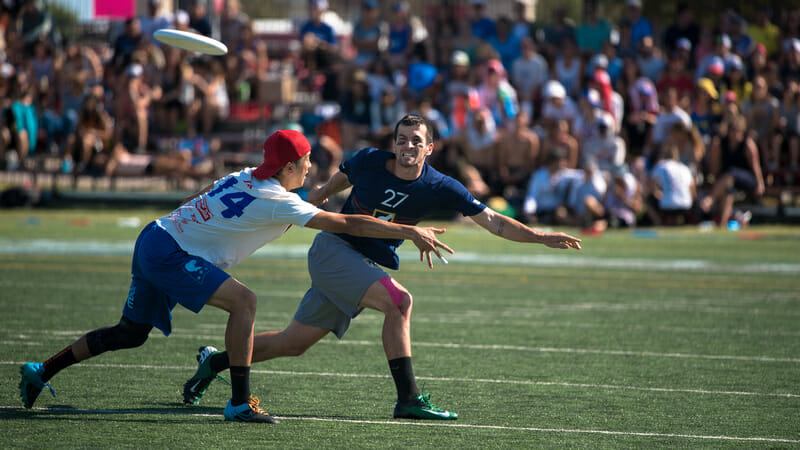 Ashlin Joye (San Francisco Revolver)
It's difficult to ascribe the success of a team that thoroughly dominates with overwhelming talent and depth to any one individual. Revolver won Nationals this year playing reserve D-lines that could start on any other team, a giant rotation of absolute beasts on offense, and several members of the team USA World Games squad. You could play the "how many players could Revolver lose and still win Nationals" game and get pretty far down the list.
With one exception.
For years now, the key player that has held Revolver's offense together is Ashlin Joye, playing the center-handler "king" role in their system. There is simply no replacement for the combination of unflappable consistency and game changing throwing ability that Joye brings to the table. On an offense with so many pieces that could all be the focal point of virtually any team in the country, Joye's ability to create opportunities for all of those pieces to thrive together made him the most valuable piece of the best offense at Nationals.
You could make the case that his value was never more apparent than last season, in which Joye's absence spoke louder than his presence sometimes does, as Revolver struggled to fill the void he left. The ability to fluctuate between facilitator and dominator that is required of the king role in Revolver's offense is akin to that of a great point guard, setting up teammates and then calling your own number at the exact right time. No one on earth does that better than Joye, and we saw that when Revolver wasn't quite the same without him.
His return this season stabilized San Francisco's offense, and he acted as the point around which all of the insane talent they brought to the squad the past two seasons could revolve (no pun intended). Revolver ran deep rotations even on their offensive line, leveraging their talent to its greatest extent, but Joye was the consistent piece anchoring the line all season long. With an embarrassment of riches around him, Joye didn't need to make as many crazy throws as some other center handlers, but he pulled them out of his arsenal when the time called for it. Anyone who saw him uncork the laser guided cross field hammer into the wind that took half against Ring in semis can certainly attest to that.
2017 may not have been the best season in Joye's venerated career purely from a performance standpoint, and there were players on his own team who were more spectacular at points during the season. But no offensive player was more important that Joye. If you were an opposing coach, he might not have been the player you needed to gameplan the most for, the one who kept you up late into the night with fever dreams. But if you could remove one player from Revolver to increase your chances of winning, it would be Joye. In a season that will forever be defined by the dominance of Revolver, it's clear that no one could take him or Revolver out of the game.
Runners-up: Mischa Freystaetter (Florida United), Nicky Spiva (Washington DC Truck Stop)
-Patrick Stegemoeller
Defensive Player Of The Year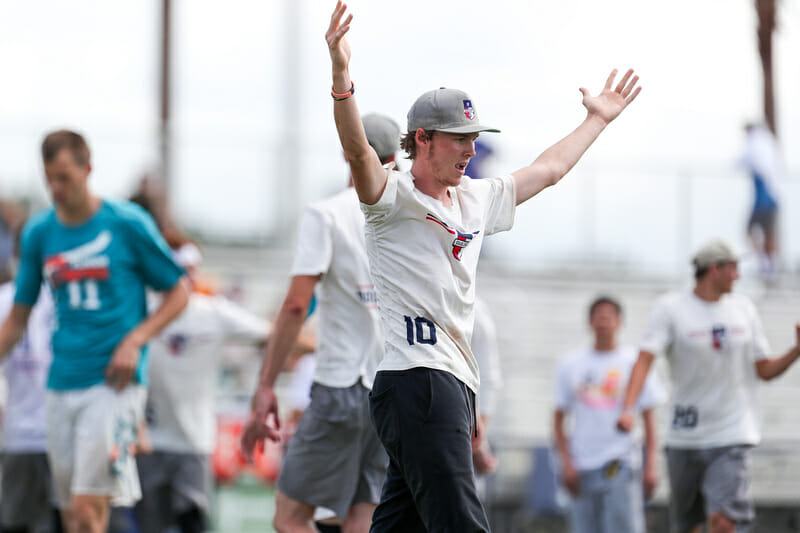 Kaplan Maurer (Austin Doublewide)
Doublewide's surprise run at Nationals would not have been possible without their strong defense. Despite handlers like Brandon Malecek and Matt Bennett stealing the spotlight after the turnover, Kaplan Maurer made a name for himself by taking the biggest matchups when the pressure was on. Whether it was against Johnny Bravo or Truck Stop, Maurer did his part in limiting some of the Division's best players.
Maurer is a product of the University of Arkansas, the same program that produced Doublewide standout Abe Coffin a few years back. With high-level athleticism and a mind for positioning, Maurer put on a clinic at Club Nationals.
"Kaplan is a crazy good defender," said Doublewide's Matt Bennett after their upset win over Johnny Bravo. "It's all his brain. His legs don't stop. We let him guard whoever we need to."
As a new player for Doublewide, Maurer was part of a massive transformation. Despite a lackluster regular season, Doublewide returned to Sarasota with their eyes on a World Championships bid. With the full confidence of his team, the 21 year old took on Jimmy Mickle, Mark Lloyd, Mischa Freystaetter, and Nicky Spiva. The pressure didn't get to the youngster, even in the national semifinals. Against Truck Stop, Eric Miner cut deep with a three step advantage on the trailing Maurer. He made up the ground and laid out for the block, letting Doublewide shut the door on Truck Stop.
Maurer led Doublewide in blocks and was an integral part of two defensive runs that got them into the National Championship. Tied at 5-5 with Denver, Maurer and the Doublewide defense unleashed an 8-1 run. They repeated that feat against Truck Stop, scoring eight straight to advance to the finals. Maurer's defensive prowess at only 21 years old makes him one of the most exciting up-and-coming talents in the division.
Runners-up: Tim McAllister (Raleigh Ring of Fire), Chris Kocher (New York PoNY)
-Preston Thompson 
Breakout Player Of The Year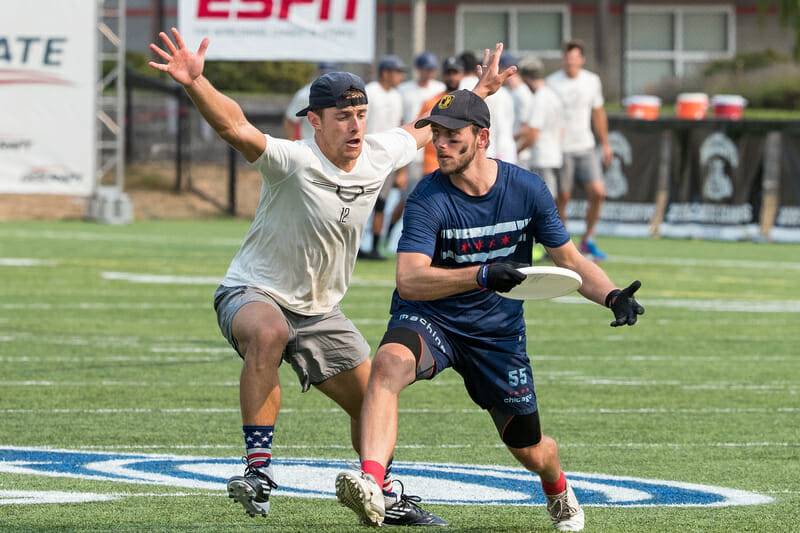 Pawel Janas (Chicago Machine)
Pawel Janas has, until this season, spent his ultimate career in the shadow of giants. Janas got his career underway with Colorado Mamabird, uncorking big throws and churning out yards in the shadow of Jimmy Mickle. For a time, this was true for Janas on Denver Johnny Bravo as well.
Then, Janas joined up with Chicago Machine but still worked behind the team's bigger names. This season, he turned into a breakout offensive weapon.
During any given O-line point for Machine, Janas was there catching the pull, centering the disc, and then streaking down the break side lane looking for a deep reception or goal. He put up a tournament-leading 20 assists at Pro Championships this year, dishing in passes off of that pull play, or helping marshal the offense the full 70 yards.1 Even with a middling overall team performance at Club Championships, he still notched himself squarely in the top 10 assist-throwers at the tournament with 14 on the weekend.
Janas' success on the field this season went far beyond his stats. He toggled actively between using his speed to attack the deep space off the pull from the handler spot and chopping his feet short to come back for the give and go, using his throwing ability to continue flow down the break side. He was equally effective as a thrower and as a receiver, pairing his vertical with his fine-tuned throwing experience.
And most of all, his effort set the tone for a new-look Chicago Machine.
"Pawel's a great lead by example guy. He's one of the hardest working and best focused guys we have," said Machine's coach Andy Neilsen in the midst of the postseason.
That hard work defined Machine's season. Janas shouldered a good portion of the offensive burden previously borne by Jonathan "Goose" Helton and Brett Matzuka in previous years. In a year where many longtime Chicago teammates stepped into more responsibility, Janas used his sophomore season to burst into the national consciousness with some truly noteworthy offensive production.
Runners-up: Tyler Monroe (Washington DC Truck Stop), Harper Garvey (New York PoNY)
-Simon Pollock 
Coaches Of The Year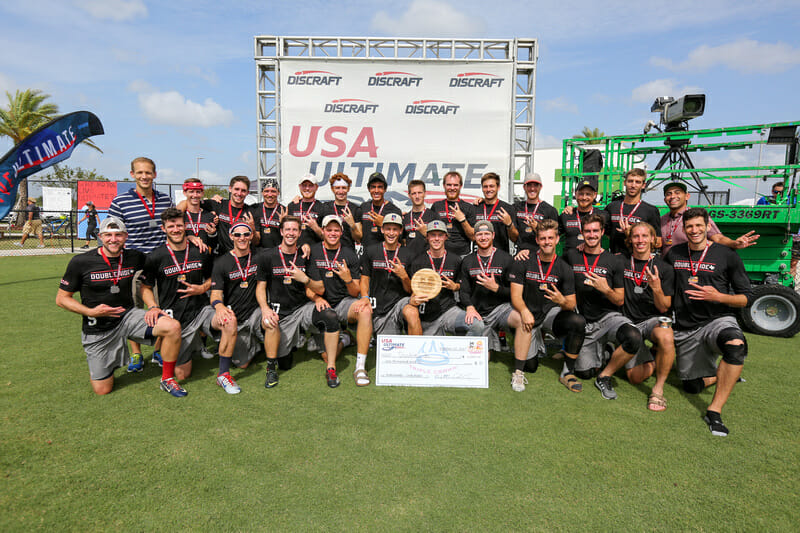 Steven Darroh & Jose Cespedes (Austin Doublewide)
The men's division coaching award goes to Jose Cespedes and Steven Darroh, the battery that led Austin Doublewide to their best season since winning the 2012 title.
Following a respectable-but-unspectacular regular season that saw the team finish at #13 in the USAU rankings, Doublewide entered Sarasota as the overall #13 seed. Though their roster certainly had talent, expectations were decidedly tempered for the squad; in their last elite-level game—the South Central regional final—they were dispatched handily by Denver Johnny Bravo 15-11.
But Doublewide rallied to break seed in Pool A, notching a win over High Five to secure a spot in the next round. Their reward: a prequarter rematch with Bravo. This time, however, Doublewide would come out on top as they smashed Bravo 15-9. The train kept rolling from there, as DW ground out a mentally taxing victory against Florida United in the quarterfinal 13-11 then ran off eight straight breaks to complete a comeback win Truck Stop in the semis, 13-8. The 13-seed Cinderella story came to an end in the final, where they were simply outclassed by Revolver, but it was nonetheless a brilliant run.
Much of the credit for the late-season peak has to be given to the coaching staff. Though they were blessed with talent, there was much to be done in terms of team cohesion. This year's Doublewide roster combined talent from last year's team (a quarterfinalist), Houston HIP (a Nationals qualifier), and two of the best players from Prairie Fire (a Nationals qualifier)— talent, check. But the tradeoff was that it would require molding players from three different systems into a cohesive unit, a task which always takes time.
The task was embodied in their O-line, a remarkably young unit that featured five first-year-Doublewide players, from three different teams2. The build was slow, likely impeded by the geographic separation of Doublewide's roster3, a perennial challenge for Austin that causes them to use a "mini camp" style for practices rather than regularly scheduled sessions. Still, though it took the entire season and the crucible of Nationals to get the squad to gel, it finally began to pay dividends on Friday in Sarasota.
In addition to their challenges in integrating new faces, Cespedes and Darroh also did well to lead a remarkably young roster through the pressure of the Nationals bracket, particularly their hotly contested game against FLU. 15 players on Doublewide are under the age of 25, and just three players on the roster are 30 or older4. For perspective, their opponents in the semis and finals, Truck and Revolver, had 13 players under 25, combined. The vast majority of the roster had previously never broken through the quarterfinal round, and credit must be given to DW leadership for guiding their young roster deep into the bracket.
Doublewide played just 13 regular season games, and every time they took the field together was an important chance to improve as a team. Leadership capitalized on Nationals as their chance to level up. They successfully converted their considerable potential into tangible success and set the Doublewide program up for a bright future.
Runners-up: Darryl Stanley & Will Smolinski (Washington DC Truck Stop), Bryan Jones & Ben van Heuvelen (New York PoNY)
-Cody Mills
---