The Ultiworld 2017 Women's Player of the Year award is presented by VC Ultimate. All opinions are those of the authors. Thanks for supporting the brands that make Ultiworld possible!
Nationals is behind us, and with only the long winter months looming ahead, now is the best time to recognize the top performers in the Women's Division this season. While the depth in the women's division extends past these lists, the Club Awards are meant to honor those players who put together what we believe to be the best seasons in the women's game this year.
While we consider both regular season and postseason performance, because of the nature of the club division, we weight success in the Series and at Nationals above all else. The Club Awards are selected based on input from Ultiworld reporters, contributors, and editors.
Offensive Player Of The Year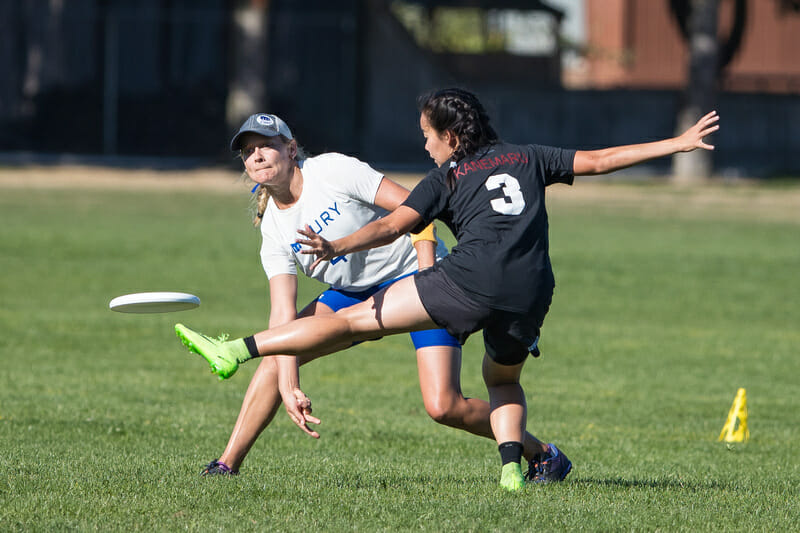 Alex Snyder (San Francisco Fury)
If there's anybody – maybe in the entire ultimate world – that doesn't need more hardware, it's the timeless Alex Snyder. The shoe-in hall of famer has hoisted National Championships, World Championships, a Callahan, and a Kathy Pufahl Spirit Award in her storied career. It's a flush enough trophy-case to fill up three careers. If she can make room for the Club Women's 2017 Offensive Player of the Year Award, it'll be a miracle.
You're forgiven if you thought Alex Snyder was slowing down. In a literal sense, that's true. Her production had begun eroding, evidenced by 18 total assists from 2015 & 2016 Nationals. She wasn't typically playing a lot of back-to-back points. Fury wasn't dominating like they used to.
But all of that happened away from Sarasota. Frisco, Texas, and Rockford, Illinois, are not the sites of Fury and Snyder's dynasty. They are not the loci of her power. When Snyder returned to Sarasota, she was revitalized by its sandy beaches, salty air, sulphur-flavored water, and, most of all, its cozy breezes and gusts. Suddenly, Alex Snyder was Alex Snyder again, while the rest of the field seemed hopelessly mortal.
Back in Sarasota, Snyder's 14 assists approached her total for the past two nationals combined and sent her back into the top 10 in that category at the tournament. She even scored more goals (four in 2017 vs. two in each of the previous years). In the final, Snyder had 42 completions, while only one other player1 had 20 or more, and only had 1 turnover despite the volume of touches, the conditions, and the pressure. Her four assists led all players in the final. These things aren't a coincidence.
If you watched Fury at Nationals, you didn't need the stat sheet to see why Snyder was leading Fury's offense back the days of yore. While nearly everyone else was either succumbing to the wind or surviving it, Snyder was mastering it. Young and eager handler covers were sent to outrun her, yet, somehow, she would generate enough room to catch a reset, get up the line into power position, and throw masterful breaks from all angles with perfect weight in the wind.
This was an amazing performance from Snyder, as if she just wanted to remind everyone who they were dealing with. This was Patti Labelle performing Lady Marmalade or Tina Turner showing up Beyonce at the Grammys. It was a dazzling return to form in a return to the birthplace of her legacy. The legend continues with her eighth National Championship.
Runners-Up: Lisa Pitcaithley (Molly Brown), Paula Seville (Ozone)
– Keith Raynor
Defensive Player Of The Year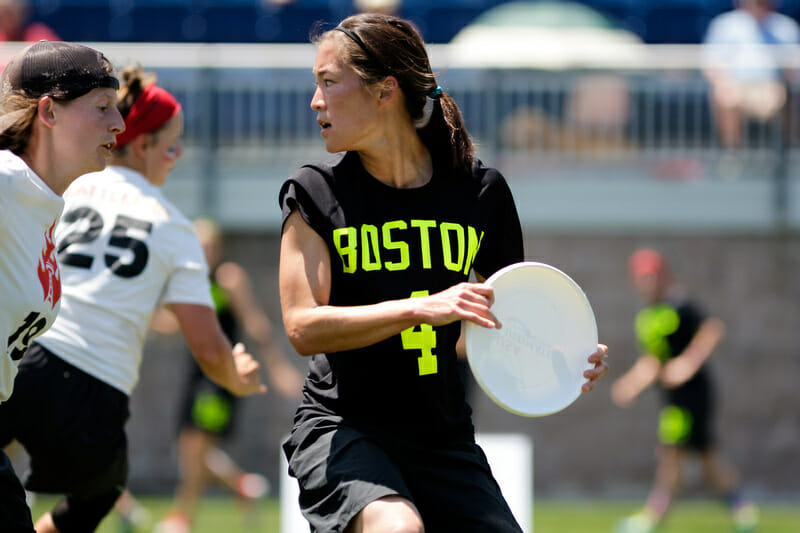 Liên Hoffmann (Boston Brute Squad)
Hoffmann's role on Brute Squad has consistently grown since she joined the team in 2014. On a team without designated offensive or defensive lines, Hoffmann has proven herself as the best lockdown defender on the roster. Whereas Fury built their way to the final on the back of a meticulous offensive unit, Brute Squad found their way through unrelenting defense. There's no one more quintessential for that Brute Squad D than Hoffmann.
At first glance, Hoffmann's style has not changed much since joining Brute, yet every year her improvement has been more and more conspicuous. Her intricate understanding of Brute's game plan and the small details necessary to enforce it have made her a lethal defender, which earned her a spot on the USA National team. Even while training for the World Games, Hoffmann's loyalty to Brute Squad saw her attend every tournament and earn an early Triple Crown win at the Pro-Elite Challenge.
While she may not be the flashiest player, Hoffmann has a well established-reputation. Her downfield defense all but denies undercuts as a possibility. Time and again, Hoffmann has proven that she'll bid for any disc near her. She's excellent at positioning herself in the shallow space and daring her mark to beat her deep. It's rare that teams take her up on the offer. Her defensive prowess also extends to shutdown handler defensive. Hand-blocks may be uncommon but it's challenging to throw around her. When locked in, Hoffmann doesn't prevent certain throws so much as she denies an entire area of the field.
Whereas players like Sandy Jorgensen and Claire Desmond have a very apparent function on their respective defenses, Hoffmann can plug into any role requested by Ariel Jackson and the Brute leadership. The stats back her up as a versatile threat. At Nationals, she tied Sandy Jorgensen–last year's DPOTY–for the most blocks across the division. This is not a 'single tournament performance' either. She has consistently been a stalwart for one of the best defensive units this year.
While there might be bigger personalities and bigger physical threats, Hoffmann emulates the intensity and grit to which all players should aspire. It's not her size or vertical that defines her defensive prowess, instead its her defensive fundamentals that are her weapons. Together with arguably the best defensive unit in the women's division, Hoffmann brought Brute Squad within one point of their third consecutive title. For these reasons, she is the 2017 Defensive Player of the Year.
Runners-up: Kami Groom (Brute Squad), Claire Desmond (Fury)
– Graham Gerhart
Breakout Player Of The Year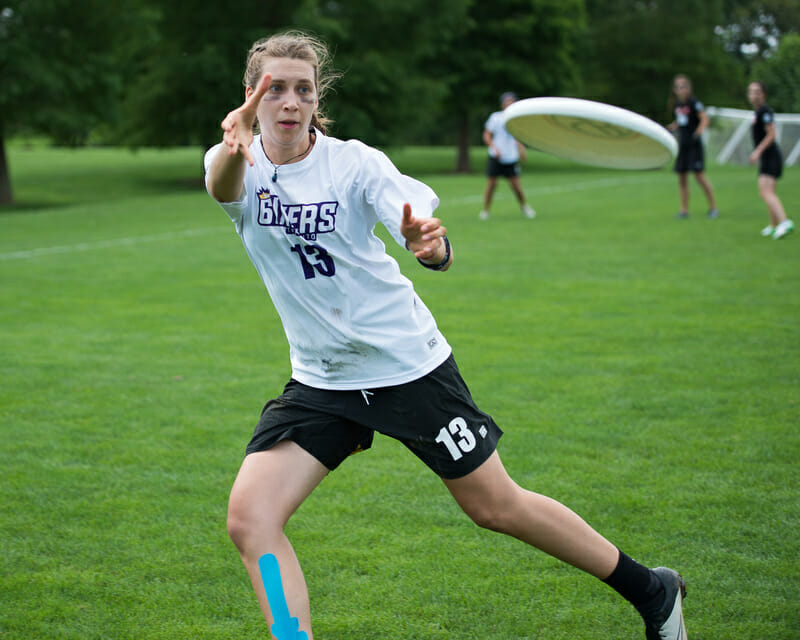 Anouchka Beaudry (Toronto 6ixers)
It's not often that a player makes her third Club Nationals Appearance at the age of 19, but this year, Toronto 6ixers' handler Anouchka Beaudry did just that. After two years of being underused in the Quebec Iris offense and playing for Toronto coach Carla DiFilippo with the Canadian U20s, Beaudry switched club allegiances for the 2017 season. If Beaudry's performance and Toronto's success this season are any indication, both sides are very happy with that decision so far.
In her two Nationals appearances with Iris, Beaudry already had impressive throws, but she wasn't used in nearly the same way, putting up six goals in 2015 and two goals and three assists in 2016. To be fair, Beaudry was just 17 and 18 in those two seasons, and she clearly wasn't yet at the level she played at this season. But there has to be something of a "one that got away" feeling at Iris right now.
Beaudry absolutely exploded onto this scene this year. She led the division in assists2 at Nationals. But her most impressive performance this season was a virtuosic eight assist, two goal display in the final of the Canadian Ultimate Championships. In that game, Beaudry shared the field with some of the biggest names in Canadian ultimate and was easily the most impressive player on the day, as she led Toronto to their first ever Canadian national title.
In that final, Beaudry's calmness and precocious confidence were on full display. Nothing phased her. And that's why she's a perfect cornerstone for Toronto's backfield. The moment is never too big for her, and her mistakes don't pile up. There are plenty of younger players that have an array of impressive throws in their arsenal, but few can match her innate composure. Her +10 plus/minus3 in Sarasota was tied for second best on the team and easily bettered any other Toronto handler.
The growth Beaudry has shown at such a young age has been truly remarkable. Being the centerpiece of a top 10 team's offense at 19 years old speaks for itself, and thinking about what her potential could be should send a shiver down the rest of the division's collective spine. Beaudry is one of the most impressive and exciting players in the division, and as one of the biggest parts of Toronto's young core, she is a huge part of her team's very bright future.
Truly, she's a future superstar, with potential to dominate the division when she reaches her prime. But perhaps the scariest thing about Beaudry is that, as her breakout 2017 season has proved, she's already an elite playmaker capable of tearing apart the top defenses in the game.
Runners-Up: Shayla Harris (San Francisco Nightlock), Jenni Corcoran (Chicago Nemesis)
– Daniel Prentice
Coach Of The Year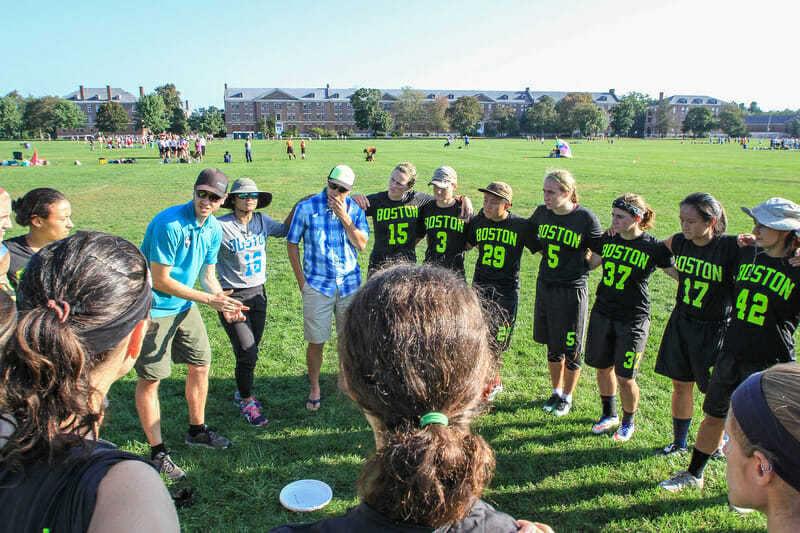 Ariel Jackson (Brute Squad)
For the second year in a row, Ariel Jackson is the Women's Club Coach of the Year. Despite sustaining the highest turnover of any elite program this season, Brute Squad was within one point of their third straight national championship. It would have been Jackson's third title with Brute Squad in as many years coaching the team. Under Jackson's tutelage, and with a strategy nobody else in the division would attempt, Brute Squad had an arguably stronger 2017 season than their championship run.
Brute Squad lost some of their longstanding stars during the off-season, including Laura Bitterman, Leila Tunnell, and Shira Klane. Despite losing these offensive linchpins, Jackson doubled down on the strategy that won them the 2016 Club Championship: the team plays through several set lines that can play offense or defense.
In Rockford last year, Jackson played upwind and downwind lines, and he brought the same strategy to windy Sarasota. Throughout the weekend, Brute Squad played through these lines, distributing the hard work of offense and defense throughout the team.
"There's a couple ways to use depth on the team," said Jackson after the final. "One of those ways is to spread the playing time early in the tournament, so people are as fresh as possible at the end of the day. And the other way is to spread the PT throughout the game so everybody is fresh. The second way is my preferred method, if possible."
In the first half of the Club Championship final, three almost completely different lines went toe-to-toe with Fury to take half 8-5. These lines would blur more in the second half as Fury marched back, and Jackson needed the speed of Groom or the defensive acumen of Hoffmann on a different line. Yet the discipline and trust in Jackson's system was impressive to witness.
Jackson's a coach for the details, too. His belief in perfecting the fundamentals shows in the excellence of Brute Squad's most basic defense. Their marks aren't anything new, but they are textbook. While the team may have some of the fastest cutters in the division, these cutter's footwork is also note-perfect. Jackson hones in on the small adjustments for his players that make a big difference.
"[It's] doing the little things right," said Jackson. "Like, it looks like we're just playing person defense out there, and I can tell you there's a lot more going on that. The buy-in and trust from players to put their pride aside and execute the system speaks really highly of the character of all of them."
Jackson took an elite team that lost major stars, and he helped bring them within one point of a championship three-peat. His creative defensive strategies, unique offensive structure, and his attention to detail made him the first two-time Coach of the Year.
Runners-Up: Carla Difilippo (Toronto 6ixers), Matty Tsang & Idris Nolan (Fury)
– Katie Raynolds
---
Carolyn Finney, 29 ↩

17, tied with Atlanta Ozone's Paula Seville for the top mark in Sarasota ↩

6 goals, 17 assists, 5 blocks, 19 turns ↩