The best of the best, continued.
The Ultiworld 2017 Women's Player of the Year award is presented by VC Ultimate. All opinions are those of the authors. Thanks for supporting the brands that make Ultiworld possible!
With Nationals over and the winners crowned, it is time to take a moment to recognize the top performers in the Women's Division this season. While the talent of the division reaches far beyond short lists, the All-Club teams are meant to honor those players who put together what we believe to be the best seasons in the Women's game this year.
While we consider both regular season and postseason performance, because of the nature of the club division, we weight success in the Series and at Nationals above all else. The All-Club teams are selected based on input from Ultiworld reporters, contributors, and editors.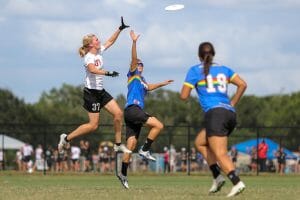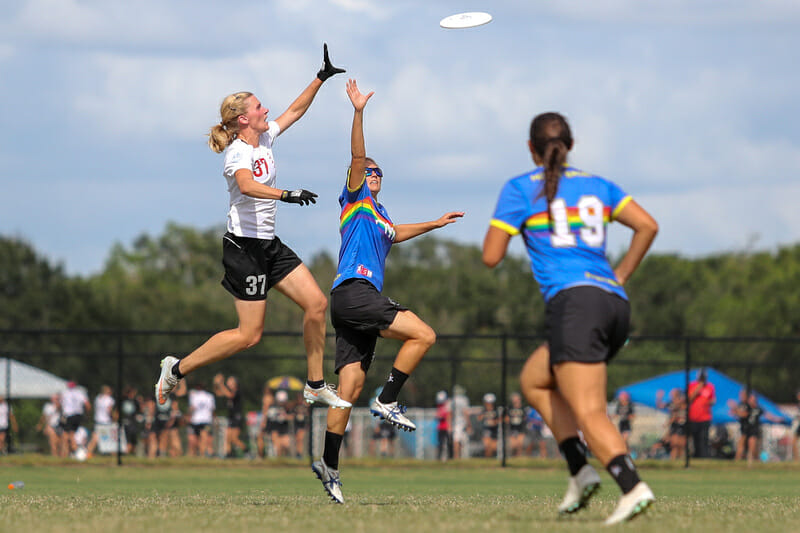 Sandy Jorgensen (Washington DC Scandal)
For the second straight season, Sandy Jorgensen led or tied for the lead in goals scored in Nationals. If she had scored just one more in 2013, this would have been the third time in four years. Jorgensen has been an unstoppable force for sometime now and, while she was a bit quieter this year than she's been in seasons past, she was still a uniquely dominant presence for Washington DC in 2017.
In no game did her talents shine brighter than in Scandal's prequarter game against Toronto 6ixers. Ultimate is clearly not a one person sport, but Jorgensen's performance in that game made it feel like one. On defense, she was an impenetrable wall. Offensively, she rampaged.
Her blocks felt Herculean, towering over her opponents receivers or sprinting from impossibly far away to knock the disc away at the last second. Her goals, especially the game winner on double game point, were all hugely important. Jorgensen proved once again in 2017 that she not only is an unparalleled physical presence in the game but also a player that steps up in the game's biggest moments. That is why she finds herself an All-Club selection yet again.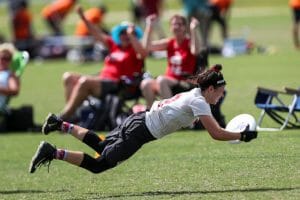 Shira Stern (Seattle Riot)
It was a banner year for Shira Stern, a continuation of her upward trajectory since joining Riot after a standout college career at Washington. The elusive cutter has added signature game speed, able to play with pace and intention. Her presence and playmaking not only helped Riot overcome some struggles but also were executed within the context of the system. In some ways, Stern was a symbol of who Riot was this year.
Of course, there's no part of the field where Stern makes more impact than in the endzone. She's got a nose for the goal, leading Seattle with 11 goals at Nationals, on top of the 34 goals she scored across the team's three Triple Crown Tour events, also good for the lead on the roster. In addition, she recorded 10 assists at those events, including three at Nationals, a big jump up from the zero she threw at last year's Championships. Stern's also an explosive defender when asked to play that role.
There's a good reason Stern played herself into Player of the Year contention with a sterling regular season. She came up with huge layouts for Riot, at times looking like the best player on the roster. As a captain this year, it's clear she's earned the respect of her teammates, and her hard-nosed style of play sets a great example. This year may be the beginning of an extended run for Stern as one of the game's best cutters. Her first All-Club selection is unlikely to be her last.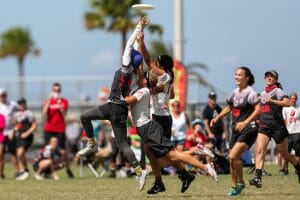 Kate Travaglini (Atlanta Ozone)
Kate Travaglini was the Ultiworld 2016 Breakout Player of the Year after a dominant season with Raleigh Phoenix. Travaglini proved her versatility again this season, this time with Atlanta Ozone, proving to be a key cog in another major upset at Nationals.
Travaglini's athleticism shines on defense: she can crank out defensive plays in the air and turn to fast break down the field. This season, Ozone sent her downfield more often than Phoenix did, and she thrived. Travaglini led the team in blocks this season (12) along with 21 goals and nine assists. At Nationals, she earned eight goals, four assists, and seven blocks for Atlanta, including two goals and two blocks in their crucial upset against Seattle Riot.
Travaglini is a master key that can unlock any offense and shut down any matchup. Wherever Ozone puts her, she exerts her will on the game. Travaglini is the player every team needs and wishes they had on their line. After yet another season of play making and upsets, Travaglini was a shoe-in for the All-Club 2nd Team.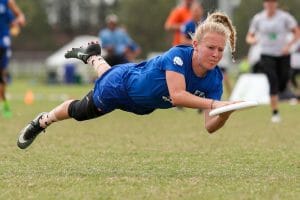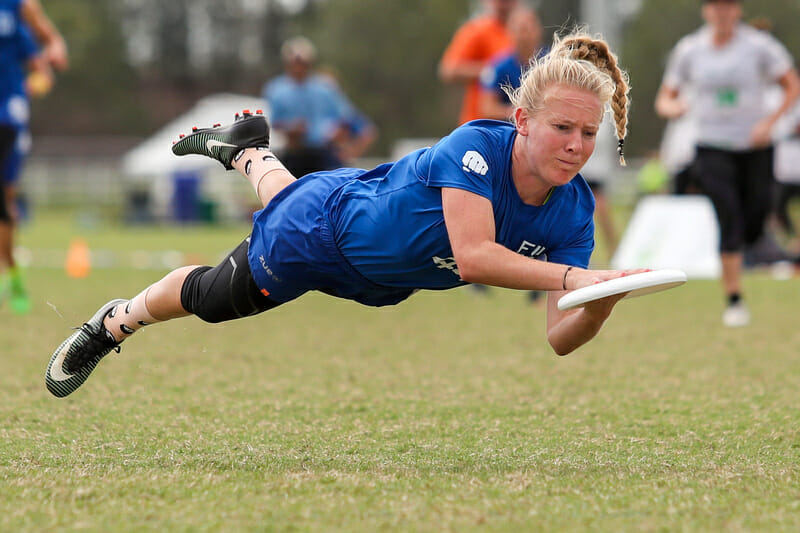 Maggie Ruden (San Francisco Fury)
The high-flying antics of Maggie Ruden helped take Fury back to the promised land of gold medals and trophies. While she doesn't light up the stat sheet, she can certainly take over a highlight reel and a point when she pushes the pedal all the wall to the floor. Ruden often seems like she is revved up and redlining, especially when she hits the launchpad to snare a disc.
But it's Ruden's ability to keep things moving that make her such an exceptional mid in the cutting lanes. She's a well-rounded attacker, just as content to throw the break throw before the assist as she is to land in the endzone. Her five goals and three assists do represent a significant uptick in scoring contributions from the past two club championships, but still leave her in the middle of the evenly-distributed Fury stat columns. Ruden's completely on-brand for Fury: a tactical, fundamentally sound, hard working, versatile player with buy-in that enables her to execute based on the benefits of the larger whole. Fury probably wouldn't say it that way, but it's been their identity. With the capability to make the layout score like she did in the semifinal against Ozone or deliver the 1G/1A/1D line with a single throwaway across 15 touches in the final, Ruden can do it all. In 2017, she did it all at an elite level.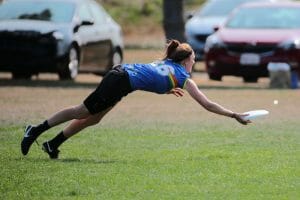 Lisa Pitcaithley (Denver Molly Brown)
From what we've come to expect from Lisa P, 2016 seemed relatively subdued. 2017 stands in stark contrast. Pitcaithley is at her best when given the chance to be aggressive, and a 27G/39A/8D Triple Crown Tour season is emblematic of how aggressive Denver has allowed her to be. Molly Brown's well-structured offense gave Pitcaithley plenty of room to attack the disc and find her streaking cutters downfield. Her athleticism and size made it almost impossible for a defender to get around for a block. Pitcaithley also did a superb job of punishing poaching or overbids, leaving defenders in her wake as she blitzed downfield.
Pitcaithley fed off the powerful bond apparent in Molly Brown's team culture. Their positive communication and active encouragement made each goal or assist from Pitcaithley seem like a fireworks display. The fact that these stellar plays occurred so frequently only added to the festivities. If that wasn't enough to discourage defenders, her length and control with the disc in hand are enough to humble even the best marks. Her ability to throw around a mark to open the field was just as lethal as her quick trigger for hucks.
The amount of experience Pitcaithley has had on the big stage is apparent. She doesn't balk under pressure or holster shots. When Molly Brown needed a big play to rekindle their energy, Pitcaithley was happy to oblige. She's grown into a pivotal role as a more mature and skilled offensive weapon.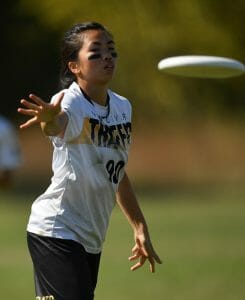 Catherine Hui (Vancouver Traffic)
One of the most consistent players in the division, Catherine Hui continues to add to her exceptional career. Hui has been one of the best women in the world for at least five years. This marks her third All-Club 2nd Team selection, and she's been in the conversation in every year we've selected this award. It speaks to Hui's ubiquity as a central playmaker. If her incredible footspeed isn't killing you, it's her pinpoint backhand huck, and if it isn't that, it's her sharp instincts and vast experience.
Just take a look at what Hui's done over the past three Nationals. She's tallied 35 goals and 25 assists, plus 20 blocks. She's led Traffic in at least one of those categories every year, including in 2015 when she led the team in all three. When she hasn't been at the top of their stat sheet, she's been just a few places down. This year was no exception, as she finished second on Vancouver with 11 goals, adding five assists and leading the team with five recorded blocks.
There's really just no way to take her out of a game. She refuses to be a non-factor. It no coincidence that her talent and leadership has been top notch at the same time as her program has remained near the top of the standings year after year. Selecting her for this award is far less exciting than watching her go to work, but both are simply the right way to do it.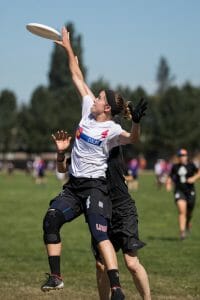 Liza Minor (Denver Molly Brown)
There really should be a buddy-cop nickname given to Molly Brown's two downfield threats. Between Pitcaithley and Minor, the Denver team almost always had a cutter threatening to strike deep. Minor's excellent field awareness and unrelenting speed on offense meant she was rewarded with the disc often. Her persistence paid off: Molly Brown's offense could finish a point in under a minute with a well-timed cut from Minor. There was no player that capped off a point for Molly Brown so consistently. Her 40 goals from the season make it easy to forget that she's a first-year player on this Denver team.
Minor's ability surpassed pure athleticism as well. With the disc in hand, Minor's finesse shone through. Her upline throws would hit the receiver in stride, giving no chance for a defender to make a play. Despite primarily being a downfield threat, she finished the season 3rd in assists for Molly Brown. Defenses were caught flat-footed after a clean flick from Minor or an around break that wasn't foreseen.
She was incredibly efficient for Molly Brown considering her usage rate. While playing essentially every offensive point for Denver at Nationals, she only posted four turnovers. You can add lightning quick reflexes and perfectly timed layouts to her list of abilities: both were on full display in Sarasota. If this is what Minor looks like after one season with Molly Brown, it's exciting to imagine what the future holds.