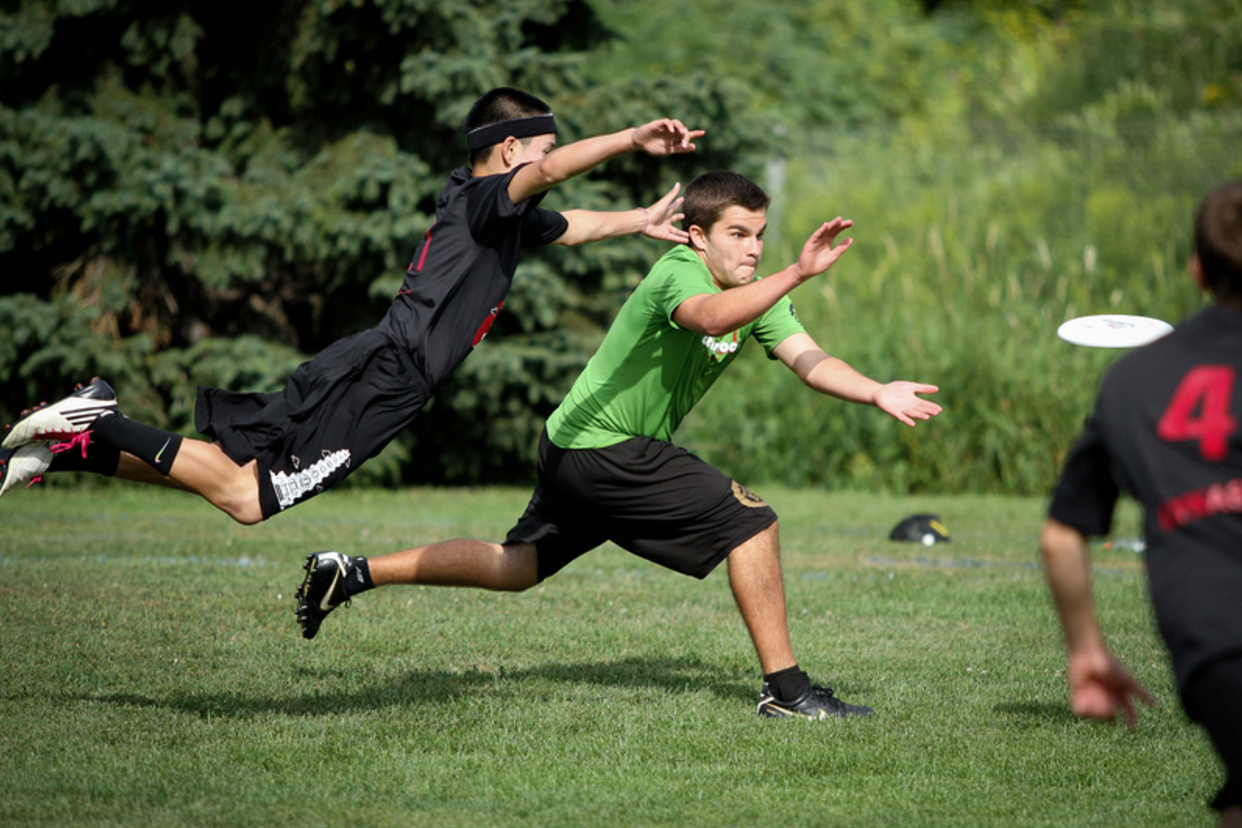 This article was written by Isaac Sponem, the head coach of Burlington High School in Vermont.
Vermont has just become the first state in the country to approve ultimate as a high school varsity sport. I have been a coach of both high school and middle school ultimate in the state for the past four years, and I do not consider this to be a positive change. I believe that it will limit both the immediate and the long term growth of the sport in our state. Teams are being forced to give up too much of their autonomy for not enough in return.
Under the Vermont Principals Association, instruction is limited to the ten week spring season. Players need the opportunity to develop: ten weeks of instruction is not long enough for them to learn basic individual and team skills. If you have watched the ultimate being played in Vermont, you have surely noticed that most teams have opted to play zone defense. Coaches are confident in that decision because most teams in the state can't string together more than five passes. In Vermont, only three high schools have a middle school in their district with an active program. Nearly every player joining a team is new to the sport. While some have predicted that becoming a varsity sport will attract better athletes, the better athletes won't be able to complete passes by the end of their first season.
The restrictions on our season also don't allow teams to get enough games in to develop players or have a fulfilling season. Under varsity restrictions, Sunday play is not allowed in state, so we are restricted to playing one-day tournaments. The options for attending out of state tournaments are reduced by the late start of the season. Traveling out of state to Pioneer Valley becomes the only traditional two-day tournament available during our season. If a team were to participate in all of the in-state play, they would get no more than twenty games in a season, likely fewer.
But what about the cost savings? The 'no pay for play' clause was a fairly significant driver behind pursing varsity status. Under the VPA, we are now covered by our school insurance, making USA Ultimate membership unnecessary and decreasing the cost per student by $30. This is significant and important: USAU did not provide us anywhere near enough value for that price tag. The downside of the new system, though, is that it may limit schools' ability to play outside the state. A team can't require a student pay for a membership. Teams are no longer allowed to collect dues, so any money for this expense will either need to be donated or come from the school budget. This takes away teams' autonomy in scheduling their own season, potentially getting them barred from playing out of state either by stricter athletic department rules or simply by being unable to get adequate funding.
The addition of regularly scheduled individual games in the style of mainstream sports has been touted as a great improvement. In actuality, it is a great inconvenience. These one off games are played twice a week. Last year, the average travel time to play ten games was over nine hours, with one team traveling ten and half hours. All of this travel is happening on school nights, not on the weekend. Tournaments are a great way to reduce travel time and relieve the time burden put on student athlete's life. The teams suffer from a lack of parity: games are often uncompetitive and over so quickly that there is little opportunity for either team to learn anything. The format also removes any incentive for either teams to sub out their top players. In the end, there are now fewer opportunities. The new format does nothing to prepare these kids for how the sport will be played the rest of their lives.
The VPA puts restrictions on how many competitions teams are allowed to participate in: sixteen game days (excluding the postseason). Ten of these are taken up by individual games, leaving teams with only six flex days. Currently, the VPA has agreed that days of competition are what will be counted, as opposed to individual games. But, according to the VYUL, it "doesn't know where this conversation with the VPA will end up," but the conversation will center on player safety.
Player safety has already been taken into consideration: it's larger teams that can handle a full day of ultimate. What hasn't been taken into consideration is how this new one game format will decrease opportunities for kids to play. The most any team would have to play in a day is four games in a weekend at the state championship. Teams won't need more than two lines to be competitive. That means there will be roughly five fewer spots on each team. The varsity move means that we will have worse playing opportunities for kids to play and fewer kids playing.
As of the announcement that the state has gained varsity status, only nine schools have confirmed they are ready to go varsity. Last year we had fifteen teams at our state competition. I asked the VYUL board if they believed that all six of the teams that haven't confirmed will do so. "Probably not, but most of them will," I was told.
What will happen to the schools unable to go varsity? They will not be allowed to compete in the state championship or the ten game regular season. They will only be allowed to play scrimmages against varsity teams. How many teams are the VYUL willing to lose in the switch? "There's only one school that has confirmed that they probably are not going to go varsity even when the league does, and that's Spaulding," the VYUL said.
Spaulding was one of the first schools in the state to have a team.
Every time that I have brought up the issue that the season is being shortened too much or that kids don't have enough time to develop, I have been answered the same way: Kids are welcome to play year round on a club team not associated with a high school. There's a bit of a problem, though: there is no such year round team in Vermont. Due to a variety of reasons, the YCC team that saw surprising on-field success in its first year was greatly diminished in its second year when they could only get three of the original 23 to return to the team. In the past two years, Vermont has been entirely unable to field a YCC team. On the other hand, there are a number of high school coaches who would be happy to run out of season practice, particularly in the fall. This would be an improvement over the proposed club team, firstly because it would exist and secondly because it would be available to any high schooler, not just the ones who could afford to pay to play.
Ultimately, what I think this move to varsity does is isolate a weak state away from the rest of a strong region. Talking with a recent Vermont high school player about why the sport has been unable to grow in the state, he said, "Vermont athletics are limited by the VPA as much as Vermont is limited by a population less than 700,000 people with the largest urban center being less than 50,000 people. Cities grow sports."
I have to say that I agree with his assessment: dense urban centers create better athletics. We don't have those though, but why then would we knowingly isolate ourselves even further? We may not have huge high schools, but if we allow ourselves to compete against the best of our region, we'll develop our limited talent pool to the greatest extent possible. If that isn't the goal, then I don't know what is. If we shutter ourselves away, we can play our varsity schedule, pat ourselves on the back for the #legitimacy that we've achieved, and call it a day.