Recognizing a season of superlative efforts from around the Women's Division.
Ultiworld's 2016 Club Awards are presented by BE Ultimate; all opinions are those of the authors. Please support the brands that make Ultiworld possible and shop at BE Ultimate!
With Nationals over and the winners crowned, it is time to take a moment to recognize the top performers in the Women's Division this season. While the talent of the division reaches far beyond short lists, the Club Awards are meant to honor those players who put together what we believe to be the best seasons in the Women's game this year.
While we consider both regular season and postseason performance, because of the nature of the club division, we weight success in the Series and at Nationals above all else. The Club Awards are selected based on input from Ultiworld reporters, contributors, and editors.
Offensive Player Of The Year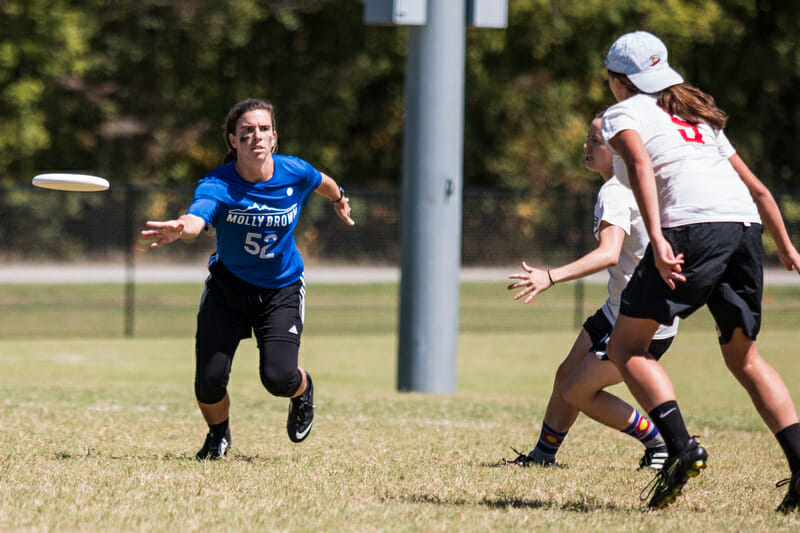 Claire Chastain (Denver Molly Brown)
Claire Chastain has risen from the All-Club 2nd team in 2014, to the 1st team in 2015, and this year she was the easy choice for Offensive Player of the Year.
Chastain's OI backhand broke enough hearts at Nationals that it deserves an award of its own. That throw burned through every mark like a controlled fire and destroyed endzone defenses. Her recent rise in Ultiworld accolades belies the fact that the 2013 Callahan winner has long been one of the division's most explosive players.
Since she joined Molly Brown three seasons ago, her play style has become the team's calling card. Chastain is equally lethal on both sides of the disc, and it's no coincidence that Molly Brown's D-line operates more like an O-line in disguise.
Chastain's performance at Nationals was an instructional guide for power handling. She had 12 assists (tied for 9th) and four goals, but her best work happened in the midfield as she helped Molly Brown march towards the endzone. Her willingness to run handler weaves endlessly outside the endzone meant she didn't always get the stats, but her pace and aggression was maddening to cover. Point after point, she and her fellow Denver handlers played give-and-go up, down, and across the field. Few teams had defenders who could stick with her for whole games.
Chastain played 18 of the semifinal's 23 points, and out of 61 touches, she only had three turns. The only comparable player in terms of efficiency is Kurt Gibson, who played a comparable share of points for Ironside in the final and had two turns from 31% fewer touches. Chastain played almost every point of Molly Brown's deep run in the championship bracket, and she didn't look fatigued until late in their semifinal.
Chastain is one of the division's quickest handlers, but it was her endurance and efficiency that earned her Offensive Player of the Year for 2016.
Runners-Up: Alyssa Weatherford (Seattle Riot), Jenny Fey (Washington DC Scandal)
Defensive Player Of The Year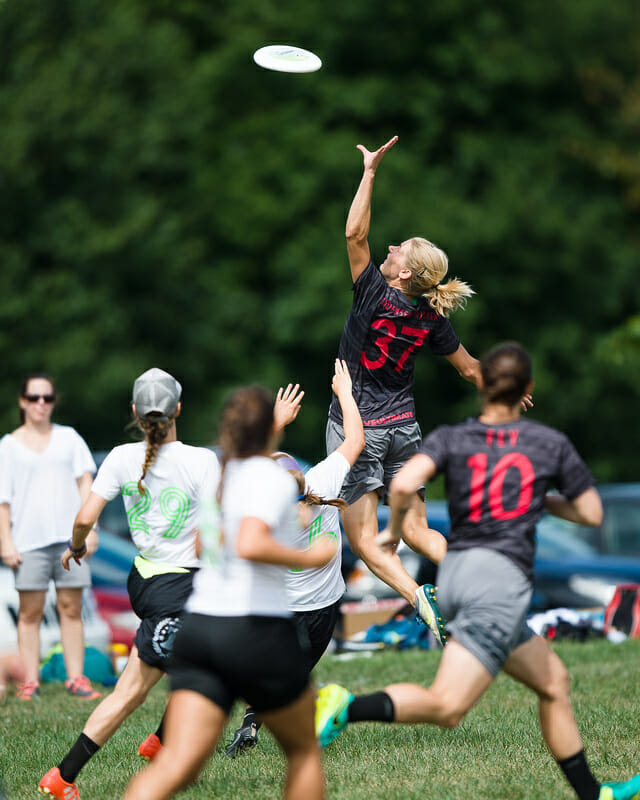 Sandy Jorgensen (Washington DC Scandal)
This year, Sandy Jorgensen lead the entire Club Championship tournament in goals, finding paydirt 27 times in Rockford. Her athleticism and her offensive timing almost always make her the most dangerous player on the field to contend with; opponents are forced to make defending her their first priority, and they're usually unsuccessful at containing her anyway. But this offensive dominance is only part of the reason Jorgensen easily earned a runner-up spot in this year's Player of the Year race. Despite her unbelievable offensive contributions, her greatest strengths may actually lie in her defense.
No player in the women's division more fundamentally changes the shape of the field for an opponent's offense than Jorgensen. Her imposing size and closing speed mean that she can patrol the downfield space, rendering ineffective almost any cutter who enters that sphere of influence. When she's on the field, Scandal's O-line frequently utilizes a zone on turns to take full advantage of their massive endzone target. Hucks to seemingly open receivers are completely swallowed up. Wisely choose not to test her in the air and Jorgensen has the ability to run through an undercut, extending an outstretched hand to bat away a disc before she's already streaking the other way in transition. When charged with guarding some of the most fearsome receivers in the division, Jorgensen employs her long stride and practiced positioning to wear down cutters and apply a suffocating pressure that few opponents can escape.
In the wind at Nationals, where discs where bound to pop and sail off course, she managed a whopping 16 blocks — the second most in the division — by chasing down floated throws and skying piles of overmatched receivers. It isn't just the blocks Jorgensen gets, but the space she takes up and how that moves around her fellow defenders that makes her so valuable. Scandal's zone can tighten up to the thrower, a squadron of scrambling interceptors in the lanes, because she controls such a large area in the deep space. Against Heist in the first round of elimination play in Rockford, DC was able to suffocate Georgia Bosscher and the Madison handling corps, knowing any throw over the top was well attended to. Jorgensen dominated the game to the tune of six blocks, ensuring there was only one team that had a chance to advance.
Time and time again this season, Jorgensen proved why she is so recognizable on defense. No matter what the tournament or how green the volunteer, it doesn't take long for a scorer of Scandal's games to have Jorgensen's name and number down by heart. Nobody played a bigger defensive role this season than Jorgensen, and probably hasn't in years.
Runners-up: Angela Zhu (Boston Brute Squad), Sarah Griffith (Seattle Riot)
Breakout Player Of The Year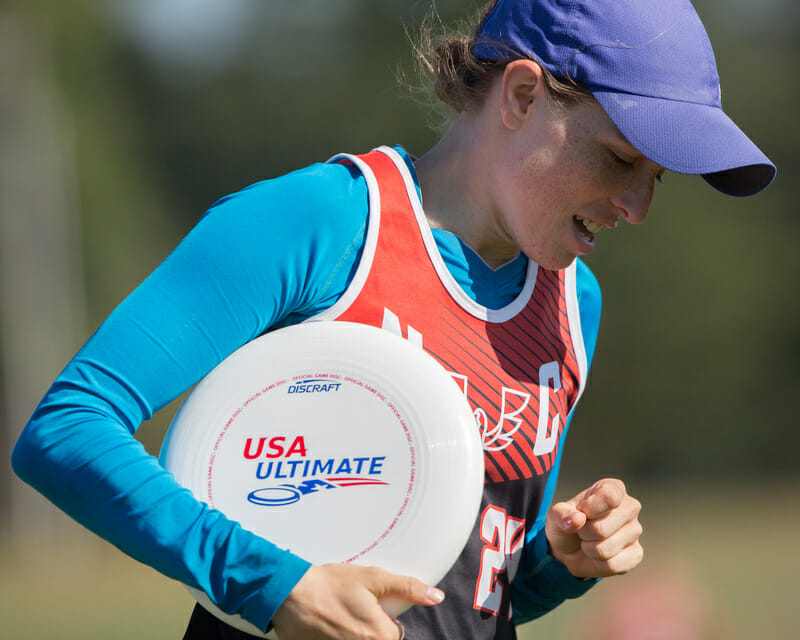 Kate Travaglini (Raleigh Phoenix)
Prior to this season, most fans had never heard of Kate Travaglini. And that's not just because her last name changed. Formerly Kate Cobelens, she still was not a known quantity or a name that jumped out on a Phoenix roster filled with elite club talent. She didn't come from a big name college program, although she did help take Florida FUEL to Nationals. Travaglini's resume isn't stacked with awards, mostly just an All-Region selection back in 2011.
After this club season, people are starting to know her name and for good reason. Travaglini was a central piece of Raleigh Phoenix in her first season with the team. Her new squad moved her around frequently, setting her up as a cutter or handler, or defending either role with her length. She offered the team dangerous goal-scoring speed but also a wealth of powerful hucks and timely break throws. And she churned out yards with her legs, sometimes taking over points with give-and-gos and highlight reel catches that kept the offense moving.
It's clear Travaglini has grown a great deal as a player. She was a huge part of the Tabby Rosa team that upset Phoenix two years ago at Regionals to send the Florida club to their only Nationals appearance. At the Club Championships, she posted a solid 17 point line, with two goals and 15 assists. Despite moving to a more successful club and being in her first year there, Travaglini's numbers exploded this time around. She tallied 10 goals, 27 assists, and six blocks in Rockford, leading the tournament is assists.1
The big moments were also primetime for Travaglini. Arguably the biggest upset in the division was Phoenix's pool play victory over Traffic, and she led the way with four goals and two assists in that win. She followed it up by adding four more assists and a block in a losing effort in prequarters.
It was impressive to see Travaglini so quickly earn such a big role for one of the division's stronger teams. Tough conditions, top opposition, high pressure — none of it really deterred her or her teammates' trust in her. What her status will be next season will be critical to watch.
Runners-Up: Sophia Knowles (Columbus Rival), Paige Soper (Seattle Riot)
Coach Of The Year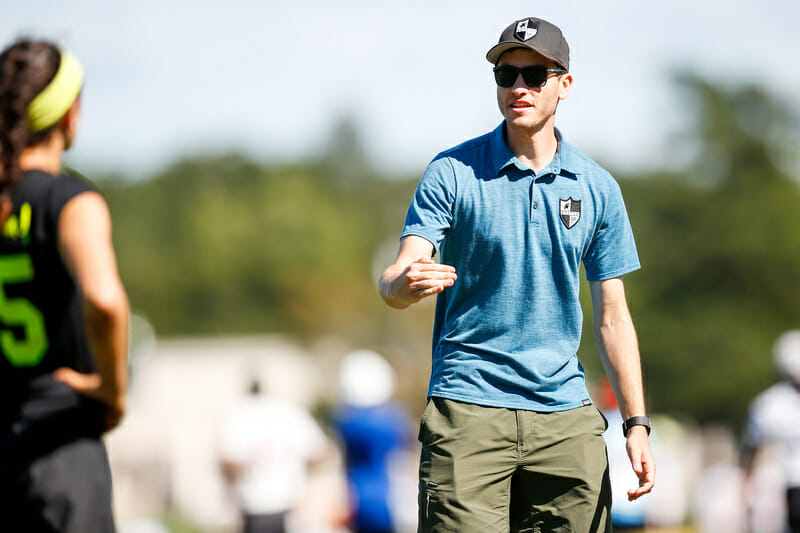 Ariel Jackson (Boston Brute Squad)
Boston Brute Squad came into Nationals as the defending champion, overall two seed, and with a roster boasting six Team USA WUGC 2016 representatives. They were always a title favorite and managed to achieve that goal. Still, despite playing with a stacked deck, Ariel Jackson is the runaway winner for Coach of the Year. Simply put, he did a better job than any coach in the division at putting his team in a spot to win. His strategic decisions led to Brute Squad dominating early in the tournament and winning critical points late in the weekend.
Rather than play O-lines and D-lines, Brute Squad implemented upwind and downwind lines in blustery Rockford and the decision proved a stroke of genius. Boston's roster is so full of two-way players that Jackson felt comfortable trotting out more traditionally offensive players — like Leila Tunnell and Becky Malinowski — on defensive points. Conversely, players like Angela Zhu and Cassie Wong went out on O points and were equally as dominant.
Of course, it's one thing to use such a strategy in pool play against heavy underdogs, but Jackson played his lines that way all weekend. Jackson had the confidence to use his lines on either side of the disc in the biggest points of the tournament's biggest games.
Twice in the final his O-Line became embroiled in particularly long points. Both times Jackson sent out an entirely new line to the tune of two turnover-free holds. It's nice, of course, to have players capable of doing that for you, but Jackson's courageous decisions paid off in spades in moments when the game could have gotten away from his team.
But where Jackson's impact was most evident was when his team was pulling at 10-10, needing a break within the next two defensive points to win the title. After breaking the point prior, he elected to not put defensive superstars like Zhu, Wong, or Kami Groom on the field and instead sent out a scheme-specific line and threw a four-person cup for the first time all game.
With a team that had risen to the top of the women's game on the back of their suffocating person defense, Jackson called a zone defense that the team had only used in the run-up to Nationals as a way to get zone offense reps. And it worked. An immediate turn led to the break that was ultimately the difference in the final.
No coach demonstrated a better understanding of his team's strengths and no coach's strategic decisions had as massive an impact as Jackson's did. In two years as head coach of Brute Squad, he now has two club championships. This year, he got a team that looked a little out of sorts coming into the season's final weekend to play better than any other team in the division. With all of that in mind, it becomes very easy to understand how the coach of the defending champ, overall two seed, and talent-soaked roster could be Coach of the Year.
Runners-Up: DeAnna Ball (Columbus Rival), Adam Goff and Sean McCall (Austin Showdown)
---
Interestingly, it's the second straight year a first year Phoenix player has led Nationals in assists. ↩