Another look at the new Ultimate Point cleats.
Disclosure: Ultiworld was compensated for writing this product review. All opinions are the reviewers' own and are not subject to approval from the sponsor. Please support the brands that make Ultiworld possible and shop at Universe Point.
What does the perfect ultimate cleat look like?
For years, the question was purely hypothetical, as most frisbee players were forced to choose from the world of soccer, football, and lacrosse footwear.1 Each of these crossover styles presented their own problems when deployed on an ultimate field. Whether it was an unsatisfactory cleat pattern, too much or too little ankle support, lack of flexibility, or excess weight, there was a Goldilocks quality to cleat shopping. Instead of a perfect ultimate cleat, players were looking for something closer to good enough.
Universe Point has entered the footgear market hoping to do better than good enough with a cleat specifically engineered for ultimate. Of course, just tailoring a shoe for ultimate doesn't make it the perfect ultimate cleat. It's not as easy as cherry picking the best parts of other varieties, as ultimate puts unique demands on athletes and their equipment that require innovative solutions to meet. The eponymous cleat from Universe Point is an admirable first shot at cracking the code.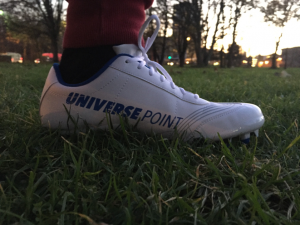 Fit
The first thing I noticed when I went to lace up for my first test run was a slightly different top. The dense nest of laces over a very flexible upper take on an odd shape when not being worn, appearing somewhat boxy and not altogether foot-like. I had some initial trepidation about the fit, but after loosening up a few rows of laces my foot slid right in and the shape of the cleat transformed around my foot, hugging the curves of my arches.
The fit was great for width, but a little long in the toe. Despite measuring my foot before selecting a size to make sure I got exactly the right option, there was still a little more room towards the end of the cleat than I'd like and I usually favor a bit of breathing room. This didn't become a big problem, however, as the perfect fit around the heel and sides prevented any sliding around inside the shoe.
Performance
I could tell from the beginning of my warm ups that the cleat pattern was getting plenty of traction on the ground. I could really feel each plant of the foot. As I got up to top speed, that tactile sensation really paid off and my cuts felt super smooth. Some lightweight cleats feel like you're running on air, but these–while definitely being light–felt more like shooting down a perfectly grooved track. The support on the flanks of the shoe was welcome as I slalomed from cut to cut and I could feel the studs digging into the ground on each step without getting stuck.
The aggressive cleat pattern is great for natural grass. The studs scythed through soft earth. I was only able to try them out on turf once but they felt less natural there, with discernible pushback coming from the harder surface. I didn't seem any slower, but the feel wasn't as comfortable as some other less aggressive cleats that I've used for turf.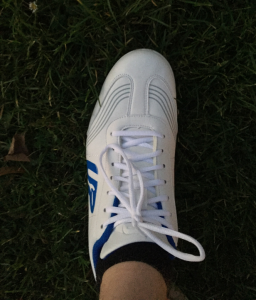 Non-ultimate cleats have never seemed to properly cater to the game's vertical element, and the Universe Point cleats don't quite nail it here either. The flexible top, which the Universe Point website touts as "a dense [thermoplastic polyurethane]… to allow for extreme flexibility while maintaining its shape" is perhaps a little too flexible while jumping. I didn't notice anything while warming up or making basic hops, but the first time I dialed up a big sky it felt like the top of the cleat disappeared and I had jumped out of the shoe.
RELATED: Universe Point Women's Cleats Review
It's an odd sensation, particularly when compared to how solid the shoe felt while cutting. The disconnect is noticeable, and while the lightness of the cleat is appreciated for leaping (the opposite of heavy lacrosse cleats), the flex-fabric provides an odd sensation during the transition from running to jumping. You want to feel yourself flow naturally from striding to elevating, feel the kinetic energy of your speed becoming lift, with your cleat as the conduit. Whether it is the stud pattern, or the looser top of the shoe, too often in the UPs it felt like going from one distinct motion to another.
The flexible top does feel great while throwing, however, as it allows for ankle mobility on your pivots while still anchoring you to the ground. Some cleats (football in particular) are too secure when you're pivoting, but the UPs felt totally fluid. I've never had ankle problems and look for cleats that provide lower leg freedom, both to take some strain off my knees and for performance. My ankles and knees felt good after running around in the Universe Points, but if you have particularly bad ankles you might need something with a little less fluidity.
Look & Durability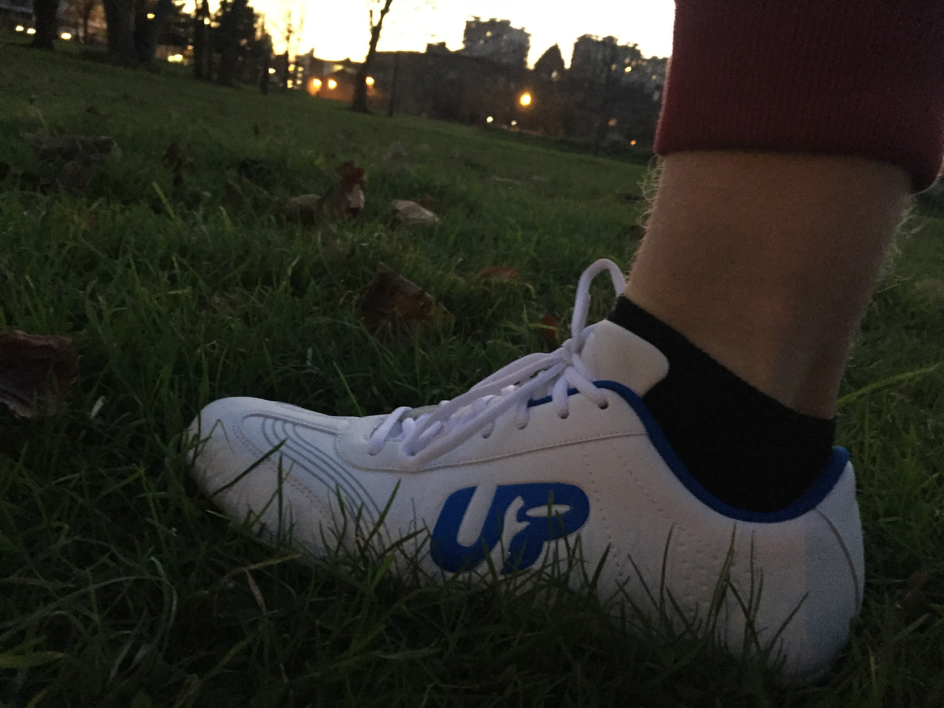 The Universe Point cleats come in two color options, black with blue lettering and white with blue lettering. I went with the white/blue, and they look good with most of my gear, particularly when paired with black socks. I like the asymmetrical design and the subtle external stitching that projects a more leathery feel.
While it hasn't affected performance too much, I should note that the cleat pattern really gobbles up grass and dirt. The studs are long enough that you don't lose much once the bottoms get caked up, but they can be kind of a pain to clean. Fortunately the material seems very durable, with no real signs of wear and tear after a month of using them, and the cleats can be washed with water without any noticeable side effects.
***
Universe Point may not have found the the perfect ultimate cleat, but it's certainly a step in the right direction. Cutting feels smooth and powerful, both for straight line speed and in tight spaces. Pivoting is actually given some thought by the designers, which is something you won't get from Nike or Adidas. While there are some drawbacks to the flexible material and a price point of $85 that may scare off more casual players, if you're serious about your equipment and haven't found cleats you're already love, give Universe Point a try. I'll continue to wear them as my go-to cleats to see how their deviations from other popular ultimate footwear endure.
---
I played with a guy in college who wore baseball cleats like a real weirdo. ↩