The first elite event of the D-I men's season gave a look into some top Atlantic Coast and Southeast teams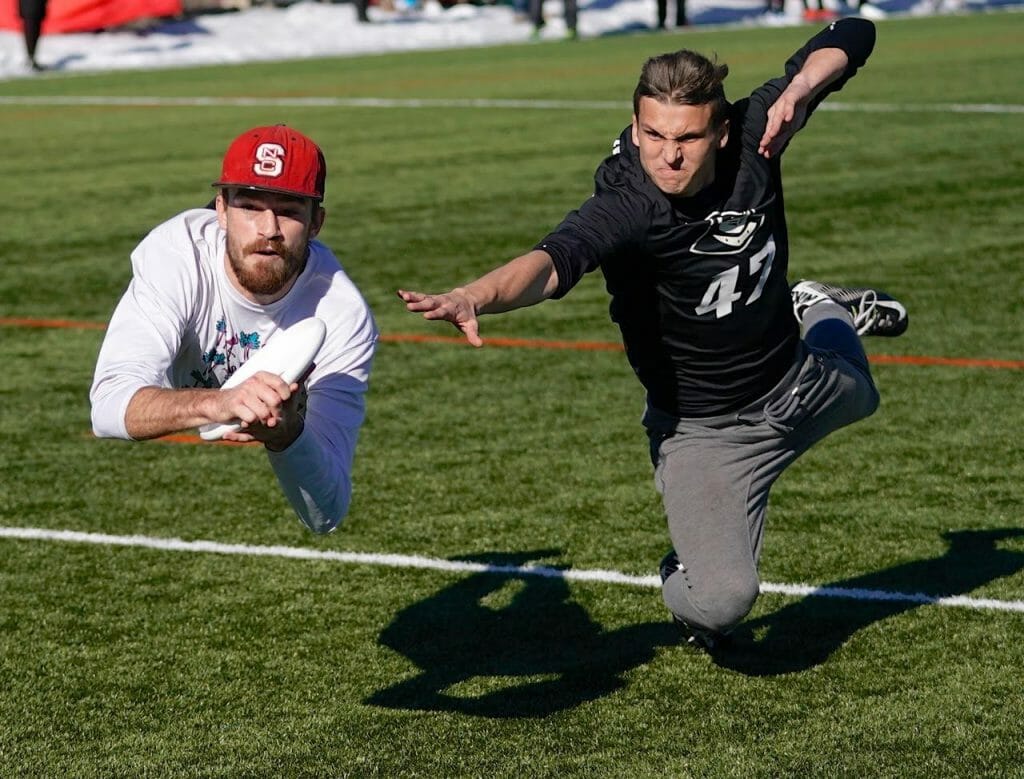 This article is presented by Spin Ultimate; all opinions are those of the author. Please support the brands that make Ultiworld possible and shop at Spin Ultimate!
On Friday afternoon it wasn't clear if host team UNC would even have clear fields to offer teams heading to Chapel Hill. Snow had shut down all non-essential personnel for the University, leaving Hooker Fields covered in snow. By noon on Saturday, however, UNC had two fields cleared for games, and following a Friday drop from Florida State, had restructured the tournament to a round robin for the remaining seven teams. Players from UNC men's and women's teams, as well as NC State and volunteers from the local community, all pitched in to help clear off the fields Friday evening and Saturday morning. It was a gorgeous weekend with temperatures in the 50s and 60s. For all teams involved, it was a memorable tournament.
"We've got guys who've never seen snow before," said Florida captain Billy O'Bryan. With the sidelines covered with shoveled snow, there was plenty of room for sideline antics and the occasional snowball. On one of the first points of the tournament, UCF's Austin Koffarnus plowed into a snowbank bidding for a disc. It wouldn't be last time a player would find themselves at nature's mercy.
UNC's Depth Shines In Undefeated Run
With Matt Gouchoe-Hanas, Anders Juengst, and Liam Searles Bohs sitting this weekend, it fell on the shoulders of #2 North Carolina's other starters –chiefly Kai Marcus, Andrew Cohen, and Nick Macleod– to marshal their offense. UNC opened up its lines and showed off some considerable depth and mental toughness from both its veterans and rookies to go undefeated through the weekend. While it was a promising start for Darkside, there was expected inconsistency on their offense at times during the tournament.
"We started some games a little sloppy on offense and sluggish on defense," said Darkside coach David Allison. "We probably went to the deep game well more often than we should have and our defense was a bit too reactive."
UNC's greatest test came against #18 NC State on Sunday morning. Darkside's offense clearly showed the absence of its primary handlers, giving the disc away again and again on hucks, along with a dropped hammer by Marcus. In contrast NC State thrived on a very fast and clean offense. On defense, State varied its looks, willing to employ junk defenses sometimes the whole length of the field.
"[Changing up looks] frustrated some of our younger offensive players into making some poor decisions." said Allison
The host team came roaring back in the second half behind Elijah Long and Nathan Kwon capitalizing on State's turnovers. As North Carolina found new life, tying the game at 9-9 after being down 8-4, State began to suffer from errors of its own and the problems for State's offense only grew after sophomore Conor Chickos went out with a sprained wrist. UNC was not flawless closing out the game offensively but State was unable to capitalize. Long sealed the 13-11 win for Darkside on a scoober to Alex Davis.
Kickoff was an excellent demonstration of UNC's depth. With the return of some key starters at Queen City Tune-Up, they'll have ample opportunity to put it all together in a big east coast test for a title favorite.
A noteworthy addition that has flown under the radar this fall was fifth year former Texas A&M player Colin Smith. Smith earned his stripes this weekend as an important piece of the North Carolina's defense, not only adding height but excellent field awareness. He's thriving well within their defensive systems, and his presence helps contribute to the team's overall depth.
No Stars Needed For Wilmington
#8 UNC Wilmington's changes in personnel have created a truly new team. The expected absence of Jack Williams and company has now been joined with explosive sophomore Matt Ellis, who is taking time off from school this year.
The loss of Ellis alongside Wilmington's roster turnover from 2017 showed this weekend as the Seamen had to demand more out of their young roster and veteran handlers. Willie Stewart, Kevin Mateer, and Rick Henninghausen anchored Wilmington throughout the weekend in tough games that pushed Wilmington's young players to perform at higher level.
Wilmington's best game of the weekend came Saturday evening under the lights against #24 Central Florida in a physical and chippy contest of wills. After going down 3-1, Wilmington rallied to tie the game and ultimately take half 7-6. Wilmington closed the door on an inconsistent Central Florida, holding the Dogs of War to a single point in the second half to win 12-7. It was the only time Wilmington truly demonstrated a consistent ability to convert on turnovers this weekend. The game saw big plays out of sophomore receivers JD Lockamy and Kevin Huerta, as well as veteran Grayson Sanner.
"There were points in that UCF game where you could kind of see the fruits of that labor and see a lot of guys touching the disc and doing the right thing," said UNCW head coach Brian Casey after the game.
While there is certainly some promise in the squad Wilmington is bringing to the table, they still have plenty of work cut out for them at Queen City and beyond. Wilmington's biggest strengths lie in their veteran backfield and promising youth. That's about all you can say right now.
"We're a young team," summed up Casey. "So these tournaments are a proving ground for us to try to teach those guys more about ourselves. I don't think there's any team here that we're clearly heads above."
Florida Shows Elite Potential
For over a decade, Florida has played the same system: they run tight lines and let their top end talent shine. Billy O'Bryan, playing almost every point, shined not just as the best player on this Florida team, but perhaps the best player at this tournament. What makes Florida different this year compared to last, however, is that the supporting cast looks even stronger.
Hayden Wachob showed tremendous versatility, moving seamlessly between cutting downfield and filling into the handler space. Josh Layton made impressive plays all weekend, throwing multiple big hucks to O'Bryan.  Florida's biggest pickup is handler Chris Dixon, a transfer from Villanova. Having players like Layton and Dixon frees up O'Bryan and Wachob to be even more dangerous.
"Anybody can be anywhere, which opens up me and Wachob and other people to go downfield," said O'Bryan, when asked about their offense.
Of the two Southeast teams in attendance, Florida fared much better, losing only to UNC and UNCW. Florida found a great deal of success against teams that didn't adjust for their offensive game plan, but against UNC they encountered a defense that adjusted to stop their deep game. Against UNCW, Florida had several opportunities to capitalize on Wilmington's inconsistency. But despite controlling the offensive tempo of the game all the way to the end, mistakes by O'Bryan, including two overthrown hammers, compounded to give Wilmington an 11-10 win. With some of Florida's key players working double shifts on offense and defense and three players not attending this weekend, including 2nd Team All-Region player Ryan Hiser, Florida's ability to get breaks on Sunday became more and more difficult.
O'Bryan expresses a warranted level of excitement at the prospect of having more players at Warm-Up. "We didn't have the legs to keep our top guys the whole time. I think Hiser coming back will change that." Adding a little bit more depth to their top end talent will make Florida a team to watch in Tampa in a few weeks time.
NC State With Promising Performance
NC State showed some very real potential this weekend with a revenge win over UCF (who beat them at this tournament last year) and tight losses to Florida and North Carolina. Their talent is complemented by an advanced offense that utilizes a variety of different vertical and horizontal pull plays.
What's still missing from the Wolfpack is the kind of veteran mental fortitude that their Atlantic Coast big brothers have in spades. State's problems largely came late in the second half of their games. While State showed the capacity to play great and start games off on the right foot, they struggled to maintain leads down the stretch and pull themselves out of collapses in energy and execution. The loss of Conor Chickos to an injured wrist late in the game against UNC and UNCW only exacerbated State's flaws down the stretch on Sunday.
"Losing Chickos really hurt us against Wilmington," said State coach Garrett Dyer. "Having him out may have hurt us more in that game than against UNC."
Looking back on the weekend as a whole, State's goal of getting a springboard into Queen City seems accomplished. While there is still much work to be done for the Wolfpack in February, Kickoff, and particularly State's first half against UNC, showed the kind of smooth offense and crafty defense State can run later in the spring. The goal for NC State down the road this season is to get as much big game experience against good opponents as possible. And building the mental muscle to get better in the clutch.
"The biggest thing to me is playing against Eastern's like competition game after game after game," said Dyer. "Queen City will have one of the best fields we've seen there."
Central Florida, Penn State, and Carleton GoP in a Class Below
With all three teams picking up just one win on the weekend –against one another– it was clear that Central Florida, Penn State, and D-III #8 Carleton GoP were a class below the other four teams in attendance at Carolina Kickoff.
Central Florida was plagued by inconsistency at Kickoff. There was little redemption to be found for them in their performance and it all began with Adam Vinson going out with a low ankle sprain only a few points into their first game. Offensively, UCF was unimpressive. While there were glimmers of what could be with clean vertical offensive looks, there were also execution and mental errors that made UCF look merely regional-caliber. By far the biggest blows came from a double game point 13-12 loss to NC State and 10-8 loss to Carleton GoP, the biggest upset of the weekend.
"It seemed like this weekend was showcase of bad throws and bad catches" said head coach Andrew Roca after the tournament. "It seems like our offense is having a harder time holding because their identity is still unknown. At practice we're going to continue trying to establish that identity and consistency, but we're going to have to grow players to do more than they're doing now."
Carleton GoP came into the weekend as the clear underdog. As the last seed of the tournament and the only D-III team in attendance, the Hawaiian shirt-clad boys from Minnesota played with a loose attitude and high spirits all weekend. It was clear that they were knocking off some rust on Saturday, but they played their best ultimate of the weekend on Sunday morning, notching a 10-8 win over Central Florida and hanging tight with Florida in a 13-9 loss.
GoP's offense struggled, blowing multiple chances to keep games close by turning over the disc in the red zone.
"Our offense is kind of complicated," said GoP captain Abe Eichner. "We play a space and pace, seven seconds or less kind of deal. We just wanted to get started on that and get our rookies into the swing of things."
These early season reps against quality D-I opposition should set the Gods of Plastic up to have greater success against D-III opposition as the season progresses.
Penn State Spank came up with only one win this weekend, against Carleton GoP. Playing outside for the first time since Thanksgiving, it was clear that Spank has solid potential but a long way to go in order to realize it.
"This was a chance to get our legs under us and get used to being back outside," said Graham Walker, coach of Penn State. "It gave us a little more direction on where we want our season to go in terms of practice time and the caliber of opponents we hope to be playing down the road."
Spank saw a lot of action out of Colby Gordon and benefited greatly from the contributions of Berk Uras on defense. But they had a lot of trouble adjusting to the deep games of many of the squads they faced and dealt with inconsistency on offense throughout the weekend. They run a good vertical stack system, but against elite defenses, they were plagued with errors. They will need to find more rhythm in Charlotte in two weeks if they hope to eventually challenge the likes of Cincinnati and Pitt at Ohio Valley Regionals in April. Walker emphasized the need to clean up their offense: "We'll be focusing on offensive motion, we're on the cusp of doing what we want to do."
All Tournament Team
Elijah Long (North Carolina)
On a team that plays so cohesively on defense, it can be hard to stand out as an individual defender, but Long's exceptional defense in the handler space is hard to ignore. On a turn, he provided just the right mixture of flair and precision, leading a ruthlessly effective Darkside D-line to multiple runs of breaks that deflated their opposition.
Norman Archer (North Carolina)
A stalwart on the Darkside offense in 2017, it was surprising to see Archer start the tournament playing on UNC's D-line. He quickly justified the decision, earning multiple blocks in the deep space for a UNC team not known for their height. On the points he was asked to switch back to the O-line, he showed the same cutting efficiency we saw in 2017; his versatility will be crucial for Darkside going forward.
Willie Stewart (UNC Wilmington)
On a team perhaps best known for their bold, highlight-heavy style of play, Stewart stands out for being solid and consistent. Playing primarily on the D-line for the Seamen this weekend, Stewart was the driving force behind Wilmington's ability to punch in breaks, moving the disc across the field with smooth arounds and crisp inside breaks.
Kevin Mateer (UNC Wilmington)
While Stewart stepped up to marshal the Wilmington D-line, Mateer captained their offense. We saw Mateer use his throws on continuation looks as a cutter in 2017, but in the absence of Jack Williams, Mateer filled into a center handler role for the Seamen this weekend and did so with aplomb. His hucks were complemented by smart break throws, and his ability to continue playing this role well will be important to the Seamen's success over the rest of the season.
Austin Koffarnus (Central Florida)
Koffarnus was the best defender not just on UCF, but at the whole tournament. Despite usually guarding the opposition's best offensive player, Koffarnus racked up blocks at a ridiculous rate all weekend, with three different games where he had four or more blocks.
Billy O'Bryan (Florida)
Florida's star was impressive this weekend, whether commanding Florida's offense as a handler or heading downfield to reel in deep shots. He was also the team's best defender, using his athleticism to win multiple jump discs to earn Florida extra possessions. If he can lead Florida to a top 15 showing this season, expect O'Bryan to work his way into POTY conversations.
David Jones (NC State)
The center handler for NC State, Jones was placing pinpoint hucks all weekend long for the Wolfpack. His abilities as a thrower also shined through when he'd transfer over to the D-line, setting up State's junk defenses with impressive pulls (something we don't see enough of in the college division).