Washington quashed any doubt about their bonafides.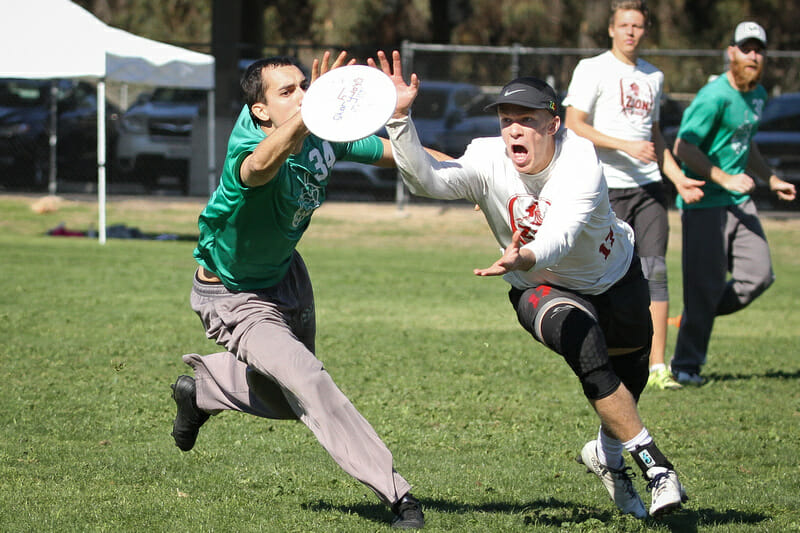 This article is presented by Spin Ultimate; all opinions are those of the author. Please support the brands that make Ultiworld possible and shop at Spin Ultimate!
SANTA BARBARA — On what was close to a stereotypically perfect sunny January weekend in southern California, the Santa Barbara Invite delivered some of the best early season ultimate we've seen in a few years. Featuring a large number of competitive programs, just a single team went undefeated on Saturday during pool play–the eventual champion, Washington–and there were thrillers aplenty.
The tournament sets the stage for what should be an exciting year of west coast ultimate, with Presidents' Day, Stanford, and Northwest Challenge lined up to pave the road to Nationals.
Here's a look at the biggest stories from this weekend at SBI.
Washington's Unrivaled Weekend
The Washington Sundodgers were an oddity heading into this past weekend's competition—an overall No. 1 seed without their previous stars or former head coach. They were talented with a question mark.
At tournament's end, the punctuation had changed to an exclamation point. An undefeated weekend. Only one game decided by fewer than three points. An overpowering performance in the final, outrunning and outgunning Colorado State to the tune of 13-7.
"To be perfectly honest, Washington's just good," said Colorado State head coach Tim Kefalas. "We played them [at SBI] last year and it felt similar. It felt like they were super crisp. Good spacing, good timing, confident with their deeps. I know they got a lot of personnel turnover and coaching turnover, but it felt the same again today. So I give them a lot of props. It wasn't one of those games where we felt like we gave it it away. We certainly had some unforced errors, but they were by inandlarge the most complete team we saw all weekend."
New head coach Mark Burton said he'd believed in the team since he took the job, but that something special had happened in the Sundodgers' last few practices leading into the weekend. Even a week out from arriving in Santa Barbara, he'd hoped the team would be good enough for semis.
"To be honest, in my mind, with the team, I believed in the team the whole time," he said. "And the realistic goal was semis, but the way we pieced the last practices together, it became belief. And the way we played yesterday made me believe we were making the finals and would actually win today."
The Sundodgers' O-line still had Steven Benaloh driving action out of the backfield, albeit with some important changes. First among them was the addition of former Tufts E-Men captain and New England All-Region standout Nick Roberts. The East Coast transplant slipped seamlessly into Washington's offensive system.
Second was the system itself. According to Burton, captains and coaches came together early in the season to talk about assigning roles to the roster, and along the way agreed to give a spread look much more prominence in their set plays and cutting schemes.
"Being an O-line guy, I think it's one of the most important things because you lose games as an O-line. And for me, I hate losing and I'm competitive," said Burton, who was featured on the Seattle Mixtape O-line that helped with a title in the Club Mixed division in 2017. He also said the changes allowed Roberts—traditionally a backfield player—to work downfield. "I wanted to create [plays] where we pushed Nick down field where usually he's a handler…pushing him downfield he becomes that threat of being a hucker and someone who can work the unders."
Without big man Reed Hendrickson in the cutting group this weekend, Jacob Steen, Spencer Lofnik, and Peter Johnson look like naturals hauling in shots from Roberts, Benaloh, and bonafide D-line star Derek Mourad. Michael Buyco played the speedster role chasing down hucks to space.
Mourad, a sophomore this year, was instrumental in the team's success. His pulling was the best we saw across the division during pool play. As the going got tough in bracket play, he took top assignments and got blocks on everyone. After the turn, he spirited the D-line's vertical stack offense to breaks. He's penciled himself into the Breakout Player Of The Year watchlist.
"He's young and surprisingly knows a lot about ultimate," said Burton. "He's that guy that, I think, has a fire for the game and for his teammates. He expects his teammates to step up and play at a level and you need players like that who bring a fire."
The team's tremendous early season performance was good enough to wow coaches and opponents, but it wasn't without its inefficiencies. The D-line forced turns on a majority of their points, but often needed more than one possession to score—inactivity or arhythmic cutting stranded handlers and gave the better teams (especially the talent stacked on the Victoria O-line) opportunities to win the disc back.
Those moments highlighted that, while the team is brimming with potential, there's lots of work to do. With three weeks between the Sundodgers and Presidents' Day, Burton said practice would be all about defense and amping up intensity. A tournament title is a surprising and satisfying first step in the long journey toward an improved performance at Nationals.
"I'm going to let them ride the hype right now," he said. "But when we get back to practice this week, I'm going to knock them off the pedestal. This is nothing. I know that—compared to playing and coaching different things—this is just a baby step one direction and I have to make sure that we stay humble and knock them off the pedestal."
Colorado State Short Of Big Splash, Still Strong
Colorado State Hibida generated a preseason gravitational pull that drew both new notoriety and critical eyes to them as they arrived in on the UC Santa Barbara campus. Grad student and POTY shortlister Cody Spicer, in his now highly-recognizable baggy sweatpants, gathered much of the division's attention in his own orbit.
Utah Zion Curtain, Cal Poly SLO CORE, and Washington each did their part to draw energy off Hibida's campaign toward an early season title, culminating with the Sundodgers' thorough 13-7 drubbing in Sunday's division final. "Coming in we wanted to win the tournament, and we thought we certainly had a shot to win it. We knew the challenge would be we've practiced once outside in three inches of snow, but that's no excuse," said head coach Tim Kefalas.
CSU finished the weekend at 5-3, picking up good wins against Western Washington Dirt and Stanford Bloodthirsty in Sunday bracket play. The points came easily as the Hibida O-line started to hit their stride after a bumpy start to the tournament—they lost 14-13 on double game point to an excited Utah team and 15-13 to a reenergized Cal Poly who regained cutter Nate Pettyjohn and handler Jeremy Dolezal-Ng and were fighting to stay in contention for the bracket. Saturday's 2-2 record reflected the team's inability to connect on the right passes, even though their defensive prowess and effective scheming kept them fighting down to the wire in both games.
"Yesterday we played pretty good defense. We had some pretty tough losses, but the defense was strong. So we knew today the defense would be there and our [offense] would start coming around. And I don't mean lines specifically, I mean actual offense across O and D lines," said Kefalas.
Some of the struggles were symptomatic of new offensive looks. While senior handler Jake Servaty piloted the CSU offense from the backfield last year, the team needed this weekend to get comfortable with him taking his big flick shots from movement out of the stack. Once Servaty and cutter Jake Marrapode were finding their rhythm, making skying grabs for goals was a piece of cake for Jack Hinchsliff. Cody Spicer was the focal point of the D-line and an absolute killer after the turn, but Lucas Beal and Sean Peskin also made plays.
"By the end of the weekend, we were really clicking on [offense] and the [defense] was already there, so we knew we'd have a good Sunday," said Kefalas.
Maybe the weekend wasn't the headline-worthy stuff that some expected, but CSU found all the right spaces during their games. The execution and pace just wasn't quite there. And that's fine. No team is expected to show up at their first outdoor ultimate of the season ready to win Nationals.
"We're disappointed in that we missed our goal, but we only missed it by a little bit," he said.
Victoria Carried To Semifinal By Offense
A 20-plus hour ride on a coach bus from another country wasn't going to rust the well-oiled offense of the Victoria Vikes in Santa Barbara. Their O-line was one of the most potent at the tournament from the first pull of the weekend.
It started with the length out of the backfield. As teams were warming up their defensive schemes, dealing with the long reach and breakmark throws from fifth-year Trevor Knechtel and his counterpart Dawson Pasin (both 6'+) was difficult. With star cutter Ben Burrelle downfield, working alongside rookie phenom Sean Bennett, the Vikes found capable targets who could match big catches and throws with ease. Burrelle, a lefty, was effortless with his leaping ability and continued to use his body well in space. Bennett was a handful, offering a towering backhand to match his cutting.
Their D-line couldn't do too much to break opponents but instead slowed them down. Only one of Victoria's five wins on the weekend came by more than four points —their first against Wash U Contra. They found themselves in four double game point contests and won the coin flip in three of them. The Vikes used a force middle zone that gummed up pull plays well enough, but it didn't always transfer to breaks.
After one of those near misses—a 15-14 loss to USC under the lights on Saturday—former player and now coach Malcolm Bryson reflected on the team's talent.
"The hucking," he said. "Up until this last game, our deep game was awesome. I thought probably the best in our pool. The hucks that were coming out…our guys can throw it really well and we got Dawson Pasin so tall, Ben [Burrelle] so fast—it's just game over for a lot of teams."
Perhaps more impressively, the O-line was effective at earning the disc back after turnovers. Against Washington in their semifinal matchup, Victoria used their height at the front and back of the UW vertical stack to bracket masterfully.
The Vikes picked up wins against all regions present at SBI 2018: Southwest, South Central, and Northwest. Their win over Stanford will look very good down the stretch. But as the season ramps up and this team heads back north for a customary hibernation until Northwest Challenge, the rest of the West Coast competition will be getting better, fast. With Oregon, Washington, Western Washington, UBC, and Utah all on pace for strong years, the Northwest will be very competitive.
Steady Stanford And Wobbly Western Washington
Stanford Bloodthirsty didn't earn their third SBI title in a row this past weekend, but what they lacked in headlines they made up for in experience. The team stuck to three distinct lines that rotated through points together for much of the weekend, and it yielded strong results.
The team put up a 5-2 weekend, got the better of Southwest rival Cal Poly-SLO in a knockout game Sunday morning, and avenged a pool play loss to Victoria late in the bracket to take third place. Their tried and true rhythms in the backfield and in isolation were there, even with Callahan nominee Gabe Hernandez and handler Nick Hirning playing on separate lines.
And when opponents showed junks and zones to force Stanford out of their comfortable vertical or side stacks, Sam Kunz and Grant Lin were clinical with their resets. Kunz, in particular, used his height to his advantage, stepping up into cups, throwing hammers when needed, and finding the faster Lin to move the disc to the sidelines.
If it felt like a developmental tournament at times—like when the team suddenly faced a 10-6 deficit against USC on Saturday and needed to scrap back into a double game point win—that's because it was. Only three players on the roster are new to ultimate this season, and it showed more in Stanford's ability to stick to matchups and play tough defense throughout the weekend. Rarely did the team put players out multiple points in a row.
"We want to get everyone to level up. Everyone has gotten better this tournament and we can still level up more. I'm really positive about that after this tournament," said head coach Ryan Thompson.
A third place finish, especially with gritty wins over Victoria and SLO, is a nice reward for development.
***
Western Washington also turned in a 5-2 weekend, most notable in part for two strong in-region wins against BYU CHI on Saturday and Utah Zion Curtain on Sunday. But between captain Daniel Mah sustaining an injury against BYU and a weirdly lopsided loss Sunday morning on slick grass against Colorado State, Dirt wasn't quite yet the Northwest challenger their talent suggests they might become this year.
Against BYU, the team looked strong, fast, and competent.
"They took the right shots and punished when we sent two guys at a deep shot or an under and it just couldn't miss. So many nice flicks from the break third to the open third, just hit that outside shoulder. I think they probably scored four of those," said BYU head coach Bryce Merrill.
Western had a zone look ready to stifle BYU's movement too. They deployed it with confidence and quickly underscored to Merrill his need to prep his throwers for zone. Mah went down on the final point of the banner 13-10 win. He was up along the sidelines, shirtless and on crutches the next day. Dirt dropped the final pool play game to UC Davis, but had Pool B secure with BYU's scheduled absence on Sunday.
Arriving for quarters the next morning, the team collectively stumbled. Colorado State is perhaps as athletic as BYU, but added a lot more throwing talent to the field and jumped out to an early lead. Western managed a late run in the second half, but couldn't put together enough defense to take the disc away from Hibida as they found their offensive stride.
Dirt rebounded, though, closing out Sunday with their next strong in-region win over Utah and putting away SLO 10-9 to take fifth on the weekend.
Fits & Starts For Cal Poly-SLO
Cal Poly was typical of a number of teams at the tournament: there were moments where they looked formidable and others where they looked completely lost.
SLO had a busy 6-3 weekend. They opened with a nail-biting win over a strong BYU team under the lights on Friday night and then lost a number of key players to injury or illness come Saturday morning. Nate Pettyjohn and Jeremy Dolezal-Ng were limited throughout the weekend, Ian Sweeney roamed the sidelines with a rare fever, and a few other key players needed inconvenient rest. "Honestly, we played decently without them. But it showed. It's good to have sure hands and a nice reset, and when we're grinding for everything, we're going to give it up a little more," said coach Cody Mills.
Dolezal-Ng and Pettyjohn made it back on Saturday afternoon to push the team over the edge against Colorado State. While Pettyjohn occupied Cody Spicer's time and took him out of the play, Dolezal-Ng paired beautifully with co-captain and backfield partner Caleb Meriam to open up options for a SLO offense that hit a low point during their hard-capped loss to Utah. "I think we have really good chemistry between Jeremy and Caleb," said Mills.
Two of the losses—to Utah and Western Washington—were by a combined two points. It was only Stanford, displaying some incredible poise against SLO's very well-coordinated zone and matchup defenses, who bested CORE by more than one point.
Given the roster inconsistencies and coaching changes,1 the missed hucks, lack of resets, and up and down energy on Saturday felt normal for a team that, for the third year in a row, has a high ceiling.
Quick Hits
Utah Zion Curtain started the weekend with a bang! Two wins against SLO and CSU will hold up very well the rest of the season. Even though the team collapsed on Sunday and lost out, they took eighth place after arriving seeded twelfth. Handlers Brenden "Bones" Fischer-Femel and Trey Taylor are the real deal.
Kansas Horrorzontals took ninth on the weekend, finishing in the middle of the pack over a formidable California UGMO. Kansas was a step or two below the top tier, but they have a strong deep game that is good enough to cause problems for any team looking past them.
It looked like much of the tournament field was on a one-year strategy delay. Almost every team came prepared to throw a zone or force middle against a vertical stack, and some of the top teams ran right through it with new spread offense looks. Are we in for a season of offensive variety after so much vertical and side stack in the men's division?
Speaking of zone defense, USC Lockdown had moments of brilliance on the weekend on offense, after making themselves known for their zone in 2017. Sam Cook, Wyatt Paul, and David Sealand make up a core of juniors who caught fire for Lockdown at a few key moments.
A quick thanks to tournament directors Hunter Corbett and Collin Gall. Santa Barbara Invite continues to be very well managed. Suggestion for next year: nix the 3:00 PM round on Sunday.
All Tournament Team
Derek Mourad (Washington)
Cody Spicer (Colorado State)
Nick Roberts (Washington)
Gabe Hernandez (Stanford)
Sam Cook (USC)
Nate Pettyjohn (Cal Poly-SLO)
Branden "Bones" Fischer-Femel (Utah)
Correction: A previous version of this recap incorrectly called Utah handler Trey Young instead of Trey Taylor. Apologies to both the young man from Zion Curtain and the rising star from the Oklahoma men's basketball team. 
---
Coach Peter Raines has moved to Colorado and is assisting with Colorado State. ↩