One of the biggest tournaments of the women's college season is here! Our preview takes a look at 10 reader questions about a momentous Queen City Tune Up field.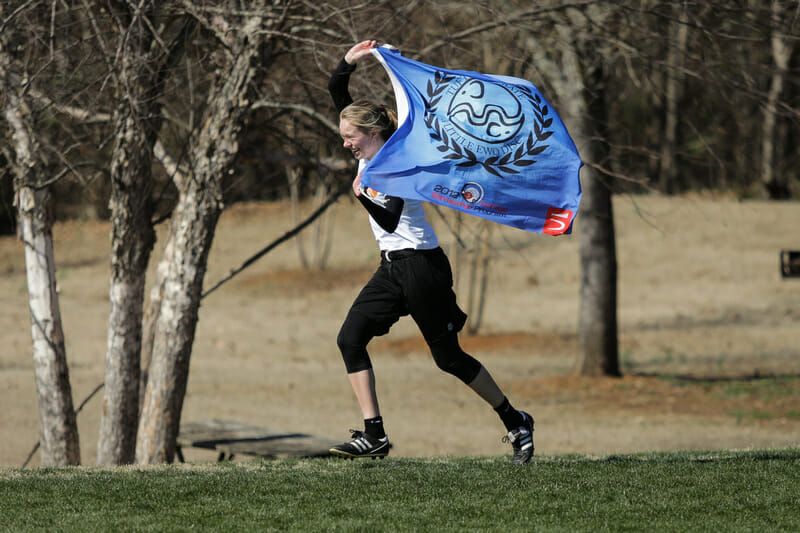 Coverage of the Women's Division at Queen City Tune Up is presented by VC Ultimate as part of their season-long support of our women's coverage. All opinions are those of the authors. Please support the brands that make Ultiworld possible and shop at VC Ultimate!
The 2018 women's college season is blooming, even if "Spring season" feels like a misnomer given the temperatures. An elite field of top teams are headed to compete in Charlotte, NC, in an annual tradition that sets the tone for the season. It also registers as a major early battle in the war for bids. Eight of 10 regions are represented at Queen City Tune Up1, adding urgency to early season games that serve as the first reps for some teams.
With such a deep field this year, there are many questions about who will start 2018 on the right foot. We went to the readers to find out what questions they wanted to see answered. And then we did our best to feign clairvoyance.
Tournament Profile
Date: February 3-4
Location: Charlotte, NC
Weather: Low-30s to Mid-40s, 5-10 mph winds, with high chance of rain on Sunday
Top 25 Teams: 10
Ten Questions to Put the "Q" in "QCTU"
@RickLiebling: Prediction for Ohio State?
Keith: Good question. #16 Ohio State Fever Is no. 7 in tournament seeding, but I think they are in a very favorable pool. Sure, Pool B is topped off by #7 Carleton Syzygy, but the women from Northfield, MN started slow at this tournament last year.2 It's not ideal to see Carleton at the end of pool play, when they may manage to build some chemistry in their new roles so they can maximize on their considerable talent, but OSU is a team that prepares well and already has a tournament under their belt.
We've sung Sadie Jezierski's praises plenty, but Fever benefits from vets like Corinn Pruitt, Tiffany Lim, and Kristen Behrens. They always wrangle in some athletes to convert to ultimate players. And they are one of the best coached teams out there. Expect them to grind out cuts in their horizontal stack, slow the pace from the backfield (unless Jezierski is feeling it), and take shots in motion and with separation from the mark. I'd predict them as a semifinalist, and think they might win Pool B, even if they lose that last round game to Carleton.
@PBNJUltimate: What will it take to beat Dartmouth?
K: An act of god.
MK Anderson: LOL. But actually, teams will need to go into the game ready to play. Many teams automatically accept defeat and play down; it happens in all sports against the defending champions—you play down or you do not play to your potential. Teams will need to recognize their specific advantages against specific players on #1 Dartmouth and capitalize. It might not lead to a win, but it could lead to a couple conversions and good ultimate.
K: It'll help if Dartmouth rests their top end a lot. There's plenty of reason to expect to see little-to-no Verzuh and limited reps for Julianna Werffeli, who played through the club season and in Perth, Australia at the recent U24 World Championships. 
@Jomskylark: Who will be the premiere handler-cutter duos to watch this year?
K: I don't know how to fit Dartmouth into this paradigm, since Werffeli has the best college player on the planet to throw to, but also has Piper Curtis, Caitlyn Lee, and Claire Trop downfield. For other teams? Normile-Russek (Pittsburgh), McKenna-Byers (West Chester), Jezierski-Sieber (Ohio State), and Parker-Wei (North Carolina).
Part of the fun will be discovering new combinations throughout the weekend.
@PBNJUltimate: What are some exciting matchups you hope to see between players or teams?
MK: Wisconsin Bella Donna looked strong at Missouri Loves Company but just couldn't convert when they needed to. They have tall ladies who will attempt to get any disc in the air. Captain Lauren Allin was out for a slight injury in the fall and Sarah Mondschein—who spent the club season with Cincinnati Steamboat—was away for a co-op. Their return might be what Wisconsin needs to tighten up their play and convert on those necessary points. It will be interesting to see if they can step it up and be the high profile team they had been in years past.
K: I'd enjoy getting to see Dartmouth throw Piper Curtis at Notre Dame's Sarah Lipscomb. So much foot speed in that matchup. It'd also be great to get some deep shots to Jenny Wei against the big athletic deeps on West Chester. Team-wise, I'm quite pleased to get #9 Pittsburgh Danger and #11 Tufts Ewo. Each performed well at this tournament last year, and even though Tufts went home with the figurative trophy, Pitt was the only team to get a win over them.
Julia Butterfield: Since this is the first spring tournament for most teams, some people are probably going to have a rough start out of the gate. Do you think the schedule favors any teams getting an easier first few games to get themselves settled vs. it being good to have hard games early while top players are still fresh?
MK: That's just the thing. This is such an early tournament for so many teams that honestly, who knows? Teams that seem like strong contenders for the year might flop and some teams like #13 West Chester might make a showing right at the beginning of the year like they did in Florida at FWC. However, the first game in each pool will be the no. 2 seed against the no. 3 seed, and there are no prequarters, so you have to finish first or second in your pool to make the bracket. That could be detrimental to some of those teams that might need a game or two to remember what a grass field and wind feel like.
K: I look at veteran-heavy teams to find the units that can get wins early. When you enter the season with an experienced roster, you can dedicate more of your season towards advancing the complexity of your tactics and depth of your skill. That extra boost gets you ahead of schedule, and it shows really early in the year.
This makes Carleton Syzygy a prime suspect. There's a wealth of talent on the roster and they are always an intelligent team with good fundamentals. But they are breaking in a lot of new players. Guess what? Carleton has lost the first game of their season in each of the last three years, all at QCTU! And they draw #19 Michigan Flywheel to start 2018, a team that has already played a tournament, on top of closing out the fall at Classic City Classic.
But to your point about depth, West Chester has a tough last round matchup with the host team, #8 North Carolina Pleiades. This game could be to win the pool. That's tough when you've got a short roster and shorter rotation. A lot of the teams I'd expect to be a bit shallower are coming off of byes for the last round, but WCU doesn't have that benefit. Against a team as good as UNC, every bit counts.
@Jomskylark: Dartmouth or The Field?
K: I feel like there are five teams that could win this tournament: Dartmouth, North Carolina, Pittsburgh, Tufts, and West Chester.
UNC, Pitt, and Tufts feel like the easy challenger choices. North Carolina has performed better at QCTU each of the past three seasons, going from a one-win 19th place finish in 2015, to a 6th place finish last year. Maybe it's something in the home cookin'?3 I'd guess it has more to do with the evolution of Jenny Wei and steady guidance of Jessi Jones, which is giving the team a sharper identity.
I like Pittsburgh's roster composition and experience, and when you put a dynamo like Normile at the head of that type of team, it seems like a recipe for success. But last year's underperformance—they never seemed to really get their feet underneath them— makes me nervous, too.
And Tufts? Well, they lost their primary offensive weapons. I expect they'll be able to restock in short order, but it can be hard to make that adjustment quickly, especially if you've been crammed indoors for a few months. But hey, they pulled it off last year.
West Chester is the wild card. They could be on one right now and small rotations are highly effective when everyone else is trying to figure out who fits where. WCU has great cohesiveness; they are not afraid to blow by you, and they are coming out playing with confidence.
"Our FWC win was one of the most incredible moments that we have experienced as a team thus far," said captain Lindsay McKenna.
"It proves to our team and others that West Chester is a team to be reckoned with. And even though we might be small we are mighty," added fellow captain Naya Cruz. Both noted that the team's roster is sparse, but praised the team's athleticism and improvements in decision-making.
While my declaration regarding beating Dartmouth was pretty stark, the more I chew on this, the more it feels like the field. They have a lot more incentive to beat Dartmouth than the other way around.
@UltiDavid: Who are the rookies to watch in the women's division?
K: This is one of the best questions to answer this weekend, because we've got some of the leading contenders making their debuts.
If you're power ranking here, Claire Trop of Dartmouth is easily at the top of the list. She looked like one of the best players on the US Women's U24 National Team, which is saying a lot as an incoming college freshman. I think she'll be firing this weekend, especially if Dartmouth is leaning away from their stars to get them some rest and develop the roster.
There's a doozy of a duo playing for Carleton, too. Nariah-Belle Sims and Isabel Arevalo are two of the most accomplished and seasoned recruits in the division, and with the loss of experience Syzygy is undergoing, and the program's knowledge of how to integrate talented rookies, I expect they'll get plenty of usage in an effort to hone in on their roles.
I'll also be looking out for Mirenli Negron (Kennesaw State), Julia Snodgrass (Dartmouth), Jordan Bricknell (Tufts), and Josie Veal (Georgia). Georgia's coach, Edward Stephens, pointed out that Veal leads the team in assists this Spring, by a wide margin, despite primarily running the D-line. Our own Daniel Prentice left Florida Winter Classic impressed as well.
@Jomskylark: Who is the most underrated or overlooked team in competition this weekend?
MK: #20 Florida FUEL could be a contender. They're generally very athletic and aggressive, and always give a good competitive game. The problem is that there is always a team that is just ever so slightly better than them, overriding that experience and willingness to battle. They are intense and ready to rumble, sometimes to their detriment. With that kind of fire, and a chip on their shoulder, they are a dangerous underdog.
@eric_bens: What under the radar players are you two excited to see in person? I'm thinking of top players from non-natties teams last season or players on top teams expected to take on larger roles this year.
MK: Ari Nelson from Northeastern played on Boston Slow White this summer. She's already a leader in terms of her play style, quick and aggressive. 
Ollie Peterson from Georgia Tech, too. She throws her body around like no other. She was a Runner-Up for Rookie of the Year last year, and will have a little more refined play this year. She has a lot of ultimate background so she isn't just a rookie coming back a second year with the rules under her belt. She'll step up to be a major contributor on and off the field.
Gayeon Ko is Georgia co-captain, she's a very quiet and agile player. She will snatch the disc before you know it and continue playing in a cool and collected manor.
K: I'm the conductor on the Ari Nelson hype train, don't let MK fool you. But my collaborator made some great choices. Peterson can take over a point, and she can keep an overplaying defender from ever regaining balance against her. And Ko is just rock solid.
But while we're touting the Southeast, I've also been trumpeting Samantha Daugherty from Kennesaw State. She's the real deal. The Ozone cutter is long, athletic, and she's accrued skill very quickly. It's not an answer to force her under or for short gainers any more because she will kill you with her throws if you let her. I saw her throwing plenty bending hucks to the break side at Clutch Classic.
Another is Jessie Sun of Pittsburgh. She was very impressive at this tournament as a rookie last year and I think she's in line for a much expanded role. Her versatility is a good fit for Pitt, a team with some nice athletes and throwers that can benefit from a player who can do both.
@Jomskylark: Who will replace Linda Morse downfield for Pitt? How many clutch throws will Normile make and why is the answer all of them?
K: I don't think you can just pull another Linda Morse out of the box. While I have often confused her and Katie Schrieber on the field from a distance4, I don't think it's fair to ask Schrieber, or anyone on their roster, to become Morse. I think it'll be a team effort to replace her production, but Danger have enough viable role players to make it work. Plus, Normile makes every receiver look a little better.
I don't think the math checks out on the followup question, but Normile is one of the most effective handlers in the division and has massive deep throws. Whether Danger unleashes her as a shot-taker or asks her to act more an offensive hub is worth watching for this weekend. She's capable of doing both.
One Question Left: Who Will Win?
MK: Dartmouth will still win the tournament. Even if they aren't going to play Verzuh—like they did at Northwest Challenge last year—the depth each player provides will be strong enough to beat their competition. Verzuh is good, can catch whatever is thrown her way, but in this article you'll see so many other names on Dartmouth that are just as pivotal to their success.
K: It's tempting to take the field, but you're right. There's no reason to doubt Dartmouth. If they show up and treat it like a scrimmage, teams are obviously good enough to get some W's off them. But I'll side with the proven talent.
---