The seven things that defined the season's opening weekend at Florida Winter Classic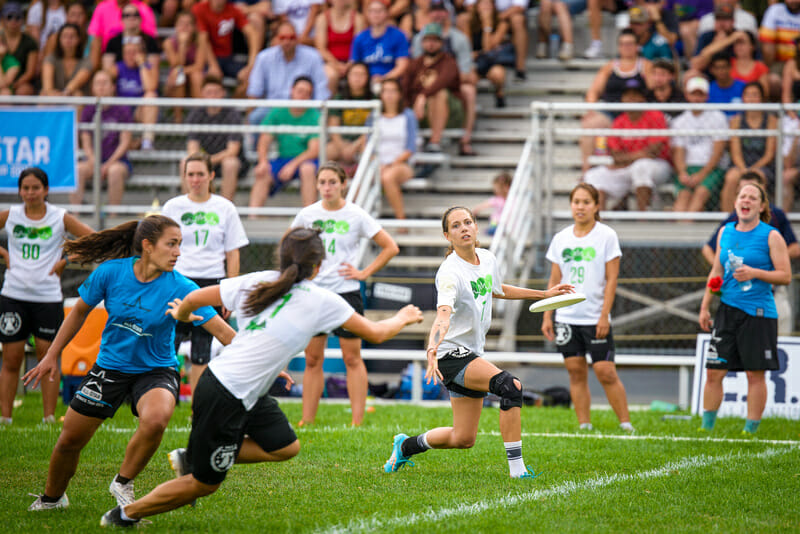 The 2018 college ultimate season began in Apopka, Florida, this past weekend with the Florida Winter Classic. It featured a small field of teams, but a handful that will have hopes of making Nationals this year, as well as some teams that have their eyes on a run in 2019.
While those teams duked it out, seven stories emerged to define the season opener.
Welcome, West Chester
#23 West Chester stole the headlines at FWC and confirmed their status as a team to watch this year. They carried over their trend from the fall of smashing 2017 Nationals teams with 15-3 and 13-6 wins over #16 Florida and #20 Michigan, respectively. After those two games, West Chester had a bye and came back cold in their crossover game with #12 Ohio State, losing 11-4. But they got things right again on Sunday, dispatching an impressive Georgia team in quarters, and crushing Kansas in semis to set up a rematch with Ohio State in the final.
In the final, West Chester was lights out. They were broken only once and that came at the end of the game, when Ohio State no longer had a real chance at coming back. They took advantage of a couple unforced, shortfield turns from Ohio State, but West Chester also played great person defense, particularly on offensive points. WCU plays an aggressive and huck-heavy style, and that means a fair amount of turns. But they did an excellent job of keeping the disc in the Ohio State half of the field when that did happen, and that allowed them to smother their way to breaks, and prevent breaks against themselves as well.
They played very tight lines all tournament, relying heavily on handler and deep defender Lindsay McKenna and mid Danielle Byers. The two played nearly every point. But they were supported well by Liz Hart and Rachel Alfano, the two possessing star qualities in their own right. And they have a handful of supprting depth beyond those four, too.
West Chester will live and die by their top players this season, and their ability to hit on the long ball, but they do have the top talent to make a real run at qualifying for Nationals this year.
It will be interesting to see how the fare against zone defense, something they didn't see in the final against Ohio State1, as teams try to take away those aggressive deep looks. But West Chester proved their results in the series and in the fall last year were not a fluke. They have a very real chance at making it to the big dance for the first time in program history, and they could be one of the most fun storylines to follow and teams to watch play this season.
Bounce Backs
FWC also saw its fair share of drama, mainly in the form of crazy comebacks. Michigan came back from 10-5 in crossover play to beat Kansas 11-10. Kansas came back from big deficits twice to knock off UNC Wilmington in quarters. Florida State came back late to defeat Central Florida in prequarters. The play wasn't always stellar, but there were plenty of close games with exciting finishes.
Perhaps the most impressive comebacks were made over the course of the tournament. Michigan, before their 6-0 run to end the game against Kansas, had a rough Saturday. They lost to West Chester 13-6, and then 8-6 to Florida, in probably the sloppiest game featuring any Tier 1 teams. But they turned their tournament around with that late surge against Kansas. On Sunday, they smashed North Georgia, lost a back and forth battle with Ohio State on double game point, and then knocked off Kansas again in the third place game.
Ohio State, too, had a bit of a rough start to their tournament. The team was without head coach Deanna Ball, and assistant Stevie Miller's flight was cancelled, so she was unable to make it until Sunday. Ohio State had a rough finish in their game against Kansas, just holding on for a victory after having been up big, and then having to comeback after halftime against UNC Wilmington. Ohio State was 2-0, but they were far from convincing in getting there. But then they too turned it around by smashing West Chester in crossovers, routing Florida State in quarters, and just edging out Michigan in semis.
Both teams achieved growth in performance through developing confidence over the course of the weekend. Some of those early rough spots were due to poor weather conditions and the playing time they gave to younger players. But their ability to respond well to not playing well, and improving their performance instead of letting it snowball, bodes well for the rest of their seasons.
The Southeast Taking Shape
Heading into this weekend, the Southeast picture was as murky as it has ever been. It was not a deep region a year ago, and it graduated a lot of its top players. Last year's winners, Florida, suffered through some tough games while trying to get their roster some experience. They also were hurt by the absences of Courtney Testa, who was out with a shoulder injury, and Lauren Bahng, who couldn't make it to the tournament. Those two will likely be the team's primary handler options this year, so getting them back will be big, but even with their absences in mind, Florida's performance has the region feeling wide open this year.
Georgia announced themselves as a team that could take advantage of that. They waltzed through their pool in Tier 2 play, dismantled Iowa in prequarters, and were neck and neck with West Chester for much of their quarters matchup. Alex Fairley is a monster (more on her later) and Josie Veal has to be a heavy favorite to win Southeast Freshman of the Year. There's also some experienced depth on the team in players like Courtnie Vickery and Lilian Zhu. If they continue to play like they did this weekend, then Georgia has as good a shot as any team in the Southeast at making Nationals.
Florida State and Central Florida also had decent weekends. FSU won all of their games, except for their quarters matchup with Ohio State and in consolation against UNC Wilmington, when they played rookie-heavy lines. Central Florida was missing Chloe Baldino due to injury and still nearly knocked off FSU in their prequarter matchup, and they seem to have found a bit of playmaking depth this year, particularly in the backfield where Caitlyn Lucey looks to be a weapon in the making.
Players Missing
Northern teams come down to FWC because it represents a rare opportunity to throw a disc outdoors at this time of year. Michigan coach Ben Murphy said the tournament represented his team's first chance of playing outside since before Thanksgiving. For teams looking to shake off the rust and the frost, it's a perfect tournament. But the timing and location do provide some challenges for teams, too.
Many of the teams in Apopka were still on winter break. As a result, there were a few squads with some pretty significant absences. No team felt that more than Iowa Saucy Nancy, who were missing about half of their roster. They still made prequarters, due, in large part, to the assured performance of handler Brooke O'Hollearn, so it wasn't a wasted weekend, but it's still not ideal to start your tournament with so much of your team absent.
Other teams had similar issues, if not quite as extreme. Kansas was also missing players; about half of their roster for the weekend didn't fly in until after the first round on Saturday.
UNC Wilmington, too, had a small roster, but not because of winter break complications. Wilmington had only nine players at the tournament, missing a couple to illness and a handful who just didn't make the trip. They played remarkably well, considering their limited roster. They lost only twice — to Ohio State after taking half 8-7, and Kansas on double game point — and had consistently strong first half performances, before generally fading late in games. If they bring a few more players to future tournaments, they could be a team to keep an eye on in the Atlantic Coast.
Open Lines
Beyond West Chester, the top teams played with pretty fluid lines. Ohio State and Florida gave a hefty amount of playing time to rookies and other players who weren't heavily involved a year ago. But no team played with more open lines than Michigan. They brought the biggest roster to the tournament and they used all of it.
Michigan doesn't look as though they'll have any true superstars this year, a la Hannah Henkin or Tracey Lo, but they do have the potential for a very deep roster of dependable players. Brittany Wright, Laura Soter, and Mary Boyd all had strong weekends and will likely lead the lines, if this weekend is any indication. And to say they aren't Henkin or Lo is hardly an insult. They're certainly strong enough players to be the best players on a Nationals team. But Michigan's strength this season will be in the number of players they can rely on to make plays. And this weekend was a great start for them in building up and figuring out the entirety of their roster.
The Weather
It had to have been a real disappointment for so many of the teams coming down to Florida for some warm, sunny weather. But it was pretty miserable for 75% of Florida Winter Classic. Saturday was cold, overcast, and windy, and it only got colder as the day went on. Games featured long, ugly points with teams struggling to throw and catch in the wind. Saturday was near-freezing in the morning, but sunny and by the afternoon it warmed up to around 60 degrees. The final two rounds of play were picture perfect; if only the whole weekend had been like that.
All Tournament Team
These aren't necessarily the best players who were present this weekend, but they put together the best individual performances over the two days.
Danielle Byers (West Chester)
Byers was the most impressive player at the tournament. She marked the opponents' best player2; she got open on strike cuts, unders, and deep, at will; and she ripped forehand and backhand bombs all weekend long. Long, athletic, and skillful, Byers shined the brightest in the season's first tournament.
Lindsay McKenna (West Chester)
McKenna, Byers' teammate, goes down as the 1B player of the tournament. McKenna dominated the deep space on defense, and routinely unleashed monster hucks the other way. The team's primary handler, McKenna connected on plenty of long balls, fighting through and with the wind better than any other player at the tournament. McKenna's throws are paramount to West Chester's gun-n-run style offense, and even when she misfires, her ability to flip the field is key for them in those long back and forth points.
Corinn Pruitt (Ohio State)
One play in the final perfectly exemplified what Pruitt brings to Ohio State. In the first half, with her team still very much in the game, Pruitt burst deep. A big, bending backhand sailed through the sky. A beautiful throw, but one that looked like it would be just out of reach. Until Pruitt launched herself, flew completely parallel to the ground, snagged the disc, and crashed back down to Earth in the endzone. Easily the play of the weekend.
Alex Fairley (Georgia)
Georgia had a strong showing in Apopka and Fairley was the biggest reason why. She simply could not stop scoring. She must have scored close to half of Georgia goals. Her speed, quickness, and timing make her a major weapon down near the endzone. Even when teams knew she was the team's primary option, there was little they could do to slow her down. This weekend, Fairley announced herself as a candidate for Southeast Player of the Year in a big way.
Rachel Alfano (West Chester)
Alfano was a goal scoring machine for West Chester. She has a tremendous ability to box out and maintain positioning and she's equally adept at getting open deep as she is at scoring scrappy, short goals. Alfano doesn't have as great a two-dimensional game as Byers or Hart, but she has a nose for goal, and with the talented throwers on her team, that's an invaluable skill.
Sadie Jezierski (Ohio State)
That throw for Pruitt's massive layout score? It was Jezierski's. Jezierski had a fair few turnovers on the weekend, but she also made plenty of plays that no other player was capable of. Her around backhand is truly something to behold, and was West Chester's biggest concern in the tournament final. She's an aggressive and fun player to watch and this weekend was no exception. Had it been less windy on Saturday or had she been just a bit sharper on Sunday, she likely would have been higher up on this team.
Abby Kent (UNC Wilmington)
Wilmington's small numbers meant all of their players were going to get a lot of touches. But Kent stood out among her teammates. A consistent option for the team's primary handler Hannah Samuelson, Kent was tireless as a cutter and on defense. Wilmington is in a rebuilding year this year, but every single player who was at FWC for them this weekend will be back next year, and Kent is a big part of why Wilmington should feel optimistic about 2019.
---
Captain Sadie Jezierski said after the game this was due to the team's rookies not having had a chance to go over zone play yet ↩

her matchups with Jezierski were especially fun ↩