No team was safe!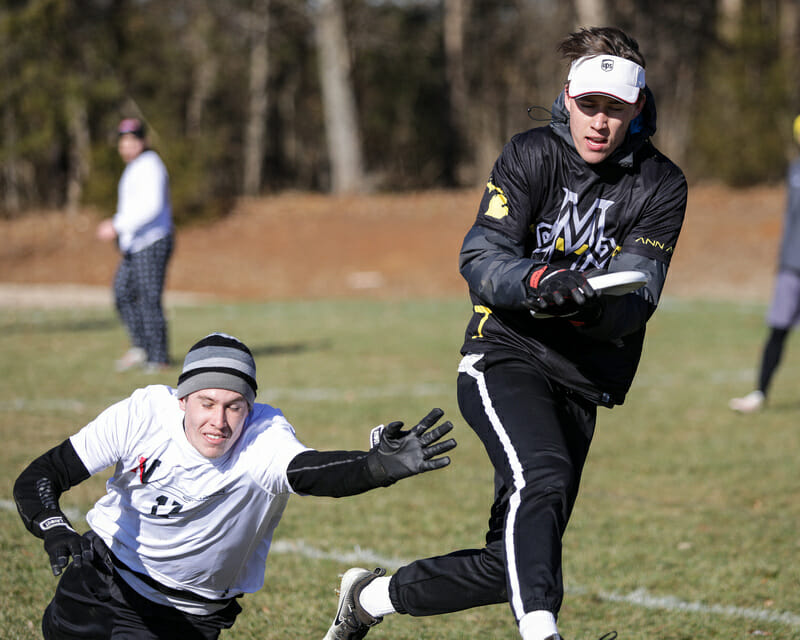 This article is presented by Spin Ultimate; all opinions are those of the author. Please support the brands that make Ultiworld possible and shop at Spin Ultimate!
CHARLOTTE, N.C. — East coast teams got a chance to shake off the winter rust today as twenty four teams took the field at the Queen City Tune Up for one of the country's premier early season tournaments. While there may be rain in the forecast for bracket play tomorrow, there was nothing but sunshine on Saturday. In part due to a questionable new format (pools of six, five games to 11, no byes), there were some head scratching results. Perhaps this was foreseeable, as lower scoring games give way to higher variance results. But whether it was the format, early season wackiness, or just genuine upsets, the results from Saturday leave us with a bracket few saw coming.
The most surprising results came from Pool C, in which top seeded Massachusetts fell to Virginia Tech in the first round of the day, giving Burn the pool. UMass lacked killer instinct on defense, failing to convert the break opportunities that Virginia Tech gave them, and losing long drawn out points as Burn utilized their size advantage to win several aerial battles. While UMass still made quarters, finishing second in the pool sets them up for a first round matchup with tournament one seed UNC on Sunday morning, something they surely would have liked to avoid until the finals.
The biggest shock in pool play was perennial powerhouse Pittsburgh crashing out of contention, coming in fourth after struggling to start the day. Pitt dropped their first game to a feisty Maryland squad 10-9, in a contest that saw neither team get a break despite numerous opportunities. This put them up against Massachusetts in what was essentially an elimination game. UMass was able to put pressure on the shaky Pittsburgh handling core and walked away with an 11-8 win.
Pool B featured its own fair share of surprises, as 10th seeded Northeastern emerged as the pool winner. They played intelligent possession offense and took their opportunities on defense to beat a tired Connecticut 11-7, the same UConn team that had just scored a big double game point win over Michigan Magnum the previous round. While Northeastern came out on top, Michigan was probably the most impressive team overall in the pool. While clearly still getting their outdoor legs under them, Magnum was one of the most clinical teams on Saturday. High Five players Jake Steslicki and Daniel Lee were dominant and could be a handful on Sunday if they stay hot.
The cream rose to the top in Pool D, as both UNC Wilmington and Auburn comfortably advanced. UNC Charlotte made some noise by upsetting Penn State and Case Western, but even with Ring of Fire standout Jacob Fairfax, they were unable to really put a scare into either of the top two seeds in the pool. Wilmington was able to take the top spot by beating Auburn, disrupting Aetos's offense and winning a gritty defensive battle with their superior athleticism and depth. Kevin Mateer took the majority of Wilmington's touches in the backfield, but it became clear that they will need to share that burden if they want to remain undefeated here in Charlotte. They don't have the same ability to simply out-talent teams that they have had in previous seasons.
The story of Pool A was a simple one: North Carolina are as good as advertised. They swept aside their opposition without ever getting out of first gear, often scoring in three or four throws. Even without Matt Gouchoe-Hanas, the offense never broke a sweat, and the defense was aggressive all day long. Sophomore Kai Marcus was given a bright green light off of the turn for the D-line, as he spent most of the day launching towering hucks that more often than not were corralled by Carolina's deep cutting core.
While North Carolina State couldn't touch their intrastate rivals, they were clearly the second best team in the pool. They rode a hot hand from D-line leader Rhys Gretsch to break Georgia three times in the first half which gave them the cushion they needed to hold on for an 11-9 win. They also got solid play from David Jones and Conor Chickos all day to hold seed and earn a spot in the quarters.