The top teams at QCTU have come out firing, setting up for a dynamite Sunday bracket. But don't overlook some of the surprise squads that overperformed their seed.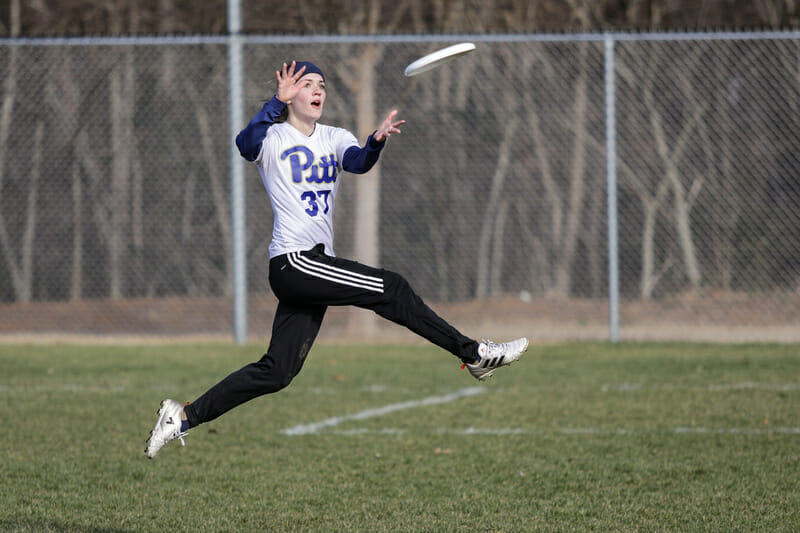 Coverage of the Women's Division at Queen City Tune Up is presented by VC Ultimate as part of their season-long support of our women's coverage. All opinions are those of the authors. Please support the brands that make Ultiworld possible and shop at VC Ultimate!
CHARLOTTE, N.C. — Despite the chilly temperatures, the women's college ultimate season continued to heat up in North Carolina today. Which teams would advance to the championship bracket and which would be relegated to consolation play wasn't decided until into the hard cap of the final round. And the matchups in the bracket are the tempting fruit of Saturday's labors.
Wonderful No. 1s
Even with stiff competition, the top seeds in each pool managed to stay there, and three of the four went undefeated. For most of the day, they were the most impressive teams, passing the eye test to support their pretty records. All four stacked up point differentials exceeding +20, maxing out with Dartmouth's +33.
For #1 Dartmouth Princess Layout, they did their work without some of their top players. Jaclyn Verzuh looked more like a future Coach of the Year than POTY and was joined by Piper Curtis on the sideline. Julianna Werffeli played sparingly. But it didn't matter. They benefited from playing in the weakest pool – the right of the No. 1 seed – but took care of business behind the play of Lily Eisner, Caitlyn Lee, Mae Hardebeck, and Claire Trop. It never felt like a team could take them out of their game, and nobody registered more than six goals against them. There were only 13 instances of a team reaching the 13 point cap, while Dartmouth hit that mark in every game.
#7 Carleton Syzygy hit the ground running, bucking the trend of slow starts. Facing #19 Michigan to start their season was a tough test, but Syzygy's depth and discipline allowed them to stand up to the challenge. They routinely could field lines where all seven players could be counted on to throw 25 yards upfield or break the mark for a reset.
"We have a lot of people that are comfortable in the cutter and handler positions," said captain Naomi Price-Lazarus after Saturday play. "We have cutters who could practically be handlers."
Even though the team lost 10 players after last year, the development of their sophomore class and the influx of talent from their rookie class makes them young, but experienced, and talented. No team was more effective at walking the disc 70 yards; they eschewed the huck-heavy strategies of early regular season play to rely on execution. Continuing on this trajectory will make them one of the best teams in the division.
It was a great start to the season for #8 North Carolina Pleiades, whose +25 point differential was second in the field. UNC looked deep and aggressive, particularly in the air. They were routinely winning jump balls and controlling the deep space with their legs rather than their throws.
"We have quite a few younger players that are really good in the deep space," said captain Elisabeth Parker after they clinched the pool with a 13-8 win over #13 West Chester.
Of all the teams at the tournament, Pleiades was also the best at controlling the tempo. The host team was ruthless after turnovers, often intercepting opposing throws instead of swatting them, and then immediately engaging on offensive before the defense could collect itself. With an athletic team that generate turnovers, UNC's pace-pushing could be effective in the bracket.
Through their first four games, #9 Pittsburgh Danger and their suffocating defense had only given up 10 goals. They forced frequent dump turnovers and run-through blocks. Key layout blocks punctuated defensive stands. It was a grind for teams to respond. Their offense got loose with the disc against #11 Tufts in the final round of play, particularly in the red zone, and they couldn't find the efficiency necessary to get past a smart Ewo defense. But with Tufts's loss to NC State to start the day already in the bank, Pitt was a near-lock to advance even before the game began.
Don't Doubt The Double Digits
Georgia Athena finished second in Pool A, getting the better of Virginia, Cornell, and Notre Dame, compiling a 3-1 record. They're the third team in the past three years of QCTU to make the bracket despite being no. 13 seed or below.1 For a brief moment, they looked like they might test the faction of Dartmouth that was playing, and while that didn't come to pass, it was as close as anybody got. It's been a tough few years for Georgia, but the Southeast crown looks up for grabs, and Gayeon Ko, KT Truszczynski, and Alex Fairley give them some competitive and capable options. If they develop more depth, they may continue to get meaningful Sunday play at tough venues.
While Georgia was the lone lower seed and unranked team to make the bracket, there were other standouts at the Ramblewood Soccer Complex. NC State landed the round one upset over Tufts utilizing a variety of defensive looks, and continued on to a 3-1 record in Pool D. Ashley Powell remained the leader for Jaga Monsta, and Alix Robbins provided a big downfield target. A very young but spirited Georgia Tech team rallied late in the day for a surprise upset over Michigan to go 2-2 on the day. The loss knocked Michigan out of the bracket, and showed how scrappy Wreck can be, certainly lighting the way towards their future. And Northeastern outgunned #20 Florida and gave UNC their best game of the day. Their handler-driven vertical stack created plenty of opportunities for power position hucks and quality break side looks.
For these teams, the tournament is far from over, and consolation play will be key to establishing how legitimate they are.
Tufts Turnaround
While Tufts Ewo is one of the top ranked teams at the tournament, there were some questions about how their 2018 outfit would perform. Without some of last year's playmaking veterans, there was certainly a chance their offense – especially the early season version – would struggle. A turnover-filled loss to a smart NC State team to start the tournament seemed to confirm those suspicions.
But perhaps more than any other team at the tournament, Tufts got better each round. Megan Wilson, Valerie Willocq, and Hannah Wells kept things humming in the backfield. Hannah Crowley, Claire Dunn, and Margo Urheim found a rhythm downfield. Crowley was a blur coming out of their vertical stack and their most effective weapon offensively.
To close out their Saturday, Tufts got a great win over Pittsburgh, making them the only team to dent a no. 1 seed's record. Their team defense was strong and their marks disruptive, so even though their offense wasn't explosive, Ewo could keep Pitt from gathering momentum. They lack offensive dynamism at this point, but there's enough skill to be a foundation for bigger and better things. Few offenses were as patient, and Tufts's high stall completion rates were abnormally high for a tournament less than 100 hours after January.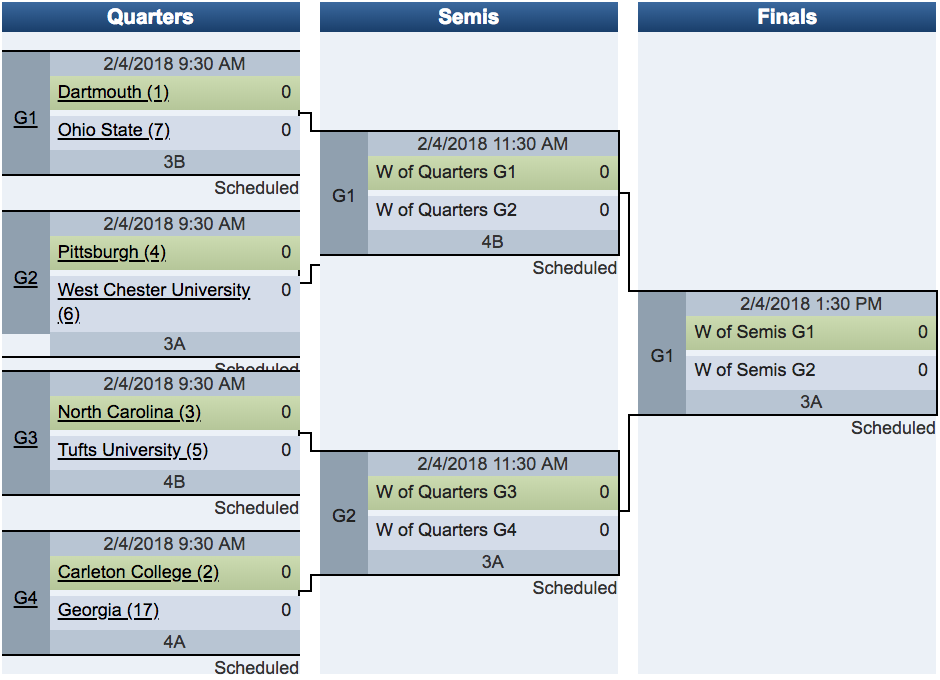 ---
Or 4th or below in their pool, in other words. The other two were Notre Dame and UNC Wilmington, both in 2016. ↩