Gotta admire the irrational confidence from Butler!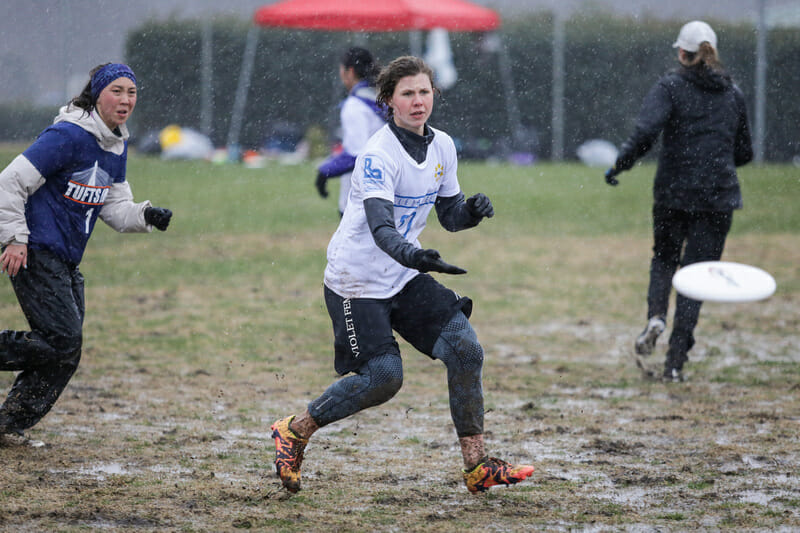 This season, we're trying something a bit different. Every Friday, our team will look at the exciting stories, teams, players, events, quirks, and all the inbetweens, and highlight five that have them hyped for the weekend of ultimate to come. Check out what's caught our eye and let us know what you're looking forward to in the comments.
This Week's Roster
Sam Echevarria, D-III Women's Editor
Mike Ball, D-III Men's Editor
Keith Raynor, College Content Manager
Simon Pollock, Managing Editor
Katie Raynolds, D-I Women's Editor
The Five
Sam: A Call to Action: Tweet Your Hearts Out, Ladies
This weekend's schedule has got me almost giddy with a ton of teams in the D-III women's division—representing over half of the regions—cleating up, some for their first tournament of 2018, others for their second or third. We'll see more squads in action this weekend than we've seen play up until now combined, including (but not limited to) Top 10 teams Williams, Bowdoin, Skidmore, SUNY-Geneseo, and Wesleyan, along with several others further down the rankings or just outside like John Brown, Carleton, Amherst, Pacific Lutheran, Truman State, Haverford, Lewis & Clark, Allegheny, Portland, Missouri S&T, Davidson, Swarthmore, and Oberlin.
I'll be checking Score Reporter every half hour with the faint hope of scores being updated after rounds, but I know I'll also be refreshing Twitter like it's water in my personal frozen ultimate desert that is currently the Midwest. This is probably old hat for a lot of you, but here are my tips for upping one's team Twitter game:
Don't tweet much? Have an injured player who's already checking Instagram on their phone anyway (or if lucky enough, substitute a parent on the sideline who understands the basic gist of how points work) and get those numbers out there for the world to see.
Don't know your team's Twitter info? I can't think of a better way to spend your car ride to the field than having an entire backseat of rookies cold-texting (or even calling—who said ultimate can't give you real world skills?) the captains of yore to get the password or reset it.
Does your team already consistently tweet your scores? Congratulations, you're ready to step up your game to give those of us beyond our college years who use Twitter a direct line to the real action. I'm talking about the best parody song lyrics to popular songs, how miserably and consistently your team loses the flip and/or spirit games related to catching food with your mouth, or maybe a pic or two of the coolest jerseys at the tournament (okay, that one's probably just something I want to see).
That said, at the end of the day I'll still be eternally grateful for the classic "us 5 them 3" occasional tweet if that's what your team has the capacity to dish out between your scores and pulls. That said, instant cred and permanent thumbs up from me for any team who goes bold and brings us some D-III women's Periscope action.
Mike: A Little Irrational Confidence Never Hurts
At Ultiworld, we are always open to emails that provide us with information we might not otherwise have. The world of college ultimate is gigantic, and although we do our best to cover it all, inevitably certain stories will be missed. Earlier this week, our editorial team received the following email:
Good evening,

I just wanted to make you aware that Butler Ultimate is entering the sanctioned D-III ultimate division for the first time as a start up team and we are fully confident in our ability to win D-III nationals in our first year.

Thanks, [name omitted]
The most likely scenario here is that Butler will not win D-III Nationals. They probably have a couple of good players who are giving the team this kind of confidence. They could potentially score an upset or two, but probably don't have the experience or depth to even make it past Regionals.
But to hell with that. I hope this is ultimate's version of Babe Ruth calling his shot. I hope Butler runs the table and wins the national championship while going undefeated. I'm a huge advocate of this kind of irrational confidence and hope it works out for them.
Of course, this is the more likely outcome. But either way, I'll be keeping an eye on Butler for the rest of this season.
Keith: Will Teams Draw The Line With Ultiment?
Sixty-three men's and women's teams are headed to Yardley, PA this weekend, mostly for their first tournament of the season, Bring the Huckus. Few of the D-I teams have any aspirations of Nationals, most just hoping to get to and do well at Regionals; the D-III teams range from teams that could challenge for a National title to teams that won't qualify. This isn't Easterns or Northwest Challenge or Stanford Invite, but away from the livestreams, observers, and highlight cameras, much of college ultimate's meat will take place.
But what I'm looking forward to are the reactions to this event. Bring the Huckus is the first Ultiment event of 2018, a tournament hosting company that has been the center of annual criticism online. Complaints range from poor field quality to bad tournament management to short round times. In 2015, reports are that they didn't even have field permits for their field site. And yet, despite the constant teeth-gnashing, desperate teams flock to the events hopeful, but often leave disappointed.1
For many of these teams, there's simply no other options. Nobody is stepping up to host alternative tournaments for the teams of the Metro East, New England, and Ohio Valley. And besides, there are few traditions in our game greater than complaining about something endlessly online and doing absolutely nothing about it offline. Ultiment has a $1000 cash prize up for grabs at Bring the Huckus, as well as some hotel deals arranged and some swag for attending. Does that make up for the shortcomings? That's what I'm looking forward to hearing about.
And if their tournament leaves its attendees feeling taken advantage of? I'd love to hear that they are doing something about it. But I'm not counting on it.
Simon: What Sound Does This Catch Make?
Let's play a game. What sound does this catch match? Submit your favorite effect along with this GIF, and we'll shout out the winner in next week's column.
This is Washington Sundodgers O-line cutter Michael Buyco, showing us some impressive hand-eye coordination during his team's 12-7 win over the Oregon State Beavers in pool play at Presidents' Day this past weekend. (Send submissions to [email protected] or reach me on Twitter @scooberFTW .)
Katie: Questions for Commonwealth Cup
This weekend several of the top Atlantic Coast, New England, and Midwestern teams will attend Without Limits' Commonwealth Cup in Axton, VA. The weather should be chilly and rainy, which all of these teams are used to at this point. Here's what I'll be looking for from these D-I teams, as I watch from the equally-chilly upper left of this country:
Who Will Win Another Tufts v. UNC Game? These teams met on Sunday at Queen City Tune-Up, shortly before the rains canceled tournament play. Tufts won that game 7-5. UNC is the no. 1 seed this weekend, but Tufts is close behind as the no. 2 seed. Both teams came out of QCTU will similar report cards: promising, but we want to see more. North Carolina benefits from the dominance of Jenny Wei, a quick-paced offense, and fast transitions. Tufts plays with good depth and a strong cast of players moving into the roles left open from graduated players. If all goes to seed this weekend—and it almost never does—we'll see these teams battle it out once more. Hopefully with less rain.
How good is Michigan? This will be Michigan's third tournament already in 2018, and so far the results have been… mixed. They're 5-5 so far between Florida Winter Classic and Queen City Tune-Up, and they don't have any convincing wins that can push them any higher than #22 in our Power Rankings. A pool play win over UNC or an upset over Tufts would make their season trajectory much more promising for this program that's long had a high pedigree.
Where's Pittsburgh? OK, this isn't a question for the weekend, and I do already know the answer. But Pittsburgh Danger has been a mainstay—and champion—at this tournament for years. This year, they are traveling to attend Stanford Invite instead, which will happen next weekend. Their move is part of a bigger narrative that's been happening for years: teams are spending the money to travel west to find the best competition, and hopefully in some sunshine.
Could Virginia Bounce Back? A no. 7 seeding is a tough look for a team that was a national semifinalist just two years ago. Virginia has already lost this season to some of the teams seeded above them, but much of their team had the flu at Queen City Tune-Up, which could really be the ultimate early season hustle. Virginia is my favorite east coast underdog, and an upset or two would be fun to watch (on Twitter).
---
It's worth noting that the internet does seem to magnify the voice of those with complaints. ↩