North Carolina continued to trend upward with an impressive tournament victory, including a win in the final over Tufts. Plus, we talk D-III women's in the Atlantic Coast!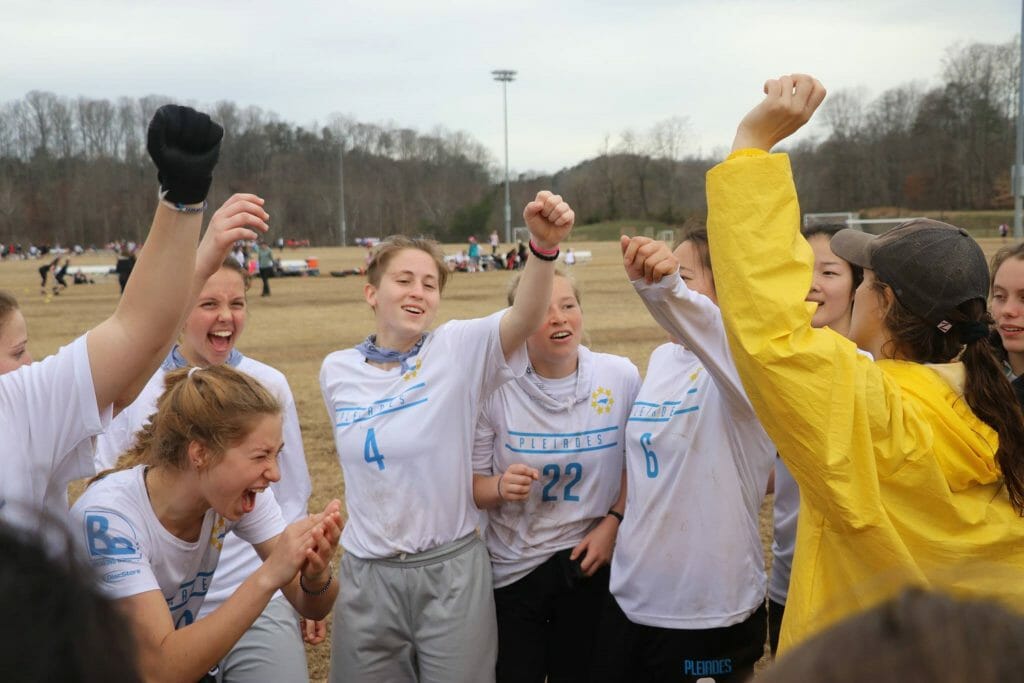 Coverage of Commonwealth Cup is presented by VC Ultimate as part of their season-long support of our women's coverage. All opinions are those of the authors. Please support the brands that make Ultiworld possible and shop at VC Ultimate!
AXTON – The first 2018 college event hosted by Without Limits featured six ranked teams in two power pools of four, along with six more evenly distributed pools of four. While the top two highest ranked teams met in the final, the other semifinalists were surprising for their own reasons. We even got a peek at the pecking order in the D-III Atlantic Coast. In the end, however, North Carolina was clearly the strongest team in the field, navigating close calls against strong opponents to win the tournament.
North Carolina Displays Depth, Poise Missing Key Players
Ask a sidelined Bridget Mizener and she'll tell you: it's a bad time to be sick. #8 North Carolina Pleiades had to do without the young sophomore at Commonwealth Cup on Sunday, along with several other key players. Bridget Johnson was sidelined by a concussion on a layout block against Michigan, and Vany Nguyen was out for the weekend with a concussion of her own. Despite missing those pieces in the bracket, UNC not only avenged a fall loss to their young understudies on the Triangle Tourists, but roped in their first tournament victory of the season and second straight Commonwealth Cup title in a wall to wall Sunday performance. Depth is UNC's greatest asset and with only a roster of twenty, the extent of UNC's skill, conditioning, and clever defensive looks put them a step ahead of their Sunday opponents.
"We think our emphasis on endurance work showed when we were able to push through and continue relying on our legs in the 4th game of the day, even after playing quarters to universe and semis to soft cap" the Pleiades captains noted after the weekend.
UNC's speed may be their second strongest weapon. At Queen City Tune Up and Commonwealth Cup, Pleiades was able to outpace opponents. Against zone looks, North Carolina struggled at first to open up the field. In the quarterfinals against the Tourists, UNC's D-line struggled to get breaks as the Tourists' O-line defaulted to a zone that gave UNC's handlers trouble attacking downfield. The key to unlocking Tourists' zone came with a desperation crossfield hammer by Elizabeth Parker that opened up the backhand side. Despite the steadiness of UNC's offense, the Tourists came roaring back from a 7-5 halftime deficit to force double game point in soft cap. A handblock by Tourists' Abigail Barry on Jenny Wei was answered quickly by a run through block by Wei, who then took off deep to chase down a floating huck from Parker and seal the win with an assist.
The highly anticipated rematch from an unfinished game between UNC and #10 Tufts Ewo at QCTU came in the final. Tufts was coming off a heated double game point victory against North Carolina State. Both teams showed visible signs of fatigue that affected their consistency, but it was UNC who came off best. Drops and throwaways plagued Ewo early, while North Carolina pulled way to a 7-4 lead to take half. Ewo narrowed the lead to 9-8 when sophomore April Weintraub hucked over Pleiades' zone to Sam Schmidt. UNC continued to use attrition against Ewo, content to go zone on O-line turnovers to force Tufts into small five to ten yard spaces on the backhand sideline. North Carolina's powerful offensive trio of Parker, Wei, and Anne Worth finished off Ewo as each player touched the disc in quick succession out of their stack for the 12-10 victory.
Wei's impact on the weekend was palpable as she continued to act as UNC's deep defender, who could also marshal the offense to a break on a turn or take off downfield as needed. Against Tufts, Wei racked up four goals and five assists, solidifying a complete tournament-long performance by the fifth year. Wei's presence on the field was perhaps summed up best by Tourists' coach Bryan Dobyns as Wei came off the field following UNC's victory.
"You made me miserable" complimented Dobyns.
It was more than Wei's presence, however, that kept UNC ahead of the pack this weekend. The contributions of their players extended up and down the roster. It's fair to say that we have yet to see them play at full strength throughout the entirety of a tournament. With Pleiades still untested against any west coast squads, Northwest Challenge will be an exciting opportunity for what is undoubtedly the best team Chapel Hill has fielded since 2014.
"We don't really sit players on our roster. While that's challenging over the length of a tournament, it's an exciting and fun group to play with" said Parker.
Tufts Ewo Still Building
It still feels like we haven't seen Tufts at their best this year. While there was some satisfaction in avenging their double game point loss to NC State from QCTU, the inability to find an answer to UNC's zone late in the day or a consistent offensive rhythm plagued Ewo in the final. Execution errors in offensive sets gave UNC too many opportunities to convert breaks. Like UNC, Tufts' twenty person roster meant no players really sat. Fatigue had a noticeable affect on their performances in the final. For a team known for its strong fundamentals, especially in the backfield, UNC exposed some key weaknesses in Tufts' ability to attack a zone. Especially in the second half, UNC hemmed in Hannah Wells on the sideline and stifled downfield movement from Hannah Crowley and Margo Urheim.
Tufts' greatest strengths lie downfield and, the final aside, they were successful at overwhelming teams with a mixture of person defense and clever zones that capitalized on the windy conditions Saturday afternoon. Crowley and Urheim are a particularly fun pair of receivers to watch. Their steadiness and the contributions of their rookies helped propel them past NC State in a drawn out 11-10 win that got very chippy towards the end of the game. With Centex drawing a wealth of talented teams, Tufts has its work cut out to continue growing into the team they've alluded themselves to be. Their execution errors can be mended, and with so many new faces, gaining big game experience that pushes their varied offensive looks is still a high priority.
NC State: Second Team in the Atlantic Coast
That title used to reside in Chapel Hill. Now, with UNC on the rise and Virginia looking more and more out of the picture for Nationals, NC State Jaga Monsta is the clear number two in the Atlantic Coast coming out of this weekend. They utilized a very well-spaced side stack that exploited the athleticism of their receivers while allowing Ashley Powell and Becky Ellis to distribute the disc as they liked. On defense, they got huge contributions out of sophomore Rowan Jaynes, a budding young athlete.
"She really has the drive to get better and it's paying off. She's still learning a lot about the game but had big Ds in so many crucial moments this weekend," commented captain Ashley Powell.
The familiarity between State and Tufts fueled their heated semifinal matchup. NC State played aggressive defense and rallied from an early Ewo break to force a double game point. The final point was filled with errors by both teams and calls that slowed the pace of the game to a crawl. Despite several golden opportunities to march up the field and break, NC State could not stay focused enough to string a point together.
"We need to get better about being locked in at all times." said Powell post-tournament. "I think this weekend is a great example of how high our ceiling is and also how much improvement we still have to make."
Michigan and Virginia Falter Against Elites
The jury may be closed on #22 Michigan Flywheel. The verdict is certainly in on Virginia Hydra. Neither team quite had what it took to match up close with the top seeds. Against North Carolina on Saturday, Michigan crumbled in the wind as UNC went on a 15-7 rampage. In their Sunday rematch, it was UNC's own errors much more than defensive pressure that opened the door for Michigan to inch within two points of the lead after going down 8-3. Michigan will be relatively safe in their region, but their offense needs some significant work if they have ambitions beyond showing up at Nationals.
UVA was barely able to avoid being blanked by Tufts on Saturday and was clearly a step behind the other regional caliber teams they faced. They've been racked with injuries, and that surely plays some part in their early season woes. With a meager 1-5 record, it is truly a rebuilding year for the former Atlantic Coast powerhouse. It will take a big effort to get this team back to fighting strength and that effort will take more than this season.  
D-III: Preview of the Atlantic Coast Conference
Of the four D-III teams who came to the Commonwealth Cup, all of them belong to the Atlantic Coast: #20 Catholic Nun Betta, Davidson DUFF, Elon Wild Rumpus, and the Richmond Red Hots. These teams faced stiff competition in pool play, with the four teams going 2-12 collectively.
On Sunday, all four of the teams landed in the 25th place bracket, resulting in two games featuring intra-conference competition. In semis, Richmond went up early on Elon to take half 7-2, anchored by the handler Adrian Matthews and harnessing the speed and agility of Alexis Porter and Mimi Tran to build momentum on offense. While Elon clawed back in the second half, Richmond's cushion kept them ahead to win the game 12-7. On the other side of the bracket, William and Mary beat Catholic on double game point (11-10), setting up the second D-III meeting of the day with Nun Betta facing Elon in the 27th place game.
Elon, led by coach Rachel Johnson, showed no fatigue at the start of the final game. Captain Emily Camden stood out due to her keen field awareness, the combination of smart decision making, plus height, and speed made her difficult for Catholic to contain. Fellow captain Molly Spero also shone downfield, using her athleticism and endurance to grind through long points. Handlers, including captain Emily Bell and Maggie Filipowich, maintained patience through gritty dump cuts and looked to fellow handler Olivia Ford to extend the field with her hucks and to frustrate Catholic with her agile defense. These players led the charge for Elon, who earned the first three points of the game and took half at 7-5.
With the ghost of double game point loss lingering in recent memory, Catholic buckled down in the second half, using leadership from captains Grace Castro and Christine "Gram" Tomasic to turn the tide. Catholic finished the game on a 5-point run, relying on Theresa Button, Lauren Coene, Katie O'Brien, Alexa Ruotolo, and Liz Shoemaker to serve on the team's power line, and claim the 11-9 win.
In the 25th place game, Richmond began a strong performance by securing the first two points against William and Mary. While the Red Hots tied up the game at 5-5, William and Mary took half 7-5 and carried that lead to finish the game at 10-7. The fourth D-III team, Davidson, did not have a chance to meet any intra-conference competition over the weekend, and the team's performance reflected their small roster. After an unexpected event caused a few last minute drops from the team's competition roster, they were forced to play savage on Saturday and gained one sub on Sunday.
Triangle Tourists Continue to Clown On College Teams


Nuff said.
All Tournament Line
Jenny Wei (North Carolina)
Probably the best singular performance at the tournament came out of the UNC fifth year as she rotated onto both lines and went to work as a handler, receiver, and defender. Wei is one hundred percent healthy and continues to be the rock of Pleiades' deep roster.
Elizabeth Parker (North Carolina)
The UNC senior was the key linchpin of their backfield. Her team's deep game relies heavily on Parker's connection with Wei and Anne Worth. Parker showed a veteran level of balance between aggressive shots down field and calm disc movement.
Rowan Jaynes (NC State)
NC State's young sophomore was one of the most exciting players to watch this weekend as she came up huge on blocks and possession saving plays. Her throws are developing quickly and her upbeat presence has a marked impact on the performance of the team.
Hannah Crowley (Tufts)
Tufts' senior receiver and Boston Wildcard vet is an athletic menace and churned up yards downfield. Alongside Margo Urheim, Crowley is one of several Tufts' athletes that makes their core of receivers so dangerous.
Anne Worth (North Carolina)
UNC's star receiver continued to shine downfield for UNC with smart cutting and a blazing fast first step. Her quickness and cutting IQ make her hard to stop. Worth was more than happy to also take a step back and help direct players in UNC's end zone sets.
Hannah Wells (Tufts)
Wells has big shoes to fill as a primary handler for Tufts following JoJo Emerson's departure but she was in her element this weekend leading the charge for Tufts. With pin point break throws and an ever-expanding resume competing against top programs, Wells will be a key engine for Tufts' offense moving forward.
Abigail Barry (Triangle Tourists)
Because All Tournament Lines are All Tournament Lines. Abby Barry played very well for the tourists this weekend exhibiting excellent poise as a receiver and fearlessly matching up on handlers in the wall of the Tourists' zone. She came up huge up with a big hand block on Jenny Wei on universe, an accolade not shared by many young players.