Vermont emerged victorious while the Southeast power balance shifted.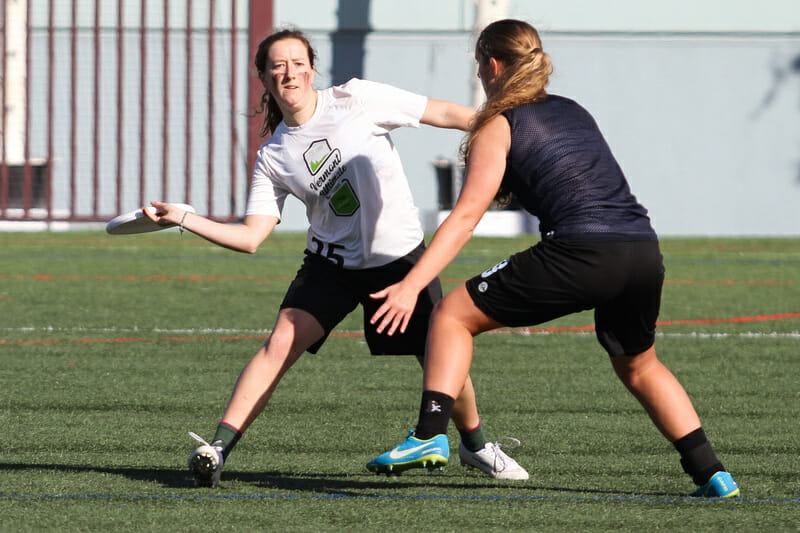 Coverage of the Women's Division at the Tally Classic is presented by VC Ultimate as part of their season-long support of our women's coverage. All opinions are those of the authors. Please support the brands that make Ultiworld possible and shop at VC Ultimate!
The women's tournament at Tally Classic featured the best field it's had in recent memory. A Nationals contender sought to defend its bid, while the defending tournament champs hoped to derail their efforts. Several teams in the Southeast battled for mid-season supremacy, while having to deal with a bit of scheduling screwiness. Here are the stories that defined the weekend.
Vermont Proved Their Worth
#13 Vermont fended off an impressive Auburn team to win Tally Classic. Auburn broke twice early, taking a 4-3 lead. But Vermont was so efficient with their D-line O, they took advantage of nearly every opportunity they had. They cleaned up the offense a bit after the first handful of points and took a one break, 8-6 advantage into halftime.
With Auburn relying on just a few players to make plays, Vermont's depth was too much for Auburn down the stretch. Vermont got contributions from throughout the roster. Kyle Weatherhogg was their most dangerous playmaker, but Maddie Westfall, Mariz Mangundayao, Eliana Moskovitz, freshman Sarah Rose, and others made big plays too.
"We knew that we could outhustle [them]," explained Vermont head coach Daron Byerly. "We could find the places in our line to get the D, or force a turn, or get lucky, and then have the right mismatches or right energy to get it back in the end zone."
That certainly proved true down the stretch. A break out of half and a break for 11-7 gave Vermont a lead they would hold for the entire second half. Auburn grabbed one break to make it 14-12 to stay in the game, but a full comeback wasn't in the cards. Vermont won the well-contested affair 15-12.
The final was a representation of Vermont's tournament performance as a whole: not perfect, but good enough to accomplish what they needed. They survived scares against Florida State in pool play, and Notre Dame in semis, but over the course of the tournament it was clear they were the best, deepest team in the field. Vermont needed to win all of their games, and avoid close matches with as many teams as possible. For the most part, they did that. And they obviously accomplished the most important requirement of winning all their games.
"We're very conscious of the math," said Byerly. "We feel very good about our game, regardless. But we knew that we needed some wins this weekend, for sure."
Vermont had a great start to their season when they made the final at Santa Barbara Invite. But the quality of some of the wins they tallied there have become less impressive as the season has developed. Vermont needed to run the table at Tally to shore up their bid campaign and affirm their status as a top 15 caliber team. They did both of those things this weekend.
Auburn's Late But Impressive Start
Thanks to some bad luck with weather at other tournaments, Tally Classic was Auburn's first tournament of the year. They used it to announce themselves as a favorite to win the Southeast. They upset defending regional champ Florida and beat their two other pool play opponents by a combined score of 22-11 to win Pool B.
In quarters they outscored Harvard 10-3 in the second half to win 15-11, and then dispatched Georgia Tech 15-10 in quarters. They battled with Vermont, and had a few moments played out differently they easily could been the ones to take the Tally Classic title.
But even with the loss in the final, Auburn's Tally Classic performance proves they are serious contenders in the Southeast. Kristine Fedorenko, Maddie Boyd, and Meredith Johnson all looked like First Team All Region players. Fedorenko and Boyd ran the show in the backfield, and Johnson was generally the one to finish off points in the endzone. The trio are all incredibly tall and athletic, presenting difficult choices for every team they faced. Their zone defense, with Fedorenko patrolling in the deep space, was tough for teams to solve as well. 
The three of them played nearly every point, and the offense ran almost entirely through them, but Auburn got some important contributions from others like Rachel Murray and Emily Bugg, both of whom provide great length as well. The core of this team has been together since 2016, when they finished seventh at Regionals. A year ago the finished third, and now they look a real threat to take home first place and win a trip to Nationals. It would be remarkable capstone for a program that's never reached a regional final.
"This is the best tournament we've ever coached them at," said Auburn coach Annie Kirby. "And we expect it to continue to progress from here."
"We're super proud," her co-coach Grant Kirby elaborated. "You can't really take too much negative away from this one, just a fantastic weekend."
Rest of the Southeast
While Auburn had their coming out party, the rest of the Southeast teams in attendance only managed to make the Southeast picture murkier. Florida continued their season long slump, losing games to Auburn and Kennesaw State in consolation play. The most stinging loss for Florida though is the one that put them in consolation to begin with. After taking half 8-5 on Notre Dame, they were outscored 10-1 in the second half to be knocked in quarterfinals.
Kennesaw State had a mercurial weekend. They got the win over Florida, and a surprising win over Florida State in prequarters. But they were also upset by Harvard, and after also losing to Notre Dame, finished third in their pool when prior to the tournament it looked liked they'd have a good chance at winning it.
Florida State posted a 5-2 record, and didn't trail Vermont until they were broken on double game point. But their only two games that should have been competitive were both losses, even if the loss to Vermont was expected.
Georgia Tech was really the only team apart from Auburn that did themselves any favors. Tech is young this year, and didn't really have an answer for at Auburn's big three over the course of their semifinal contest. But there were times when Alli Wong, Ollie Peterson, and Chupzi Lema were highly effective, particularly against zone defense. The team faded late against Auburn, but they looked like they'll be contenders to face them again in a Regional final or semifinal.
Notre Dame Falls Short
Notre Dame was unable to defend their Tally Classic title, but they did look like they may be contenders to win the Great Lakes bid to Nationals. They won their pool with just one close game: their 11-9 win over Kennesaw State. In the quarterfianls, they absolutely dominated Florida in the second half, outscoring them 10-1 after the break to win 15-9.
The tables turned on them in their semifinal with Vermont, however. They took the first half 8-5 but simple drops plagued their offense in the second, and Vermont was ruthless with their break opportunities, winning 15-10. In the first half, Womb's Sarah Lipscomb had her way with the defense. She caught everything thrown her way, and either assisted or scored on almost all of the goals. But in the second, the team's execution errors prevented Notre Dame from getting her the disc and Vermont ran away with it.
They rebounded well to defeat Georgia Tech in the third place game, and their dominance in the second half against Florida and first half against Vermont, showed glimpses of what they're capable of when playing well.
"The second half against Florida was as good as we've looked in a half since I've been coaching," said head coach Eric Bens. He was also pleased with the team's overall improvement since Queen City Tune Up. Notre Dame isn't as talented as they were a season ago, but with Lipscomb leading the way, they may have a chance of getting back to the big dance with regional rival Michigan not looking as strong this year.
Bracket Oddities
Prior to the start of the tournament, it looked like rain would roll through Tallahassee on Sunday morning. The tournament schedule was altered to account for that, and quarterfinals were moved to Saturday evening. For teams that won their prequarter game, that meant five games in one day. That mileage took its toll on teams.
Harvard star Mia Bladin suffered a knee injury in their quarterfinal against Auburn. Without her in the second half, they saw an 8-5 lead evaporate into a 15-11 loss. Florida faded similarly in their matchup with Notre Dame as they gave up that 10-1 run. In fact, every team that made it to quarters via a prequarters win, lost. Five games is obviously a lot to play in one day. It made sense as an effort to avoid weather shortening or cancelling games on Sunday. But when the weather was beautiful on Sunday morning, the teams that lost in quarters had to feel a little hard done.
In another quirk, the semifinal round started at 8AM on Sunday. Ordinarily that's a normal enough time for a first round to start, but Sunday was the first day of daylight savings, and that meant teams showing up to warm up were greeted by pitch blackness. That obviously wasn't ideal, either.
It's difficult to say how much the abnormalities of the bracket schedule truly affected the outcomes of games, but at the very least it was all far from ideal.
All-Tournament Team
Kyle Weatherhogg (Vermont)
Weatherhogg was equally dangerous in the backfield and downfield at Tally Classic, making plays with her skill and athleticism alike. Against Auburn in the final, she played her best game of the bracket and provided the big play ability needed to answer Auburn's trio of playmakers. Vermont is a team that uses its depth to win games, but Weatherhogg provides them the star quality needed to win games against top heavy teams.
Kristine Fedorenko (Auburn)
"K-Fed" has been a star in the Southeast for a few years now. Her throws are some of the best in the region, but she is also a dominant player in the air. She's the face of an Auburn program that now looks primed for its best season to date. She was phenomenal in the comeback against Harvard, and imposing all weekend long.
Sarah Lipscomb (Notre Dame)
Notre Dame asks a lot of Lipscomb and she delivers. Her first half against Vermont may have been the single most impressive individual performance on the weekend. Notre Dame has a small roster this year, and they aren't especially deep, but Lipscomb gives them a chance in games they are otherwise outmatched in.
Maddie Boyd (Auburn)
Boyd is the perfect complement to Fedorenko in the Auburn backfield. Incredibly athletic, and with an engine that never stops, Boyd is always available for a reset. But she also has a cannon, too, which allows Fedorenko to go downfield from time to time. Boyd was not an All-Region player a year ago, but based on her performance this weekend, along with Fedorenko is one of the very best players in the region.
Meredith Johnson (Auburn)
Johnson is the third piece of the Auburn squadron. Another tall and athletically gifted player, Johnson is the primary receiving option for her two star handlers. She led the field in goals scored by miles, as she used her athleticism, and chemistry with her teammates to perfection all weekend.
Chupzi Lema (Georgia Tech)
Lema made big plays on both sides of the disc for Georgia Tech. Her blocks triggered fast break break opportunities, and her field awareness, quickness, and deft throwing ability were instrumental in Tech's zone offense. She didn't always score or assist on Georgia Tech's goals, but she was almost always involved in the team's best offensive moves.
Samantha Daugherty (Kennesaw State)
She wasn't quite able to bring her team all the way back from their 8-3 halftime deficit in quarterfinals, but Daugherty certainly gave it her best effort. One of the Southeast's top players for a few years, Daugherty draws tough matchups and still nearly always wins them. She was too much for Florida State in prequarters and almost enough to bring them all the way back to a spot in the semis against Georgia Tech.
---
Games were played to 11. ↩