A breakout weekend for Georgia as UNCW remains undefeated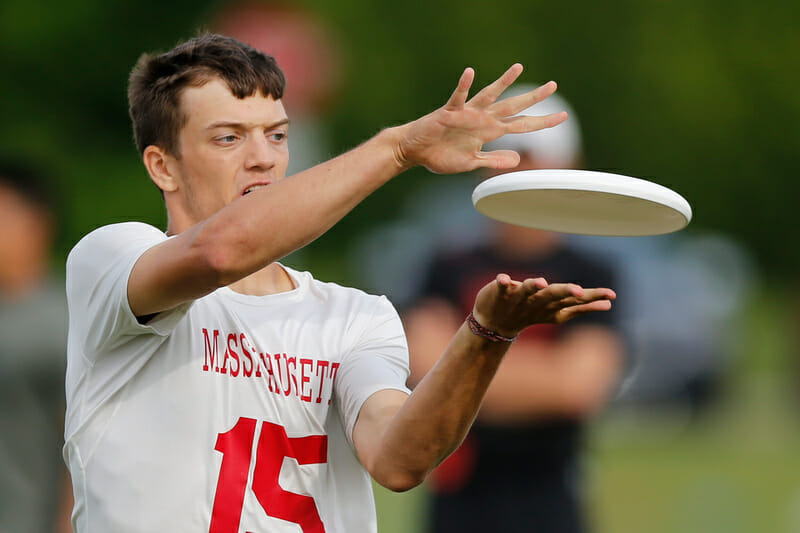 This article is presented by Spin Ultimate; all opinions are those of the author. Please support the brands that make Ultiworld possible and shop at Spin Ultimate!
Tally Classic featured beautiful weather, big upsets, and some thrilling games. Per usual, there was a big step in game quality from Saturday to Sunday, but pool play did provide its share of stories too. Here's a look at the biggest storylines of the weekend.
Wilmington Goes Undefeated
UNC Wilmington took home their second consecutive Tally Classic title,1 and this time around they were able to avoid the major upset that has defined their past Tally appearances. Unlike their fellow pool one seeds, Wilmington breezed through all of their pool games. They barely broke a sweat on Saturday while going on to outscore their opponents 52-22.
But in quarters they played in perhaps the most surprising game of the tournament. Against Carnegie Mellon, they simply did not show up to play, giving up four straight breaks to go down 5-0. They needed a break to remain within five at halftime, 8-3, and were still down by that margin four points into the second half. Finally, they started to play some defense. Some CMU deep shots that had worked earlier in the game started to get gobbled up by Wilmington defenders. CMU's lead started to shrink: 10-7. 10-8. 10-9. Wilmington eventually took their first lead of the game at 12-11 and broke to win 14-12. It was a hard-fought comeback, but the game showed a glimpse of what can happen to this Wilmington team things start off on the wrong foot.
"They came out firing. They came out super intense, with really good energy, and I think we were in a little bit of a lull," said head coach Brian Casey. "We weren't broken on Saturday, so I was interested to see how we would react to the first break on Sunday, and it was followed by three more consecutively, so that was less than ideal." Casey explained he tightened the lines and did a better job of taking Carnegie Mellon out of what they wanted to do in the comeback.
But he wasn't entirely surprised to see his team struggle against a surprising opponent. "We get tested every year here," he said. "Regardless of the names, the teams come here to battle and I think being one of the top teams that have won this tournament in the past, teams like to give us their best shot."
They beat Harvard 15-12 in semis and topped Georgia 15-14 in a thrilling final to win, but Wilmington was never able to put together an truly convincing performance once the competition level ramped up.
"We're very young and that shows at times," said Casey. "Two thirds of our team is 19 or younger, so there's gonna be learning pains with that. But the flip side is we've gone through games where we've been tested a little bit this year and having those guys have those games and play roles in those games is valuable for them."
Georgia Surprises After Slow Spring Start
Coming off an underwhelming Queen City Tune Up, Georgia seemed more likely to be upset by Harvard in pool play than make the final. But the team looked nothing like the one that was plagued by execution errors back in February. Georgia rode their long ball, slam dunk offense all the way to the final, completely outclassing UMass in semis, 15-11, in the process. They nearly pulled off another upset over Wilmington to win the whole thing, and though that bid came up just short (literally, they had the disc on double game point), the weekend overall will go down as a resounding success for them.
Georgia played without star freshmen Drew Di Francesco and Coleman Tappero, but they didn't lack for fireworks. John Langstaff and Sam Batson were both instrumental for their offense, and players like Jason Jones and Noah Li had impressive weekends as well. Even without their important freshmen, and missing a couple others to injury, it's clear Georgia is doing a better job of sharing the load than they've done in years past, and it's paying dividends.
"Ever since last year, with Parker Bray leaving, our offense has really been working on involving everyone. Just move the disc, move the disc," said Jones.
At times, Georgia was a little trigger happy, and some of those cheap turns were what ultimately cost them the Tally crown, but they have some real explosiveness on the roster that makes them very real Nationals contenders. Quite the turnaround from going 2-3 at QCTU.
"We didn't have 18 drops on Saturday. That helps. We had 18 drops on Saturday at Queen City," said Jones on where the team improved the most between Queen City and Tally. "Really just fundamental changes: dump sets and marks. We've got a young team."
They didn't look young against UMass in semis, where their offense just obliterated the Zoodisc D-line with multiple four-throw scores, posterizing skies, and punishing speed. In some respects, Georgia's offense was clicking in unsustainable ways: Batson, at one point, threw a forehand to Langstaff at the front cone with three UMass defenders draped all over him. Goal. Jones roofing Tannor Johnson and quickly dishing for the game-winning assist was the cherry on top of a convincing win in which Georgia gave up just a single break.
Georgia is now in a bit of an awkward spot, with their regular season possibly over. They didn't get invited to Easterns due to their weak QCTU performance, and they're currently waitlisted for Huck Finn. Their strong Tally Classic put them in bid earning territory, though, and they very much looked like one of the top teams in the Southeast over the weekend, so perhaps ending the season on a Tally high note wouldn't be the worst thing.
UMass Underwhelms
UMass came into the tournament as obvious favorite to at least reach the final, and then go toe to toe with UNC Wilmington for the title. But their weekend got off to a rough start. They had to mount comebacks against Alabama and Carnegie Mellon in the first two rounds on Saturday. Even in those wins, they looked nothing like the team that made semis at Nationals last year. It must be mentioned they were without star handler and U24 standout Brett Gramann, but their problems ran deeper than missing one great player in Tallahassee.
They righted the ship a bit in the afternoon on Saturday, winning comfortably over Florida Tech and Central Florida to close out. And that continued into their quarterfinal matchup with Alabama-Huntsville on Sunday. But then they were simply outclassed by Georgia in semis, losing 15-11, and never really contending in the game.
Without Gramann, UMass looked outclassed in the backfield in many of their matchups. It's obvious that they miss 2017 Ultiworld Player of the Year Ben Sadok, who was the maestro of their offense last season. They simply didn't have the throwers needed to put together consistently effective O points. And, at times, their effort was lacking, too.
They were able to overcome those things in pool play, but Georgia was too talented to give up the late runs that Alabama and CMU did. As a result, UMass' weekend ended early.
Coach Tiina Booth was matter of fact but optimistic after her team's exit. "It's hard to impart fire on a team for an entire game, never mind an entire tournament," she said.
"We obviously didn't achieve what we wanted to do, but with that said, it's still early in our season and we get a chance to see what we can do in two weeks when we go to Easterns," she added.
Quick Hits
Carnegie Mellon went 5-2 this weekend with wins over UCF and Georgia Tech, a one point loss to UMass, and a two point loss to UNC Wilmington (a game they should have won). With a senior and fifth-year heavy team, they are poised to be a legitimate challenger at Ohio Valley Regionals. "We're trying to earn the respect of these elite teams," said coach Andrew Willig. "If we play like we did against UMass, we know we can give Pitt a game. So what we want to see is — going into Regionals, we want to play Pitt in that final game," added captain Justin Abel.
Coming into the weekend, Georgia Tech was sitting on a bid for the Southeast. Could they keep it? Things got off to a good start with a 4-0 pool play performance, but they went 0-2 on Sunday with a 15-9 loss to Harvard in quarters and a 13-12 loss to CMU in consolation play. Luckily for the Southeast, Georgia's strong play kept a second bid in the region even as Tech dropped out of the top 20.
Harvard continues to look like a borderline top 25 team as they reached semifinals and lost only to Georgia (13-11), UNC Wilmington (15-12), and UMass (15-8). That last loss has to be the most concerning, though. Harvard matches up well with teams that play a more run-and-gun style, but can they compete with UMass and Brown, teams that can play their game but with deeper talent, at Regionals?
All-Tournament Team
Tannor Johnson (UMass)
UMass should be a little worried about how much they had to rely on Johnson to drag them to wins on Saturday, but if you have to rely on someone, he's a fine choice. Johnson is perhaps the most talented player in the division and that was on display at Tally. He was unstoppable as a cutter and his forehand hucks were a huge part of the UMass offense. He was on an island at times, but he was the best player at Tally Classic.
John Langstaff (Georgia)
Langstaff ran the show for Georgia's offense. The team's ace handler played both ways, driving the team's O- and D-line offenses with his inside-out break throws. Langstaff also displayed a knack for redzone cutting and finished off plenty of Georgia drives. He doesn't have the skillset or style of a Parker Bray, but the Georgia backfield seems to be in good hands with Langstaff.
Rick Hennighausen (UNC Wilmington)
Wilmington was the deepest and most talented team at Tally Classic, but Hennighausen stood out among his talented teammates over the weekend. He was dangerous as an athletic deep cutter and as a thrower, and overall the most effective player for Wilmington offensively. When he went up and skied two Georgia defenders while being fouled by both and quickly got up and dished for for a goal in the final, he perfectly captured what he brings to his team.
Kevin Mateer (UNC Wilmington)
Wilmington center handler Kevin Mateer may not have been as dynamic as Hennighausen, but he was a steady presence for a Wilmington offense that was too volatile at times. He made his fair share of big plays, too, but it was his consistency that was his biggest asset to Wilmington on their run to win the final. He's a strong thrower with multiple break release points.
Justin Abel (Carnegie Mellon)
If CMU is to make any real waves in the postseason, it will be on the back of Justin Abel. With multiple years playing for Pittsburgh Temper in the Club Division, Abel has versatility that makes him a threat anywhere on the field. He was most impressive on offense, breaking the mark with ease, even against the top defenses at the tournament. When the chips are in the middle at Regionals, expect him to play both ways and be a difficult matchup for anyone.
Sam Batson (Georgia)
Sam Batson's cutting was a big part of why Georgia's offense was the best at the tournament. With the speed to get loose deep and score fast, easy goals, he opened up acres of space underneath and did a lot of the hard work to get the Jojah offense moving to start possessions. He was unstoppable against UMass in semis.
Pat Barron (UMass)
The 6'2″ cutter remains a mainstay on the UMass offense and has added more throws to his arsenal this season. On a team filled with younger players, Barron stands out as an experienced veteran. His length is a weapon on both offense and defense, and he was UMass' most effective player in their semis loss to Georgia.
---
and made their third straight appearance in the tournament final ↩